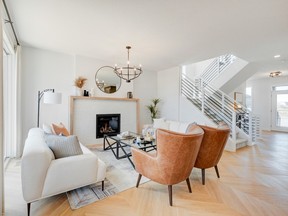 Reviews and recommendations are unbiased and products are independently selected. Postmedia may earn an affiliate commission from purchases made through links on this page.
Article content
At the start of 2023, predictions for home design and interior decor trends included creating natural and healthy spaces that maximized natural light with an emphasis on using sustainable, greener materials that included recycled, upcycled, ethical and organic surfaces.
Article content
Now, halfway through the year, we asked Alberta designers — in both Calgary and Edmonton — what have become the most popular home design and interior decor trends with Alberta home buyers?
Article content
Their replies revealed that there are home design styles common among builders, including classic, modern, farmhouse, contemporary to modern heritage home designs, which tends to make it appear that Albertans have a vast palette for home design styles.
Maybe this vast palette is because "the internet is impacting consumer choices and driving trends based on what they're seeing on the TV, the internet, HGTV, Pinterest, and in HomeSense," says Katie Sutherland, interior design manager at Daytona Homes.
Sutherland adds that Daytona Homes — in Calgary and Edmonton — is seeing an interest in home designs that are modern farmhouse and modern classic in design.
Erin Davis, director of sales and marketing at Pacesetter Homes, a Qualico Company, said that the company has nearly 30 show homes around the greater Edmonton area. Each one is professionally designed and showcases a variety of design styles.
"You can see mid-century modern inspired homes, French country, modern, farmhouse, industrial and nearly everything in between," says Davis.
Article content
Homes by Avi's customers in both Calgary and Edmonton are interested in the blend of old and new.
"The mainstream consumer trend right now looks like modern heritage designs, which really incorporates the small details like wood working, natural finishes on wood. The style is in the little finishes with a more modern palette and finishes," says Julie Punter, manager of showhome selections and presentations at Homes by Avi.
Transitional style is catching eyes at show homes by Sterling Homes, a Qualico Company, in Calgary.
"Our floor plans reflect an open space trend with a touch of the transitional style, a blend between modern and traditional, as we'd like the customer to envision themselves living there in the home," says Pamela Burns, director of sales and marketing. "Right now, there seems to be a real interest from consumers for open-to-above floor plans, which creates a grand foyer or great room space. And while it might sacrifice overall square footage it provides that grandeur that some consumers in Calgary are looking for."
"People today are being more cognizant about what they are picking (for their home), and thinking about their lifestyles, and being more vigilant about what they are choosing and why," says Punter.
Article content
Albertans also apparently have a vast palette for interior decorating styles.
Designers from both markets shared that Albertans interior decor trends range from modern traditional, classic, contemporary, modern, farmhouse, Scandinavian, West Coast and urban decor styles.
Punter, from Homes by Avi, observes that Edmontonians appear to like homes with a warmer look and feel — farmhouse rustic yet modern — with a warm, cozy and inviting feel. Calgarians appreciate the same warm look and feel but like to apply more of a contemporary and modern look to their decor styles.
Personalized decor works best on a solid home design, says Davis.
"We design our homes with functionality at the forefront and in such a way that clients have lots of opportunity to express their unique design style," she says.
Burns, from Sterling Homes, says they are seeing interior decorating trends with soft lines and rounded furniture, which creates a look of effortless elegance, including wall detail accents.
"(The accents are) usually painted a feature colour, adding dimension, and a pop-up wall feature," says Burns.
Article content
Daytona Homes has also seen an increase in feature wall trends.
"These wood wall features have been very popular as they add texture and character to the room, with out being too bold," says Sutherland.
Gone are the days when one design style seems to trump all others.
"Just like current fashion trends are celebrating style from each decade, we are seeing a wide range of design styles being incorporated into our client homes," says Davis. "I think the reason there isn't one definitive design style right now but rather so many are being seen is because the home is a way to express yourself, a place to feel comfortable and at ease. A lesson that we all learned over the past few years while spending more time at home," says Davis.
Today, both home design and interior decor are reflections of who we are, our values, lifestyle, needs and ultimately the mood and environment we'd like to create in our personal space, our homes.