From neutral to statement and everything in between, there are so many ways to decorate a living space – and the best living room rug ideas will add to any scheme. 
Along with plush carpets, area rugs have the ability to transform the look and feel of a living space. Alongside the aesthetic value, they are a practical addition to a lounge, adding comfort underfoot and balancing the acoustics of a room. The best living room flooring ideas will combine both functionality, protecting a high-traffic area, and style. 
Whether you're looking for a modern living room idea or a country living room update, there are rugs of all colours, patterns, materials, and sizes to complement your design. They'll also help in zoning areas in a living room, providing a divide between a spot to curl up with a book or socialise with family. 
Living room rug ideas
Rugs form the foundation of any room, adding depth, comfort and character to a living room. When planning a living room scheme or figuring out an on-trend update to a space, a rug will have the biggest impact.
'Consider your rug as a textural element that adds depth to your room. When designing your living area, envision the room in layers; with your initial layer as the flooring, followed by the rug, and finally the furniture and décor. Each layer should add colour, texture and pattern by incorporating different materials,' advises Emily Simmons, creative director at Ruggable.
1. Go for a berber rug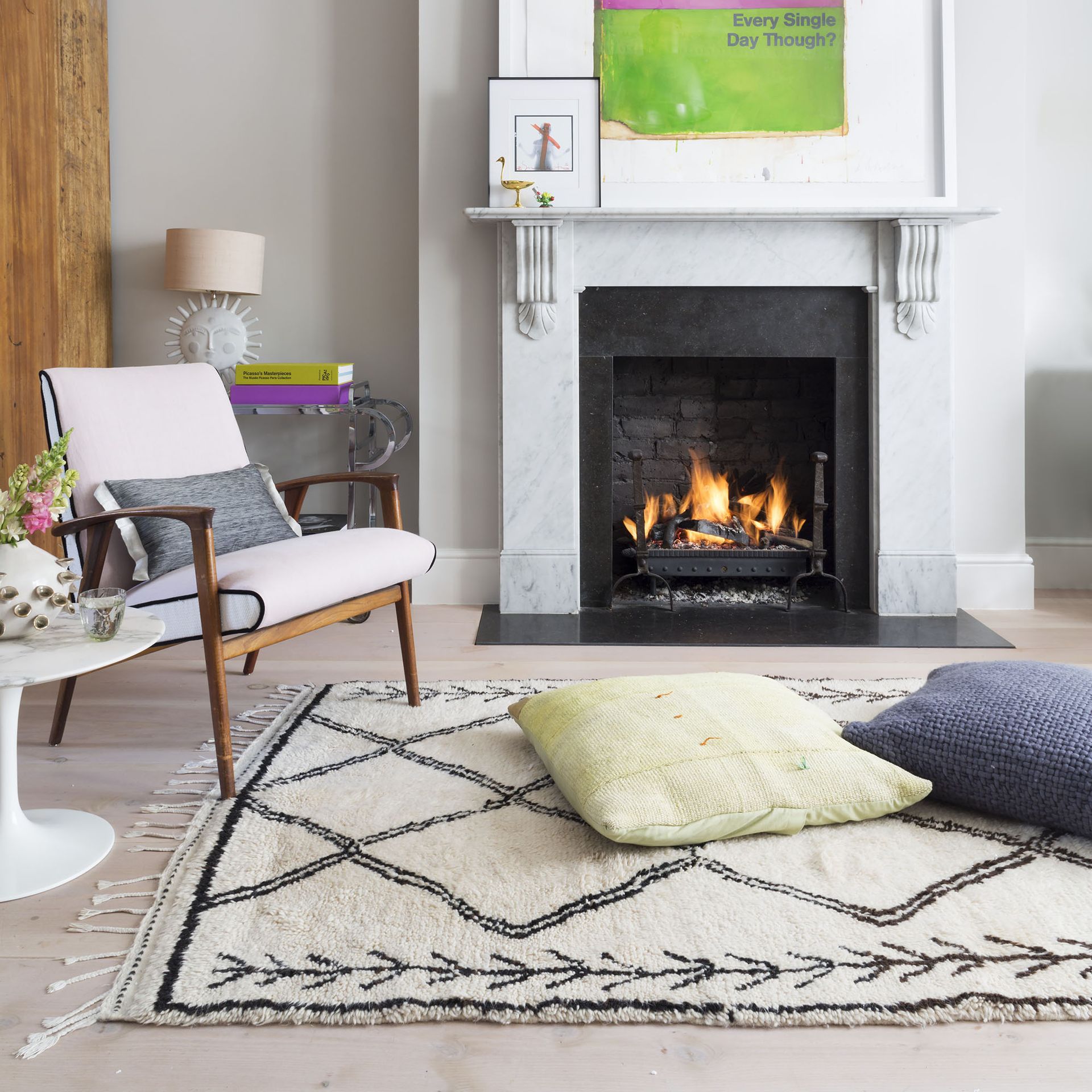 If you're aiming for an on-trend living room design, then a berber rug is the way to go. And the good news is that you don't have to venture to Morocco to find one. 
With plenty of options available on the high street, it's easier than ever to source a fluffy Moroccan-inspired rug that will add comfort and style to your space. The neutral palette means they will work with a multitude of different schemes, plus they're ultra soft underfoot. 
2. Pick a repeated pattern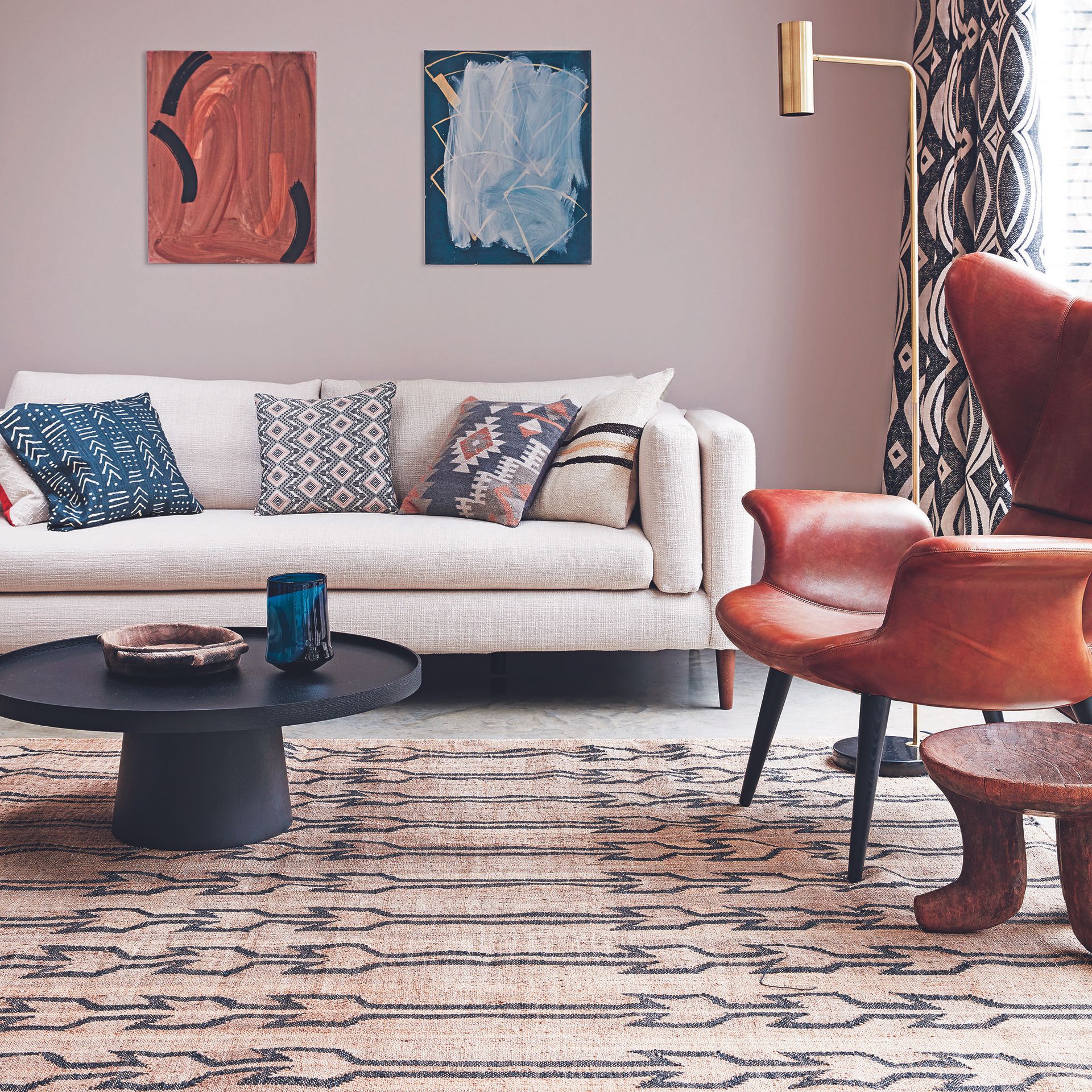 It can be tempting to go for a large print on an area rug, but a smaller pattern is a great way of adding interest to a room. Whether it's graphic or floral, opting for a repeated print will make a rug the standout feature.
'It's becoming evident that prevailing design trends are veering away from the prominence of geometric patterns, making way for a notable resurgence of organic shapes. This transition is particularly evident in the ongoing preference for subtle pattern repeats and the integration of textural elements, both of which contribute to a nuanced layering effect.  
3. Choose a pretty scalloped edge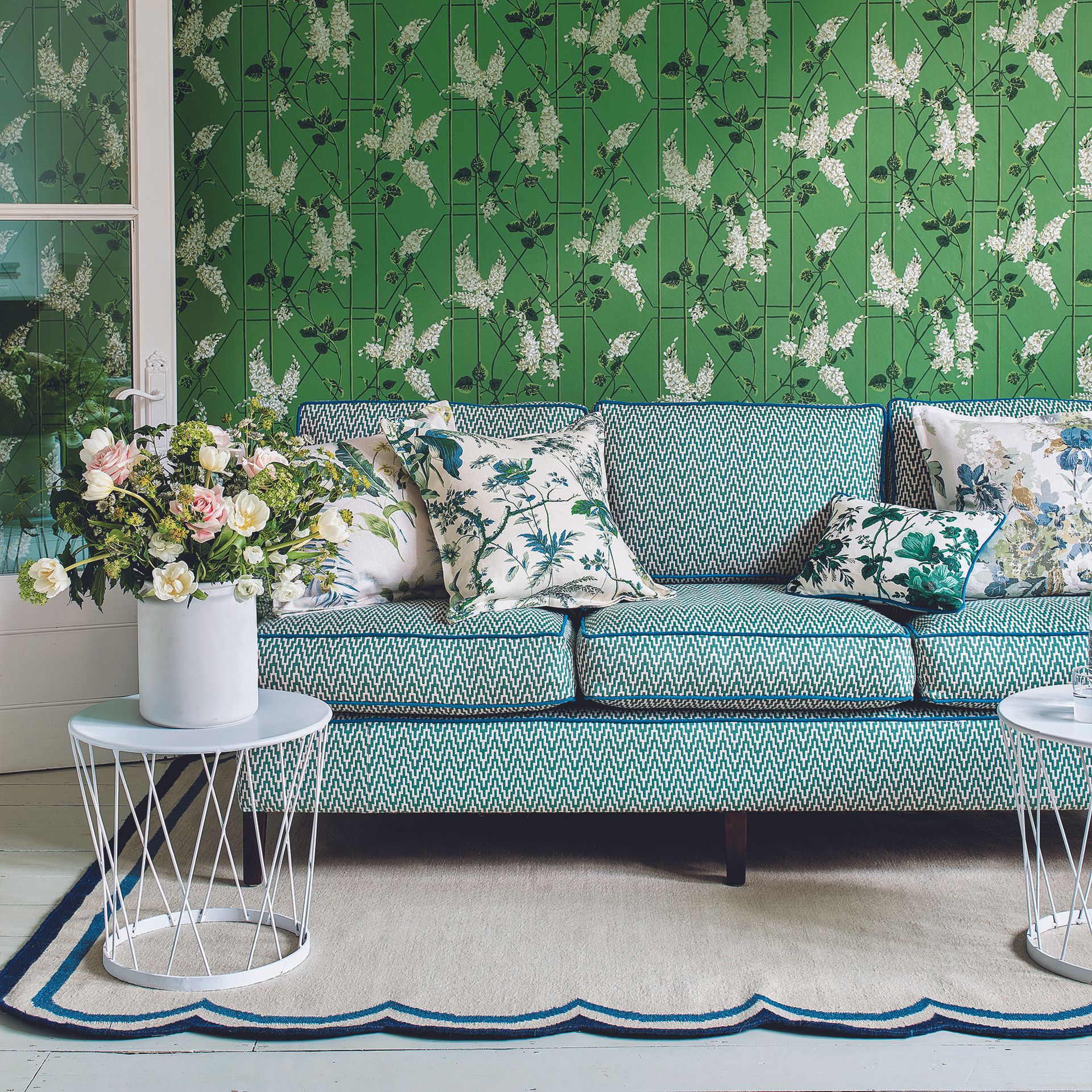 4. Source an antique rug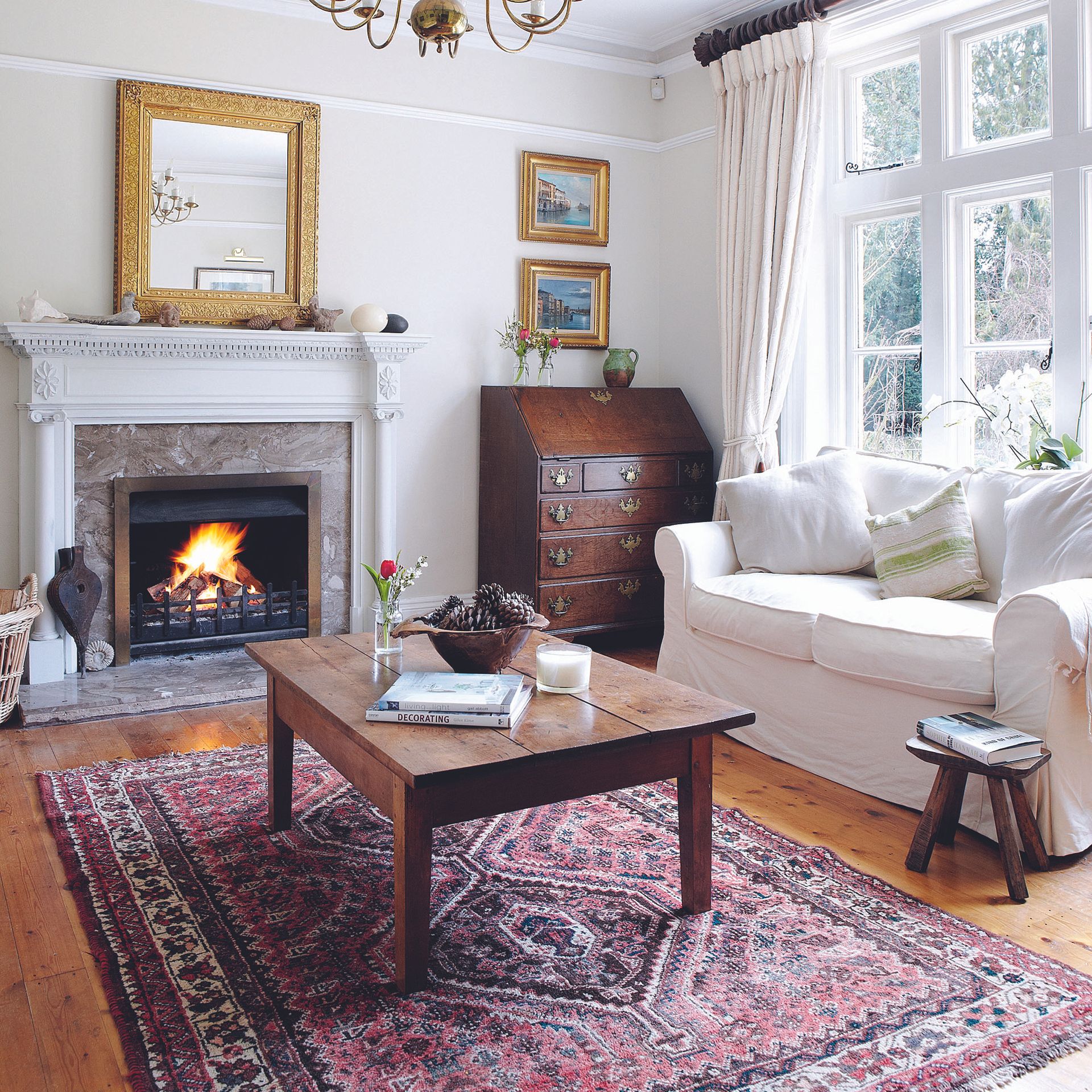 Antique rugs are a simple way to achieve a vintage living room idea, with the worn-in look making a lounge look effortlessly put together. Secondhand homeware shopping is on the rise and there are many places to find a truly vintage rug, but there are also many antique-inspired rugs on the high street. 
When searching for an antique rug, focus on the primary colour you want to add to your room, whether that's a statement red or a more neutral palette.  
'A rug design will have a varied impact depending on what size you choose. For instance, large rugs with ornate patterns will introduce a maximalist feel and bias your room towards heritage, sophisticated aesthetic,' adds Emily. 
5. Make use of natural materials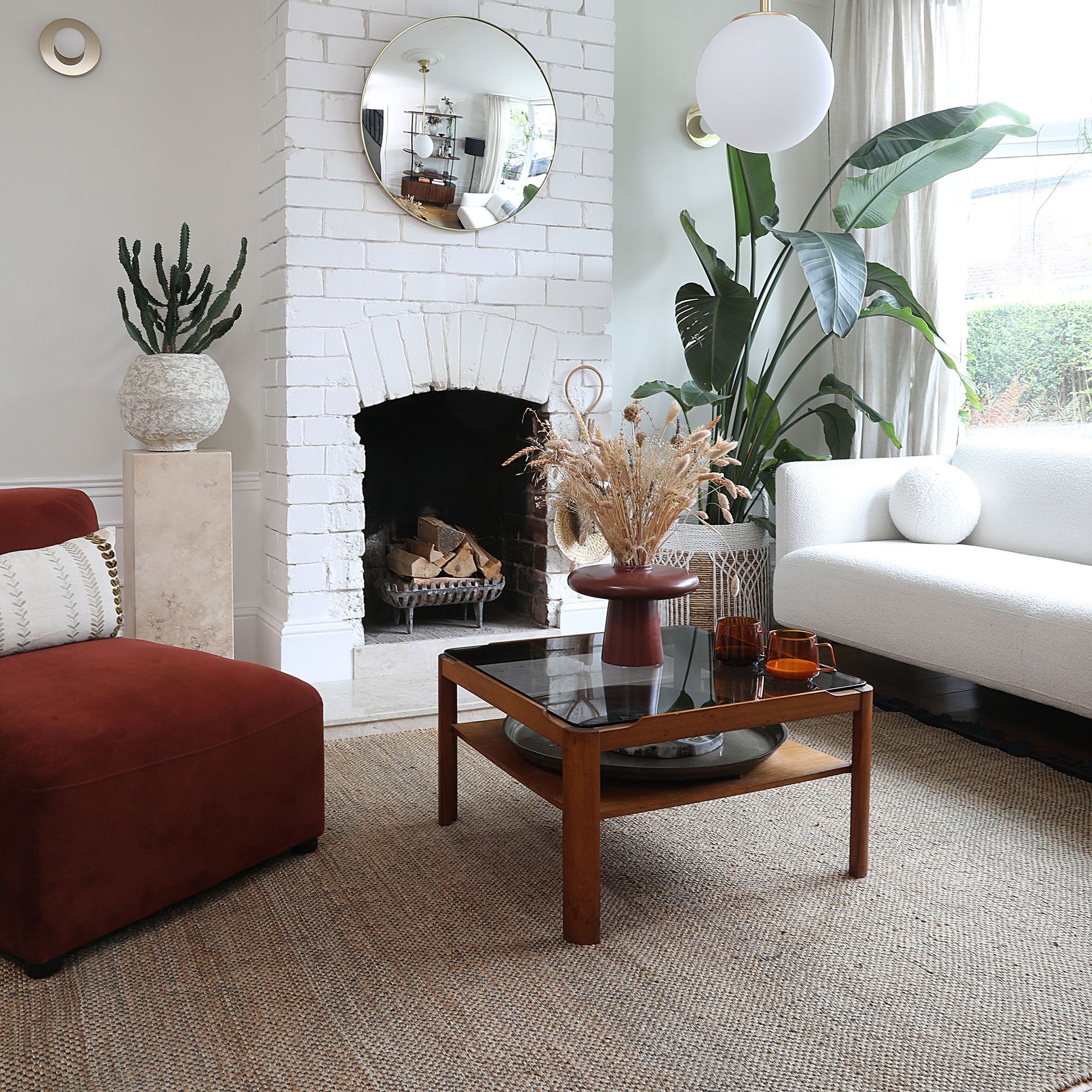 Natural materials are having a moment in living spaces. With the rise of trends such as 'quiet luxury', the attention is on pared-back tones that make a living room feel peaceful and easy to relax in. 
Jute rugs are incredibly durable so are a great choice for busy living spaces or even playrooms, as they'll withstand any accidents. They're also an affordable option with retailers such as IKEA selling jute rugs, making them convenient to add to a large living room. 
'Our natural jute rug is made from a soft-touch cotton chenille and this weave is very easy to look after by vacuuming and light soap if you're getting out marks. I'd typically style this rug in a room that needs brightening up. It also adds a subtle layer of texture to a space giving it further dimension,' recommends Kelly Collins, head of creative at Swyft. 
6. Take inspiration from the 70s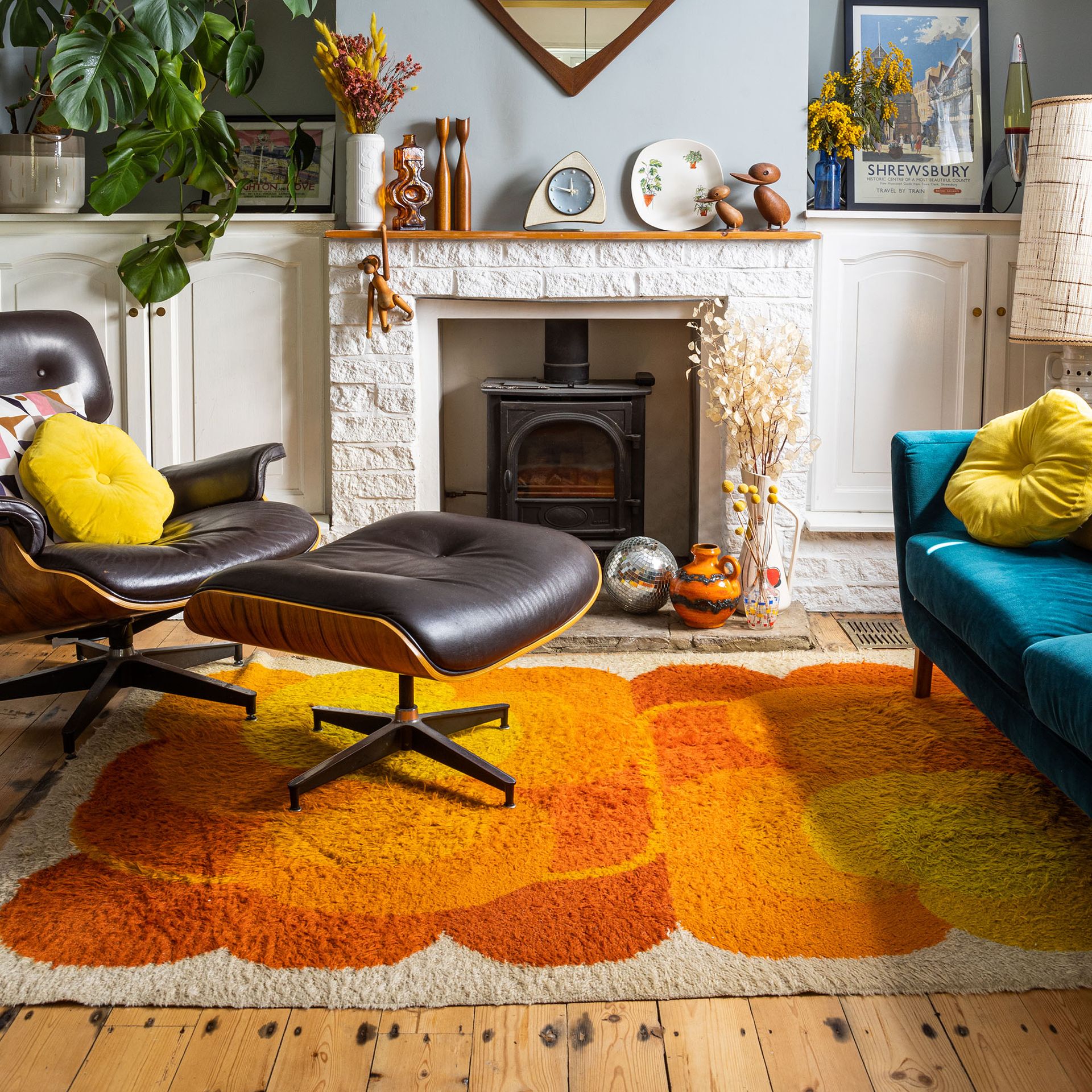 The 70s are back in vogue, putting warm colours at the forefront of interior design. An easy way to incorporate this palette is through a rug, as it adds a statement swathe of colour which you can then choose to dress up or dress down. 
'I anticipate a forthcoming resurgence of the 70s design aesthetic, a trend that has been steadily gaining momentum over the past six months,' adds Kelly. Combining with shades such as teal and brown will create a truly vintage look while pairing with neutral shades such as a cream sofa will provide a warm and enticing centrepiece for a living space. 
7. Opt for an abstract design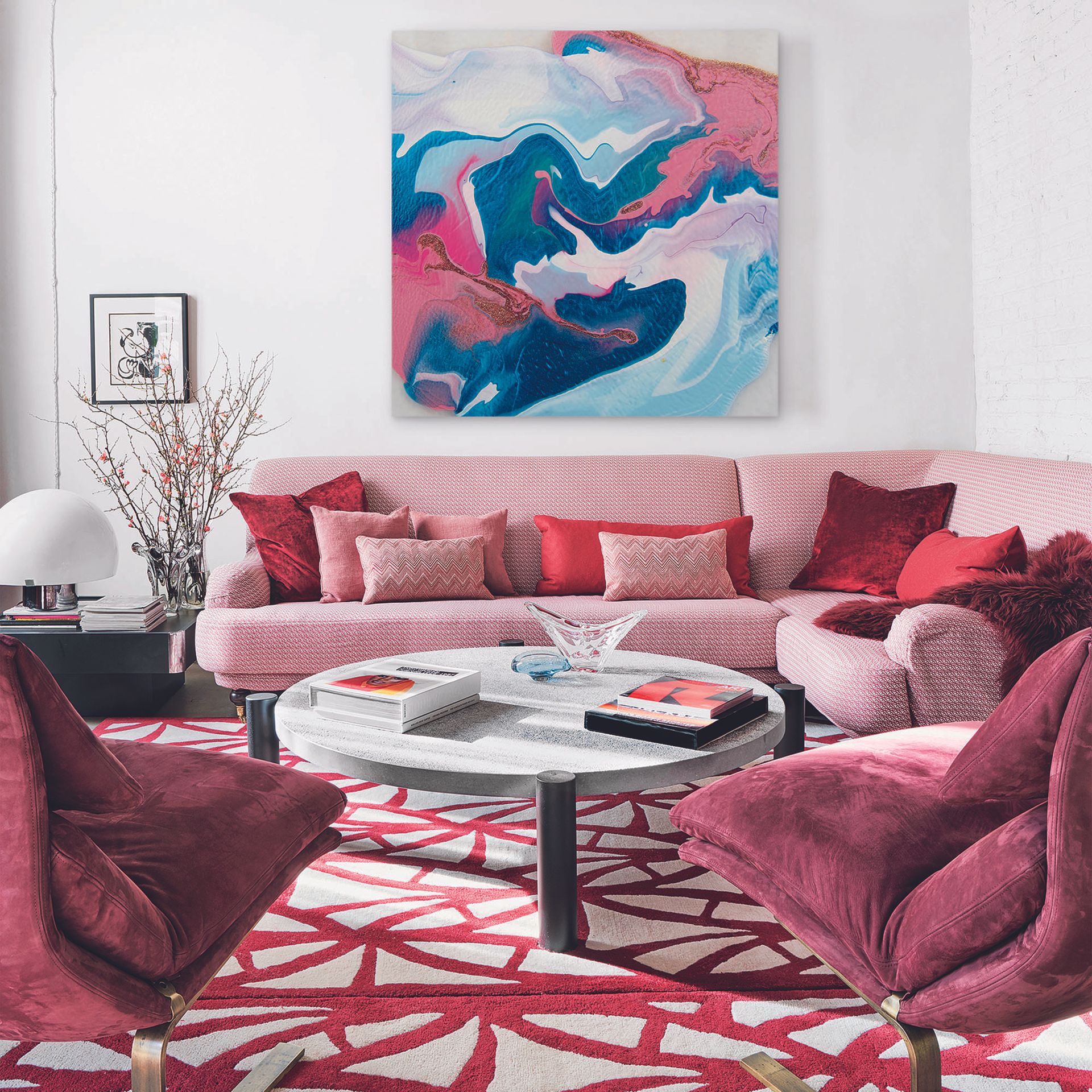 Abstract rugs mimic the effect of art in a home but for your floors instead of your walls. If you're aiming to create a statement living room design full of pattern and colour then an abstract rug will easily complete a stylish scheme. 
'Maximalist designs in bright bold colours continue to be popular among our customers at Ruggable,' echoes Emily. Combining with a bright sofa and cushions will make a room feel bright and inviting while an abstract design can also be used to add a pop of colour to a neutral palette.
8. Go for flat-weave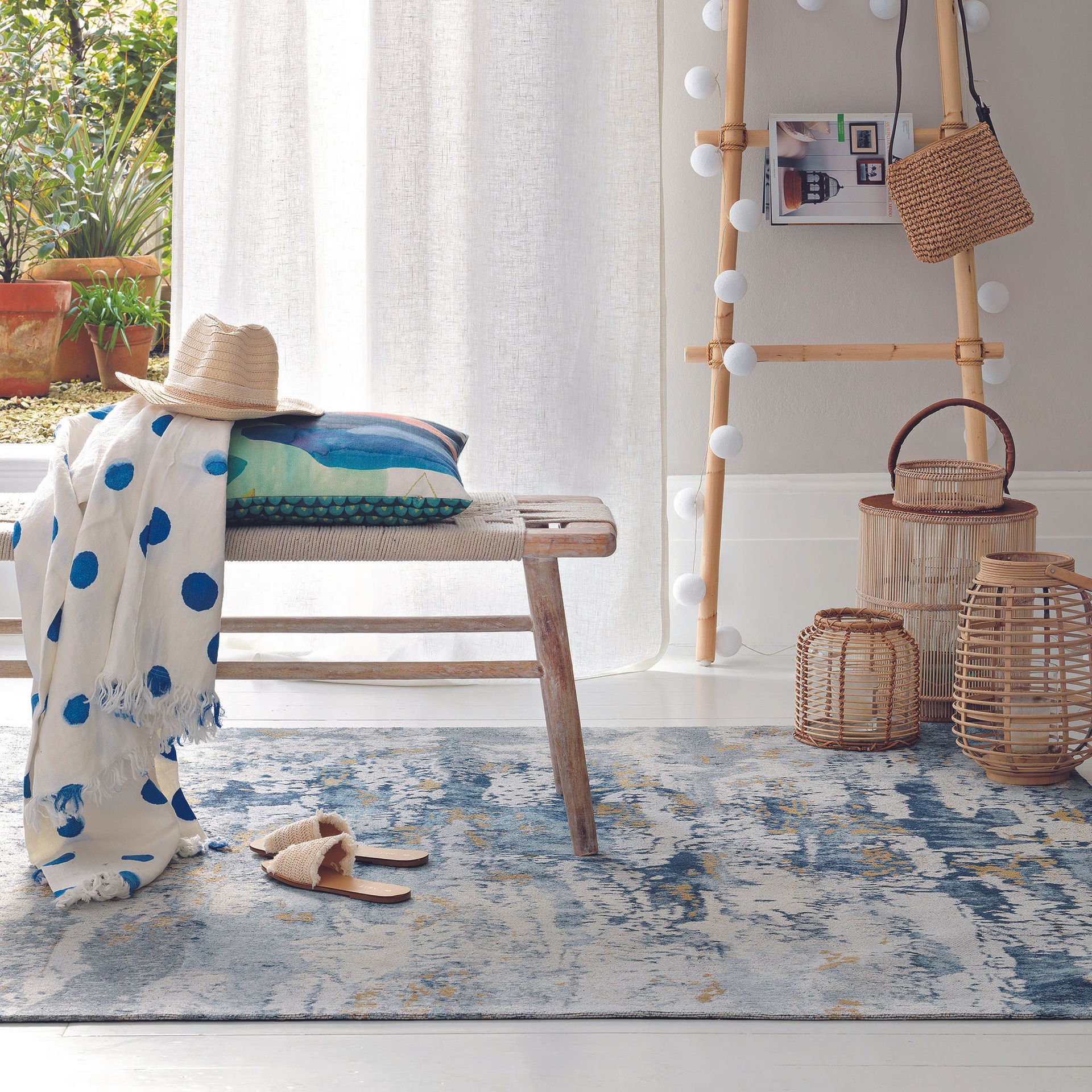 Flatweave rugs are a fuss-free solution to adding warmth and dimension to a living room, without needing to worry about maintenance. While high-pile rugs can add so much fluffiness when walking around a room, they can also be tricky to vacuum and keep clean. 
A flatweave style can easily be vacuumed on a carpet setting and they're easy to scrub if stains occur. The texture can still provide ample snugness to a living space, but the more minimal style allows a pattern or colour to really shine through.
'Shorter piles suit living rooms best, while taller piles enhance bedrooms as they don't need as much upkeep. In a nutshell, fabric choices blend aesthetics with functionality, so that you can get the most out of your fabrics and spaces,' says Kelly. 
9. Add warmth with wool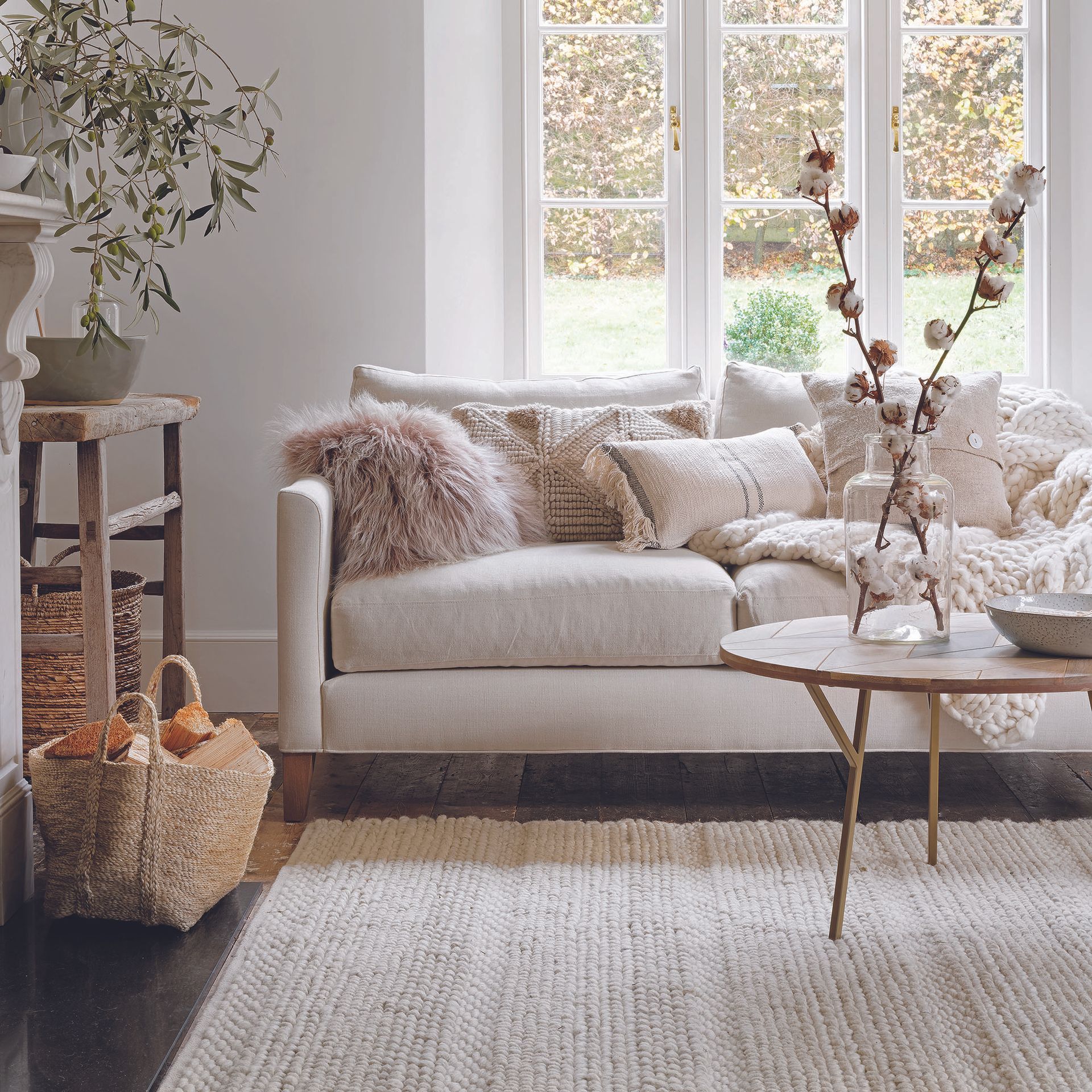 The material of your rug is just as important as the appearance. Wool is a great choice for high-traffic areas as it's durable but also comfortable under foot. So if you have children or pets and want to protect your living room rug as much as possible, wool will be the answer. 
They're also available in a wide range of piles, so whether you want a high pile for an extra cosy snug-style room or a flat-weave for a children's living space, you can incorporate the material in different ways. 
10. Make a statement with stripes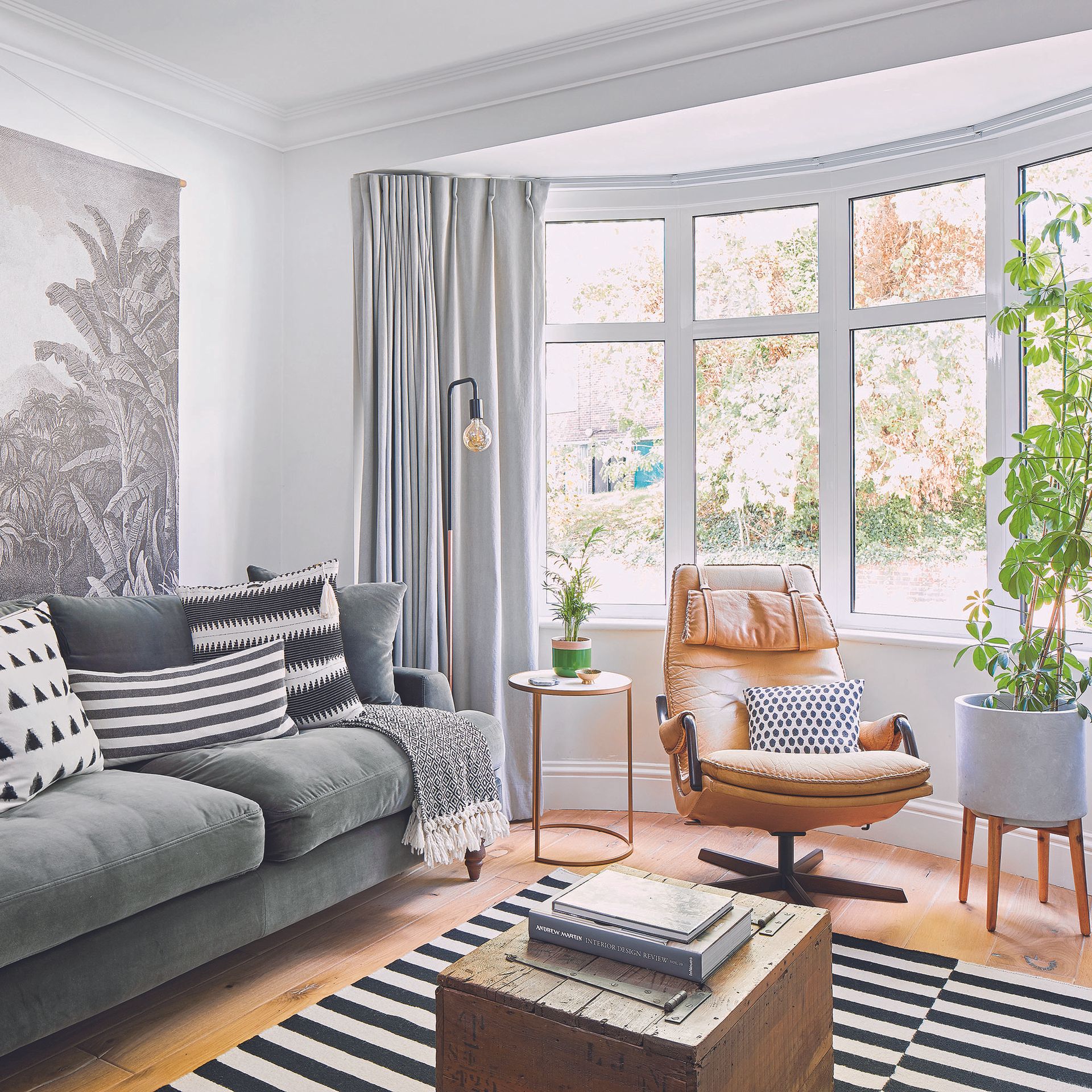 Deckchair stripes have been having a moment in our gardens, so why not incorporate inside the home too? Micro-stripes are a nod to a traditional aesthetic and pair well with other patterns, while wider stripes will modernise a living room design. 
Opting for a monochrome stripe will also make the base of your living room scheme incredibly versatile, so you can choose to update the look with different soft furnishings over time, depending on how your taste changes.