Showcasing the very best of interior and exterior design, this home in Greenwich, Connecticut, is a lesson in how to bring the outside inside, and how to create 'garden rooms' outside with careful landscape design. It's not easy to blend a home and garden in this way, but this contemporary New England-style home gets it just right. For that reason, we consider it one of the world's best homes, and we've asked its owner, landscape architect Janice Parker, and designer Jamie Drake, of Drake/Anderson, who designed the interiors, to show us some of the highlights – inside and out.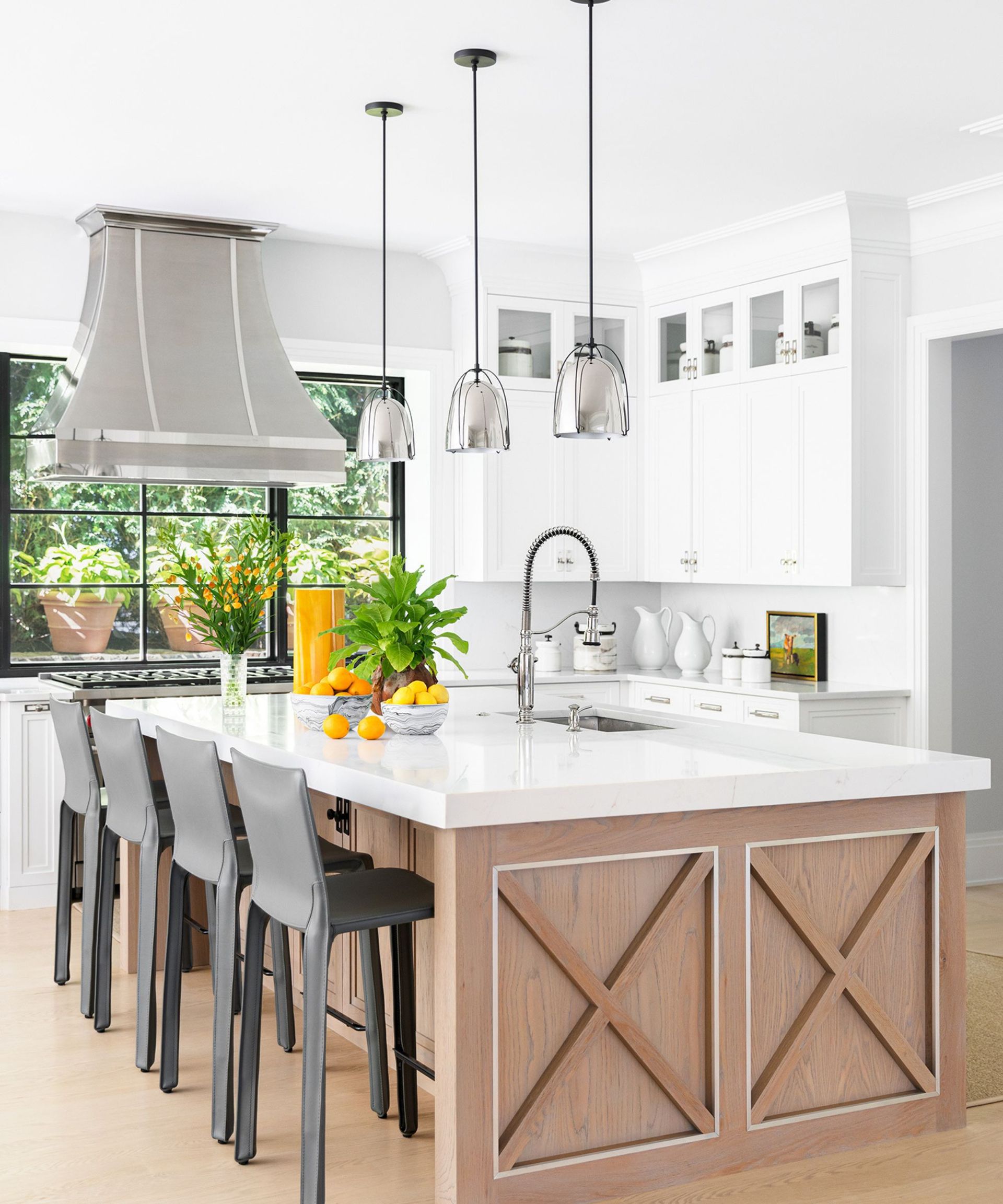 Designer Jamie Drake explains that his goal with this home was to 'enliven, enrich and give personality to the simple backgrounds of the house'. He adds that he was inspired by his client Janice who, as a landscape architect, 'is attracted to the colors of the garden, from bright florals to earthy mosses. Her husband Jim White is an author and speaker and was attracted to this house for its bright light, and we strove to maintain that throughout.'
Kitchen ideas include a contemporary white country cabinetry design with pale wood floors which flow throughout the house. 'We selected Cab Stools designed by Mario Bellini in 1977 to add a note of design depth. These steel framed seats wear a "slipcover" of leather, an original and inventive design,' says Drake, who explained that landscape designer Janice has a great appreciation of the classic designers of the 1960s and 70s.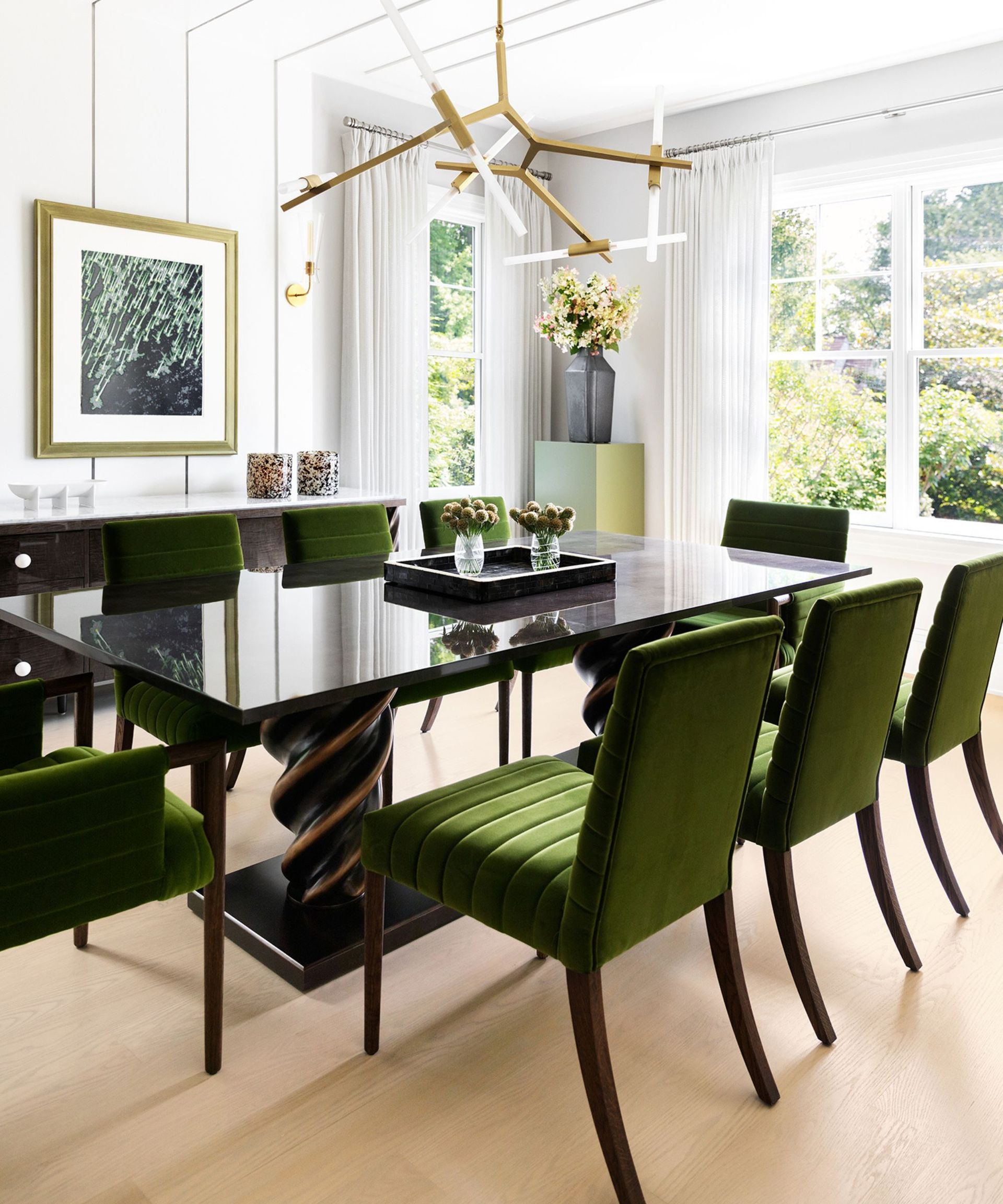 Explaining his dining room ideas for the formal dining space, Drake says 'We centered the room with a table by Jamie Drake for Theodore Alexander, its pair of bold, bronzed torsade bases supporting the top of dramatically grained wood. A matching buffet anchors the far wall, with a print by Barabara Takenaga from Shark's Ink above, framed in a moss color which connects to the channeled velvet chairs.' The framed print and green velvet chairs strike us as the perfect choices for the home of a landscape architect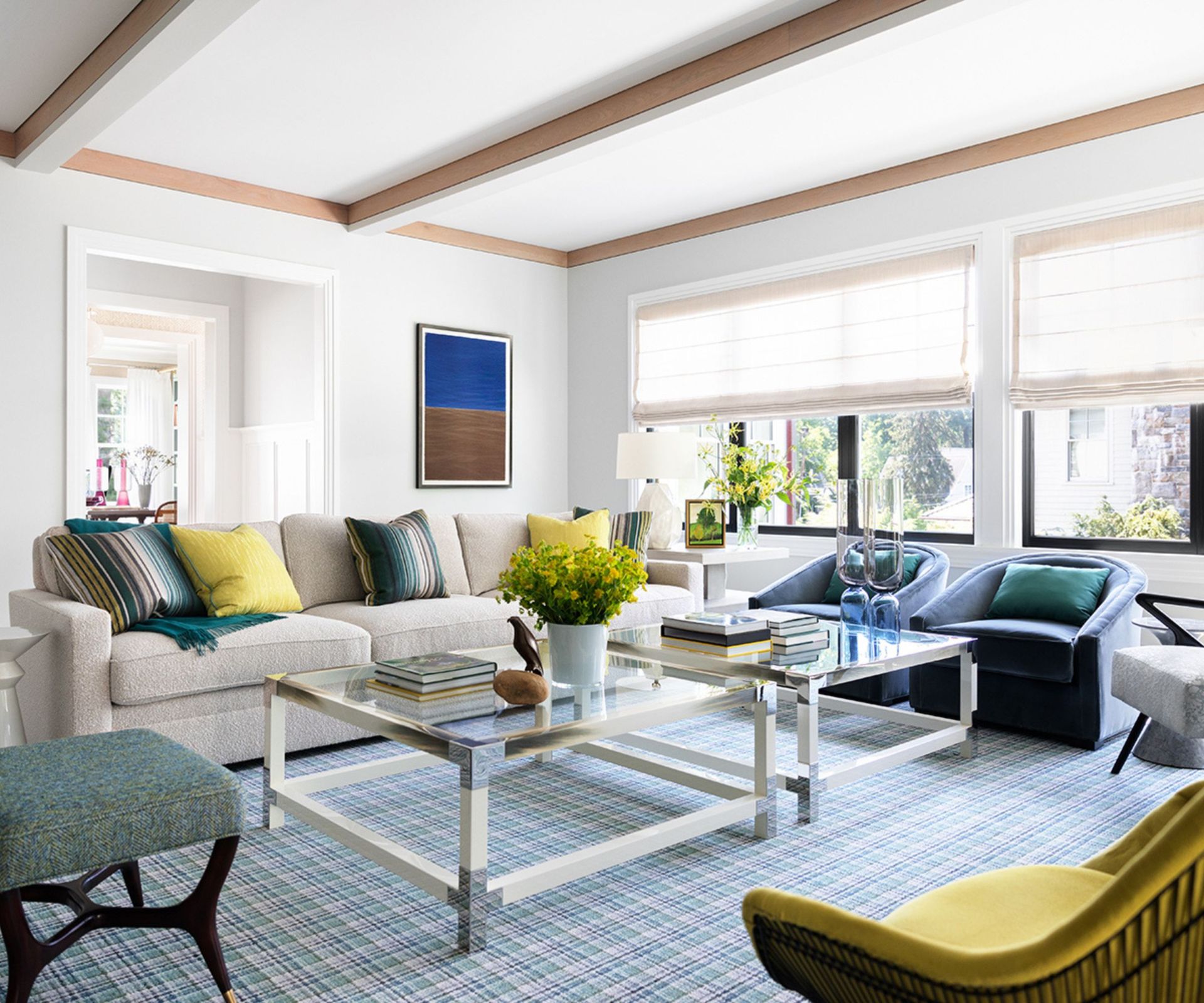 Anchored by a long deep sofa from Baker, the family living room is perfect for TV viewing, reading and napping. A pair of comfortable swivel chairs, a mid-century styled pull-up chair and stool, and classic period Warren Platner wire frame Easy Chair create a room designed for easy and relaxed chatting. 
'A pair of faux horn, steel and glass cocktail tables center the arrangement while a custom tweeded wool rug from Edward Fields brings together the teal, aqua and taupe of the palette which is accented by vibrant citrine yellow,' adds designer Drake. 
The screenprint is by Ann Aspinwall from McKenzie Fine Art. Throw cushions in Zoffany and Harlequin fabrics.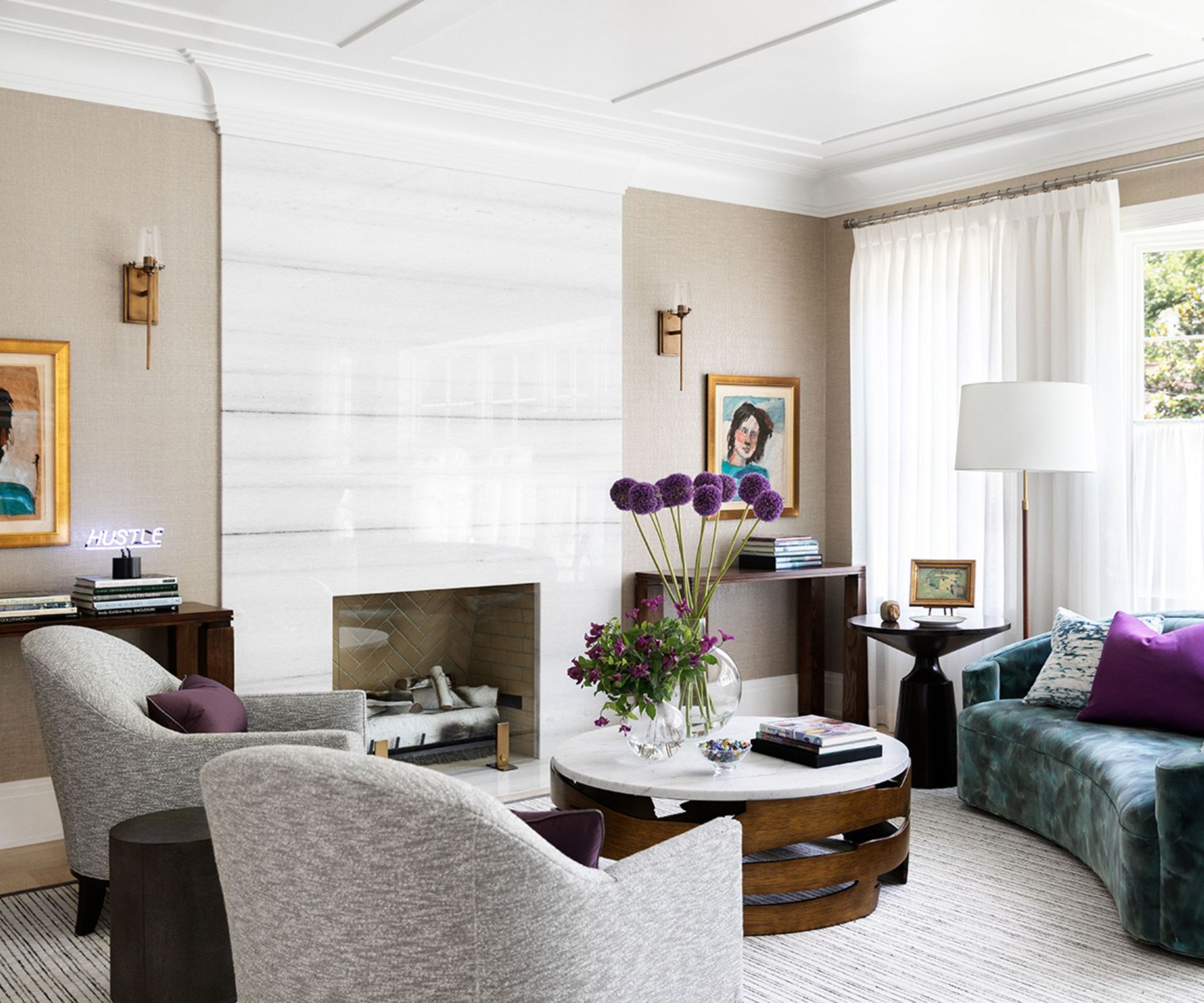 The library/living room is arranged in two groupings, and this unusual room is designer Jamie Drake's favorite part of the home. Living room ideas above, in the fireside setting, include a sofa, pair of lounge chairs and cocktail table (all from Theodore Alexander) arranged loosely with the sofa angled toward the fire.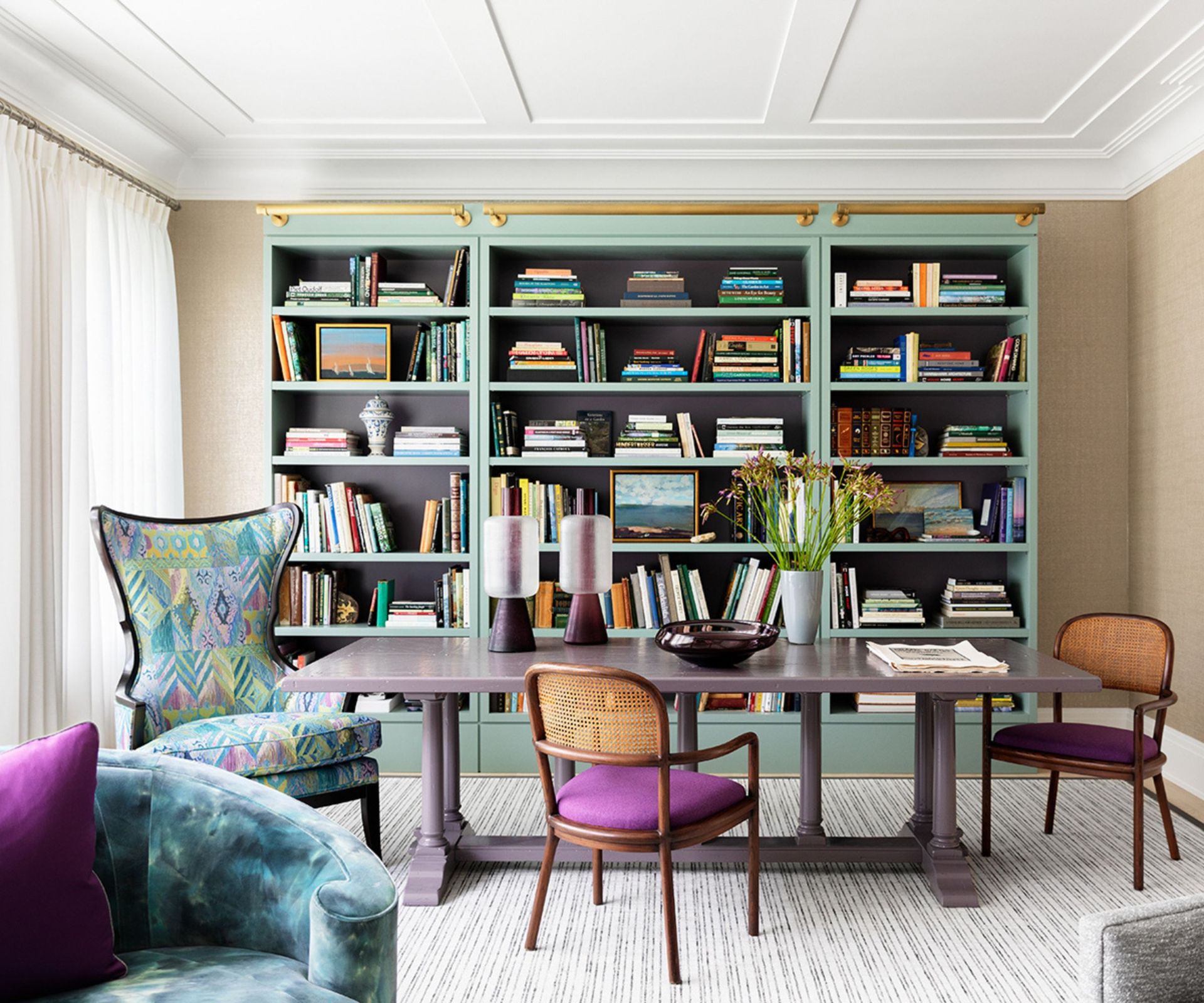 Home library ideas in the adjacent library zone (above) include a large freestanding custom bookcase and a long library table of traditional style, made contemporary with its unusual lacquered color. A pair of vintage Ward Bennett chairs from 1st Dibs complete the scene, along with a high-backed chair covered in a fabric that brings all the colors together. A textured rug from Stark bridges both areas. The walls are covered in a Phillip Jeffries subdued texture.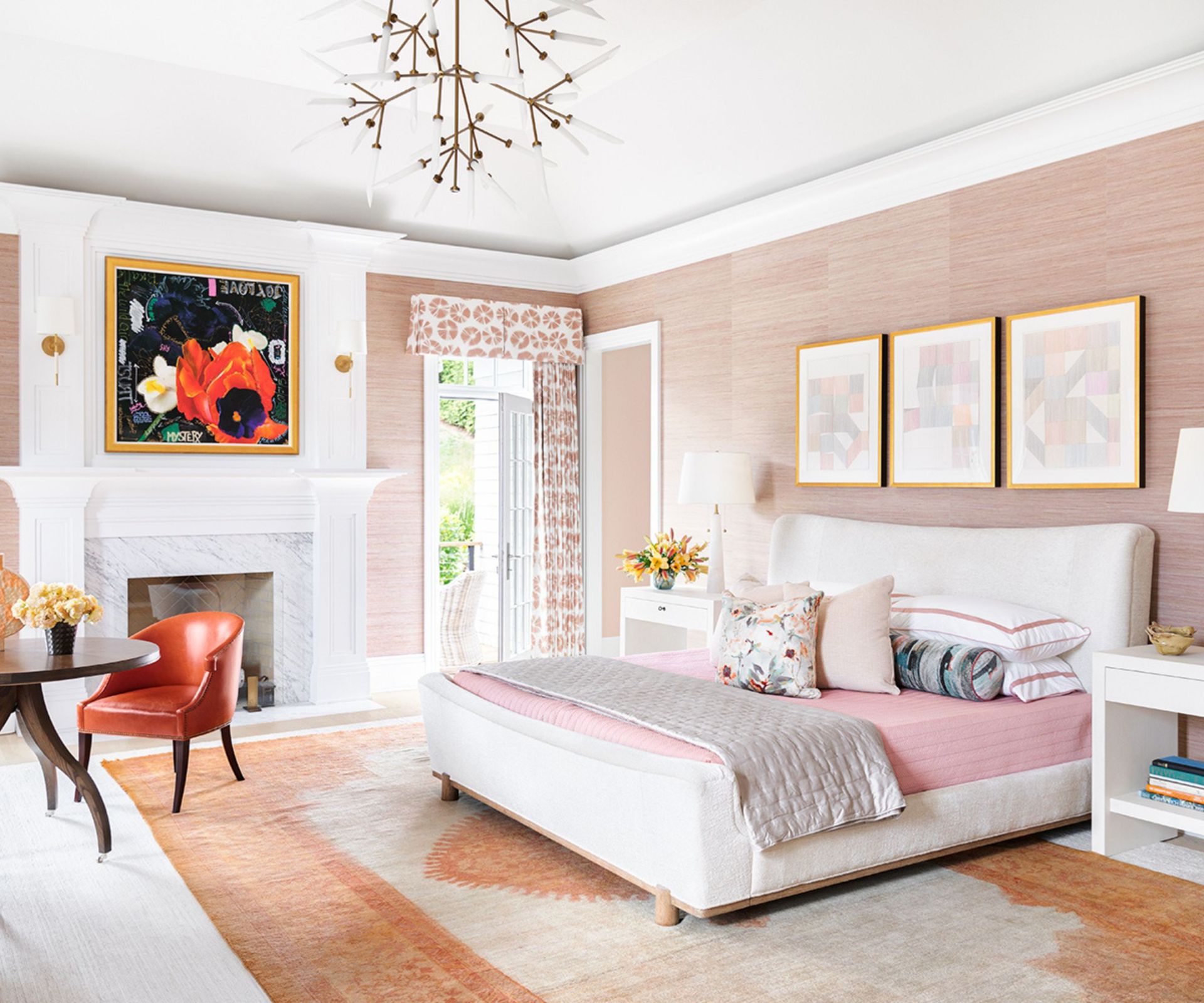 Explaining his bedroom ideas for the primary suite, designer Drake says he was aiming for a romantic (but not sugary sweet) style. 'The walls wear cinnamon toned grasscloth from Holly Hunt, which envelop the space in warmth and contrast with the crisp white moldings and trim. The bed with its embrace of a headboard is by Michael Berman for Theodore Alexander, upholstered in an ivory boucle and flanked by off-white lacquered tables with white marble lamps atop,' he says.  
This room also contains some special treasures, a pair of antique chairs from Parker's aunt reupholstered in vibrant persimmon leather, which pull up to a walnut table from Hickory Chair. 'The Oushak rug was purchased decades ago on a trip and was the only "must" from the past. As it felt too small alone in the spacious room, we layered it on top of a simple larger rug from Stark,' says Drake. 
The windows are dressed in a print from Kravet, and over the fireplace hangs a commissioned photograph with hand painted, personalized embellishments by Alexandra Penney. These include favorite songs, important message words, family birth and wedding dates.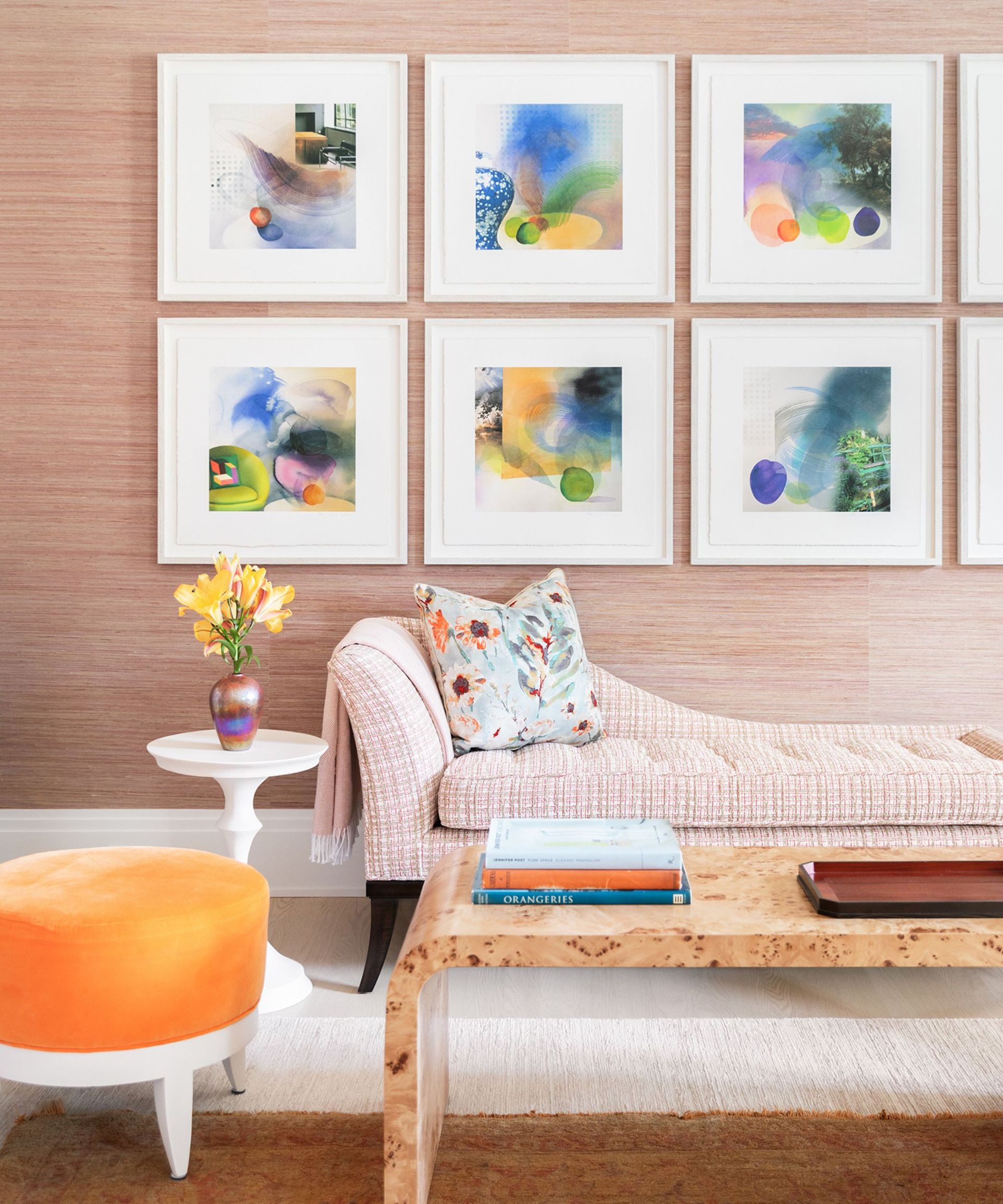 A chaise, in a richly textured weave, by Alexa Hampton for Theodore Alexander is placed next to a burl waterfall table from Worlds Away, and a round stool by Theodore. The series of prints above the chaise are by William Tillyer from Bernard Jacobson Gallery. It's no coincidence that the colors in the prints pick up the colors of the garden outside, as do so many of the accessories and furnishings in this well considered home.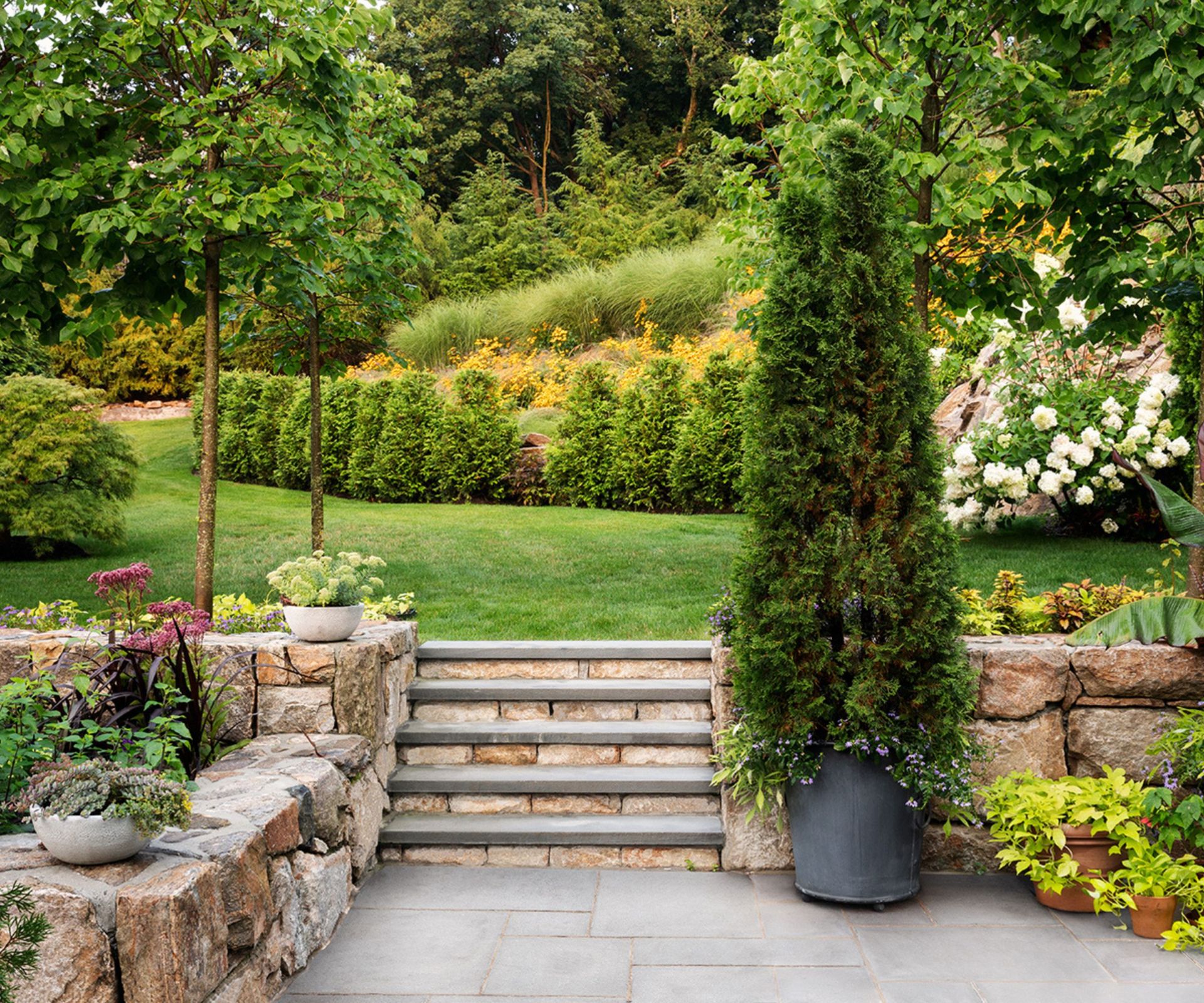 Moving outside, landscape designer, and homeowner Janice Parker explains how she approached this section of the garden. 'The goal of the design was to create unique garden rooms and a natural, intuitive itinerary through the garden. Framing the stone stairs with pleached linden trees created a green architectural separation between the lower terrace and the upper lawn, and by placing them above a stone wall, the trunks create 'windows' into the garden room beyond. That's a hero piece! A potted columnar evergreen highlights the path to be taken, and the stone wall on the left creates a place to sit. The upper hillside garden is filled with wildflowers and grasses. There is an opening in the evergreen hedge at the base of the hillside planting to connect the meadow down to the lawn and lower terrace.'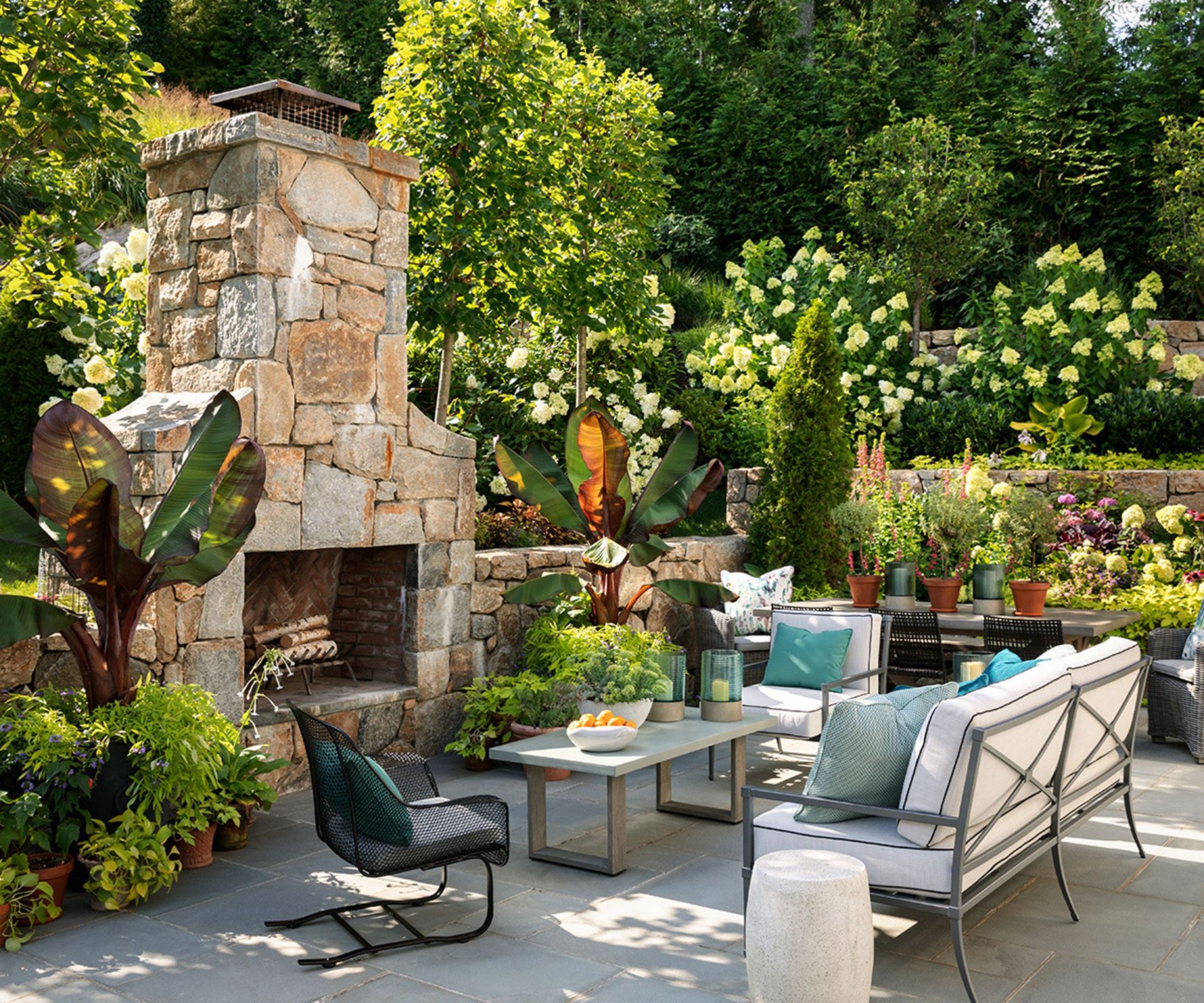 'What were my favorite moments on a vacation?' Janice Parker asked herself as she approached the designs for the seating space. 'I wanted to feel as if I had gone on vacation to another country when I walked outside. At the dining table the terraced walls create planting beds at different levels – surrounding you with flowering plants and beautiful scents. Accents of tropical plants in pots flanking the fireplace add color and form. I use planted containers to create a full green garden on a stone terrace. The Drake Anderson pillows, the rhythm of the terracotta pots, and varied furniture all work together to create a terrace that is lush and full and welcomes me.' 
The indoor and outdoor rooms of this home and its garden are beautifully balanced and thoughtfully put together, with equal attention to detail in both areas. Is that not the very secret of a garden and home working in harmony to create a good place to be? 
---
Landscape design: Janice Parker Landscape Architects
Interior design: Drake/Anderson