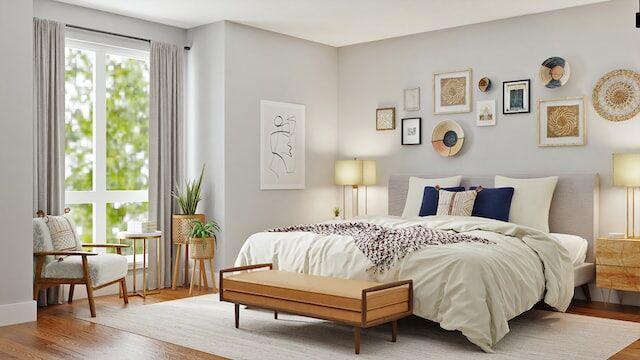 Human activity is the number one cause of climate change, and simply going about your daily activities can negatively impact the state of our environment. We should all be doing our bit to lessen our carbon footprint.
So, how can you turn your bedroom into an eco-sanctuary? We've got all the best tips, from eco-friendly bedding to DIY furniture. Keep reading for more.
Invest in Eco-Friendly Bedding 
Invest in sustainable bedding, such as stonewashed linen or organic cotton, the first and coziest step to making your bedroom more eco-friendly. 
Eco-friendly bedding is both good for the environment and highly breathable and comfortable. This is especially beneficial if you live in a hot climate or struggle with night sweats. While sustainable bedding may cost slightly more than traditional bedding sets, the excellent quality and 100% cotton count mean that it will last a very long time. It's a worthwhile investment.
Decorate With Eco-Friendly Paint
Are you thinking of redecorating your room with a new splash of paint? Using green products is vital if you wish to have a sustainable bedroom. Traditional paint contains plenty of harmful toxins and contaminants that are bad for the environment and you. Non-toxic, low VOC paints are the best option, and they're environmentally friendly and safe for children and pets.
Use Energy-Efficient Lighting
Are the lights in your bedroom energy efficient? While we depend on modern luxuries such as light, you can choose eco-friendly lighting to create a sustainable habitat in your bedroom. Ensure that all of your lights and lamps use energy-efficient bulbs. Create good habits of switching lights off when you leave the room. Use timers if you like to have lights on for certain times due to safety.
Go Green – Literally
Bedroom decoration ideas don't have to depend on manufactured products. You can beautify your room with stunning houseplants to make a more eco-friendly environment. Adding greenery to your room allows you to decorate with organic materials rather than artificial ones. Houseplants also work to purify the air and create a calm environment. What more could you want?
Choose Eco-Friendly Furniture
Last but certainly not least, why not opt for environmentally-friendly furniture? For example, a reclaimed wooden bed would pair perfectly with your stonewashed linen and organic cotton sheets. Put some effort into DIY furniture that repurposes and recycles instead of always buying new things. For example, you could use pallets for beds or couches or repurposed wine crates for storage. The possibilities are endless with a bit of creativity and hard work!
Turn Your Bedroom Into an Eco Paradise
The best thing about a sustainable bedroom is that you can still lounge in luxury. You won't be skimping on comfort, from eco-friendly bedding and organic cotton pillows to reclaimed furniture and beautiful house plants. 
Are you looking for more fantastic home design tips? Check out our interior design content for inspiration.