We focus a lot of Christmas decorating energy on the most seen spaces of our homes. The front door, the windows, the entryway, the living room, the dining room. But when you think about where you end up spending a lot of time over the holidays, it's the kitchen. 
The kitchen is the natural heart of the home, and both you and your guests will inevitably gather there either to eat and drink or to mull around while you prep and cook (even when you tell them you don't want any help and they should retreat immediately to the living room with a mulled wine). So foresee the kitchen's heavy use at this time of year and decorate accordingly, adding some festive nods even in this very hardworking space. 
Decorating a kitchen for Christmas needs to be well thought through as you still need to be able to use all the space and move around it at ease. It's a balance between aesthetics and practicality. So we asked designers what simple festive flourishes and Christmas kitchen decor they like to use in their spaces. 
How to decorate a kitchen for Christmas 
'I love adding a bit of Christmas decor to my kitchen. Don't forget that you want to keep your counter space clear for cooking. I like to stick to a small vignette in the middle of my kitchen island, say a few little trees,' explains designer Emily Henderson. 
'But then I move onto the windows and any accent shelves. Putting wreaths in front of windows makes a big impact without a ton of work and lightly peppering in bottle brush trees, little figurines, and some cedar garland or branches will instantly bring on the holiday cheer.'
All these super simple Christmas decor ideas get the balance between form and function, adding a touch of festiveness without making the space any less useable.
1.Turn kitchen lighting into decoration
'I absolutely love decorating a kitchen for the holidays. The kitchen is the first place that we gather as a family, so I love ensuring it feels festive. Some of the easiest ways to decorate your kitchen are by adding ribbons or greenery to any pendant lighting or chandeliers.' suggests Marie Flanigan. 
'Fill your vessels with holiday-inspired greenery, berries and stems. I also fill any fruit bowls with holiday-colored fruit like pomegranates or even beautiful citrus.'
2. Switch out your accessories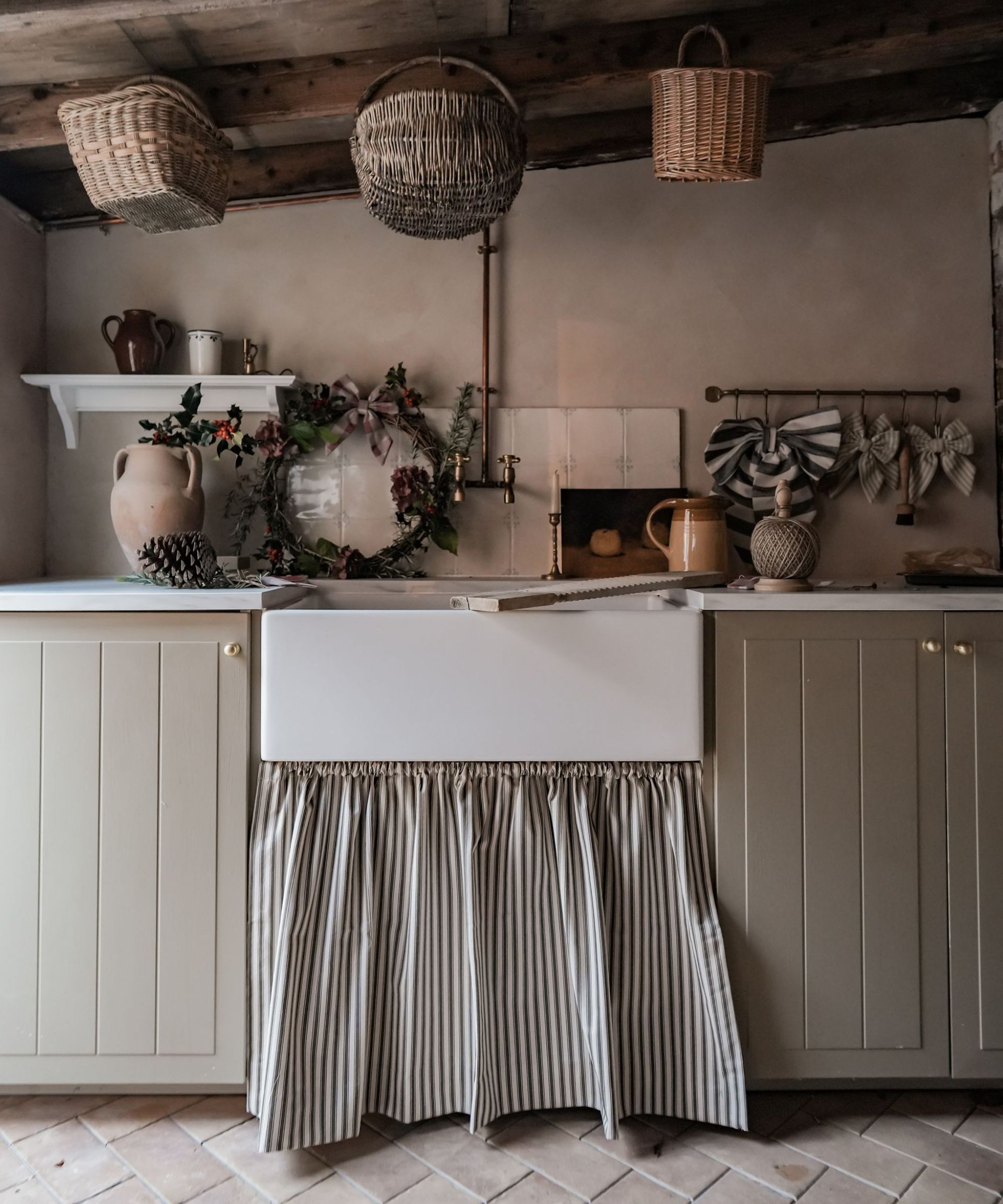 Switching out your towels and oven mitts for the holidays sounds cliche, but we think it's a really simple and practical way to bring in some festive colors and prints. And they don't have to be gaudy – a lovely plaid towel or even a stipe can inject a festive feel. This can be something you do early on in the holiday season too, before you fully commit to any really Christmassy decor, you could switch from Thanksgiving, fall shades, and motifs to something more obviously Christmas in early December. 
'To make a kitchen feel a bit more festive and Christmassy, swap out regular kitchen towels for something more holiday-themed. It doesn't have to be over the top with snowflakes, but a subtle gingham or plaid,' explains designer Victoria Holly. 'And place scented Christmas candles with holiday fragrances on the kitchen counter. Scents like cinnamon, pine, or gingerbread are a great way to infuse the holiday spirit.'
Victoria Holly Interiors is a full-service interior design firm that specializes in creating beautiful and functional spaces for both residential and commercial clients. They pride themselves on their ability to deliver high-quality projects that meet the unique needs and preferences of their clients. Victoria Holly Interiors offers a wide range of professional services, including project management, interior design, construction assistance, and renovations.
3. Decorate with a ton of evergreen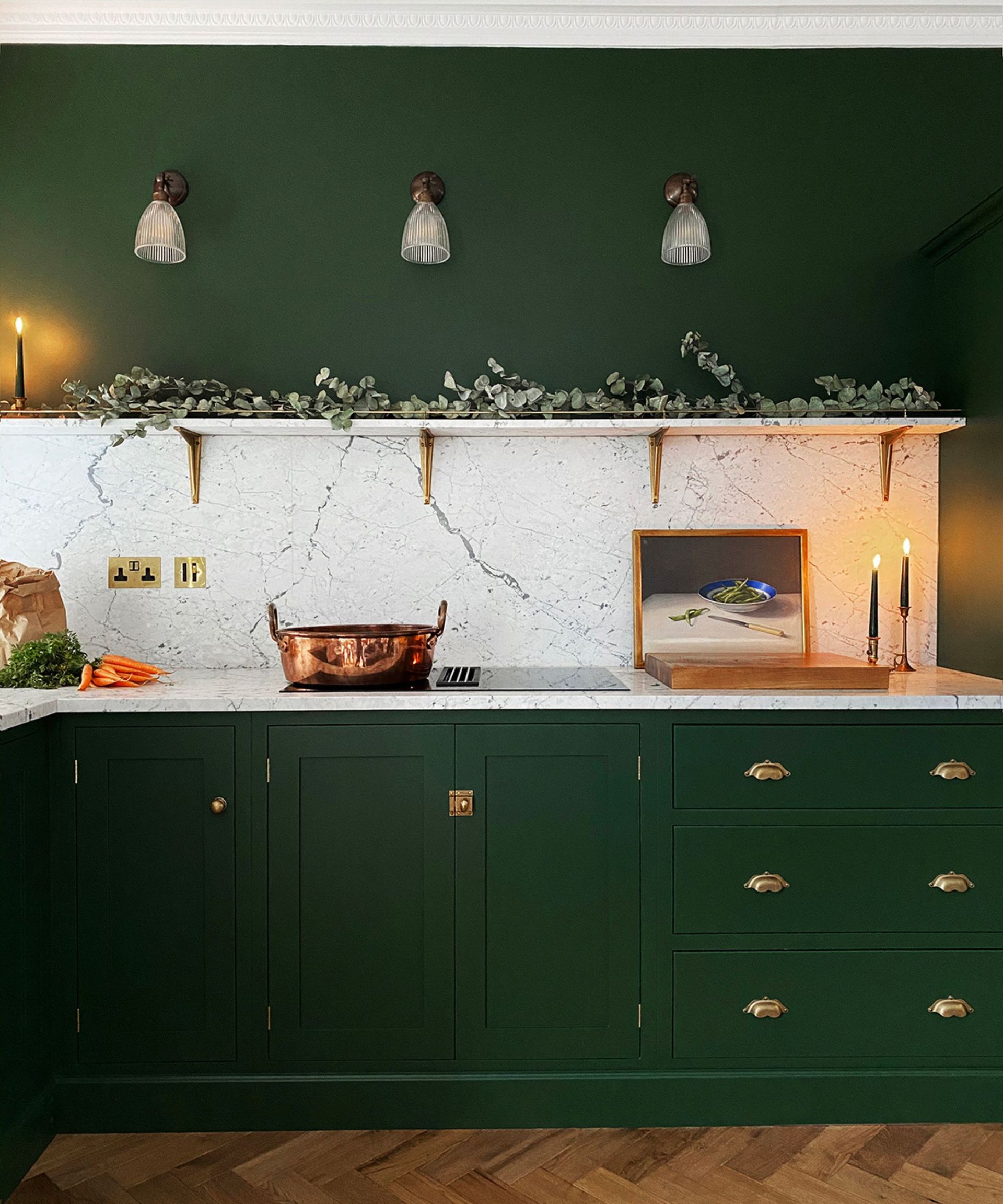 This is again something you can do early on to give your kitchen a hint of the holidays. Plus, it can be a free way to decorate your kitchen for Christmas. Get out in your own backyard and see what you can evergreen you can salvage to decorate shelving or to create a large display to create a Christmas centerpiece with foliage. 
'I prefer a fairly subtle approach to decorating a kitchen for the holiday season,' explains Kathy Kuo. 'I like to start with a festive vase in a warm neutral shade accented with gold or maroon and fill it with seasonal evergreen branches and winterberry branches. With my vase as the focal point of countertop accents, I then like to add little touches like serving platters and decorative bowls with Christmasy patterns on them.'
Designer Joshua Smith agrees, 'I always look for nature for inspiration to bring beautiful greenery into the decor. I think about what I can use that represents and honors Mother Earth. Pick up pine garlands, pine wreaths, or even ferns to bring in the green.'
'One of my favorites is to pull out my vintage Ironstone bowls or platters for serving, but also to fill the bowls with gourds or pomegranates when not in use. Even utilizing the bowls to house glass globe ornaments in the color scheme of your decorations creates a festiveness with style and can look great atop a kitchen island.'
Kathy Kuo is a celebrated interior designer and international guru within the home and lifestyle space. She has 20+ years of experience in the design industry. 
4. And create displays with seasonal flowers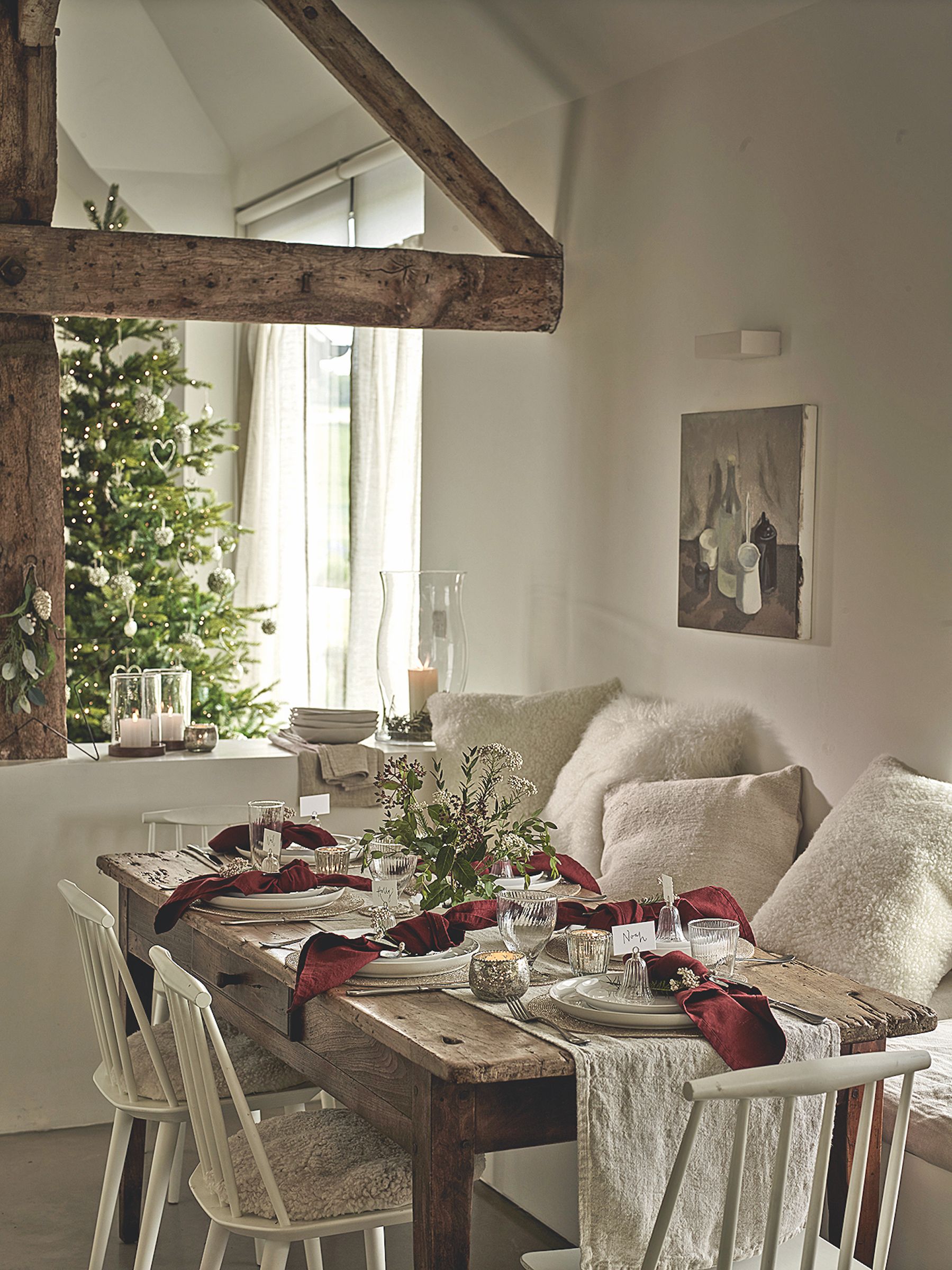 And as well as the more traditional evergreen, as vase of beautiful flowers on the kitchen countertops can add a tasteful touch of Christmas. A display of white blooms with some darker greenery mixed in makes for a very chic and sophisticated festive addition. 
'I love to bring the outside in so lots of very simply arranged white flowers and greenery,' suggests Chrissie. 'Ranunculars, hyacinths, white roses, flowering eucalyptus, snowberries, and fresh rosemary are all favorites. And don't be afraid to mix real with faux greenery or just go with faux even; the faux finishes today are incredible, and it can save you lots of time. I place the faux and add in real greenery a day or two before Christmas.'
5. Pick a color scheme that works with your kitchen design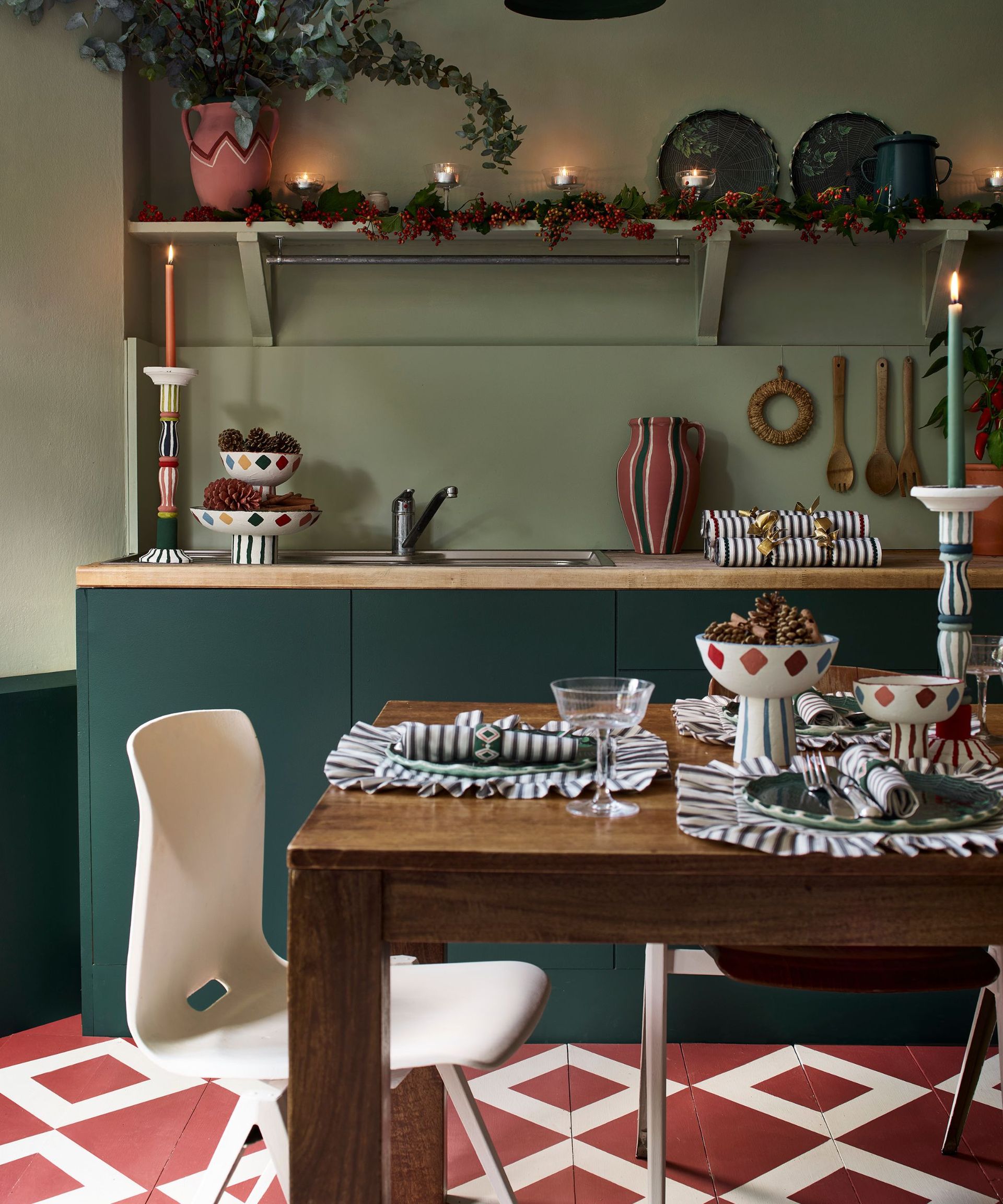 When it comes to ramping up the decor from a few festive flourishes to full-on Christmas, do consider the kitchen color scheme and style. You want whatever vibe you are after to work with your space, just as you would in the rest of your home. Plus, think about how you use the space. For example, if the island is in constant use that's not the best place to decorate, so look to hang things above it or decorate kitchen shelving that's up and out of the way instead. 
'The 'most wonderful time of the year' provides the perfect excuse to inject an added shimmer of sparkle and glamour to a kitchen. Although a moment whereby an aesthetic of excess is applauded, I counsel adhering to a smaller color scheme to keep the decoration more refined in such a practical space.' explains Eleanor Taylor-Roberts.
'Showcase family classics such as embroidered stockings hung above the kitchen island or consider creating an abstract focal point like an enlarged snow globe, bauble light pendant, or an eggnog fountain for a welcome dose of kitsch. And for a super easy approach, nothing beats a candlelit setting at Christmas; scatter several in keeping with your palette and play with the senses experimenting beyond the typical festive aromas.'
6. Hang a wreath somewhere impactful but practical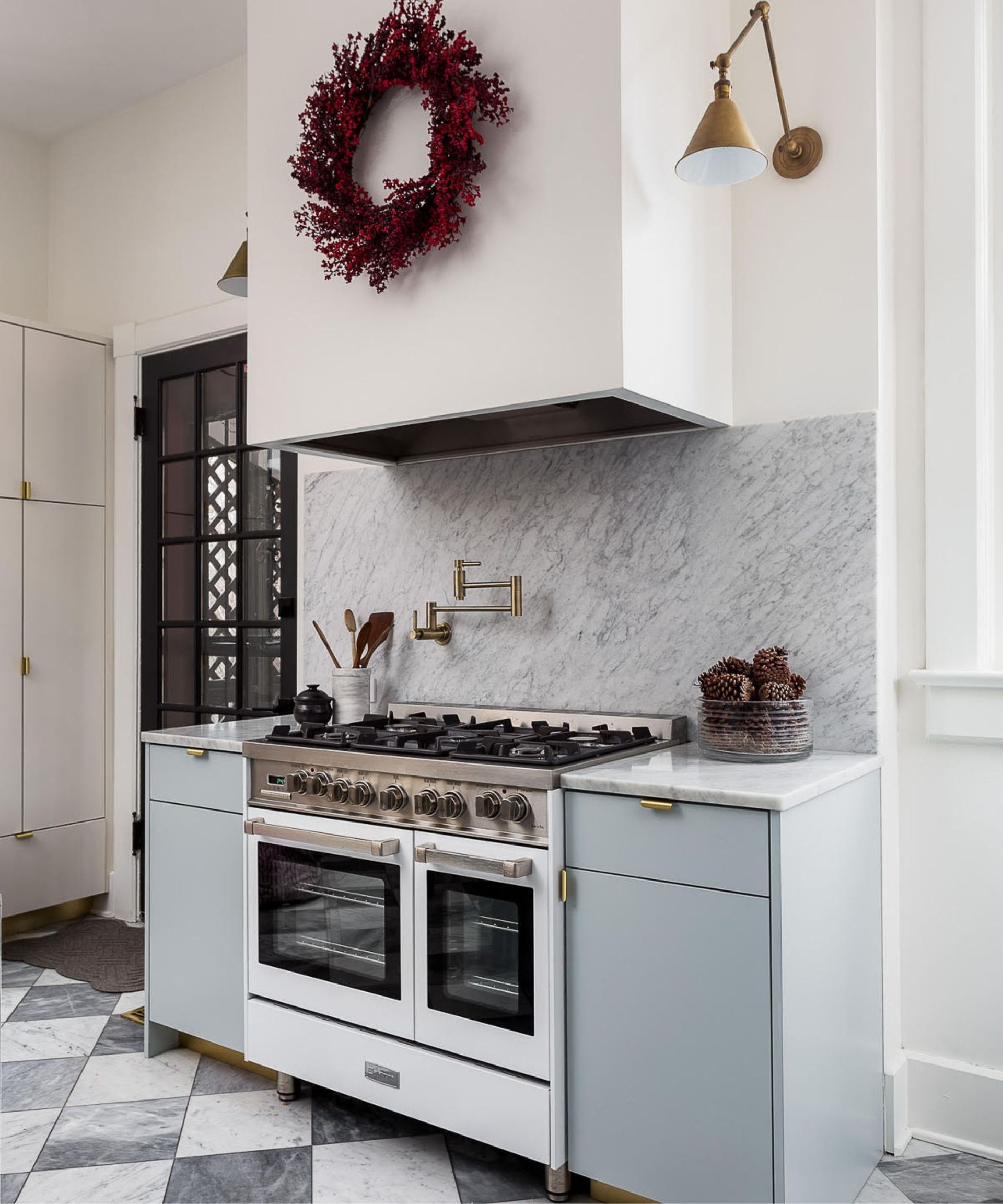 Wreaths instantly give a Christmas feel to a space, and really they shouldn't just be used for the front door. They look wonderful hung above a mantle, or above a stove in a kitchen to add a flourish of festiveness. We do love the idea of a Christmas tree in a kitchen, but they do take up a lot of room, so it's not always the most practical decision, but a wreath takes up zero floor space and still gives that Christmassy focal point. 
'Plates of freshly baked Christmas cookies on the island are a good start, but I also love to hang a wreath above the range hood. It's easy and impactful and doesn't get in the way of all of that cookie baking.' explains Bethany Adams.
You could also use a Christmas wreath to create a kitchen island centrepiece as Chrissie Rucker, founder of The White Company, suggests 'On the kitchen island I place a wreath and fill it with tall pillar candles or a storm lantern.'
7. Adorn shelves, mantlepieces and window ledges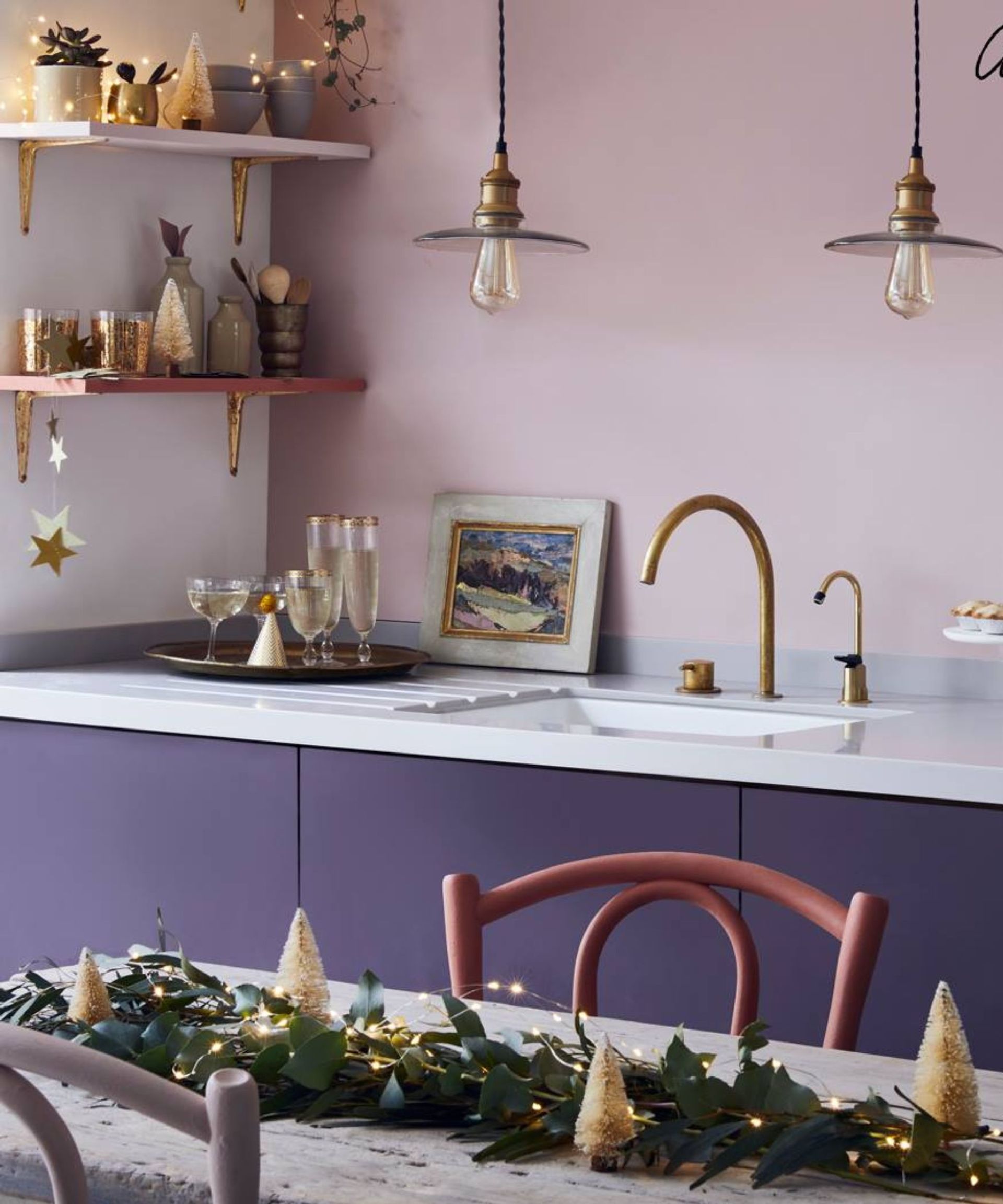 Those often unused surface areas are perfect for adding Christmas decor to a kitchen as they are usually spaces reserved for more aesthetic purposes anyway. String these spots with fairy lights and add some greenery or just add a few small decorations in amongst your crockery and cookbooks. 
'On shelves, mantle pieces, and large windowsills, we add greenery, fairy lights and candles in storm lanterns. A small faux Christmas tree or two and large silver stars with fairy lights on the sills, which look gorgeous as it gets dark.  Just before Christmas, I will often add a few real branches from the garden or off-cuts from the tree.' suggests Chrissie. 
'And I use lots of scented candles including Winter, Fir Tree, Myrrh, Highland Escape and our new Nordic Woods are all wonderful at this time of year. The tiny flickering flame of a scented candle can instantly transform the atmosphere of a kitchen.' 
---
Getting your kitchen ready for hosting and decorating it for the holidays is a joy since you do spend so much time in there at this time of year. Often the kitchen becomes where most people gather, so it's worth putting in a bit of effort to get it feeling festive.