It's fair to say, a coastal theme is probably one of the most popular decorating styles to embrace in a bathroom. 
Soft, soothing, and connecting us to the calming and restorative qualities of being surrounded by the sea and sand, coastal decor ideas will always prove to be an utterly timeless design aesthetic for the home. 
Of course, when many of us think of a coastal bathroom, we are drawn to a classic nautical style with plenty of blue and white stripes and pretty sea shells, but as styles and trends have adapted over time – and as we explore in this feature – coastal bathroom ideas can embody so much more…
Transport yourself to the seaside with coastal bathroom decor ideas
From sunny, summery color palettes to rustic textures and playful patterns, a collection of interior designers take us through how to create the perfect coastal bathroom for your bathroom ideas.
1. Embrace a blue and white color scheme for a classic look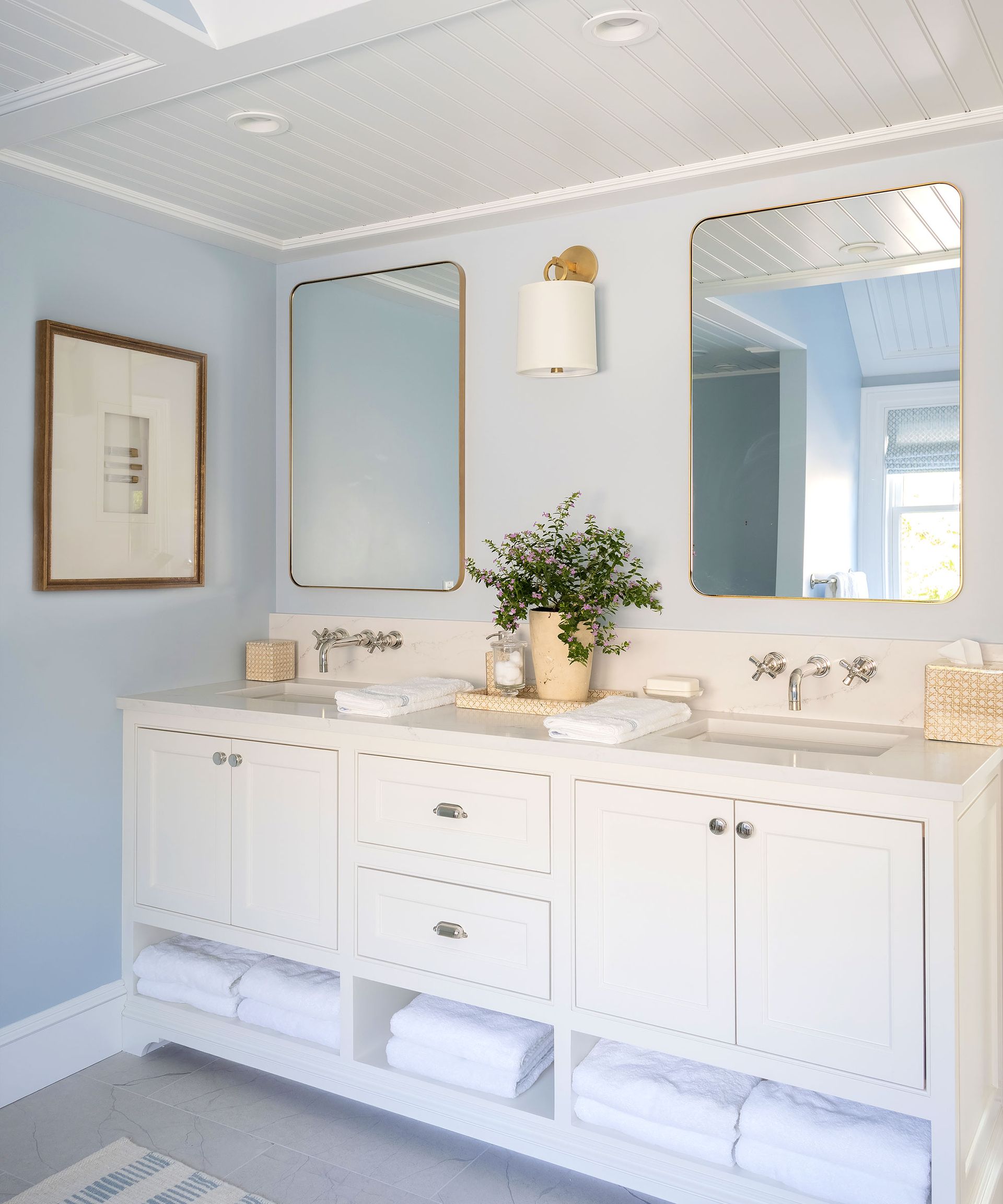 For a more traditional, classic coastal look, you simply cannot go wrong with a blue-and-white color scheme for your bathroom color ideas.
Refreshing, elegant and wonderfully versatile, a blue and white bathroom can establish a truly enduring color scheme in spaces of all styles and ages.
'For soft, light, and airy colors reminiscent of the seaside, think shades of blue, from pastel aqua to deep navy, sandy beige, warm whites, and pale greens. These colors can be used for bathroom paint ideas, bathroom tile ideas, and across your accessories; bringing fresh, watery vibes inside,' says interior designer, Michelle Woolley Sauter from One Coast Design.
In this beautiful blue bathroom, designed by Robin Gannon Interiors, the pale blue paint on the walls pairs perfectly with the white shiplap ceiling and white double vanity; establishing a chic and clean design.
Interior designer Michelle Woolley Sauter is the founder of One Coast Design, an award-winning interior design firm based in Summerville, SC. An accomplished artist, Michelle also has a background in designing yacht interiors, bespoke furniture pieces, and wallpaper lines.
2. Or, create a more modern, colorful coastal theme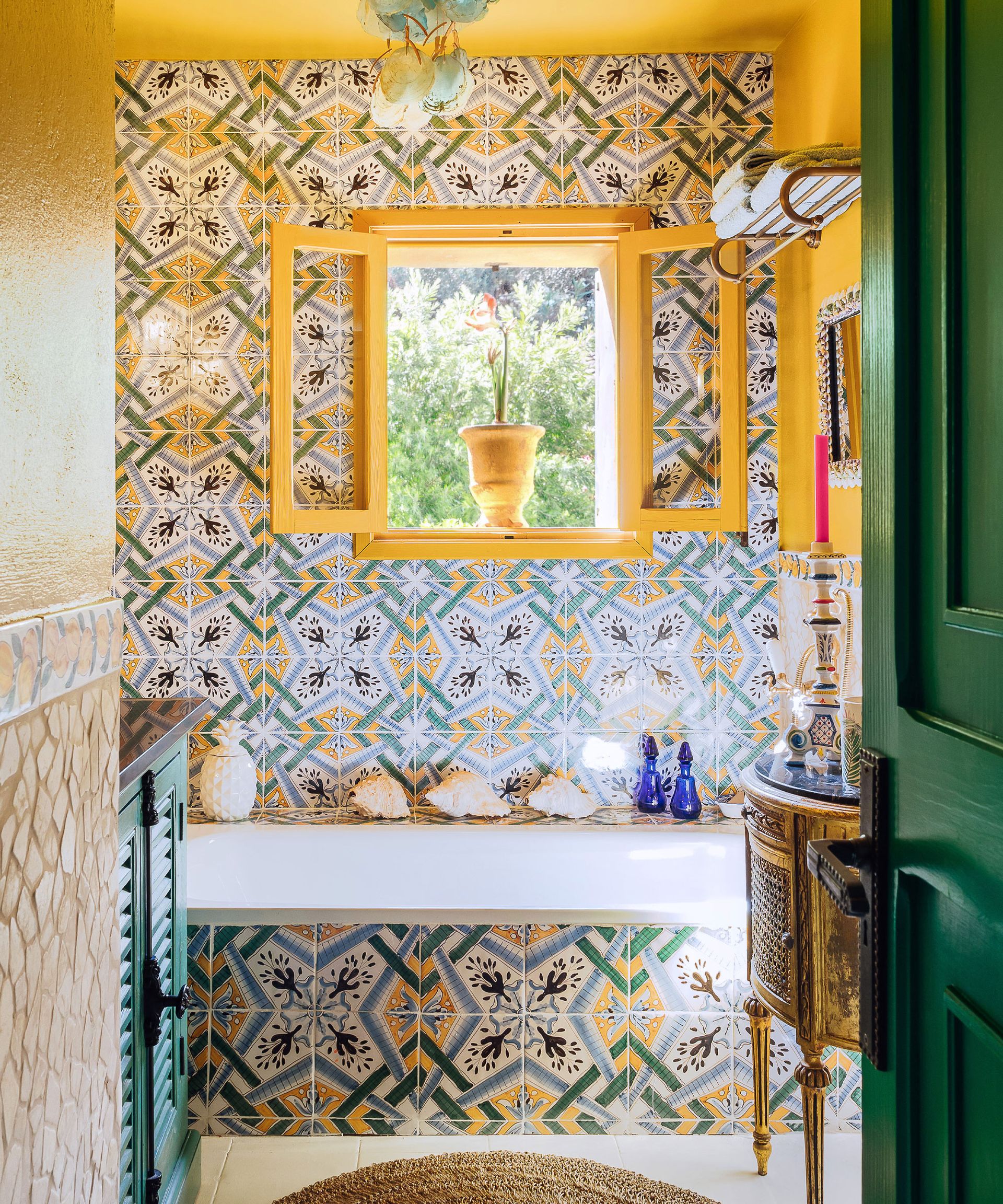 'When designing a bathroom inspired by the coast, the deep blue of the ocean and the wave's whitecaps is a classic foundation for a color palette. But, I wouldn't stop there. The beach is full of so much life and vibrancy that should be drawn on for inspiration. Be inspired by the bright colors and patterns of umbrellas, coolers and bathing suits scattered across every inch of the shore,' says interior designer Ashley Macuga of Collected Interiors.
If you're wanting to create a more contemporary coastal scheme, then look no further for some striking inspiration; we think this bathroom designed by British interior designer, Matthew Williamson, is a beautiful example of a more daring and dynamic coastal look.
Defined by the eye-catching, colorful patterned tiles, which are further uplifted by the use of yellow and green paint across the walls, trims and doors, the colorful bathroom space instantly transports you to warmer, sunnier climes.
Interior designer Robin Gannon also notes, 'adding grass greens, yellows, pops of coral, and orange across textiles, bathroom wallpaper ideas, lighting, art and objects, can punch up the classic blue and white coastal feel. We believe in layering a home to feel lived in and collected. Mixing old and new, traditional and contemporary, and adding pops of color can revitalize even the most conventional coastal home.'
Ashley Macuga is principal designer at Collected Interiors, a San Carlos-based interior design firm. Ashley's New Orleans heritage deeply influences her design point of view and practice.
Robin Gannon is the founder and principal of Robin Gannon Interiors, a full-service interior design firm in the metro Boston, MA area. Winner of Boston Home's Best of Boston Home® 2023 – Most Versatile Interior Designer, the firm is known for their use of color, pattern, and layers to make each client's home as distinctive as they are.
3. Bring the outdoors in with the use of natural materials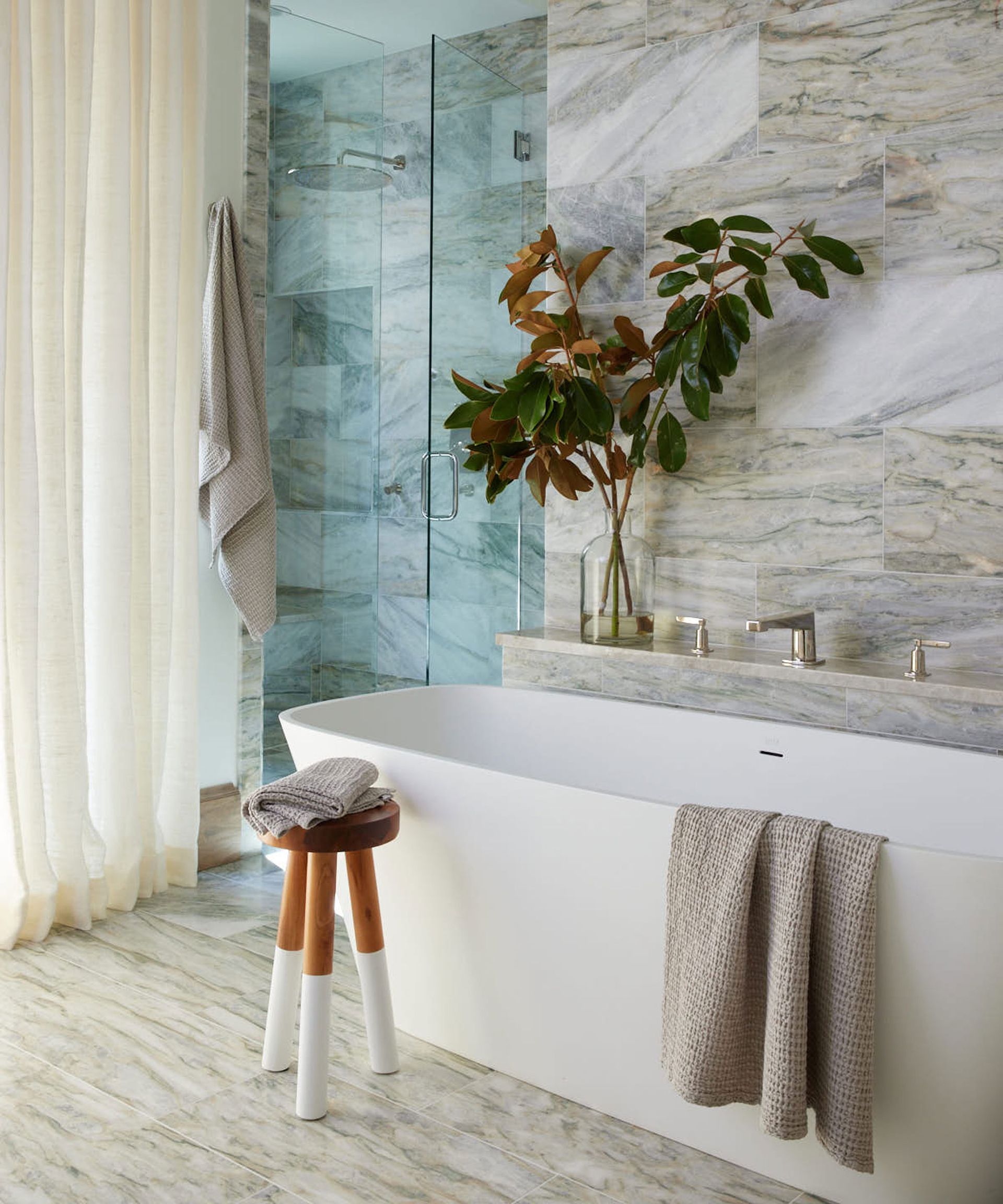 From the best bath towels, bathroom rug ideas and bathroom curtain ideas, to materials such as marble, wood and wicker, incorporating plenty of tactile texture into your bathroom design can transform the space from cold and clinical to cozy and inviting.
Interior designer Michelle Woolley Sauter suggests, 'incorporate elements like pale wood vanities, bamboo accents, rattan, and woven storage baskets into your coastal bathroom. Materials like jute, seagrass, and sisal can also be used for rugs or window treatments, too.'
For coastal bathroom ideas, the use of natural materials can help to achieve that relaxing, indoor-outdoor feel; helping to make the space feel more inviting, calming and grounding.
For this elegant, more minimalist coastal bathroom design, interior designer Annie Downing notes, 'in this lakeside bath, we used a marble tile with a lot of color variation. The tile has a soft, almost botanical style. The wave-like veining honors its relaxing setting without being too heavy-handed. For a coastal bathroom, always choose materials that feel fresh and organic.'
After assisting friends with various interiors projects, Annie Downing went on to set up her own interior design firm. ADI has projects throughout Austin, and surrounding areas, and was named a Best New Southern Tastemaker by Southern Living in 2018.
4. Enhance the space with patterns and prints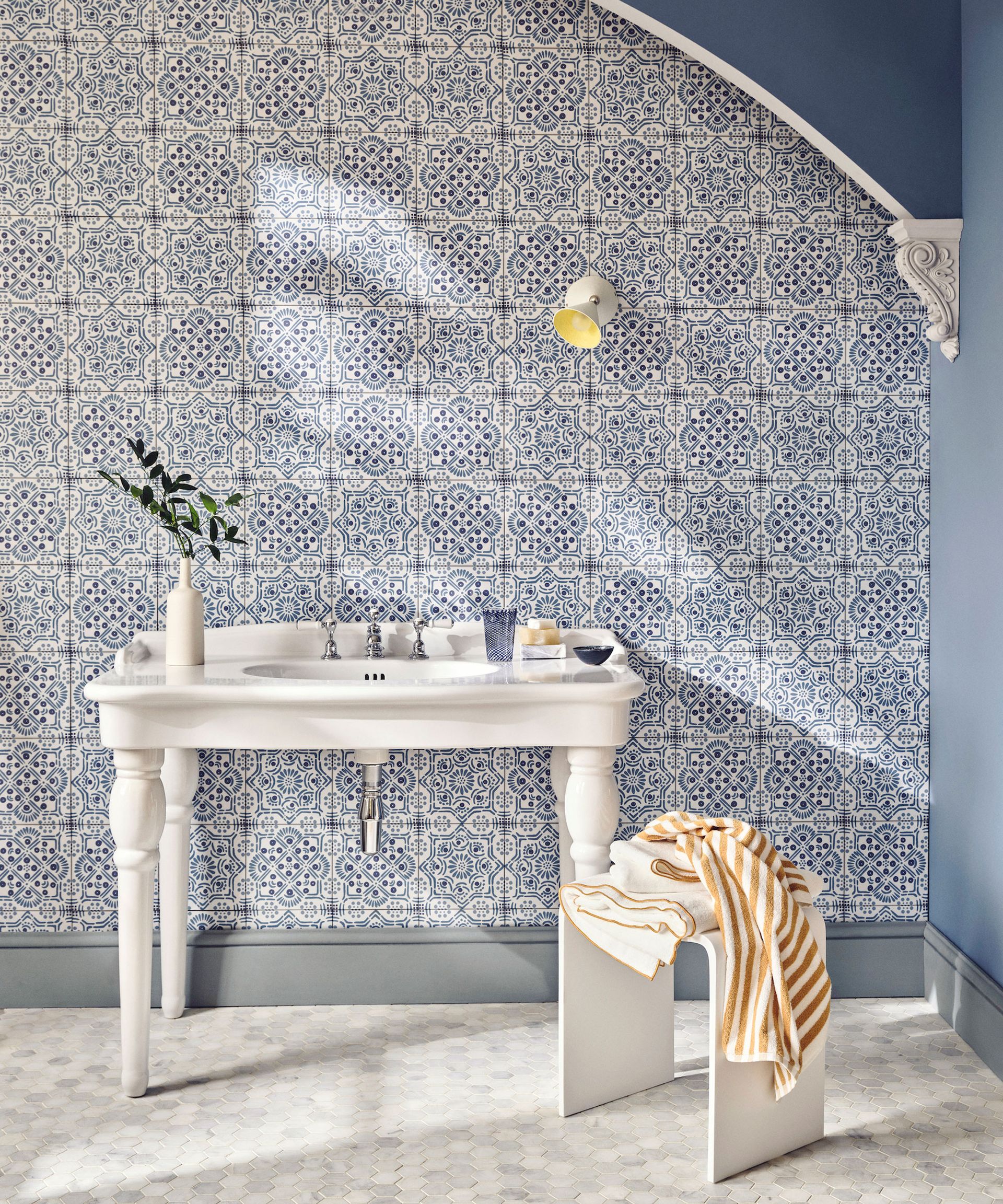 Of course, you cannot go wrong with the elegant and timeless simplicity of blue and white stripes in a coastal bathroom, but there are many other ways you can decorate with pattern when considering your wallpaper and tile ideas for a coastal theme.
London-based interior designer, Naomi Astley Clarke says, 'to recreate the relaxed and joyful style typical of Italian coastal destinations, look to bold patterns in Mediterranean colors, evocative of lemon trees, blue skies, or basil leaves. Elements such as large-scale terrazzo, muraled walls, and decorative tiles will bring a touch of Italian holiday glamour to your bathroom.'
Beautifully shown in this bathroom with striking Seville Blue tiles from the Fired Earth x Nina Campbell collection.
London-based interior designer, Naomi Astley Clarke, has worked in the interior design industry for over 20 years and has a client base of movie stars, producers, music moguls, professionals, and entrepreneurs. She creates uplifting and exciting renovations and refurbishments of both residential and commercial properties.
5. Prioritize plenty of natural light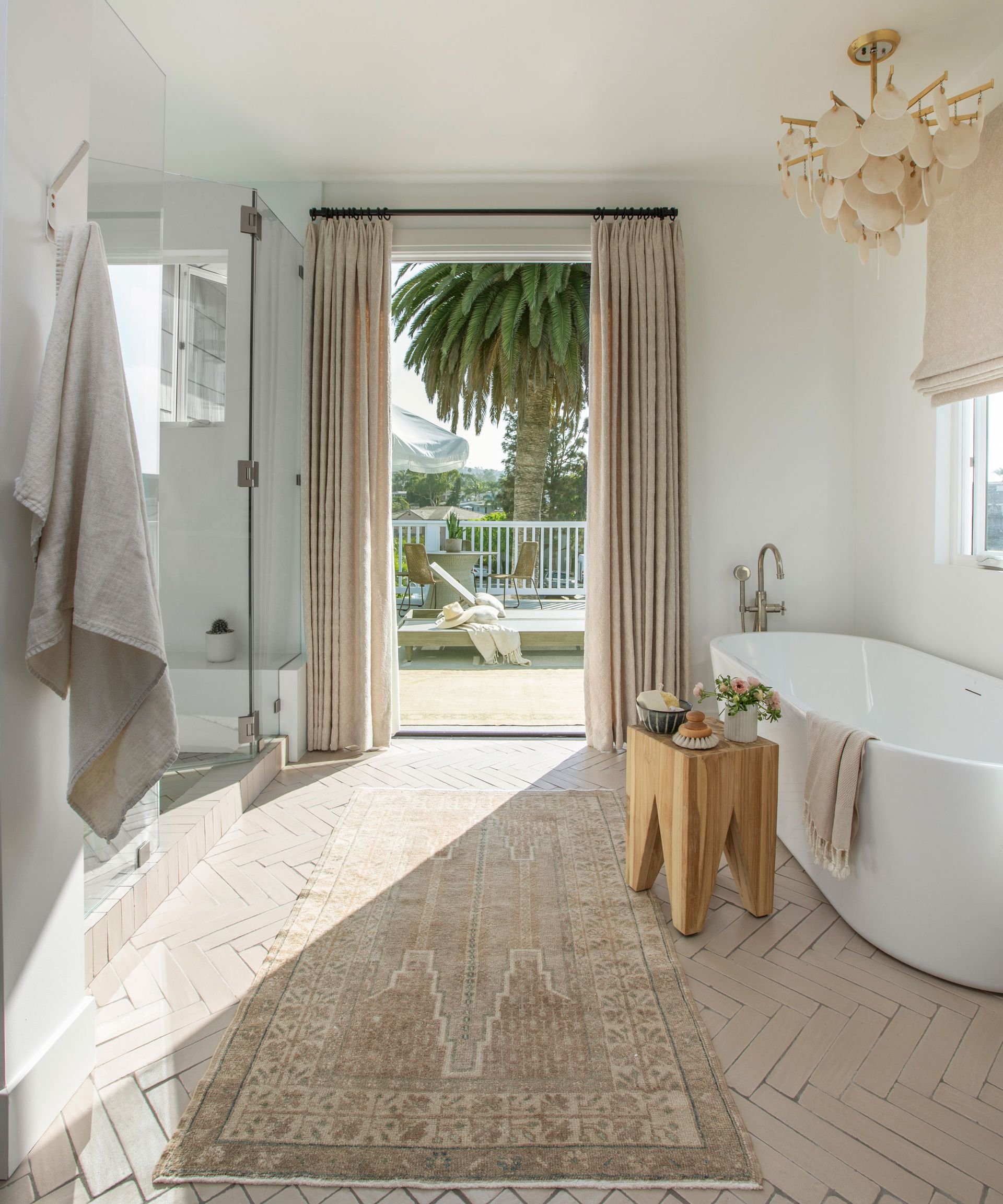 'For those fortunate enough to reside in coastal locales, embracing large windows that seamlessly integrate the picturesque scenery within the space becomes a defining characteristic of this design ethos,' says Brandi Carlson, project manager at 210 Design House. 
Even if your home is no-where near the coast, when at the beach, there is often sky and beautiful blue ocean as far as the eye can see, and filling your bathroom with plenty of natural light will not only bring the outdoors in, it will help make the room feel more spacious, bright and uplifting. 
Brandi Carlson is a Project Manager at 210 Design House, a high-end luxury showroom and design studio based in Chicago.
6. Accessorize with decorative objects for the final flourish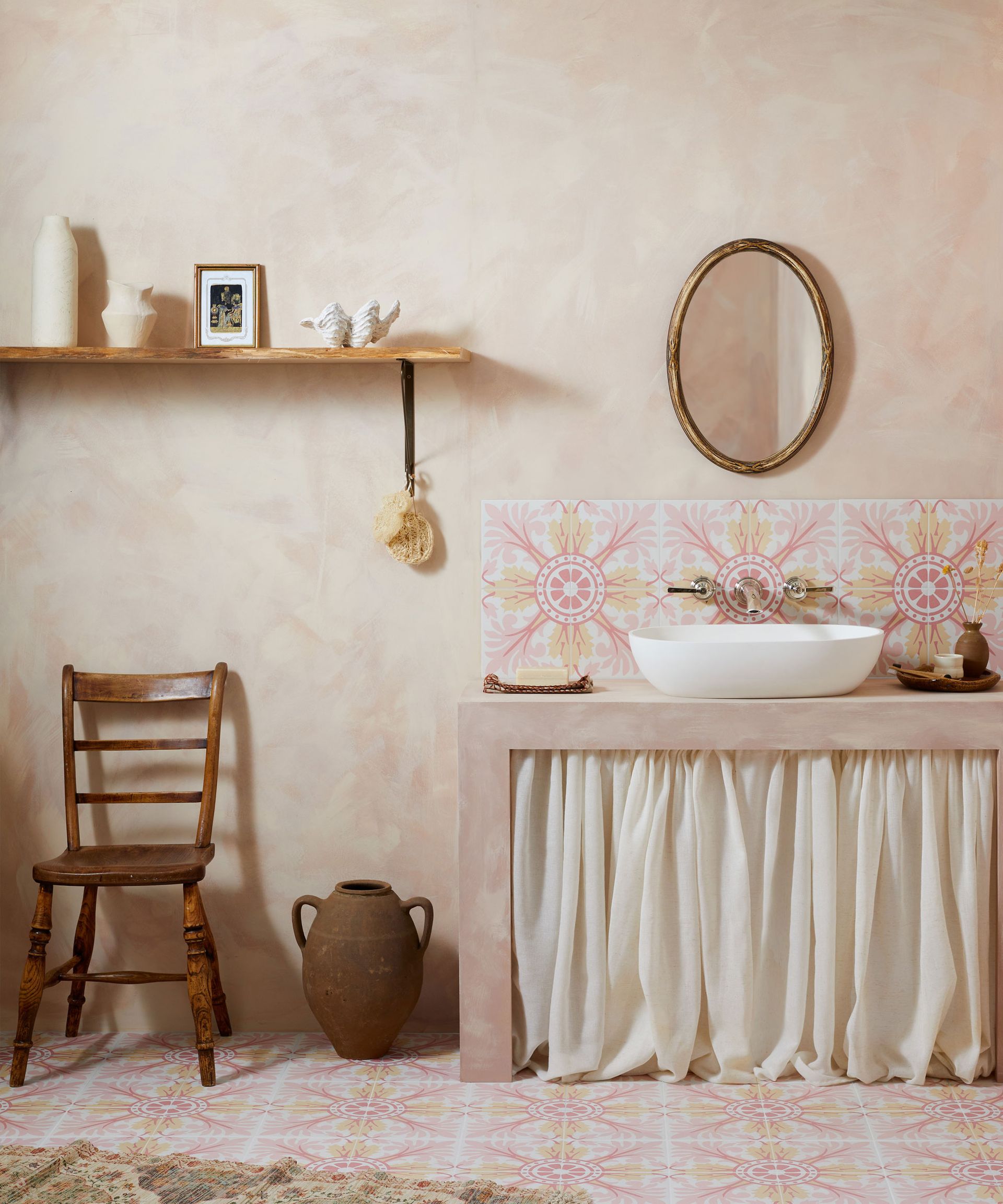 'When decorating a more minimalist coastal bathroom, try to stay away from more cliché designs that can create unnecessary clutter, such as heavy nautical items like anchors, ships, and ropes. 
For example, instead of using actual shells, incorporating mother-of-pearl accent lighting is one way to create a coastal vibe without being obvious. Clean and bright is the name of the game when it comes to coastal. Polished brass mixed with navy and white are perfect without being so over the top, and woven mirrors, bright white tiled walls, and wallpaper with texture (such as a grasscloth) all speak to the coastal vibe that people are after,' suggests interior designer, Kelly Stone.
However, for those who favor more maximalist decor ideas, or sit somewhere in-between, then getting creative with a whole host of coastal accessories, such as sculptural shells or artwork that depicts a beautiful coastal scene, can be a great way to really cement and celebrate a coastal theme.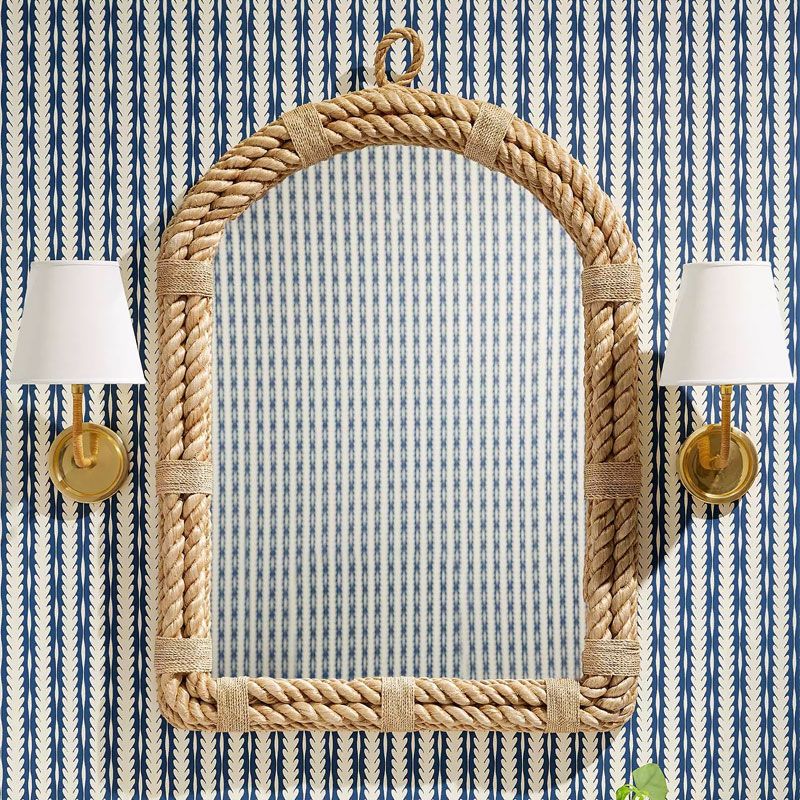 Nautical Rope Mirror – Arch
This statement piece brings a dash of dockside-chic right into your home. We love how the elegant arch shape and how the  textural rope border lends a natural touch to your walls.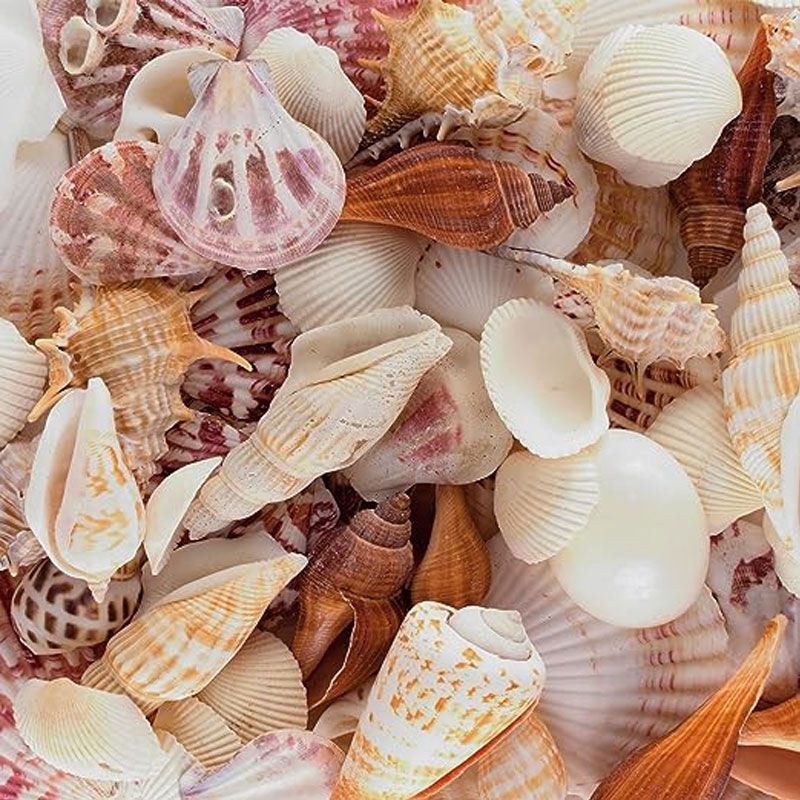 A beautiful assortment of various-sized shells ranging from conchas to teeny tiny micro shells that compliment any design scheme with its warm neutral orange, pink, brown, and gray color tones.
Interior designer Kelly Stone designs homes and businesses in the Las Vegas area and occasionally around the country. Recently named one of Las Vegas' Top 15 Interior Designers by Vegas Entrepreneur Magazine, and a new star of HGTV's Flip the Strip, Kelly's designs have also been featured by West Elm, Lulu & Georgia, and more.
What are the key elements of a coastal style?
'A coastal style is not a monolith, but rather a fluid concept. It can be shaped to reflect various individual preferences, from an earthy, rough-hewn coastal aesthetic to a more refined and opulent seaside resort ambiance. It's all about fashioning an environment that's uniquely yours and invokes the peacefulness one might feel while walking along a beach bathed in sunshine,' says interior designer, Artem Kropovinsky. 
As we have explored in this feature, there are many contrasting design ideas that can all work in different ways to establish a coastal feel. From classic blue and white color schemes to more subtle nods to the seaside through carefully chosen accessories and artwork, creating a unique space that celebrates what the seaside means to you is key.
Founder of NYC-based interior design firm, Arsight, Artem Kropovinsky has a decade of extensive global design experience, connecting a cohesive, collaborative team of passionate professionals, who work on interior projects in the U.S. and worldwide. 
---
If you're looking to create a more retro-inspired coastal bathroom, interior designer Ashley Macuga suggests, 'we love decorating with vintage and using classic materials in coastal bathrooms – specifically enamel sinks and accessories. Enamel's high durability makes the material very practical for families (and pool baths!), but there is also a nostalgic charm about the shape that is reminiscent of the days when Beach Blanket Bingo and The Beach Boys reigned supreme.'