This month, hundreds of thousands of students starting university or going into their second or third year will move into the room that will be their home for a while.
Maybe you are going to be living with eight flatmates in a huge house-share, or perhaps you are moving into a room in a hall of residence.
In many cases it will be a small, impersonal space containing the bare minimum of furniture when you get there – perhaps with just a bed, wardrobe, desk and chair.
So how can you make your student room a home without breaking the bank? What are the top tips for zhooshing up your room or living space? And what are some of the essential items you should bring with you, or stock up on after you arrive?
It's not just about making it look and feel nice – there may be items such as kitchen utensils that you need to invest in, and things that would just make life a bit better. However, many experts say you should wait until you arrive at your halls of residence or student house before splashing out, so you can assess what is already there.
Work out what you need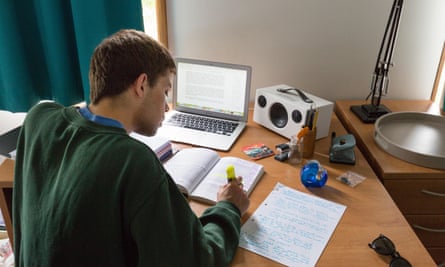 Moving into a new place is never easy. There are so many daily items we use that we take for granted.
The "most forgotten" item when packing for university is the humble coat hanger, according to research from John Lewis, which polled more than 500 students. Other items people wished they had taken to their halls or student house included towels, scissors and a bottle opener. Perhaps surprisingly, bedding was also high on the list of items that had been forgotten.
Ideally, before you move in, make a list of essentials and categorise them based on urgency. One tip is to walk around your house and make a list of items you use daily.
Brightening up your space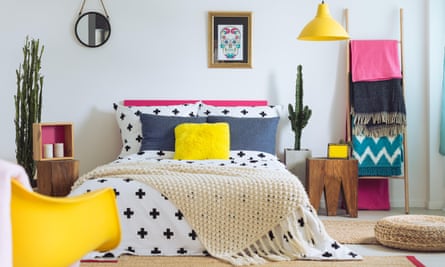 There is nothing like fairy lights, some faux plants, scented candles or a print or two to elevate your student room without spending huge sums. Tom Allingham, the communications director at the website Save the Student, says: "Your university room might be pretty bare when you move in, so decorating the walls with pictures of your family and friends is a great idea. Best of all, you can get the photos for next to nothing."
The Save the Student site has a guide that lists several companies that let people print hundreds of photos for free – all you have to do is pay for postage.
For example, Snapfish allows customers to get up to 600 free prints for a year (50 a month) when you download and use the company's app, with postage costing between £1.49 and £3.79.
"This is a great way to bring a bit of character to your accommodation, and hopefully stave off the homesickness, too," says Allingham.
A collage of your favourite photos is also one of the suggestions from the letting agent StudentTenant.com, while others include perking up rooms by hanging up a bright tapestry or two, making a jazzy temporary headboard for your bed (there are tutorials for this online), and building your own terrarium (the Kew Gardens website has a guide to doing this).
Fairy lights are popular and can often be picked up for just a few pounds. But StudentTenant.com says many student halls ban them, and advises people to check the rules at their accommodation as they could be confiscated.
In most cases, students are staying in rented property, so you don't want to leave marks on the wall, as that may mean you end up losing some of your deposit. Depending on what you are putting up, you may want to ask permission first and/or use something like white tack or Command strips.
Starter packs and bundles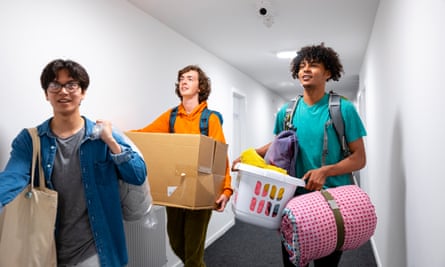 For those who need to buy quite a few things, a student's starter pack could be worth considering, with providers suggesting they can sometimes be a fair bit cheaper than buying items separately.
UniKitOut offers a standard student starter kit (£179) that contains bedding (including two pillows, a duvet and bed linen), a pan set (two saucepans and a frying pan), a two-person dining set with plates, bowls, mugs, glasses and cutlery, a knife set and chopping board, various kitchen utensils, those vital coat hangers, towels, and even a set of food storage containers for packed lunches. These bundles are usually delivered in one large box.
Remember: buying too much before you arrive in your student accommodation and have assessed what is already there may be a mistake, as it could lead to unnecessary purchases and duplication.
If you are already bringing your bedding essentials from home and need only kitchen utensils and crockery, there are packs to suit all budgets. Nisbets's full-works student pack (£139.18) is a 28-piece set that includes three saucepans, frying pan, roasting dish, cutlery and crockery.
A lot cheaper (though it does not include crockery) is Argos's 20-piece kitchen essentials starter set, on offer at at £19.99 at the time of writing, which includes a saucepan, frying pan and wok, plus a baking tray, various utensils and cutlery.
However, many people will prefer to buy individual items or go into a shop to check out the design and quality. If there is a Wilko store near you and it has not closed down, it is worth popping in to see if there are any bargains, as the household goods retailer has been running an administration sale.
Uni essentials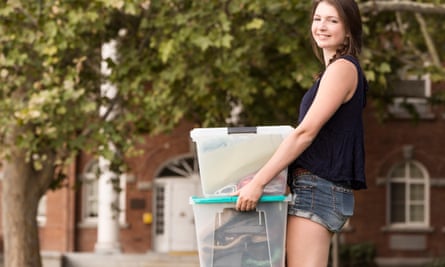 If you are starting university, a couple of cheap items can make all the difference to your freshers' week experience, says Allingham. "A doorstop will only cost you a couple of quid, but if you use it to prop your bedroom door open on the first day while you're unpacking, you're instantly making it much easier for people to walk past and say hello."
Meanwhile, you may want to pack, or buy, a deck of playing cards, he says, as it is "a simple and effective way to bond with your new housemates – whether that's as part of a drinking game or not!"
The consumer organisation Which? has recommended a selection of "great-value" products for students going to university this autumn, including some chosen from its testing that usually sit behind its paywall.
For the kitchen, Which? recommends the Dunelm Essentials stainless steel frying pan. It says it has "an excellent non-stick surface and is easy to clean". The 28cm pan was £14 when we looked.
To cook crispy cheese toasties, the George Foreman Small Fit Grill (about £23.50 at the likes of Argos and Amazon) is an affordable option, says the consumer body. "It heats up quickly and has a handy drip tray to catch melted cheese or butter. It's also easy to clean with a wipe of a damp cloth."
At the healthier end of the spectrum, and for those keen to whisk up some soups and smoothies, Which? also gave a thumbs-up to the Braun MultiQuick 1 Hand Blender MQ 100 Soup (£25 from Robert Dyas). "Testers found it to be the best blender for smoothies, blitzing frozen berries with ease," says Which?
Students who want to stay warm this winter but do not necessarily want to whack up the heating may like the sound of another of the consumer organisation's recommendations: the Comfort Control electric blanket from Silentnight. It costs just 3p an hour to run, says Which?, heats up evenly and is available in different sizes. The recommended retail price is £30 for a single and £36 for a double.
You may be able to find various other bits and bobs you need at charity and discount shops as well as the many vintage markets dotted around the country.
* All prices correct at time of writing