The stronger our connection with nature, the happier we are. There is a proven link between time spent in your yard and your sense of wellbeing. Yet our 'natural' habitat is increasingly an urban one. This is where biophilic design comes in, as it strives to counteract the effects of modern urban life by bringing nature into your space.
The concept of biophilic design has actually been around since the seventies. The term 'biophilia' was coined by psychologist Erich Fromm, who described the idea as the experience of union with nature, and believed in respect for the autonomy of nature without dominating it.
Lately, biophilic design has become a real talking point, particularly as concern for both our environment and mental wellbeing have moved firmly to the top of the agenda. And it's a trend that looks set to become even more popular for naturalistic planting design ideas in 2024. 
So how exactly does the look translate into your own backyard? Find out with our expert guide to biophilic garden design trends.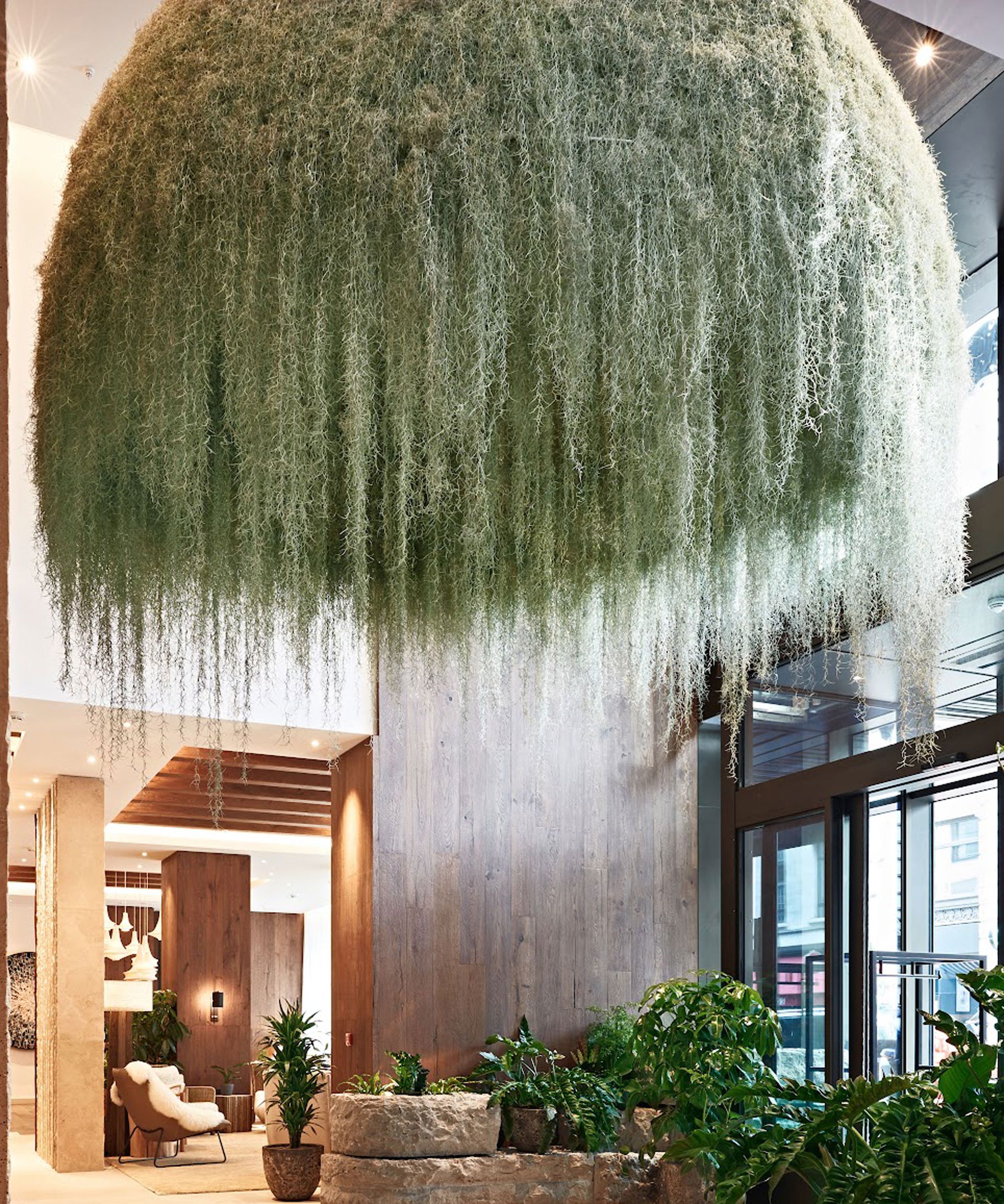 What is the biophilic design trend?
'Biophilic design emerges when the line between indoor and outdoor spaces dissolves, allowing them to blend seamlessly,' explains Miami-based landscape architect Rituparna Simlai. 'It's a state where these spaces unite, and their movement is choreographed in a fluid and effortless manner.'
Biophilic garden design trends are concerned with the practical interventions we can apply to reduce our gardening footprint and improve both environmental health and human wellbeing. Gardening is a creative process that means you can shape the environment around you, which is also beneficial to wellbeing. 
Biophilic design can use nature directly, such as with indoor and outdoor healthy plants, and natural sunlight. It can also use it indirectly with natural materials in building design and décor such as natural wood and stone, as well as earthy color schemes.
The book Nature by Design: The Practice of Biophilic Design by Stephen R. Kellert, available on Amazon, is a great place to start learning about the concept and gaining more inspiration. 
Rituparna Simlai is the founder of Studio Arth, an award-winning landscape architecture firm based in Coconut Grove, Miami. The studio's philosophy is to 'design with purpose', fostering a sense of oneness with nature. With a masters degree in Landscape Architecture from Harvard University, Rituparna has collaborated with firms like AECOM, Cannon Designs, Integral Designs and Raymond Jungles on diverse projects spanning residential design, urban master planning, and infrastructure. Over 15 years' experience in landscape and architecture has led her to work on award-winning international projects in New York, Miami, California, India, Singapore, and the Caribbean. 
8 ideas for biophilic design in your home and garden
We asked experts in the field of biophilic garden design to share their ideas and inspiration on how to get the look in your own home and backyard.
1. Create a seamless connection between house and garden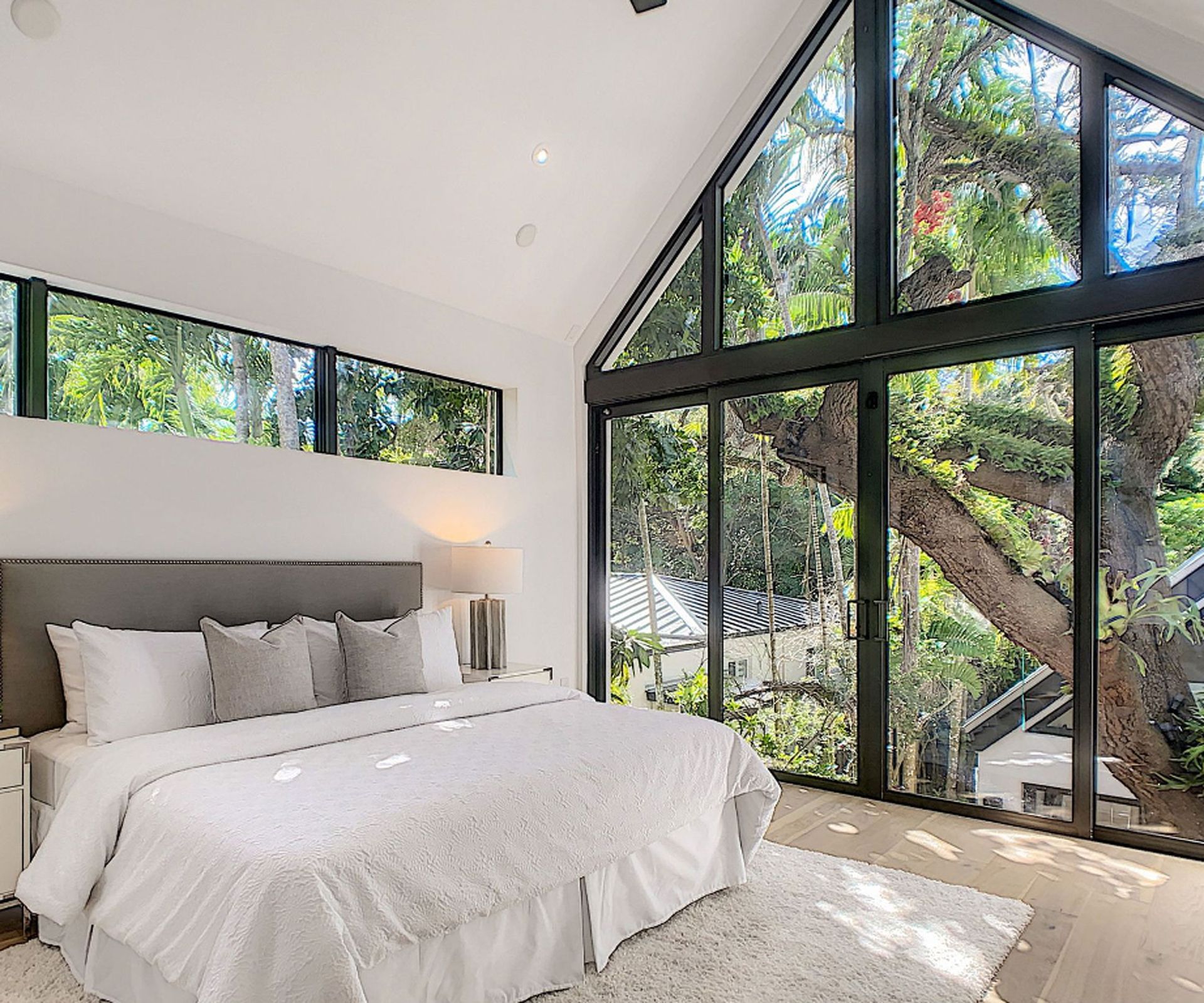 Urban living often leaves us with an unfulfilled desire to connect with nature. Merely adding a touch of greenery doesn't always satisfy this need. Instead, creating small but meaningful interactions with various elements of the natural ecosystem fills the void of the non-natural environment. 
'Whether it's a large window with a tree outside, or a cozy niche in the backyard to read a book, there are numerous ways to feel connected to the natural world,' explains Rituparna Simlai. 'The key is to recognize that biophilic design is not just about aesthetics; it's a way of thinking and living that opens our minds to creative, intuitive thinking.'
By bringing the outdoors in we make the environment less sterile and more restful. Embracing organic forms, and the freshness of chaotic wilderness over highly curated forms makes the space feel reflective of the natural world.
2. Harmonize natural and built environments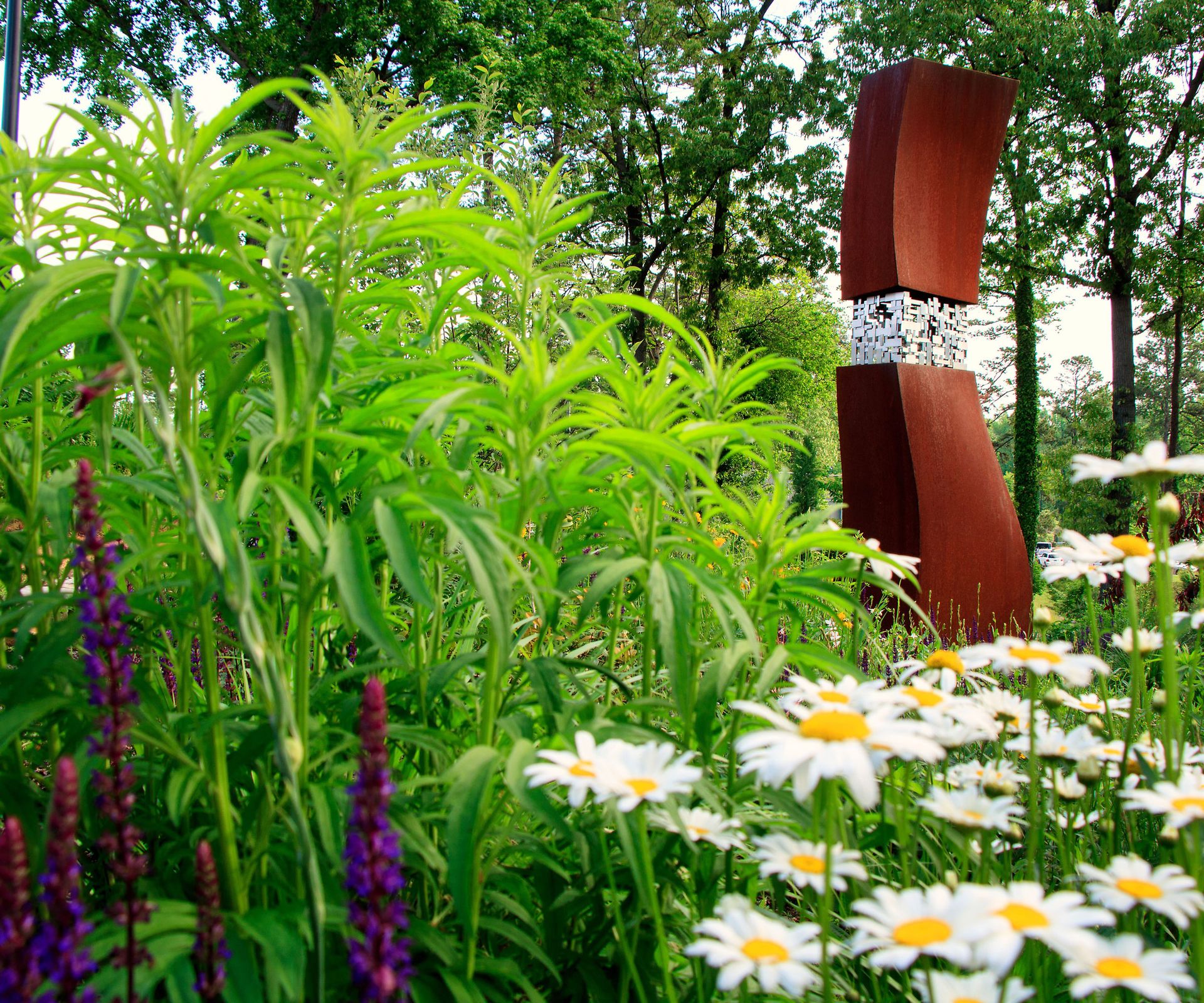 'While biophilic design usually refers to bringing the outside world in, fundamentally biophilia refers to the innate human desire to connect with the natural world,' says Emma Martone, curator of the Mariana H Qubein Arboretum and Botanical Gardens at High Point University, NC. 'In a sculpture garden like this one (pictured), we see a manifestation of that desire to connect and harmonize the natural and the built environments.'
If you love the idea of yard art ideas to create a stunning focal point in your own outdoor space, this can be a great way to include biophilic garden design trends on a small scale. Add the right sort of plantscaping around your chosen piece for your own interpretation of the biophilic look.
'When planting around sculptures, we select plants that complement the color and texture of the sculpture, and arrange them in ways to frame or accentuate their forms,' explains Emma. 'This particular sculpture by Jeff Kiefer was inspired by the fluid and serpentine shapes of the landscapes around us. The sculpture is cited on a curving slope, and seems to float among masses of textural perennials.'
Use loose and airy planting to give a sense of buoyancy that contrasts with solid sculptural forms. 
3. Cosset with immersive planting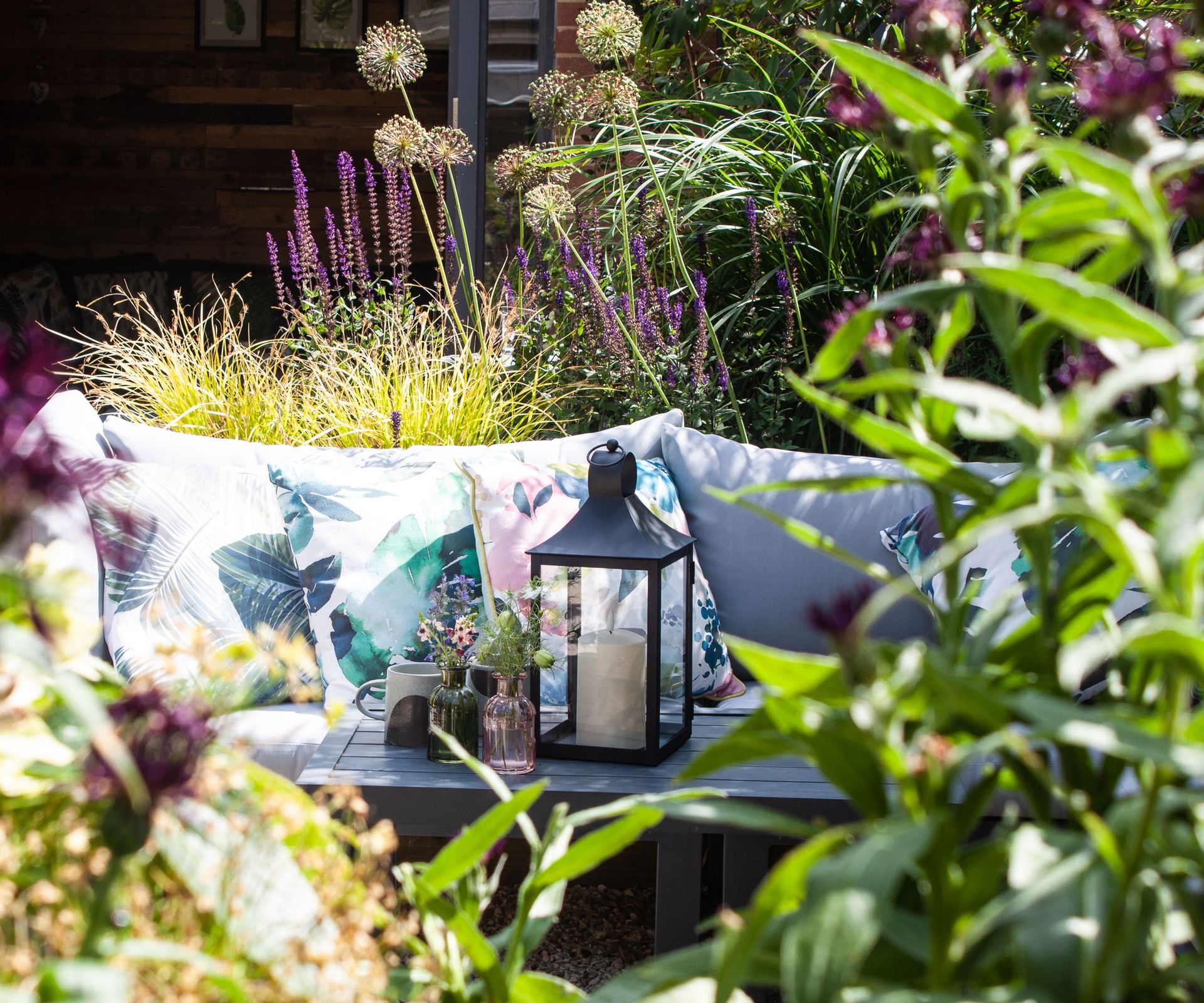 'One of the major trends in biophillic design that I'm seeing as a garden designer is clients who are open to reducing spaces like lawns so that they can increase the planting area,' says landscape designer Amber Hine. 'Although a lawn is a plant it is relatively unnatural in its design, a monoculture that is clipped short, and does not have the level of engagement and biophilic value that planting does.'
One of the first questions Amber asks her clients is how much lawn they really need. The reality is often not as much as you might think, especially after you've looked into no-grass front yard ideas and no-grass backyard ideas for inspiration on how to make the change. 
The next step is increasing planting to raise the biophilic credentials of your space and in turn your connection with nature. 'I think this is going to be one of the leading biophilic garden design trends for 2024 and going forward,' concludes Amber.
Amber Hine is a professionally-trained garden designer, with an RHS horticultural qualification, and is currently studying for her Masters in Landscape Architecture. She designs both private and public garden spaces, and enjoys creating better environments for both people and planet.
4. Mirror the garden inside the house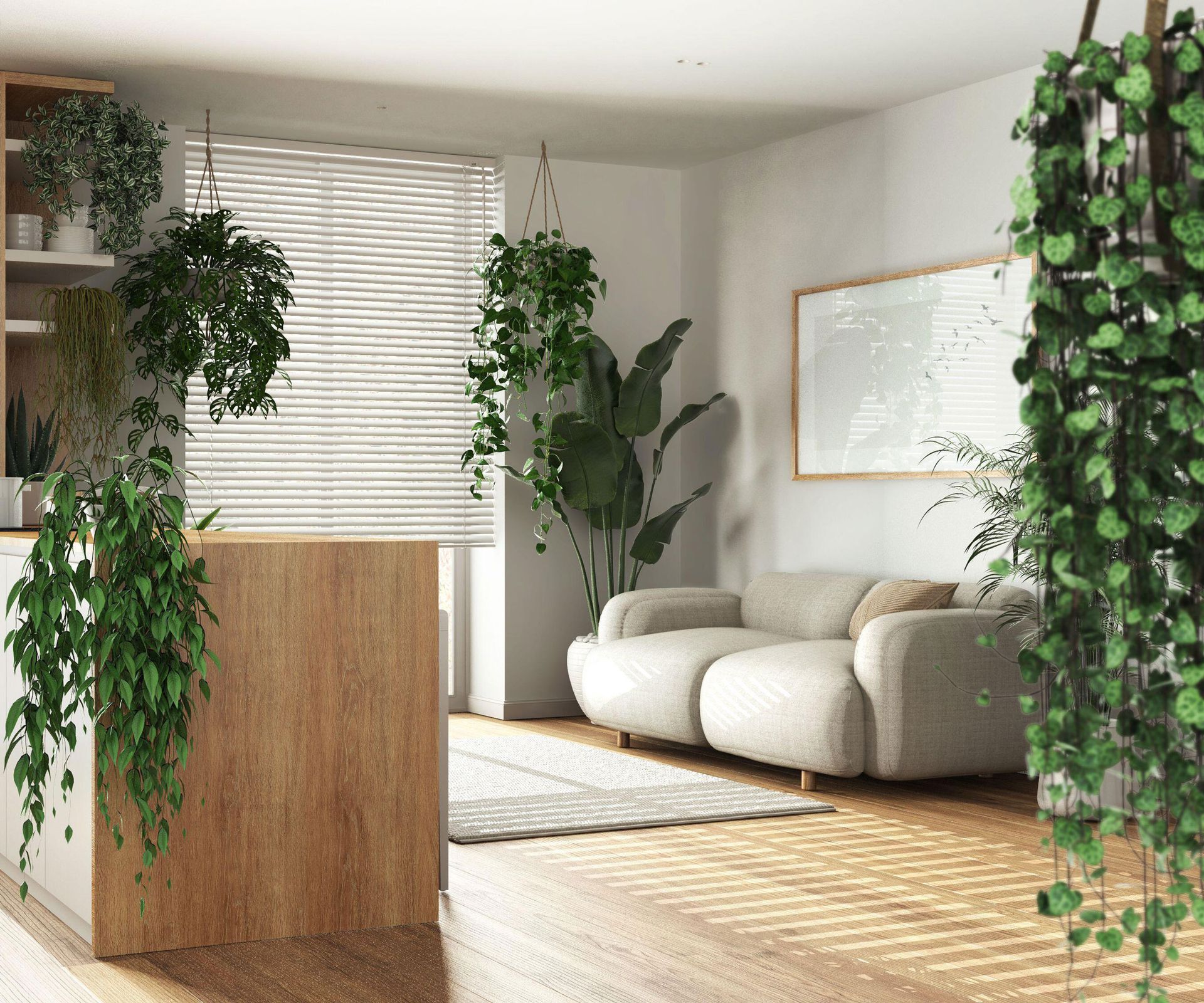 Using plenty of green leafy foliage and the best air-cleaning indoor plants as part of your interior design has well-established benefits, and has become one of the most popular biophilic design trends recently, as more of us want to create a pleasanter environment at home both for hybrid working and downtime.
'Houseplants have revolutionized in recent years, and using them to connect with the garden outside is one of my favorite things to do,' says Amber Hine. 'This is a no-brainer if you have a large window that looks out into the garden. Start by creating beds around the window, so the view is framed by planting that slightly encroaches into the view out. 
'Then, bring in some of the best indoor plants that continue the story of planting and the biophillic environment from the outside in. This layered approach means you can enjoy that planting inside your home with a view out that connects you to your experience of nature through the window.' 
5. Green up a roof with plants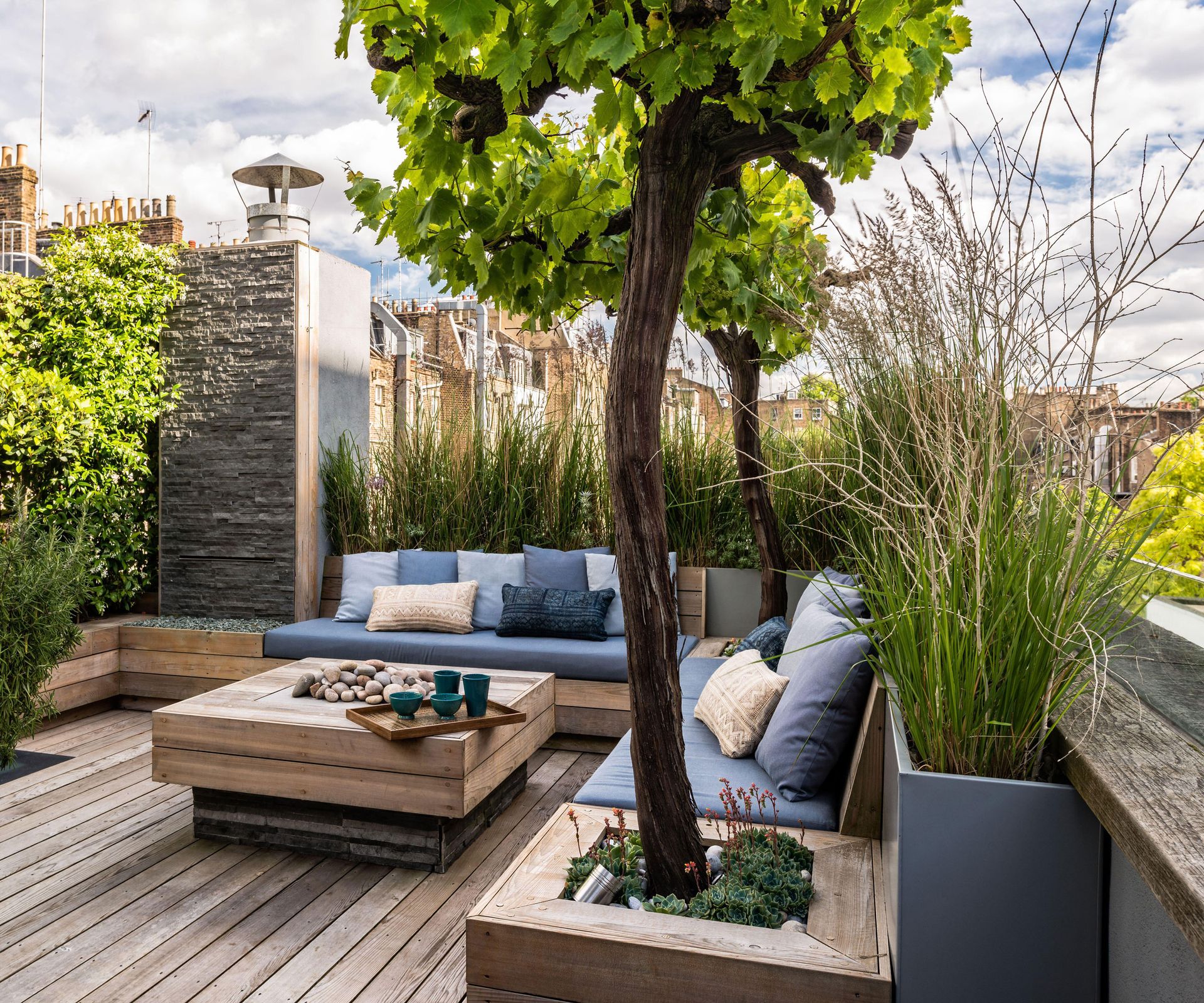 'Consider integrating a green roof into your design,' suggests Artem Kropovinsky, interior designer and founder at Arsight. 'This will add to your outdoor aesthetic, not only elevating the look but also optimizing environmental functions, from insulating your home to reducing runoff and enhancing air purity.'
There has long been a trend for sedum roofs on balconies or small roof terraces, but ideas are evolving. Many gardeners are now experimenting with using lightweight specialist growing mediums to cultivate an amazing range of grasses and perennials in green roof systems, as well as small trees. 
Include vertical, green living wall ideas as part of your roof garden design to further enhance the biophilic experience of being in a green space, as well as benefiting air purity. You will soon realise that planted roofs are far more than simply a great way to improve the view.
Artem Kropovinsky is the founder and principal designer of Arsight, a NYC-based company that specializes in residential and commercial spaces. With over 10 years' experience, Artem has a reputation for creating cutting-edge designs that incorporate the latest technologies.
6. Connect with nature in a wellbeing garden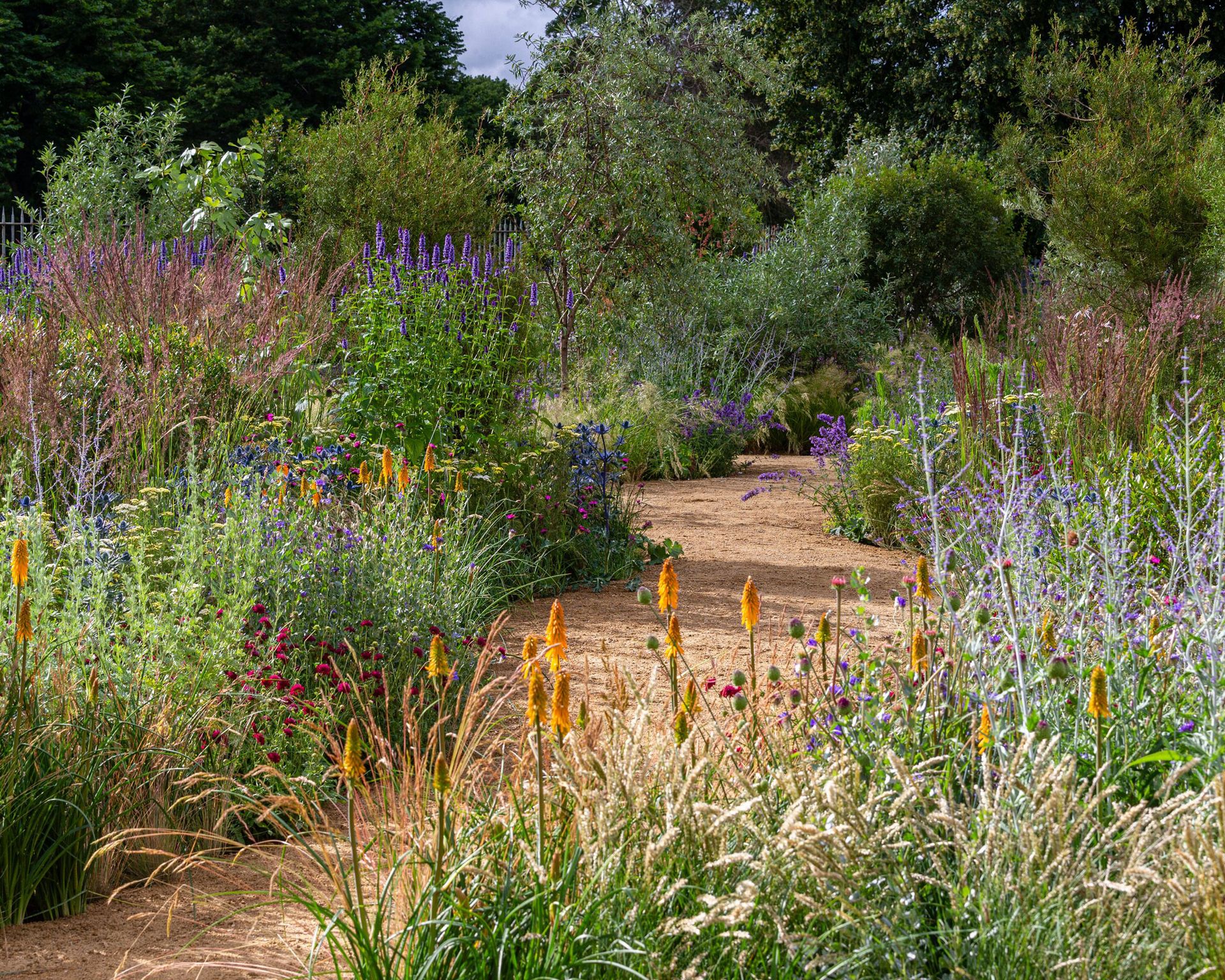 At the heart of biophilic garden design trends lies the wealth of evidence on the mental, physical and social health benefits of engaging in gardening, and feeling connected with the world around us. The more we take this type of green therapy into consideration, the more we can adapt our outdoor space to support this.
Choose scented sensory garden plants such as lavender and chamomile, and those with rustling leaves such as bamboo or textured foliage like ornamental grasses to help forge your connection with nature.
'Although nature has often been overexploited by humans, in our gardens we find a harmony and symbiosis between people and the natural world,' says Emma Martone. 'Besides the tangible rewards of gardening – beautiful flowers, bountiful harvests, cleaner air and water – there are also scores of intangible benefits such as reduced stress, improved mood and a greater sense of wellbeing.
'As we garden, we learn to become stewards of the natural world and find a true connection and sense of belonging that grounds us, restores us, and sustains us.'
Find out more about how to design and sensory garden to feel better connected with nature, as well as enhancing your sense of wellbeing, calmness and tranquility.
7. Give your front yard a biophilic makeover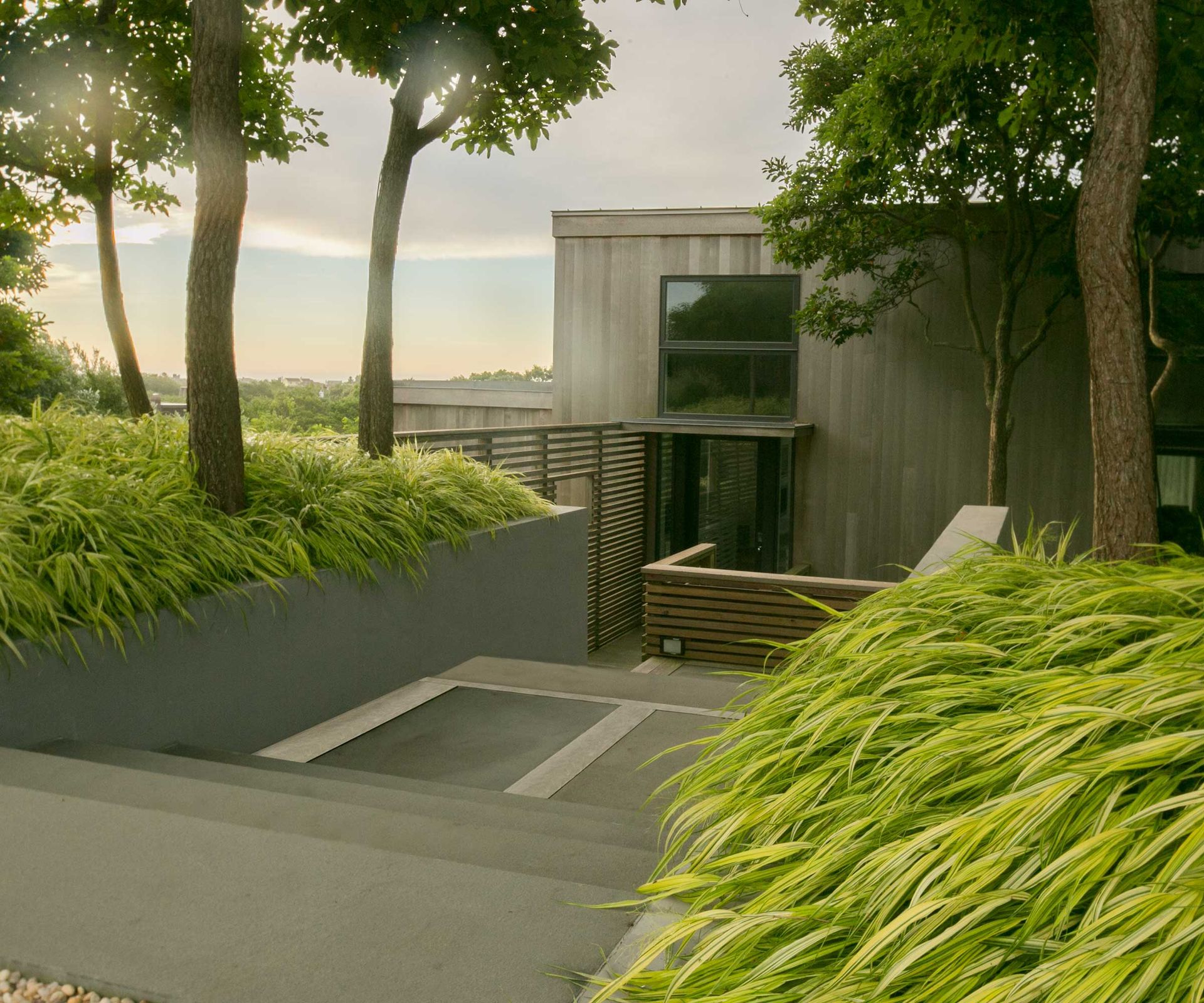 The concept of gardening therapy is very much entwined with biophilic garden design trends, and this extends to front yard landscaping ideas, too. Research by the UK's Royal Horticultural Society has revealed that filling a bare front garden with a handful of plants has the same stress-reducing impact as attending eight mindfulness sessions. 
'We now have further evidence of the vital need to incorporate plants into our front gardens and domestic spaces,' says Dr Lauriane Suyin Chalmin-Pui of the Department of Landscape Architecture at Sheffield University, who conducted the experiment. 'The stress reduction data is startling, as there was such a significant response with a relatively small number of plants. Now we know that access to a tiny patch of nature has beneficial effects for our health.'
You pass through your front yard several times a day so it really is the most obvious place to focus on biophilic garden design trends.
8. Plant a beautiful tree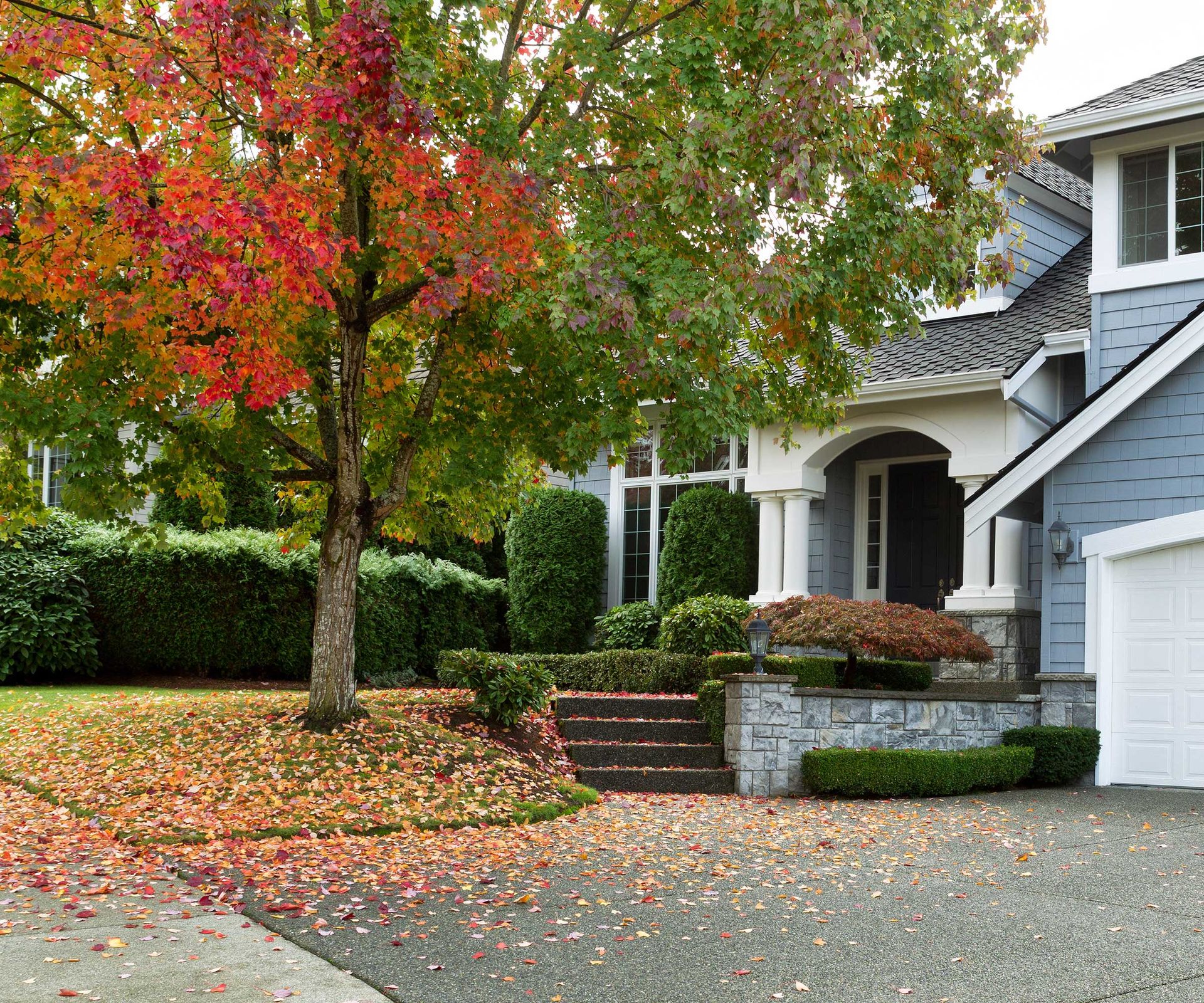 From improving air quality and taking carbon out of the atmosphere to preventing flooding and sustaining wildlife, planting a tree in your yard has all-round benefits. When we breathe in the airborne chemicals known as phytoncides that are released by trees, our immune systems get a boost too. 
Tall, stately, and beautiful, the presence of trees adds to the feelgood factor in our outdoor spaces. Science has proven that just looking at trees can make us feel calmer, happier and more creative. They are inextricably linked with biophilia and our innate affinity for nature.
FAQs
How can I use biophilic garden design trends in a city space?
It's easy using biophilic garden design trends in a city space. If you have a terrace or balcony it's a very immediate way of linking your interior with your outdoor space as it's right there. Greening up your small balcony ideas gives you the perfect opportunity of exploring this trend.
One of the easiest ways is to take the green and leafy look of your indoor plant jungle and extend the theme outside to a balcony or terrace with some more tall green and leafy plants potted up in container garden ideas. Why not include some of the best trees to grow in pots, too.
Position your collection close to the glass doors from your apartment so you can see them from inside. This will help to create an easy flow between your home and nature, and in good weather you can leave the doors open for even more of a seamless connection.
If you're inspired by our round-up of biophilic garden design trends, now make sure you're up to speed with other 2024 garden trends, especially the 2024 plant color trends of the year.