This classic turn of the century house is located in the waterfront town of Greenwich, on Connecticut's exclusive Gold Coast, about an hour from New York City. The home's interiors showcase an English-inspired look, with references to classic London townhouse style. 
This relaxed yet carefully curated look puts this house among the world's best homes. The homeowner and creative behind its stylish looks is interior designer Analisse Taft-Gertsen, founder of ALT for Livingand co-founder with Kristin Fine, of The 1818 Collective. Analisse lives here with husband James Gertsen, who's a hospitality consultant.
'We wanted to create a space of both yin and yang so we used a lot of soft fabrics and textures, balancing them with black accents of hardware, stone and lacquered black paint,' says Analisse about their home.
Take the tour, as designer Analisse Taft-Gertsen picks out her favorite moments in the house.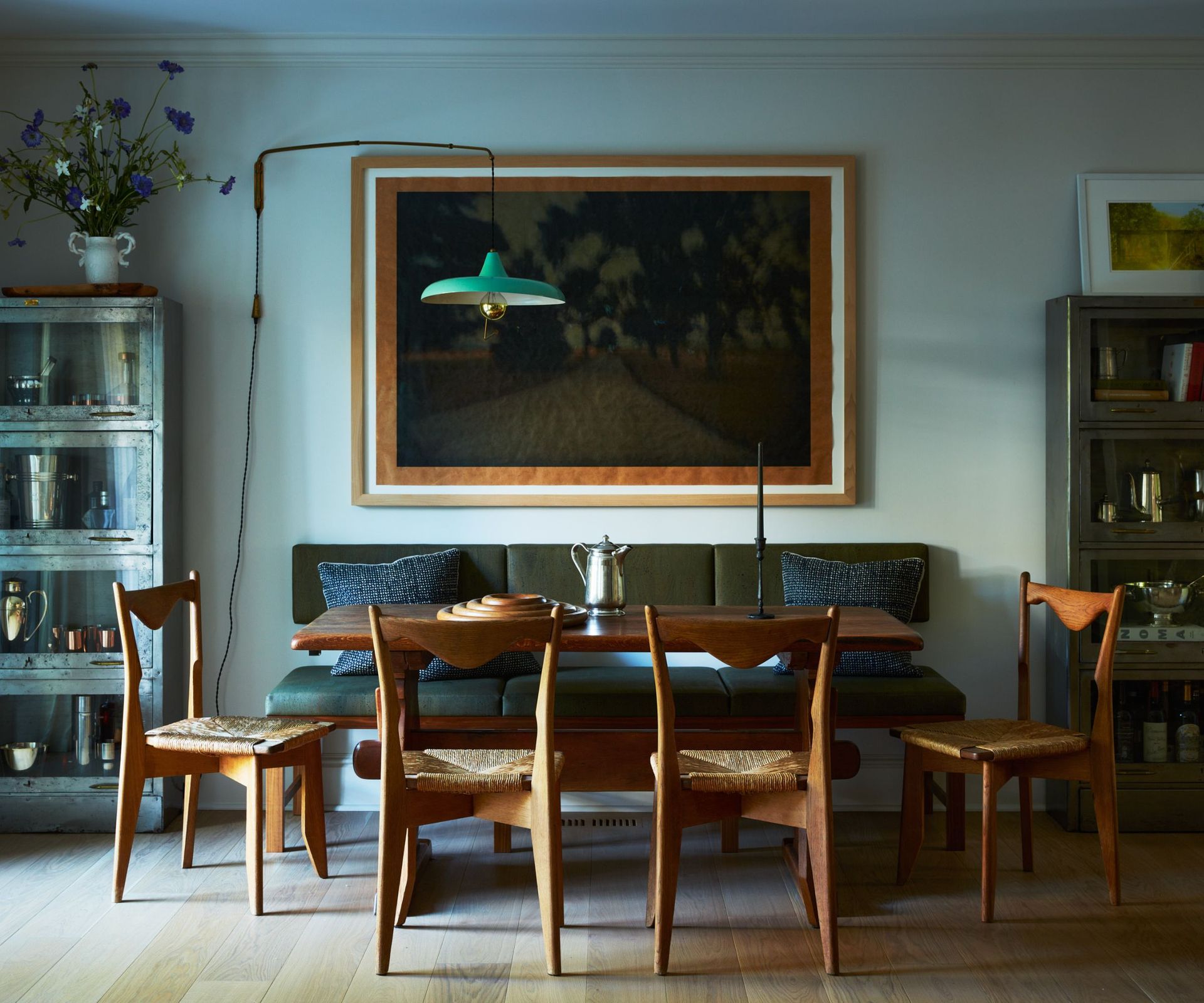 The couple moved in during the Covid 19 pandemic, and it became a true escape and sanctuary, and an absorbing distraction when normal life had ground to a halt. 'It was a big challenge to design  this project during the pandemic in under six months,' says Analisse. 'The house had amazing bones and history but needed a lot of work to suit our lifestyle and design aesthetics.'
Open-plan to the kitchen, this family dining space was one area that took a great deal of work to bring it into line. A bench seat makes itself at home between two cabinets, and the over-table lamp on a long arm is a particular high point in this space.
Explaining her interior design ideas, Analisse says: 'We have always dreamed of living in a townhouse in London, so we used this reference as our inspiration,' says Analisse. 'We opted for a lot of light fabrics and a light palette backdrop, but we accented it with very moody vignettes to add an 'old world' feel.'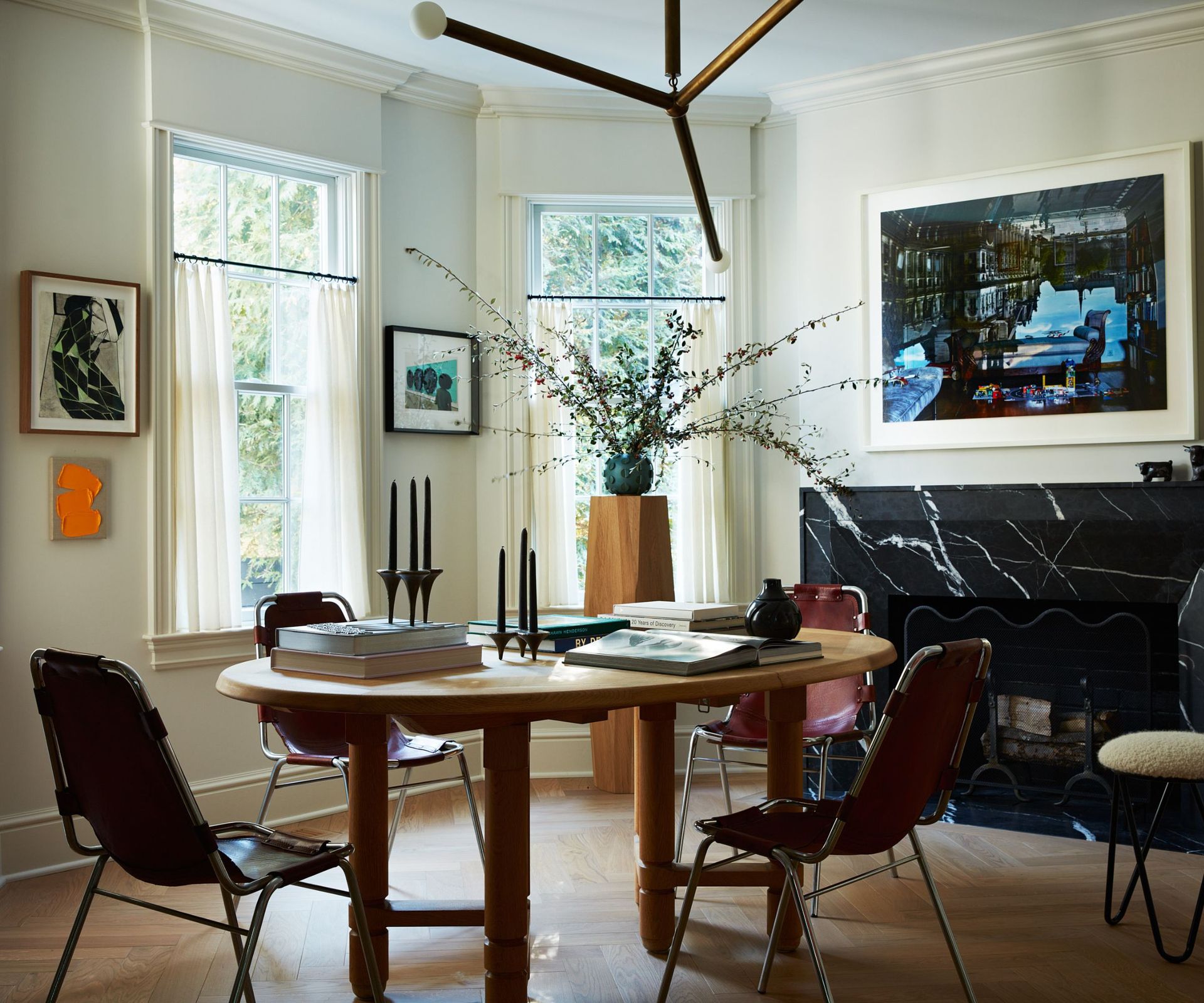 Dining room ideas here in the dedicated dining room have a midcentury modern aesthetic, with the chairs, oval table and the classic retro palette of black and tan. The dining table is by Guillerme et Chambron, the chairs by Charlotte Perriand.
'The design focuses a lot on the millwork of the house, keeping in line with the original architecture,' explains Analisse. 'Soft cream cashmere sheer drapes and curtains everywhere allow warm light to filter throughout the house at all times of the day while still keeping our privacy.'
Analisse Taft-Gertsen is an interior designer and the founder of ALT for Living devoted to textiles, rugs and handmade furnishings. The business now has three showrooms. She is also the co-founder of new design showroom and hybrid space The 1818 Collective with Kristin Fine.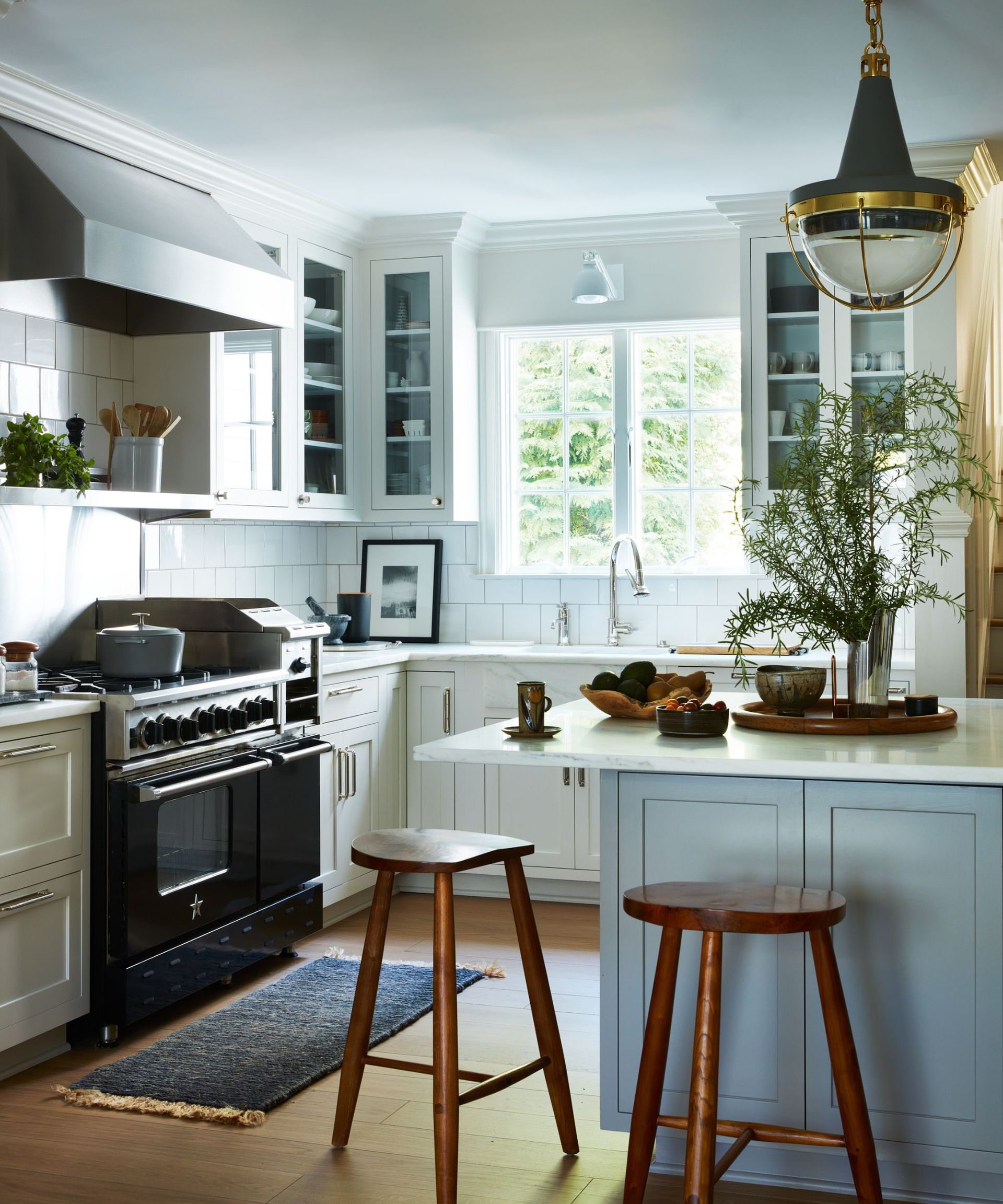 Kitchen ideas demonstrate Analisse's wish to keep within a limited palette. That simplicity of tone maximizes the plentiful natural light in the house, and makes it a relaxing space throughout. '
'We wanted the color palette to be light and with an airy feeling so we actually used very few colors throughout the whole house,' says Analisse. 'We used the same color, sheer drapes and the same paint tone everywhere so it had a more even flow as well as a design more focused on the architecture and the furnishings.'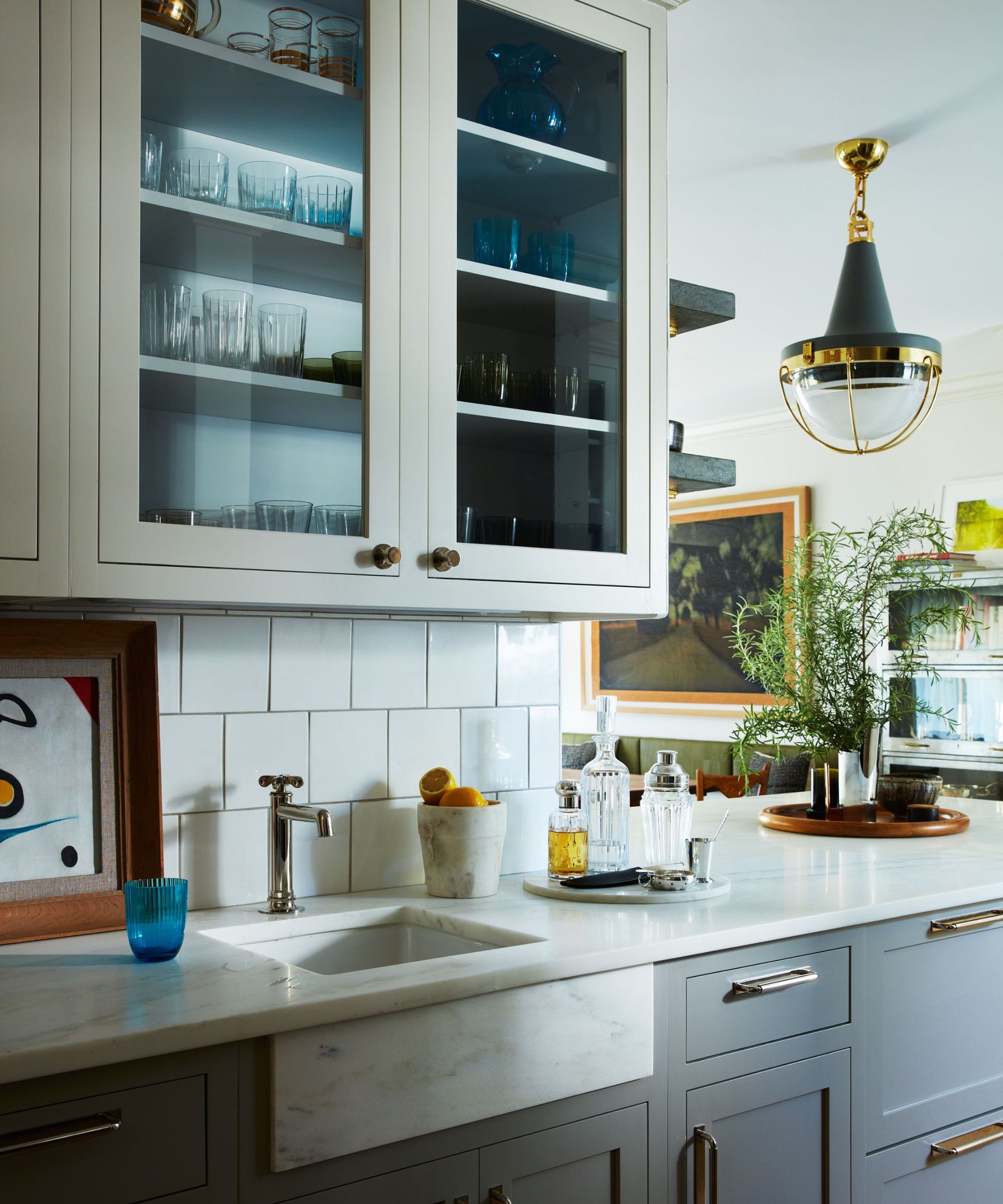 Analisse considered her kitchen countertop ideas, eventually opting for a classic white veined quartz teamed with a simple white square tile backsplash. It's the stylish accessories that do the talking here, against the quiet backdrop, with statement glassware displayed in glazed wall cabinets, and curated collections in industrial-style shelving units in the dining nook.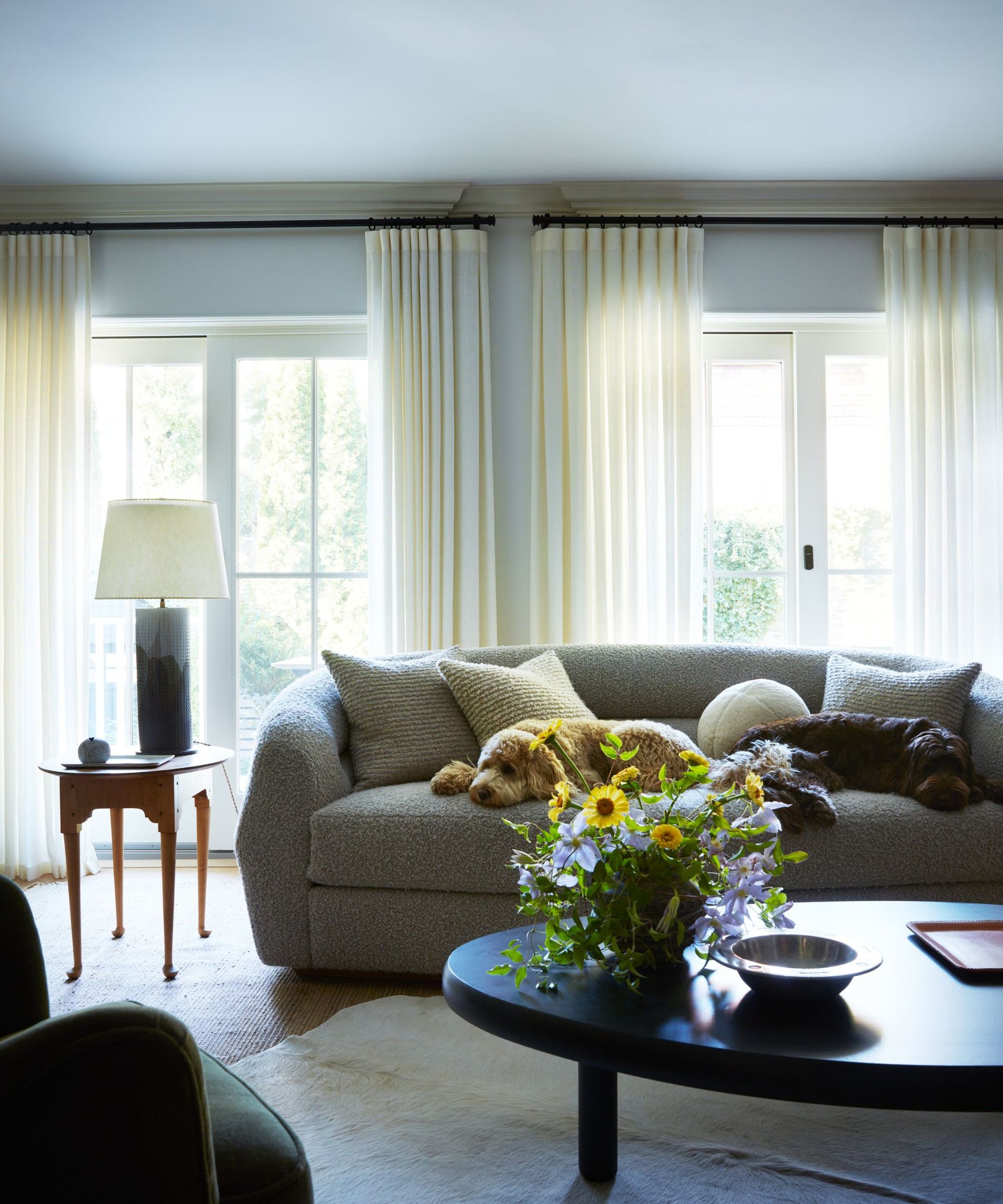 In the family living room, there's a sense of restraint and calm (and look how the couple's two dogs are enjoying it!). Living room ideas include a smart black coffee table, custom designed by Analisse Taft-Gertsen and Orange (Los Angeles). The Shadow Collection sofa was a collaboration between ALT For Living and Jouffre. The lamp is by Dumais Made from The 1818 Collective.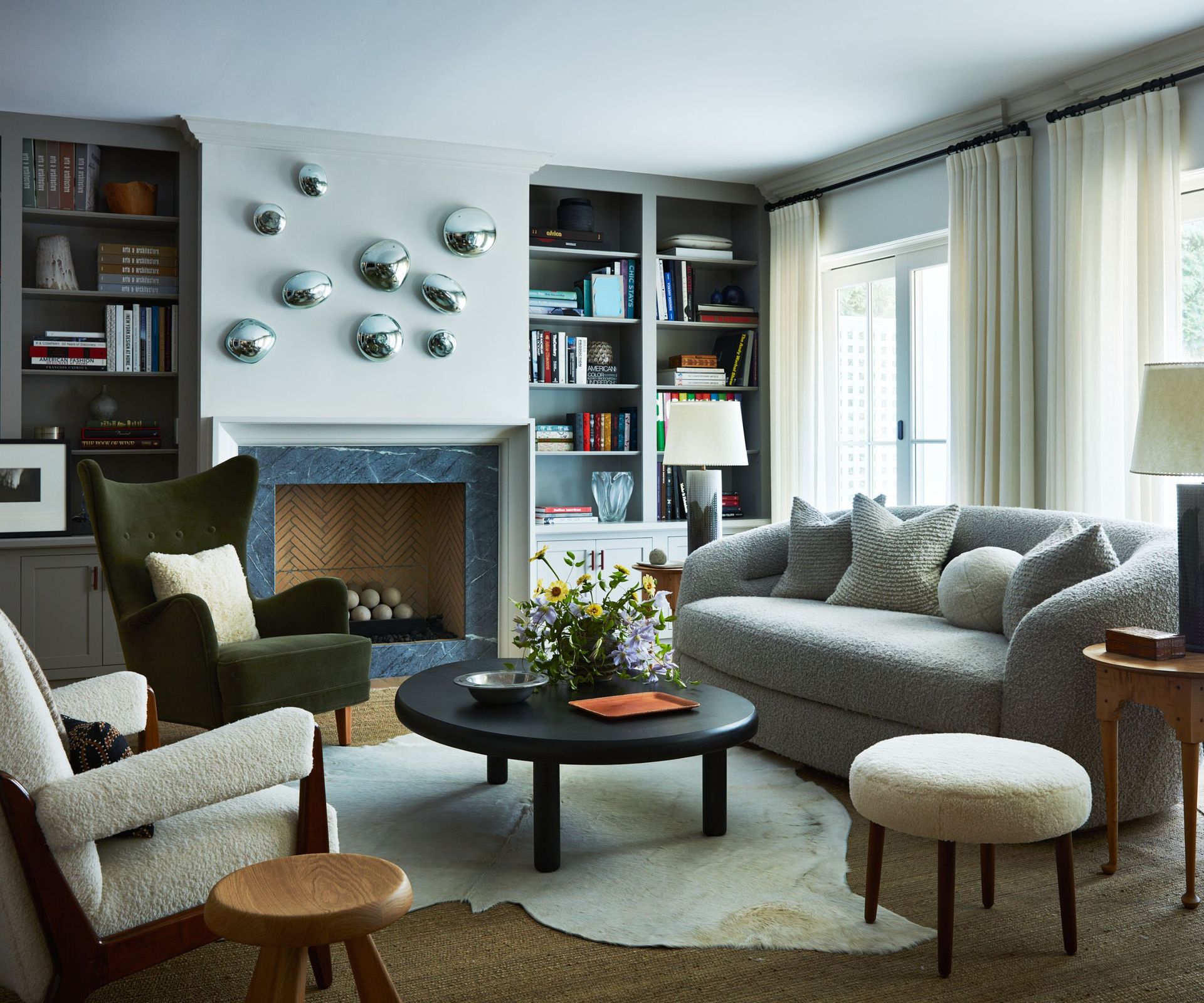 Occasional chairs with the classic English wingback shape hint at the London townhouse inspiration, but are given a modern East Coast twist with ivory and black upholstery.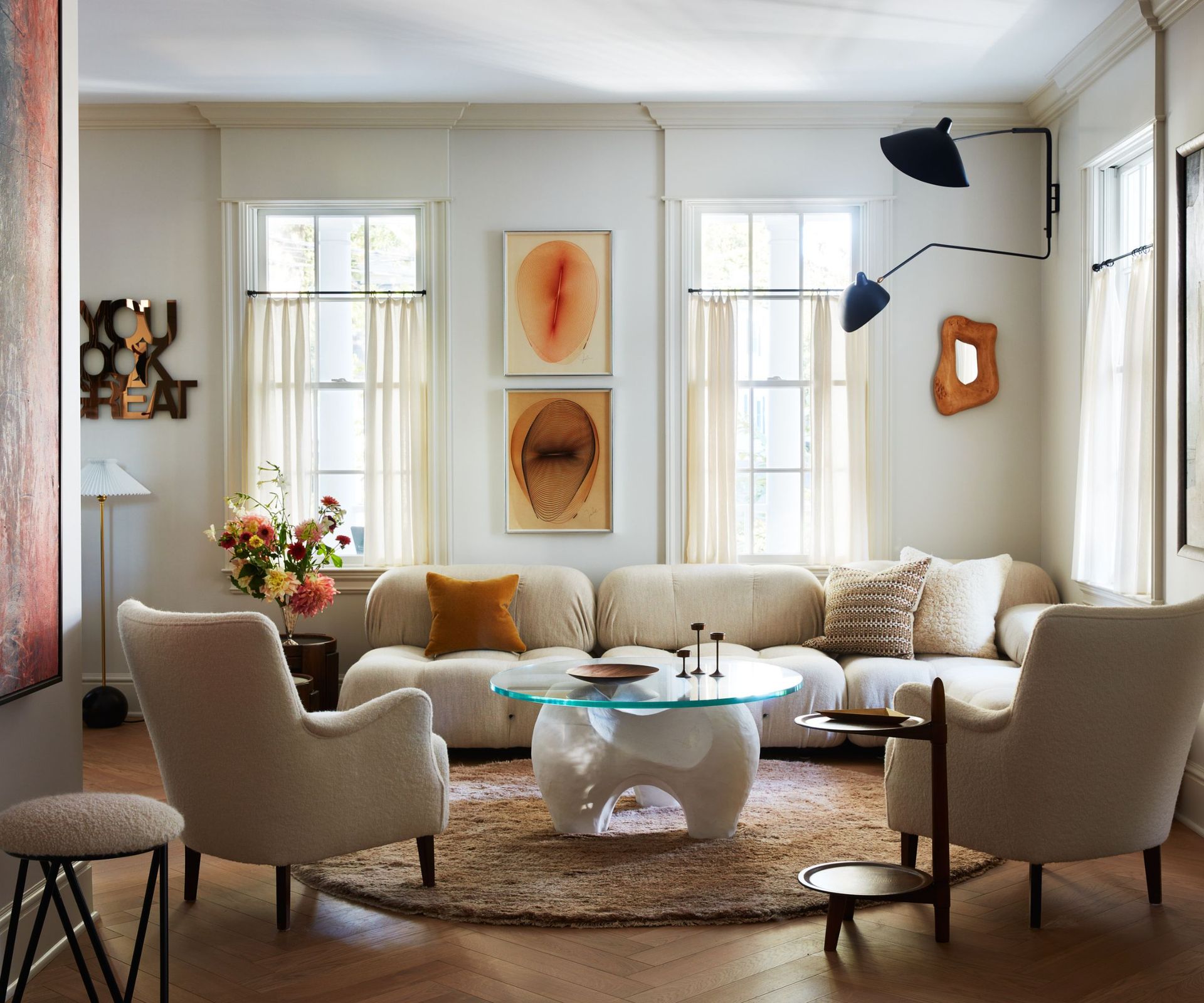 In the second living room it's a vintage Camaleonda sofa, the iconic Mario Bellini design for B&B Italia, that takes the limelight. That's not to say its room mates fade into the background however, since this is a beautifully balanced room where each element plays its part. Small living room ideas include artwork, coffee table, round rug, wall light and armchairs, all in strong designs with plenty to say for themselves.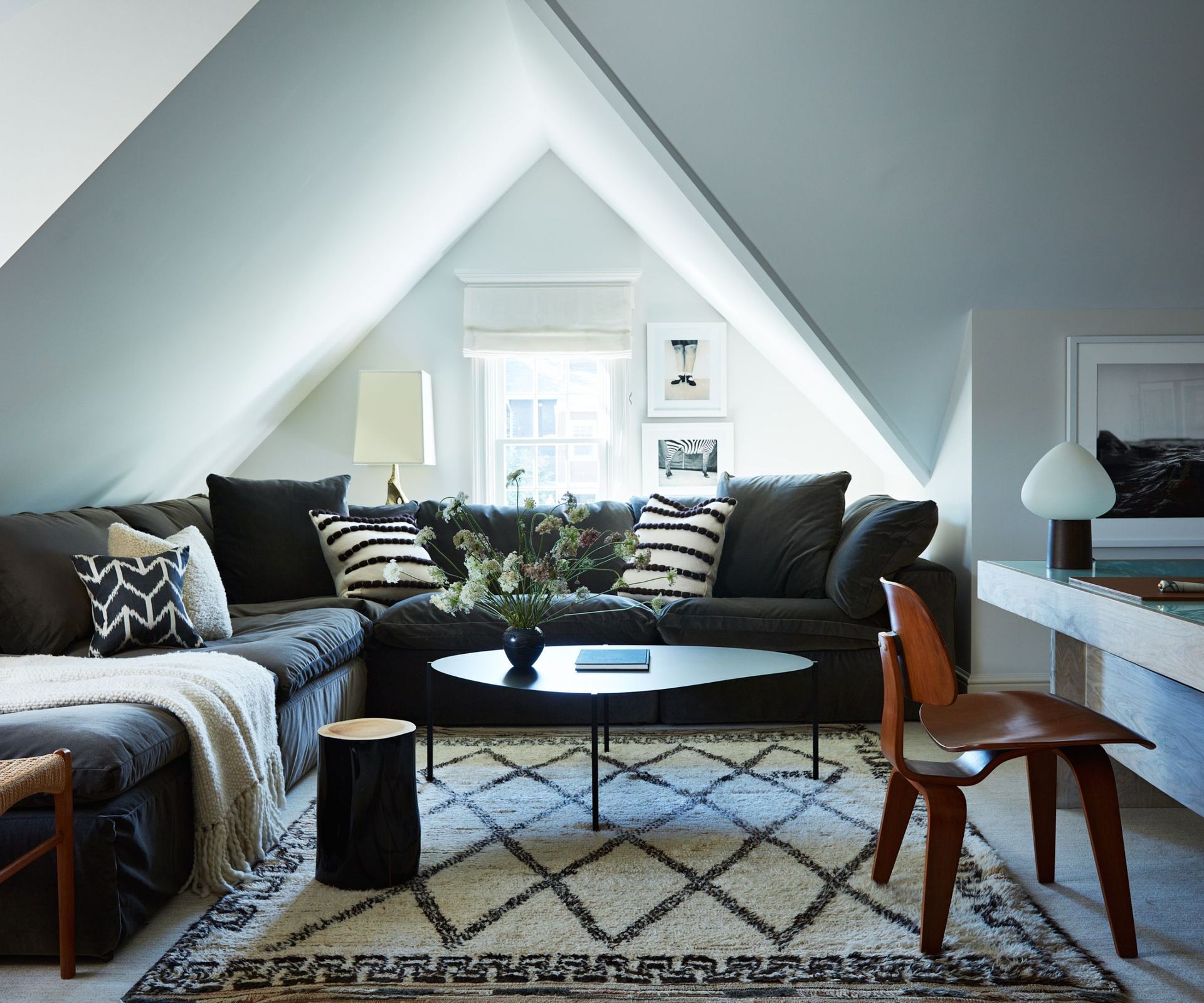 The home shares the proportions of a London townhouse, a tall linear space on several stories. Given that layout, it made sense to turn one of the attic spaces into an office. Anyone looking for home office ideas can't fail to be inspired by the smart monochromatic scheme, comprising the dark gray sectional, Berber-style area rug, and the room's standout pieces, a custom leather chair by Sean Anderson and desk by Brazilian designer Joaquim Tenreiro.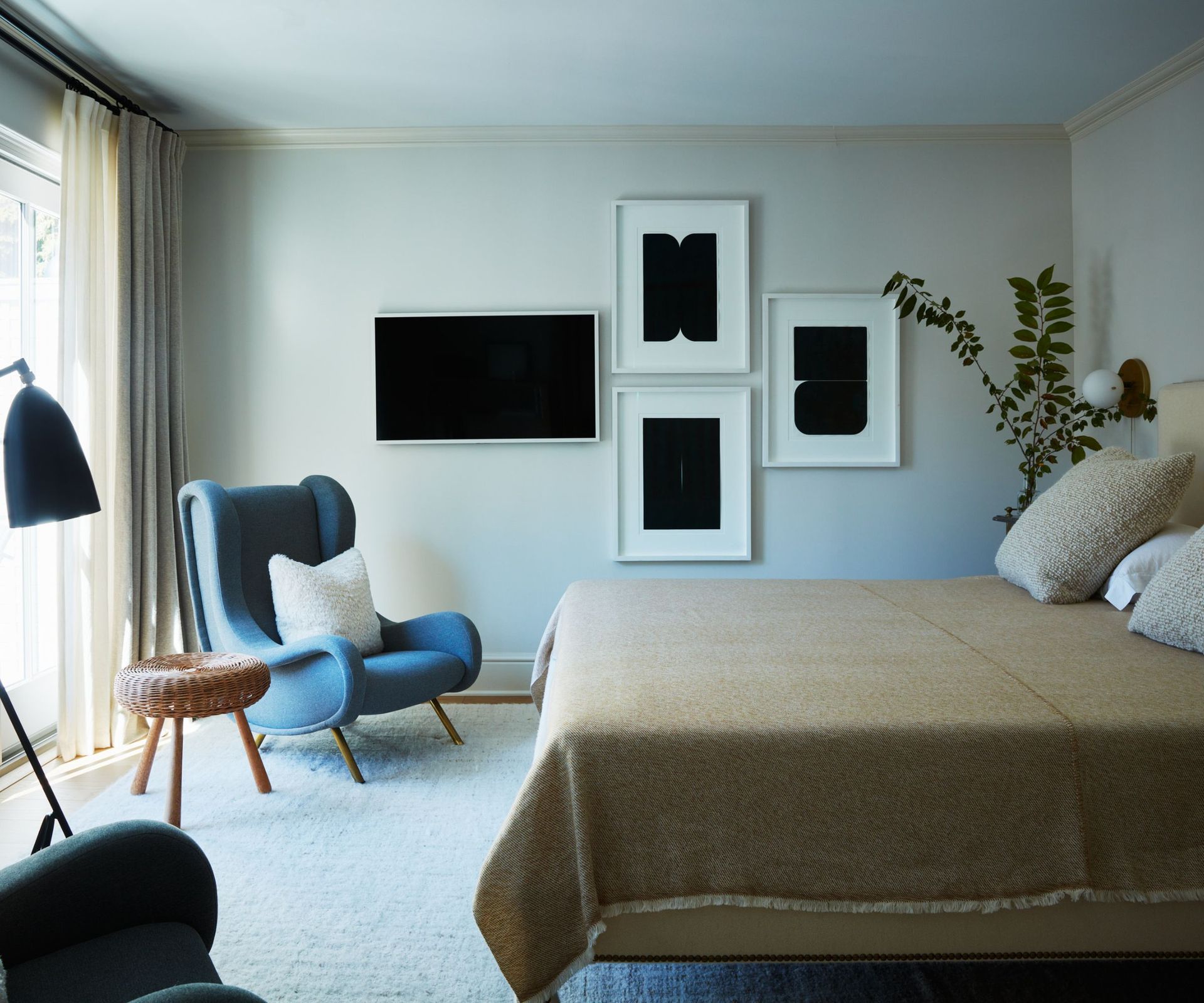 Bedroom ideas for the primary bedroom are neutral and clean lined. With the same pared-back palette of warm-white walls with touches of tan, unusual black artworks and blue armchairs add notes of contrast. The vintage chairs are by Marco Zanuso.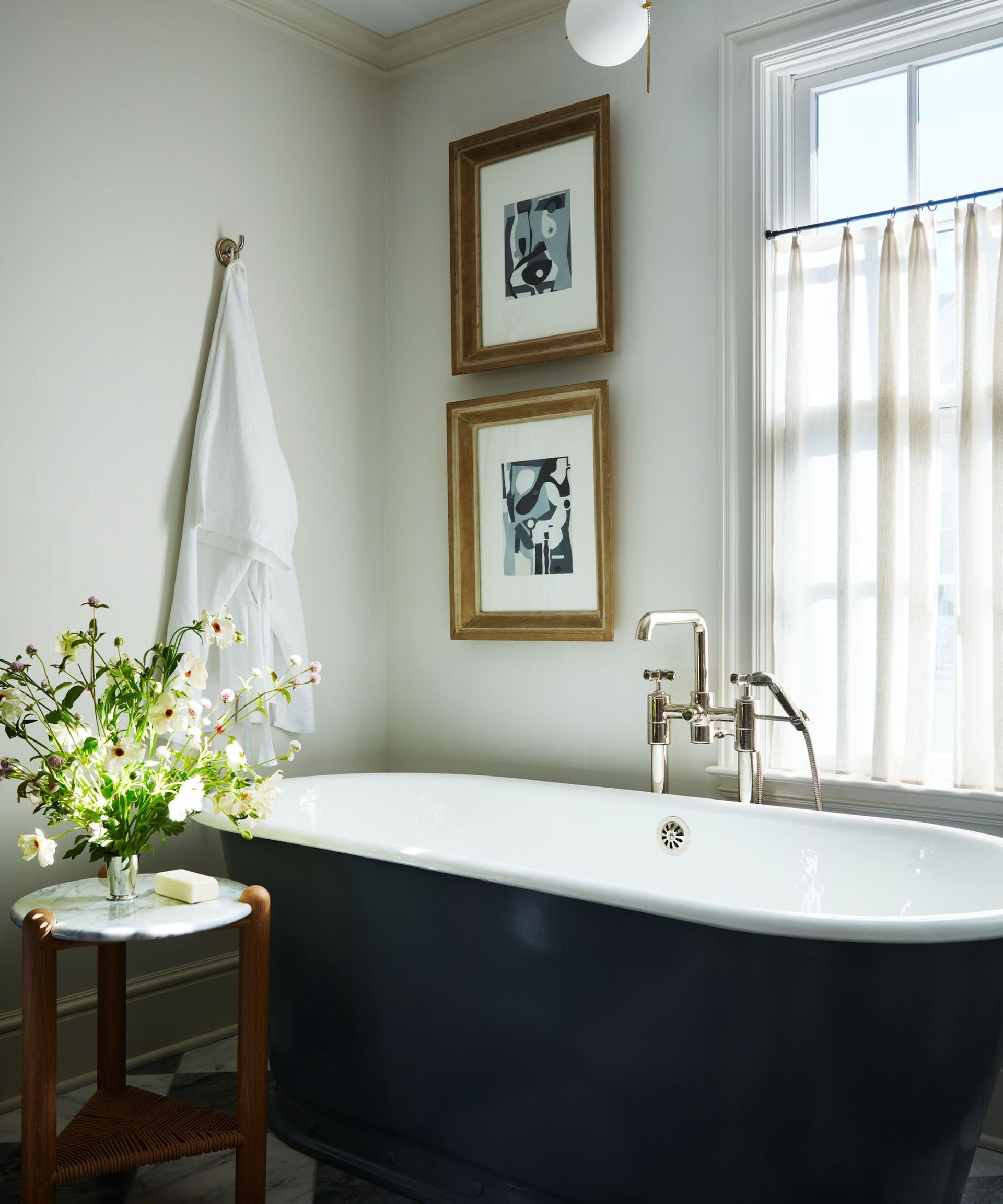 More English style references can be seen in the bathroom ideas, where a period-style roll-top cast-iron tub is positioned under the window. 
Designer Analisse Taft-Gertsen describes how she fell in love with this home, but felt it needed a new 'point of view'. She and her husband were excited about renovating it during the pandemic. 'We needed a change that felt good,' remembers Analisse.
And from our point of view the changes made to this historic 1900s home have indeed been good ones. It's an understated and welcoming space that takes English townhouse style, throws in some midcentury classics, then adds a twist of modern East Coast poise. A real recipe for success. 
---
Interior design: Analisse Taft-Gertsen at ALT for Living
Photography: Tim Lenz
Styling: Mieke ten Have