Interior design trends do tend to give us whiplash with the speed at which they go between minimalist and maximalist. One second we are all back on the sleek Scandi hype, the next it's all about clashing patterns. Our advice is always to just be inspired by trends but not led by them, only bring styles into your home that you are drawn to, pieces and shapes, and room color ideas and prints that make you happier at home.
And at its core, that's really all dopamine decor is about. Creating spaces that fill you with joy. Bringing in color trends and paint trends that give you a lift, and patterns that invigorate. Naturally, that does mean usually going slightly bolder with your choices, but it's not just about daring interiors, it's about the feeling these spaces give you.
We asked designers what they consider to be dopamine-inducing decor, and how you can bring more of mood lifting aesthetic into your home. 
What is a dopamine decor?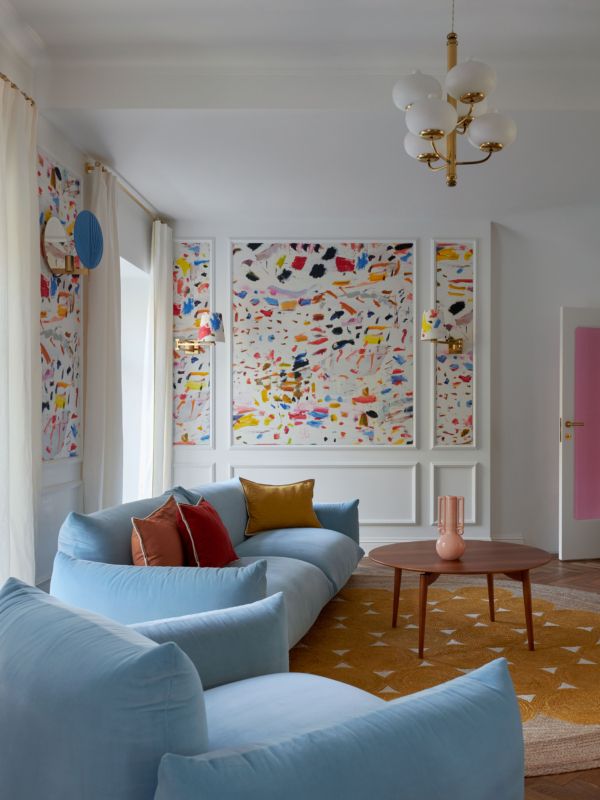 Dopamine decor, is the antithesis of sad, beige decor. It's colorful and fun and full of personality. It's about decorating your home in a way that makes you happy. 
"The 'dopamine decor' trend really comes down to choosing decorative accents and objects that truly make you happy,' says designer Kathy Kuo. 'Designing a space that's beautiful and cohesive is actually very easy; it's designing a space that's beautiful, cohesive, and personally resonant to the person living there that's a more delicate task. Think about the places, people, and personal touchstones that make you feel the most relaxed and content, and use those as inspiration for your decor.'
Designer Joshua Smith goes into more detail, explaining that, 'Our perception of beauty and how we incorporate that into our homes can really have a transformative effect on our mental, emotional, and spiritual wellbeing. We're creating a conscious effect where we walk in the door, take in the beauty of our home, and let out an exhale of release. That sigh is the nervous system calming itself down as your brain produces those feel-good hormones thanks to the perceived beauty.'
'When I design a space, I utilize a series of about 40 questions or so that run through basics like favorite colors, favorite patterns, favorite textures, but it also delves into deeper questions like favorite vacation memory from childhood, favorite travel memory as an adult, and moments you've been most proud of yourself at work. This insight is helping me understand the things that you value and the things that make you feel good. If I can extrapolate that information and somehow infuse that into the design process, then I'm going to be able to consciously create ways to produce more of that kind of positive feelings in your home.'
Kati Curtis, whose interiors always fill us with joy continues, 'The essence of dopamine decor lies in its personalization and individuality for each homeowner. Color, texture, and composition become powerful tools for designers to evoke feelings of warmth and happiness in a space. Whether it's through carefully selected color schemes, pattern mixes, or thoughtful arrangements, the goal is to create an environment that resonates with the homeowner on a personal level. Ultimately, dopamine decor aims to create spaces that go beyond aesthetics and truly connect with the emotions and memories of those who inhabit them.'
6 dopamine decor ideas
1. Go neutral with the base tones, strong with the accents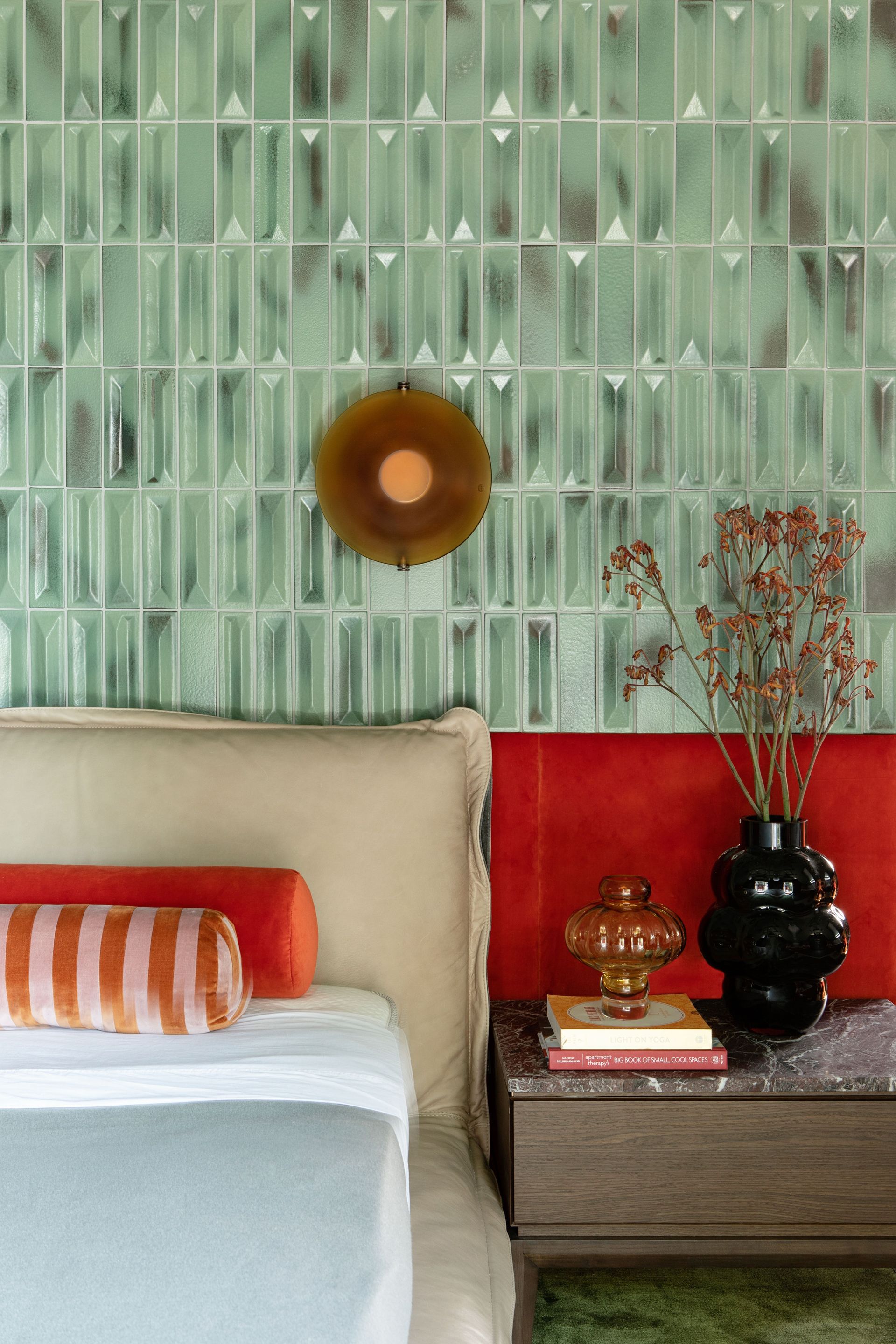 Although dopamine decor is very much focused on bold, bright colors that are proven to have a positive impact on your mood, that doesn't mean these spaces can't be soft and gentle too. Liveable even. Let's face it, bright yellow might be a joy-inducing color, but if you dislike bold decor in your own home, it's going to have an adverse effect right?
But be inspired by this colorful bedroom designed by Kingston Lafferty. It's filled with happy hues, those reds and greens, and hints of orange are sure to give a heavy dose of dopamine. And yet (mostly thanks to those delicious pale green tiles) it feels suitable claiming too, exactly what you want in the bedroom. 
'Success with bold colors can only be successful with the correct balance,' explains Roisin Lafferty, the studio's founder. 'In this master bedroom, the balance is achieved with a strong contrast of color and materiality. The base hues of soft and earthy greens are punched with strong tangerine tones of rich velvet and striped pattern. The contrast is further emphasized with the mix of hard and soft materials, specifically the tiled headboard wall, which delivers an unexpected sense of fun, resulting in a playful feel.'
Founder of Colombe, Marta Chrapka, agrees this is the more livable approach to dopamine decor, 'Color is the main element for making a happy interior. There are joyful colors such as yellow, orange, roses, and fuchsia, or more muted colors such as gray or beige. In design, I like to have a bit of a mix. A neutral base – light walls, wooden floor and use color as a splash. In addition, what cheers up the house are prints and patterns – dots, zigzags, and animal prints will give a room a joyful lift too.
2. Be inspired by things you love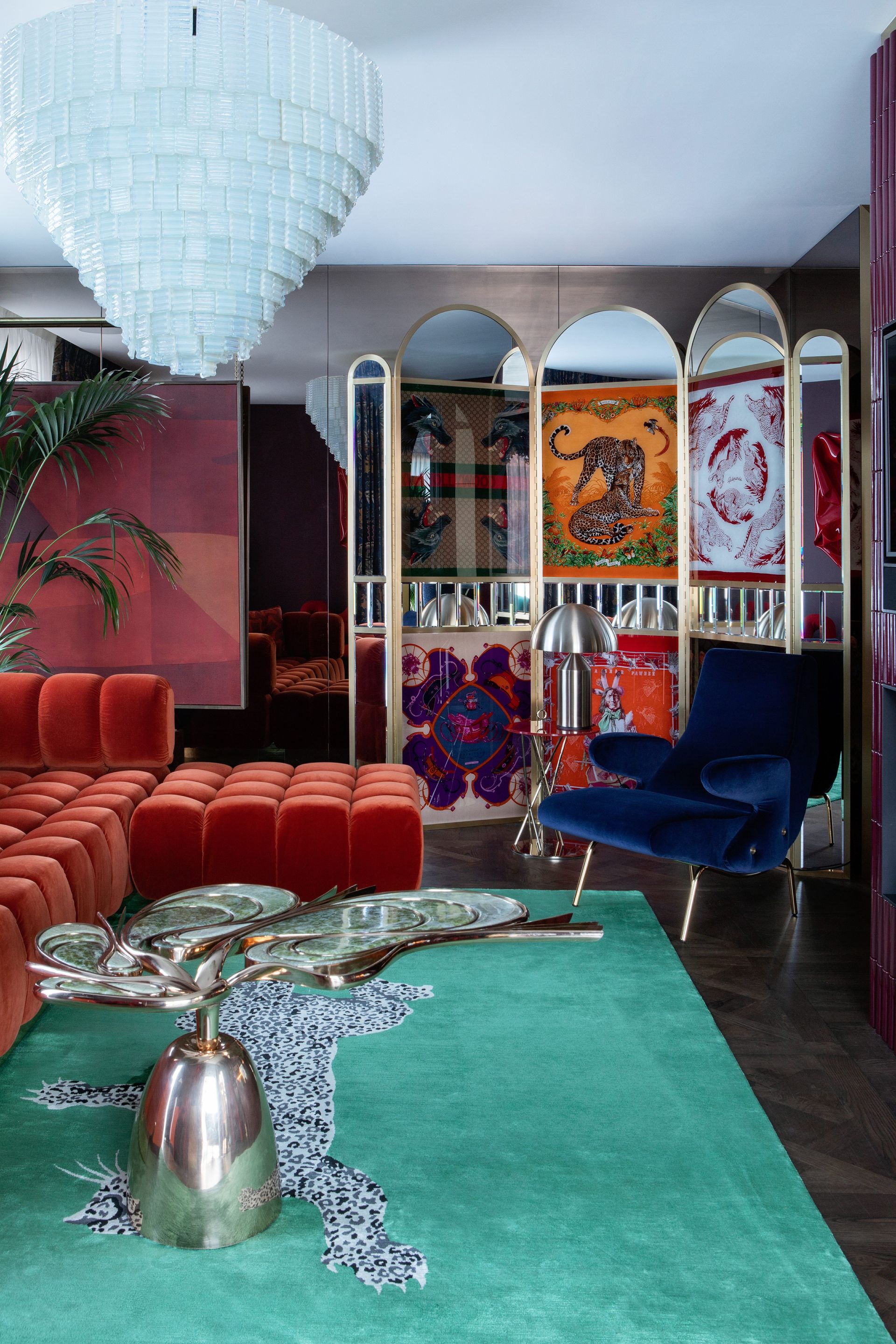 This is a huge one when it comes to dopamine decor. Decorate your home with things you love and reflect who you are as a person. Don't be overly led by interior design trends, or bring things into your home that actually don't mean anything to you. 
As Roisin says, 'Be true to yourself… A great source of inspiration for your interior can come from your own art collection or fashion collection, as was the case here. The starting point for this colorful living room was a set of vintage, designer, silk scarves that the client owned. This formed the basis for the depth and breadth of color combinations incorporated into this room. The design is deliberately saturated and strong, expressive and creative, capturing the essence of our client's personalities. Don't be afraid to mix multiple shades linking back to your source of inspiration.'
'Your home becomes a place filled not only with the decor items you choose but a space that also houses years full of memories,' adds Jerad Gardemal. 'The imprint a home has on your core memories is unrivaled, so it's fun to see that tenderness translated outwardly to decorating with items that make you most happy.'
Not sure where to start? 'Thrift shopping can be a great way to collect those special items that bring you joy. When thrifting, I like to ask myself, 'does this surprise me? Is it exciting and beautiful?' My favorite part of thrift shopping is the hunt! You never know what you'll find and there is an element of surprise and delight. With high-quality and well-designed pieces, you also find something you maybe haven't seen before or completely delights the eye. And those are the best finds for thrift shopping and can end up as the most cherished pieces in your home,' suggests Victoria Holly. 
3. Bring together colors from the opposite sides of the colorwheel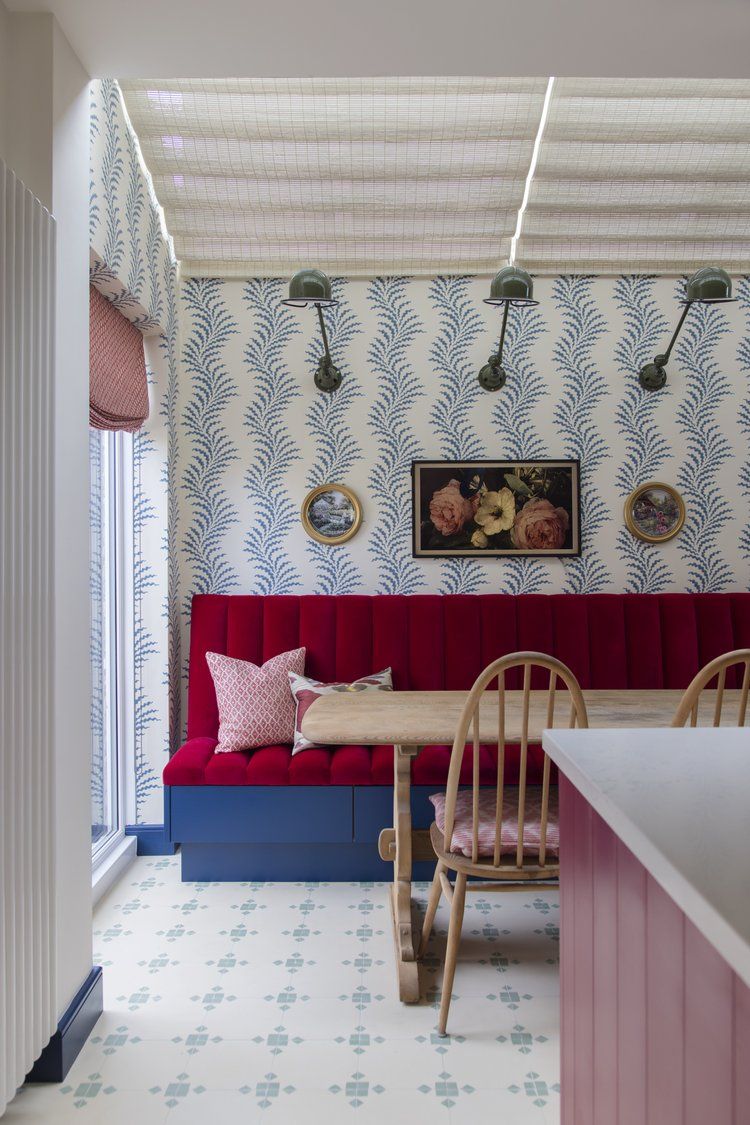 Clashing, or should we say contrasting colors, brought together in the same scheme is sure to give you a joyful boost. Reds and blues, oranges and greens, pinks and yellows, may sound like bold pairings, but you can tone down the contrast to make them more usable in an everyday space – perfectly demonstrated in this colorful kitchen designer by Brooke Copp Barton. Break up the colors with a heavy dose of white (or any neutral) and opt for some pattern too rather than just solid blocks of color. 
'Our client in this traditional Victorian terrace house was a color and pattern lover and wanted a joyful approach to her kitchen decor,' explains Brooke. 'The bold blue, green, and red color palate took its cues from her eclectic art collection, to which we added a striking wallpaper to act as the main backdrop and further layered patterns with floor tiles and soft furnishings. It was an unexpected approach that has made our client's kitchen a truly personal space – and in our opinion a very happy one too.'
4. Think about textures and finishes too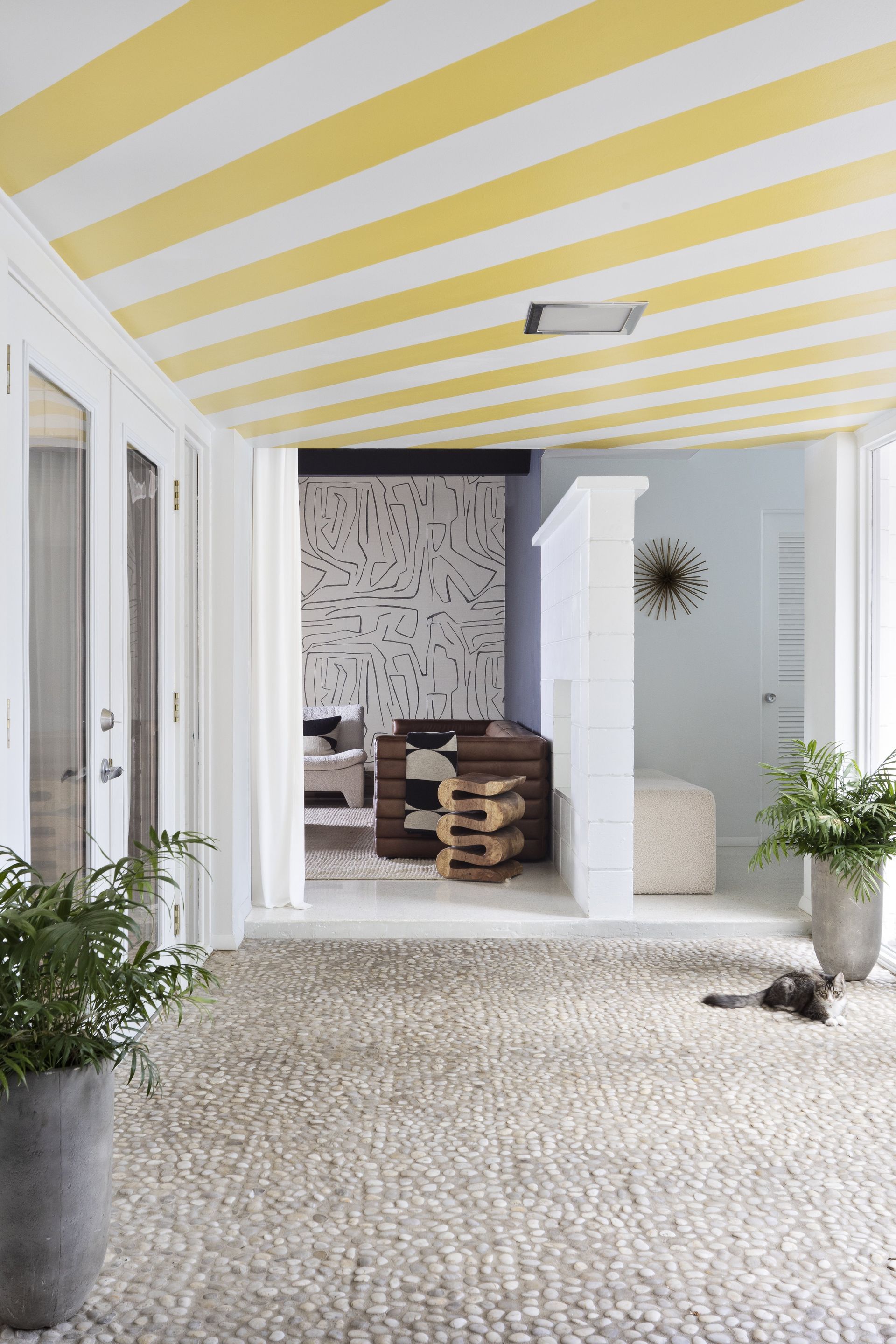 Texture can play a bit part in how happy a room makes you feel too. Consider how the materials and finishes you choose work together and feel to walk on or sit on or sleep in. 
'Invite all of your senses to the party so that each and every surface has a story to tell! We achieve this by first conceiving of a cohesive color and material palette, then we go wild layering those shapes, forms, colors, patterns, and materials together,' explains Chelsey Cox and Rachel Rector, co-founders of Chinotto House. 
'In this example, the grasscloth wallpaper, soft jute rug, and channel-tufted leather sofa all have a visual and tactile texture that acts as a foil to the hard and rough surface of the surrounding Ocala block, the smooth terrazzo floors, and the bumpy pebble texture of the entry floor. As you experience this space, the variation in textures and materiality allows for surprise and intrigue to unfold.'
'Likewise, giving special consideration to the smallest details, like replacing a standard outlet cover with an aged brass version, adds whimsy and thoughtfulness that shows the depth of love and consideration imparted into any space – a guaranteed source of dopamine!'
5. Go all over with a wallpaper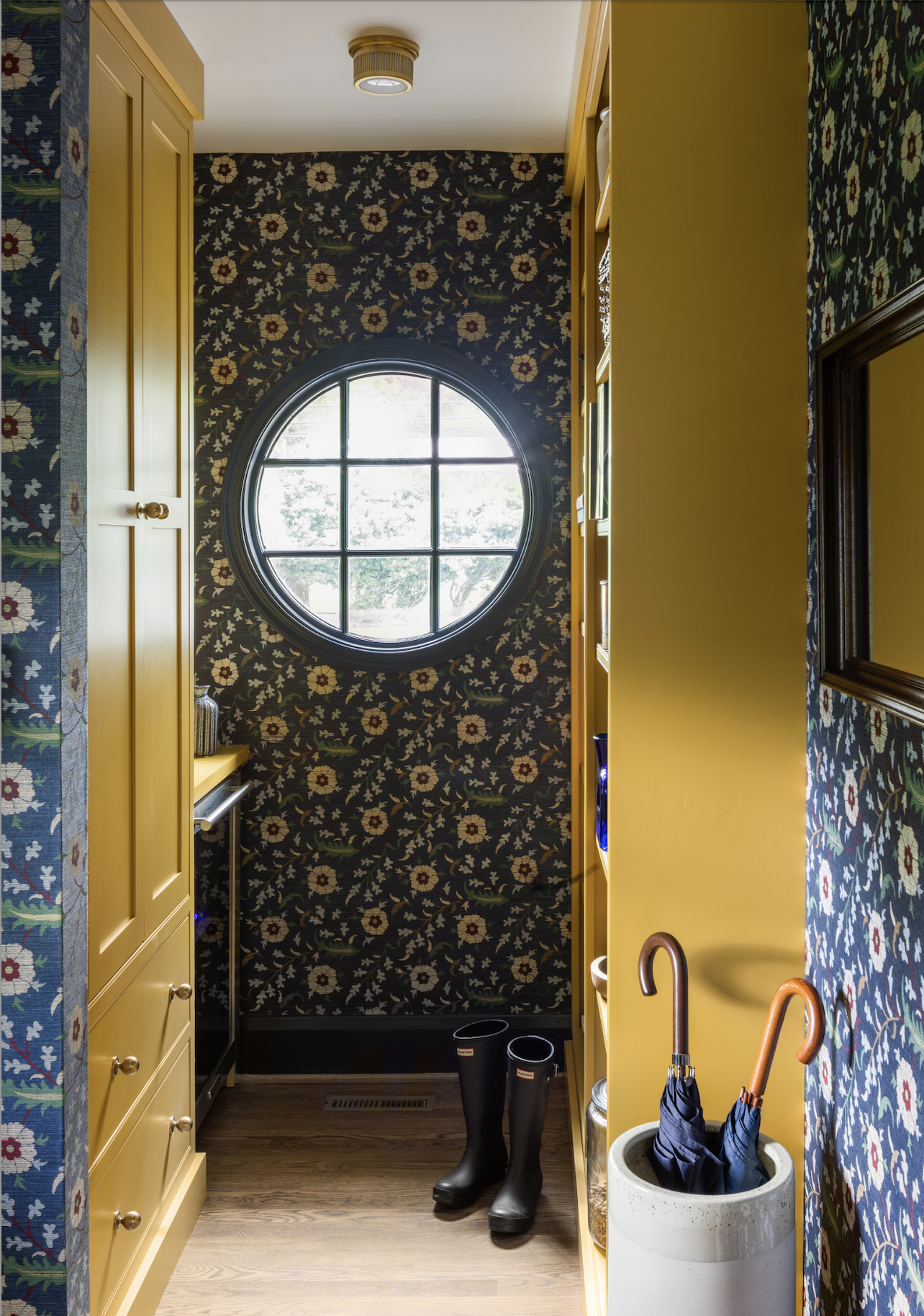 Wallpaper is a simple way to make a space more joyful. And we say be brave rather than just stick with an accent wall take it over all the walls. This works great in small, less lived-in rooms like mud rooms, powder rooms, and even pantries can benefit from a dopamine hit. 
'Nothing makes me feel better than a happily-printed wallpaper that just works!' explains the founder of Folding Chair Design, Jennifer Walter. 'We did this Schumacher grasscloth wallpaper for a client's mudroom renovation to work with the golden sunflower cabinet paint. The paper really saturates the room in the perfect way with its moody navy color with subtle reds and yellows that complement the cabinets. It's the first thing she sees every day when walking in, and to this day, she says how it relaxes her after a long day at work.'
6. Break up bold combinations with pattern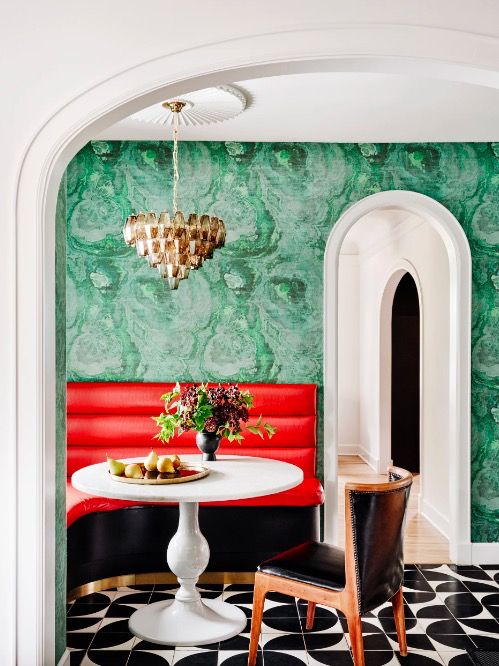 'Bold color combinations are one of the most effective ways to get your attention and lift your spirits, but too much of a bold color can overwhelm the details of the space. Playing with that balance and incorporating textures and patterns along with your colors can create a color combination that is truly effective,' explains Katie Paulsen, interior designer at Maestri Studio.
This colorful dining room gets the balance spot on. The beautiful marbling effect of the wallpaper prevents it from looking too stark against the red and the pattern tiles break up the darker colors going on a floor level. And note how the black and white help to ground those bolder shades too, making them feel less playful and more chic and sophisticated.