Black couch living room ideas are a chic and sophisticated choice. A bold, powerful shade, black is guaranteed to create an impact.
Buying a couch is a big investment, plus it's also the largest piece of furniture in the living room, so it's important to get it right. Opting for a neutral shade like black is a stylish but also practical choice as it will team brilliantly with an array of colors, plus, depending on the style and shape you choose, a black couch can be used to create all sorts of living room looks, from elegant and glamorous to ultra modern. 
If you're in the process of choosing living room sofa ideas consider black couch living ideas – these will help get you inspired. 
Black couch living room ideas – 10 striking seating ideas 
Choosing black couch living room ideas can be tricky as there are so many fabrics and shapes available, from sleek leather designs to luxurious velvet couches.
Whether you're looking to update your living room seating ideas or a focal point for a new black living room design, this selection of black couch living room ideas are guaranteed to inspire and prove just how versatile a black couch can be. 
1. Create a minimalist feel with a low leather black couch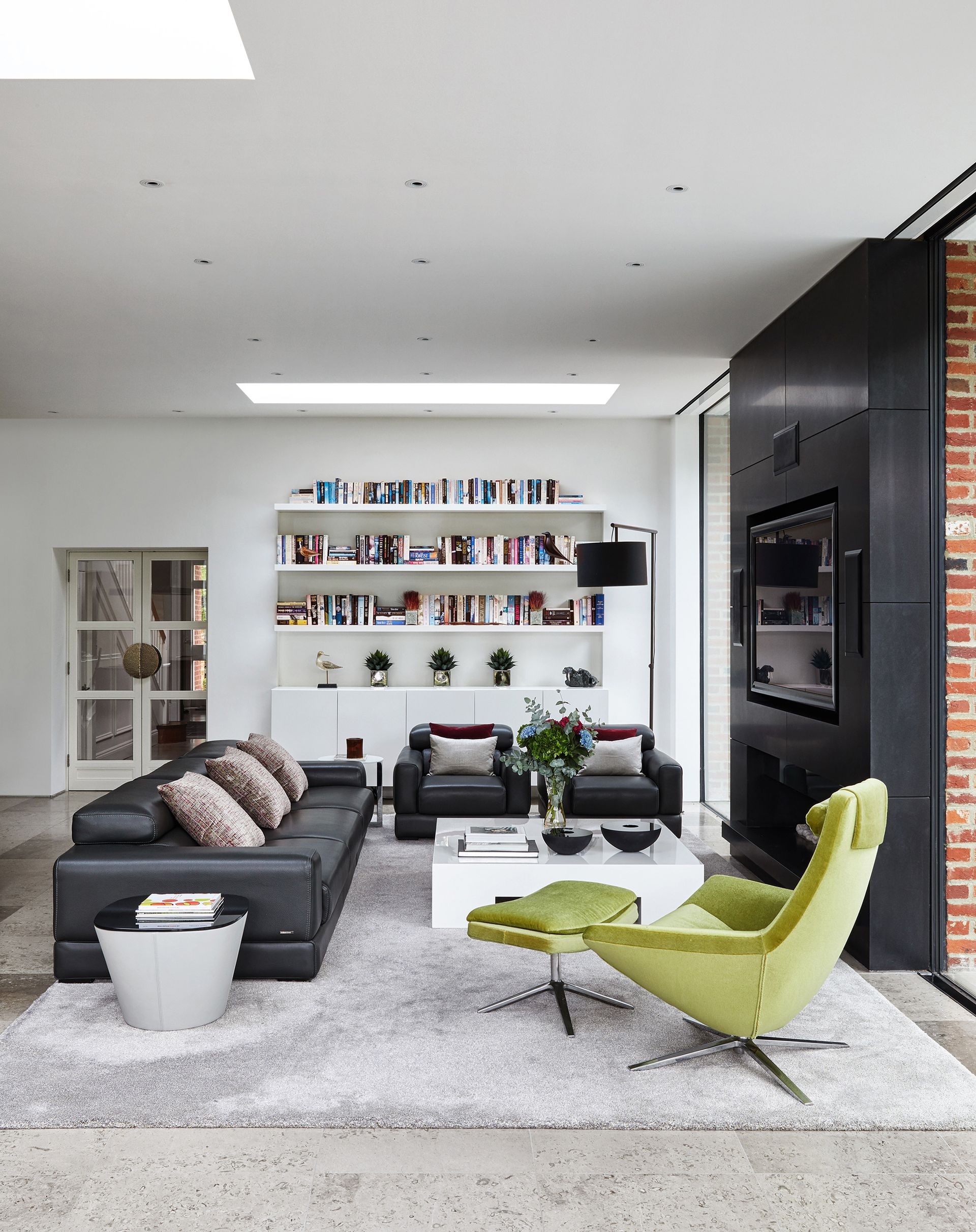 Decorating with black and white is a popular choice with those seeking to create a minimalist look. Used together in their pure forms, black and white can be tricky to use – the key to getting it right is to balance the light and dark tones.
In this black and white living room the black couch and the black paneling serve as  grounding features within the large, open-plan space. Both help to zone the sitting area and balance the large expanse of white. 
The sleek, low leather design of the sofa adds to the minimalist living room feel plus is easy to wipe clean should there be any spillages.
2. Try a Mid-century design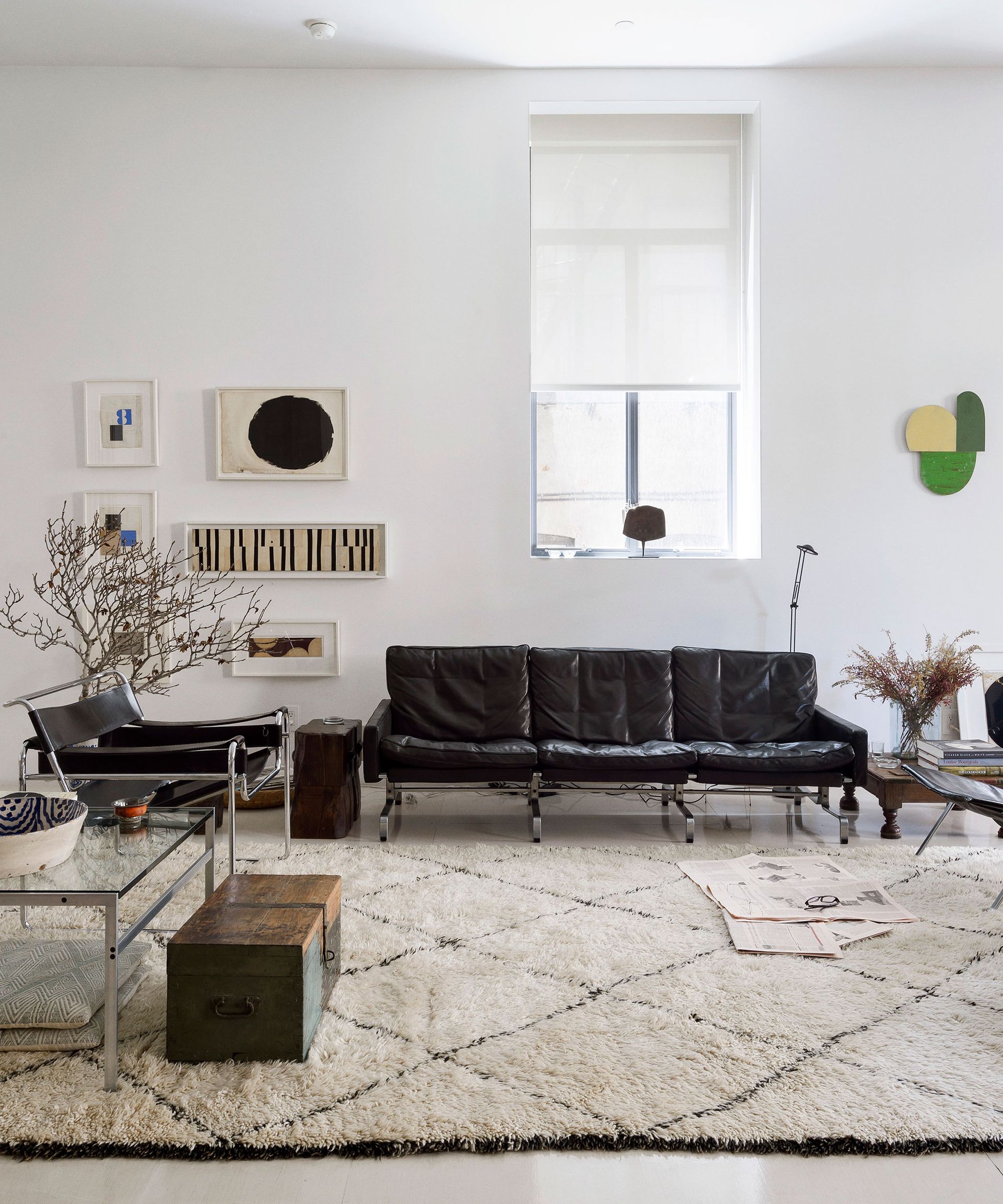 In Mid-century modern living rooms color and pattern are often kept minimal and instead iconic Mid-century furniture with sinuous lines and purity of form is used to create the interest and focal point.
Set against plain white walls, this retro black couch living room idea and iconic Wassily armchair take centre stage. To prevent the high contrast palette feeling cold, the designer has added a large wool Berber rug. 
3. Pair a black couch with warm, earthy colors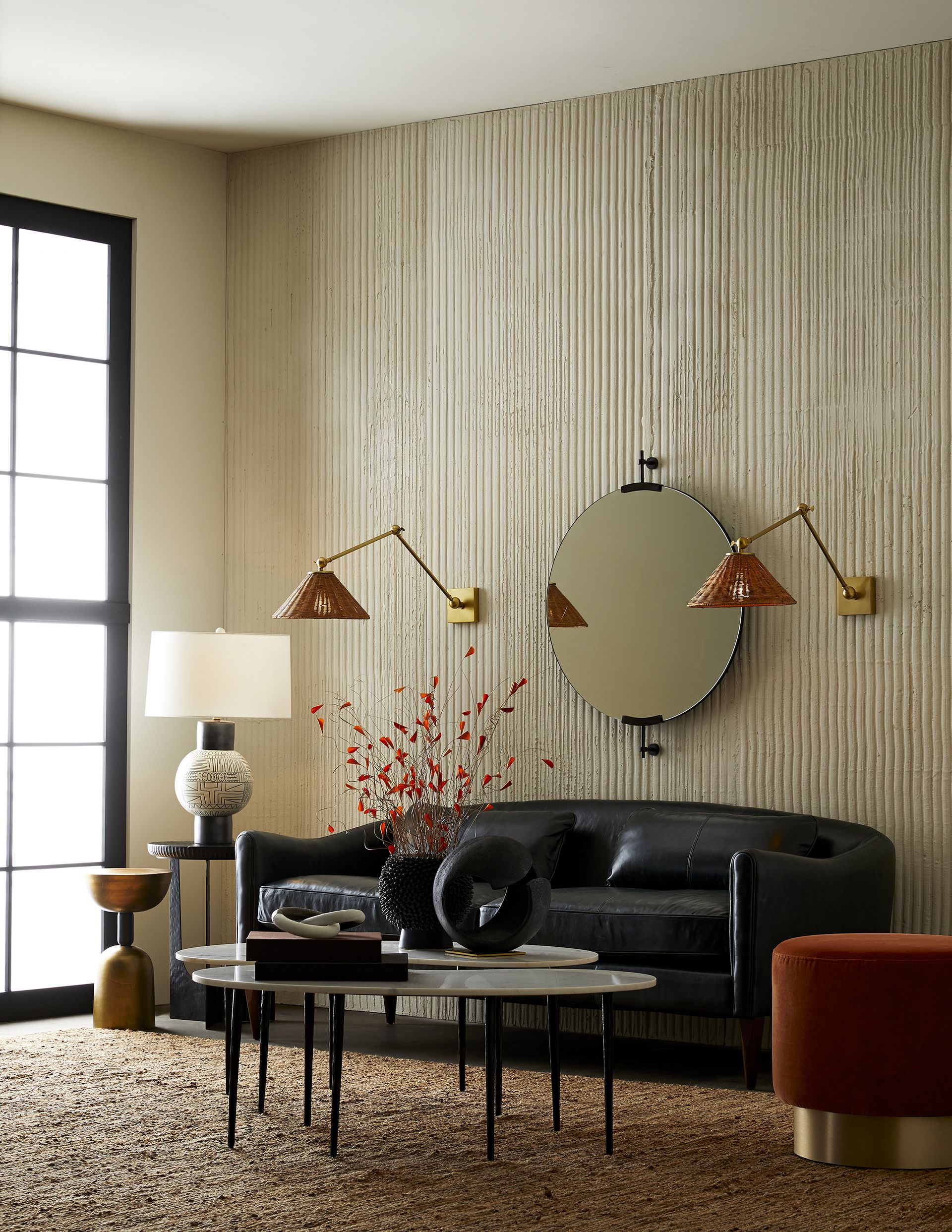 Decorating with beige and introducing a black couch as an accent is a wonderful way to create warm and inviting interior with a contemporary edge. 
To prevent neutral living rooms feeling flat, try adding in warm colors such as rust, paprika and orange together with hints of metallic to bring depth and warmth. 
If you're after a slightly softer feel in a beige living room then consider switching a black couch for a dark brown couch living room idea – this will keep the space looking chic, but will be slightly easier on the eye.
4. Bring texture with a black velvet sofa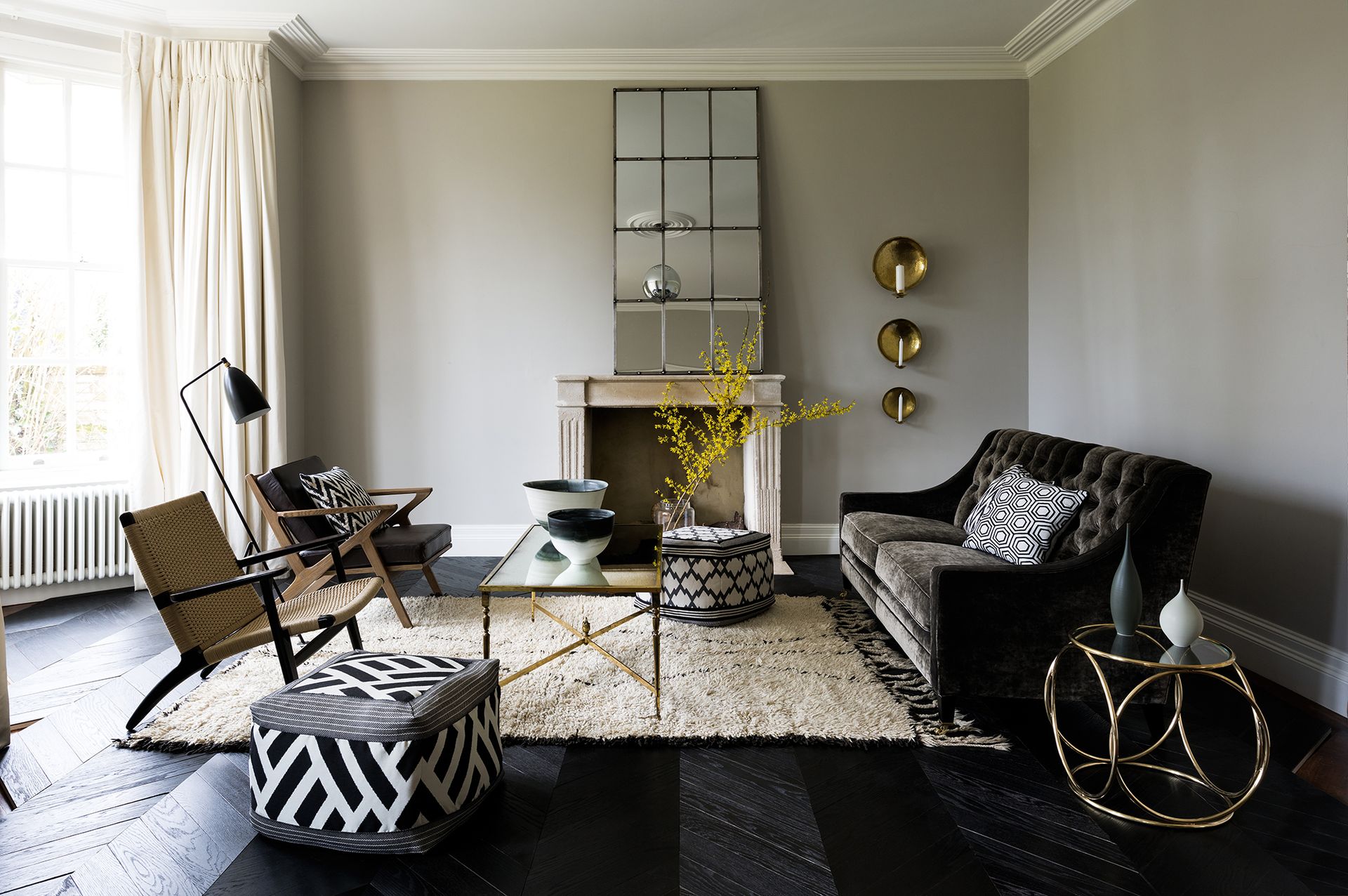 Decorating with grey is a calming backdrop for a living space and a versatile base for showcasing statement furniture and bold prints. However, if you are planning on a monochrome scheme then it's important to incorporate plenty of texture to prevent it feeling flat and lifeless.
Opting for a black couch in a textural fabric such as velvet is a brilliant way to bring life to a grey living room as well as a warm and cozy feel. 
5. Create an impact with a black sofa and black walls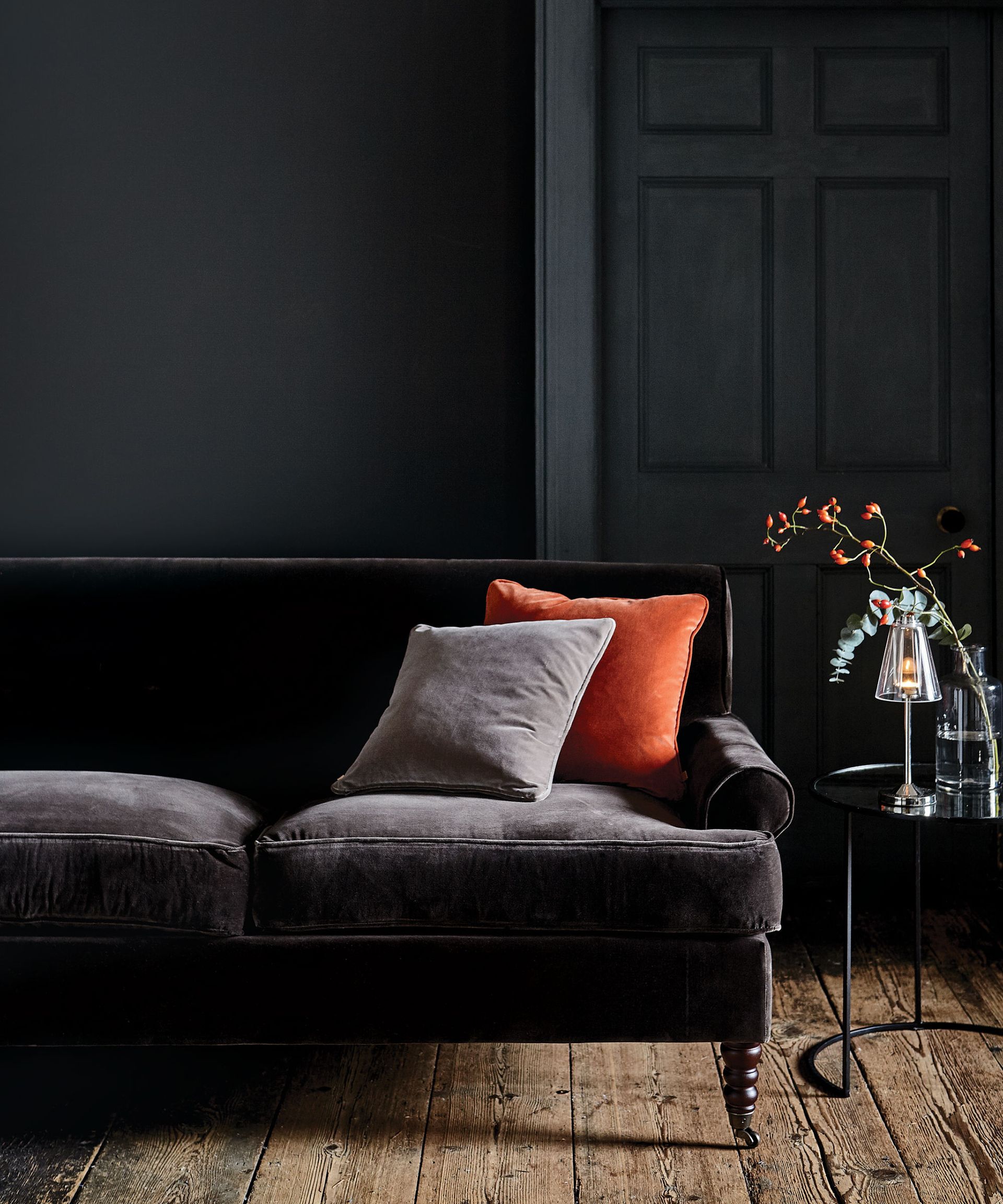 For those that are confident with color, decorating with black wall-to-wall together with a black couch can make a striking statement. 
If you're thinking of a dark living room with a color drench approach, then be sure to introduce texture as done here with a velvet black couch and a natural wood floor. Decorating with orange cushions is the perfect finishing touch for a black couch as orange black work particularly well together. 
'We very rarely do a design scheme that doesn't have some orange in it so it all depends how brave you want to be. You can liven up a neutral design scheme by choosing textiles and accessories in shades of orange,' says Emma Deterding, founder and creative director, Kelling Designs (opens in new tab).
6. Embrace pattern with a striped sofa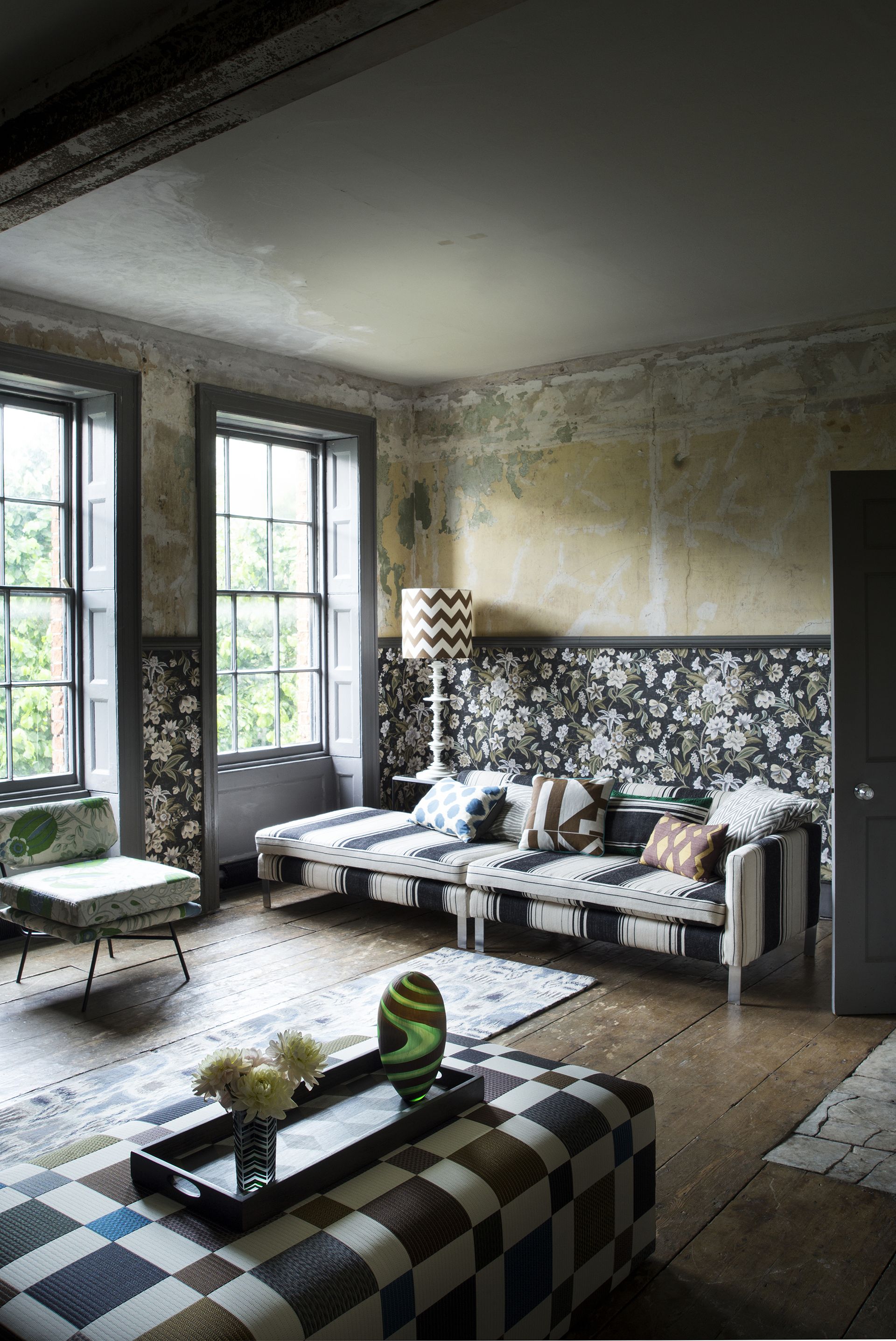 Being the largest piece of furniture in a living room, the sofa will command a lot of attention, with this in mind, sometimes opting for a solid black couch design may be too dominating, especially if the couch has a robust, chunky design.
Choosing a black and white fabric is a good alternative, as it adheres to the monochrome look but the fresh white will help lift the sofa and prevent it from feeling cumbersome. 
Here the striped sofa is juxtaposed with floral wallpaper and other bold geometric prints as part of a maximalist decor scheme. 
7. Choose a charcoal couch for a grey living room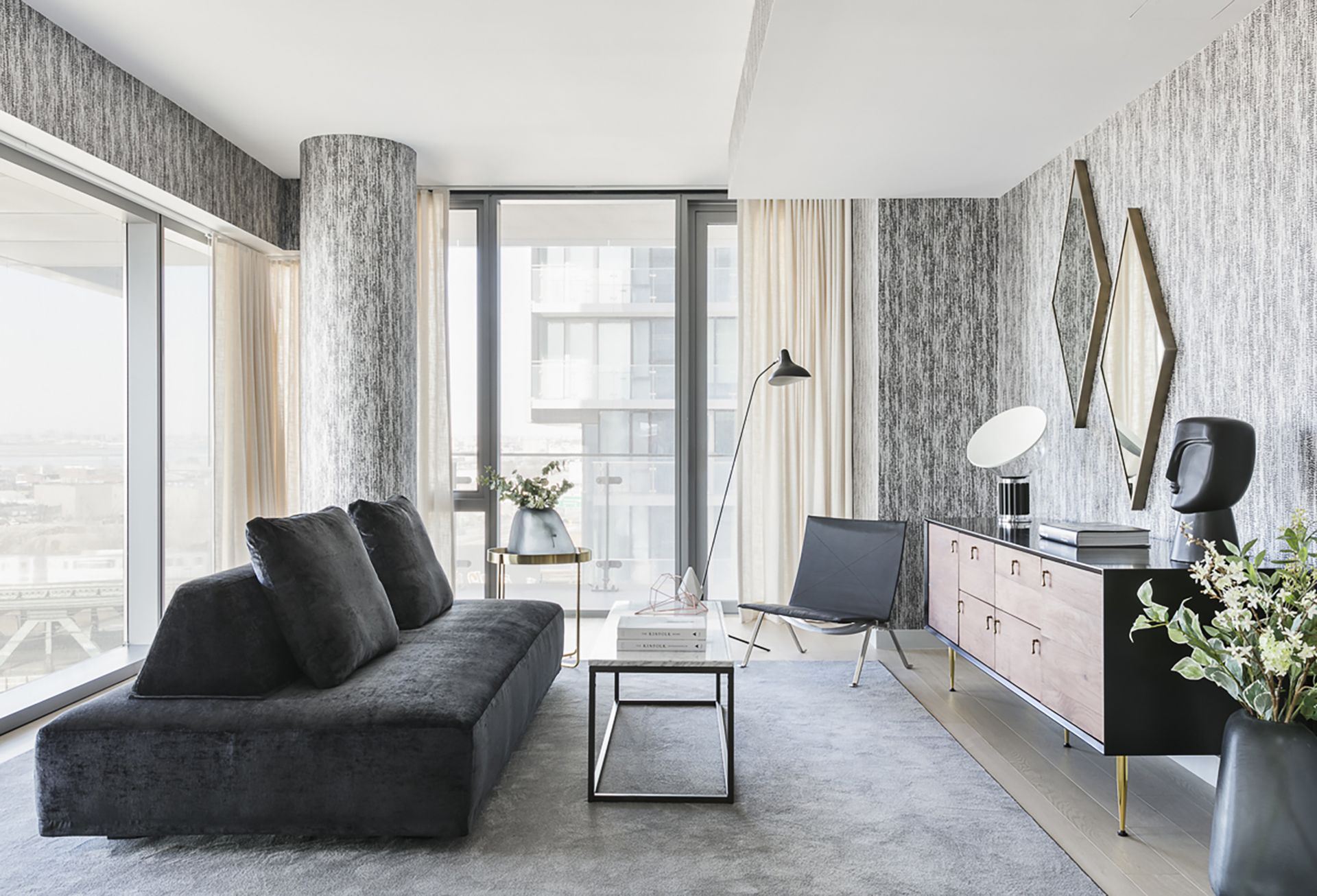 Monochrome palettes are a popular choice for modern living rooms. Here Fanny Abbes creative director and founder at The New Design Project (opens in new tab) has chosen a sculptural charcoal sofa as a focal point for a contemporary grey scheme.
'When designing this apartment we wanted the space to feel more dramatic, almost more seductive yet quite masculine. To do this we used a charcoal palette as a neutral background to then add punches of black and white for a strong contrast with highly textural elements such as the velvet sofa and wallpaper to deliver these sensual notes,' says the interior designer. 
8. Make a statement with a black floral sofa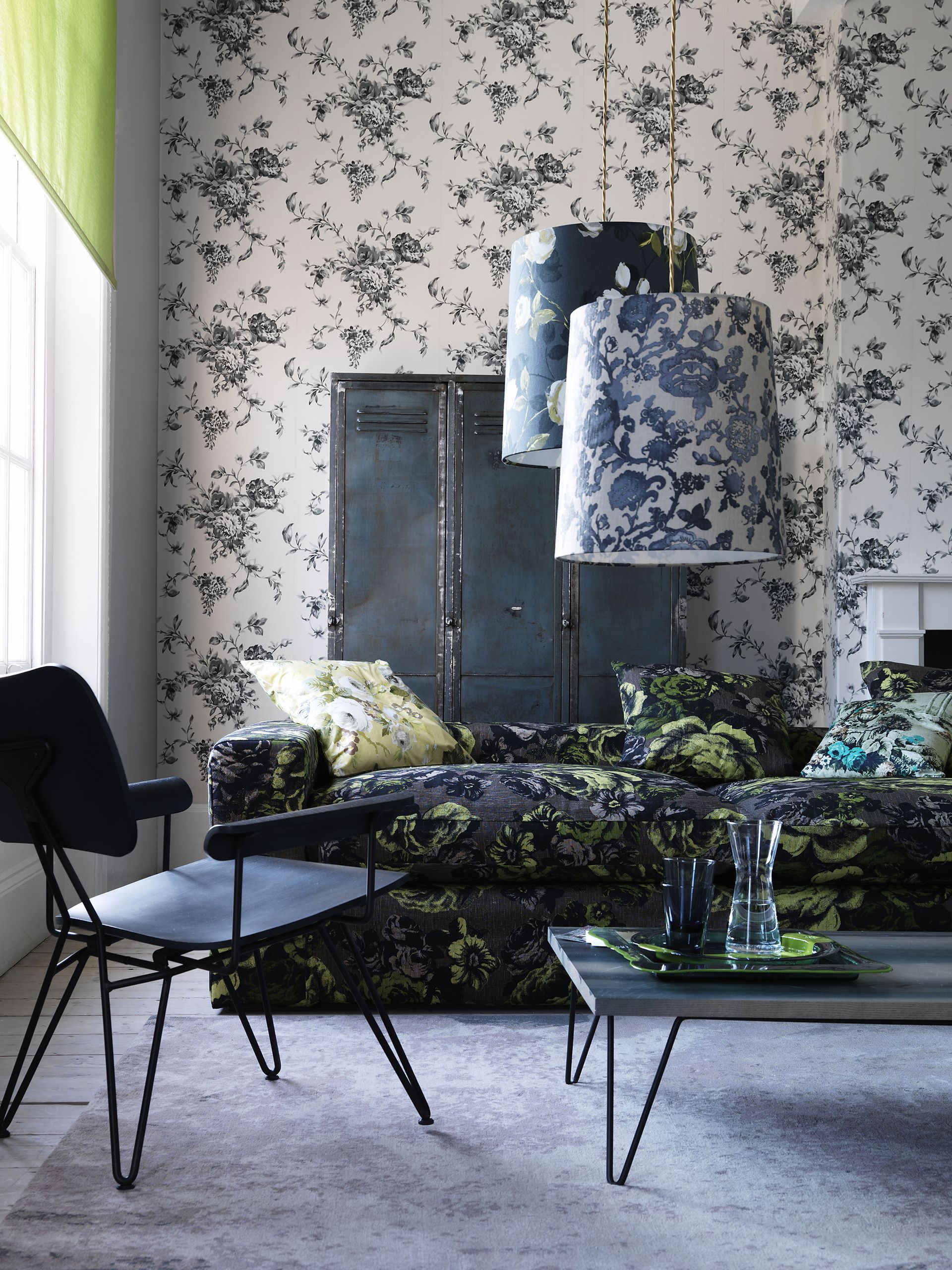 When introduced in pastel shades floral room decor can have a very country feel, however, for those looking for a more dramatic take on the floral look, a black couch  in a floral fabric can make a great focal point. 
Here a black floral sofa has been teamed with zesty lime green accents to create a head-turning look guaranteed to wow guests. 
9. Team a black sofa with crisp white for a contemporary look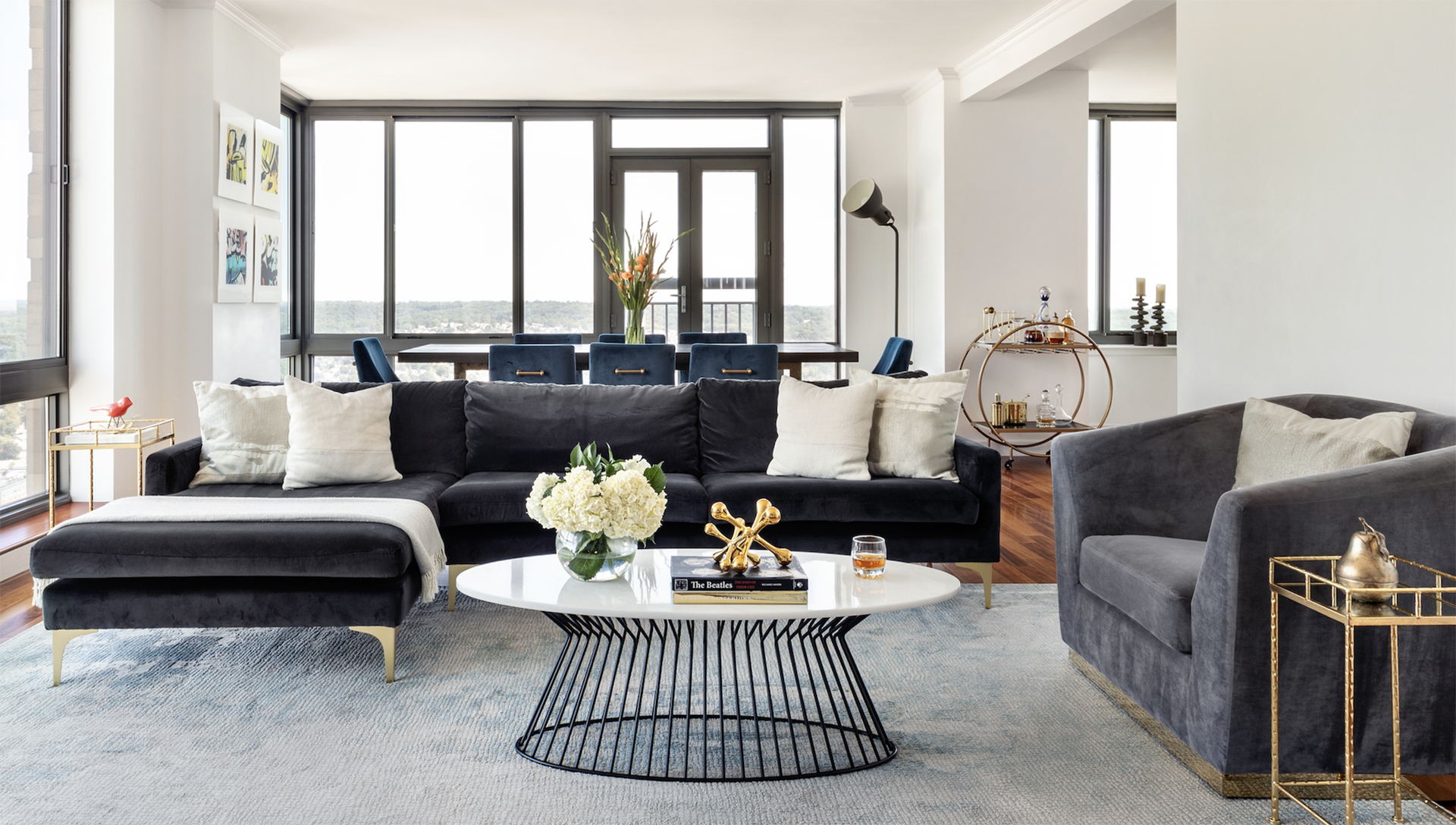 In this New York apartment the black couch played a key part in creating a high-contrast urban look.
'This living room was done for a busy family living in a beautiful high rise building. While they live in the suburbs of NY, living in the high rise offered us the ability to really embrace city living and capitalize on the views of the building,' says Malka Helft of Think Chic Interiors (opens in new tab). 'Opting for a clean color palette of black and white in this living space not only works with the crisp & modern design of high rise living, it also lays a neutral backdrop for bringing the beautiful outside view in.' 
10. Choose a grey sofa for a softer monochrome look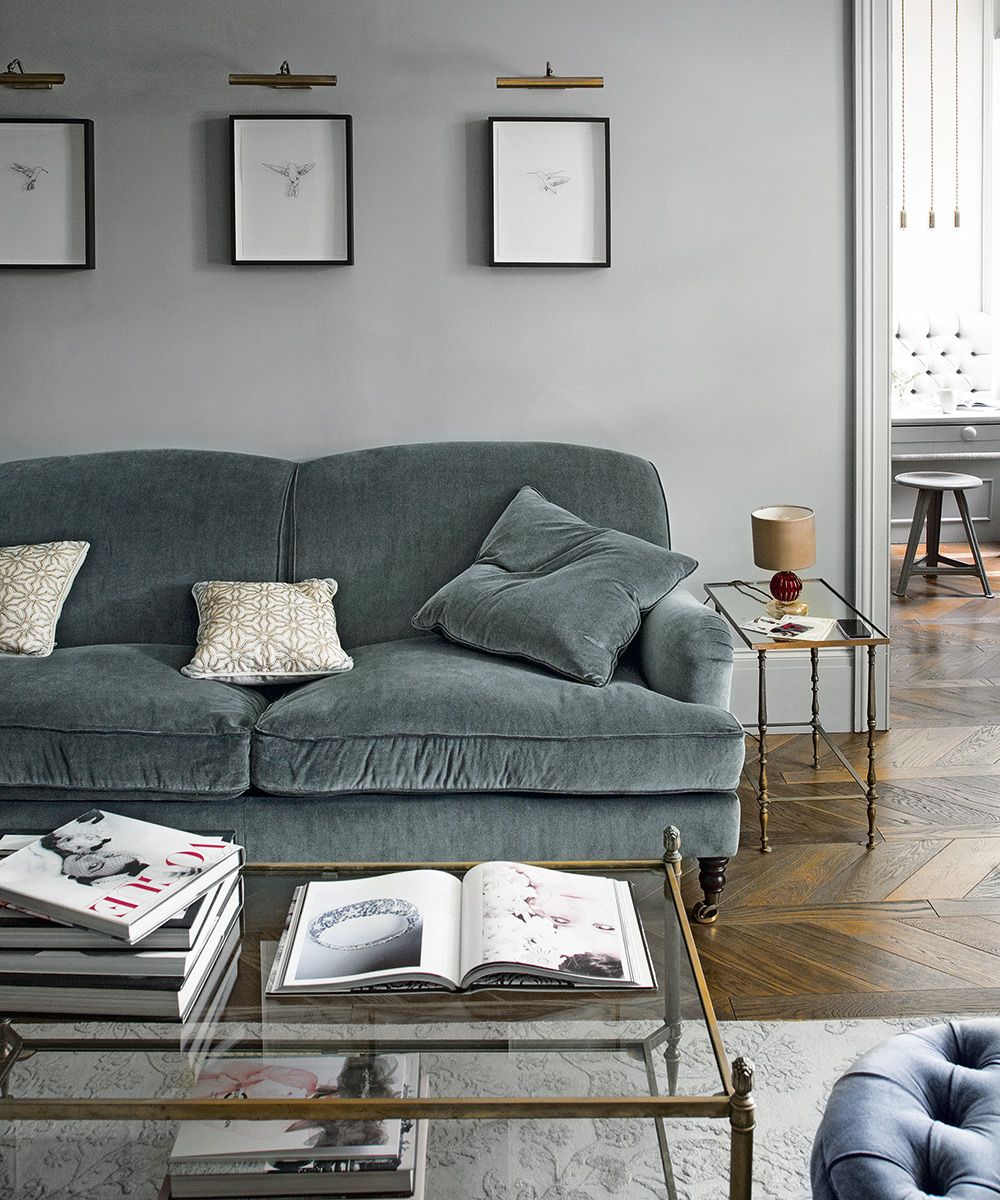 Black sofas are a bold choice – if you're looking for a monochrome look that is a little less dramatic consider a grey sofa living room ideas as these may be less jarring and easier to live with.
'Greys are hugely versatile – from cool off white shades, through warmer neutral mid tones to the very deep and mysterious. They have more color and texture within them than straight black – a monochrome scheme of black and white is much more unforgiving than one of shades of slate and clay, which will change subtlety with the light throughout the day, giving them personality and character,' says Justyna Korczynska, senior graphic designer at Crown (opens in new tab).
What color goes best with black sofa?
A black sofa works well with a wide array of colors. Neutral shades such as grey, white and beige are a classic pairing with black, however, being a powerful shade it also pairs well with bold colors such as mustard yellow and orange.
'Black works well with white and soft greys to create a classic or monochrome look, it also surprisingly works with soft muted pastels for a calmer take on this dramatic trend,' says Justyna Korczynska, senior designer at Crown.
How do you lighten a black couch?
Adding cushions and throws in white, light grey and pastel fabrics is an easy way to lighten a black couch while metallic fabrics and warm colors will make it feel more cosy and inviting. 
It is also worth thinking carefully about what fabric you chose for your black couch as this can have an impact on how light or dark it looks. A flat matte black woven fabric is lightly to look darker than a textural velvet, which will reflect slightly in the light.