Every year, Wallpaper* searches for the coolest bathroom design ideas from the world's best specialist manufacturers, from clever objects to new surfaces and functional additions. Here, we select the best bathroom trends for 2024, including freestanding elements, rationalist layouts, dramatic lighting and well-defined chromatic compositions. 
Dive into our 1980s-inspired bathrooms to discover the latest bathroom trends for 2024 and beyond. 
Bathroom design trends 2024: the Wallpaper* edit
---
Dramatic lighting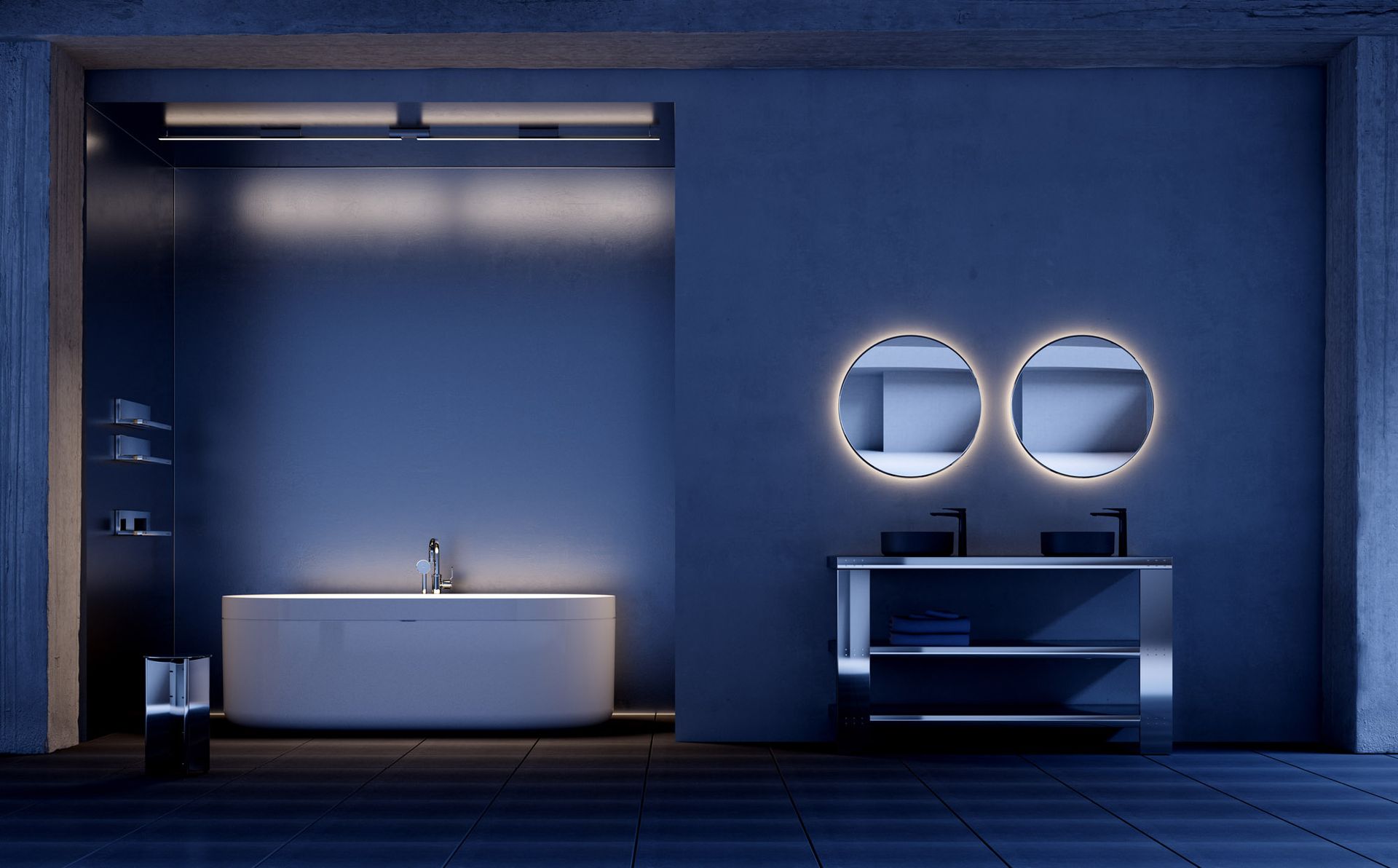 Take bathroom design to the next level with dramatic lighting that elevates the most expressive chromatic composition and frames carefully chosen bathroom accessories. Our bathroom space is illuminated by Ramos & Bassols' 'Spa' ceiling lights for Vibia, a sleek lighting solution conceived especially for wellness spaces and wet rooms. The 'Air' mirrors by Spanish studio Lievore + Altherr Désile Park for Noorth are part of a series inspired by classical architecture: in their perfectly round, backlit versions they ideally complement the space. Philippe Starck's 'Suite' freestanding bath tub for Axor (completed here with the 'Armstrong 3660' freestanding bath shower mixer tap by Perrin & Rowe) adds a minimalist edge to the room. 
From left, 'Laufen x NM3' shelves; stool; vanity unit, all price on request, by NM3, for Laufen. 'Ink' handblown candle, £170, by Perfumer H. 'Spa' ceiling lights, €665 each, by Ramos & Bassols, for Vibia. 'Suite' freestanding bath tub, £7,225, by Philippe Starck, for Axor. 'Armstrong 3660' freestanding bath shower mixer tap, from £2,820, by Perrin & Rowe. 'Air' mirrors, price on request, by Lievore + Altherr Désile Park, for Noorth. 'Bette Balance' countertop basins, from £907 each, by Tesseraux & Partner, for Bette. 'Tulum' taps, £374 each, by Philippe Starck, for Duravit. Terry bath towel, €65; guest towel, €20, both by Tekla. 'Kosei' floor tiles in Dark Grey, price on request, by Vincent Van Duysen, for Mutina
Hero pieces: bathtubs and more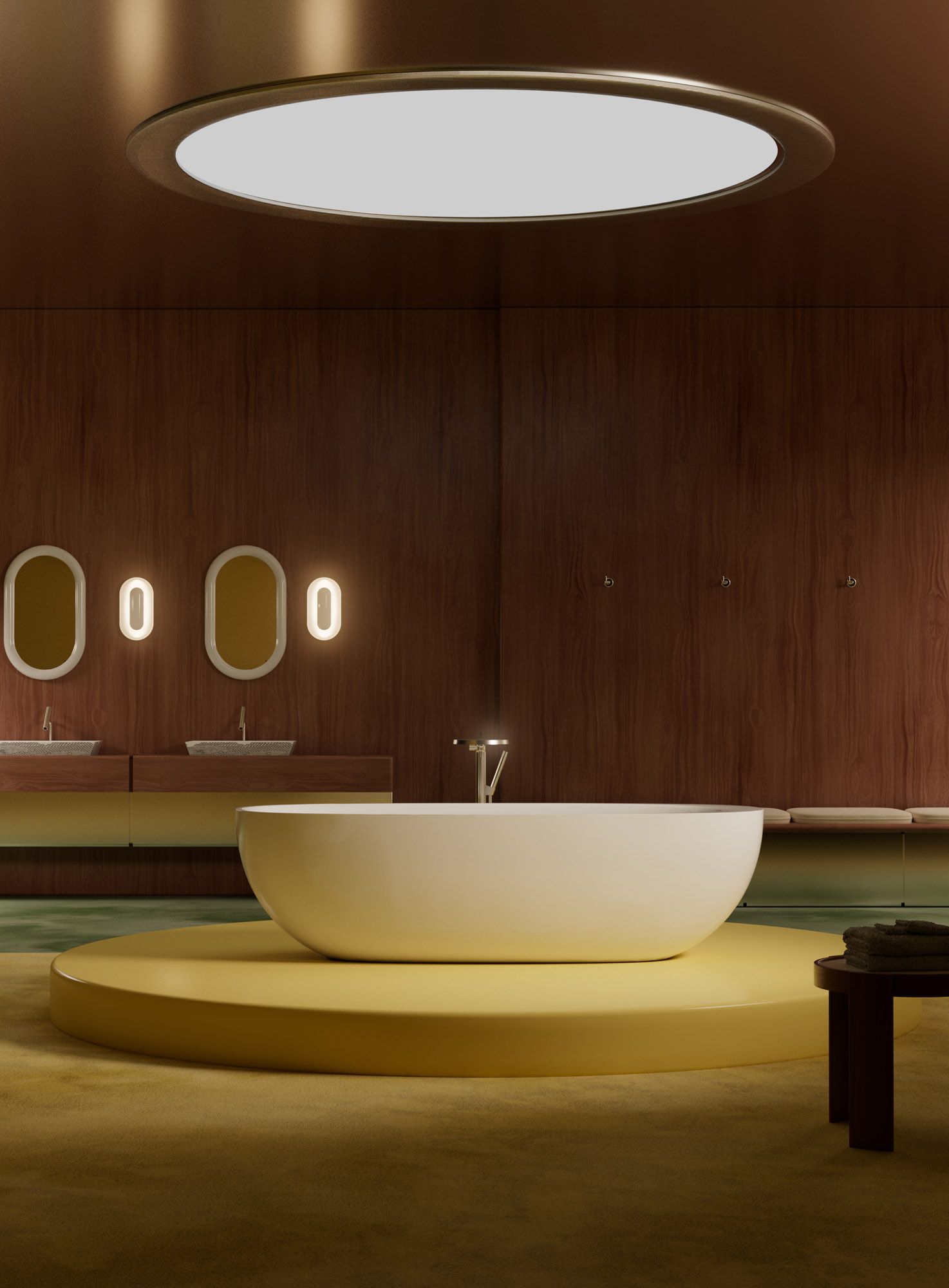 If space allows, nothing beats a centrepiece to anchor a room. A freestanding bathtub is a sleek addition to a contemporary bathroom, and this sculptural piece from Laufen's Il Bagno Alessi collection is both modern and minimal. While these large standout pieces are defined by generous volumes and practical elements, matching pieces can help define a bathroom's character: Tom Dixon's 'Liquid' mirrors for VitrA are perfect in combination with Rick Tegelaar's 'Sasi' wall lamps, creating a geometry of functionality that frames the room. 
From left, 'Aranya Brazn' sinks, part of the Artist Editions series, price on request, by Pushpa Kumari, for Kohler. 'Liquid' illuminated mirrors, £951 each, by Tom Dixon, for VitrA. 'Cilindro' progressive tap sets, £1,098 each, by Victor Vasilev, for Falper. 'Sasi' wall lamps, €479 each, by Rick Tegelaar, for Nuura. Freestanding Sentec bath tub, £4,875; freestanding mixer tap, price on request, both part of the Il Bagno Alessi collection, by Stefano Giovannoni, for Laufen. Stainless steel hooks, £55 each, by Buster & Punch. '780/783' low table, £2,318 for set of four, by Gianfranco Frattini, for Cassina. Terry towel, €65, by Tekla
Rationalist arrangements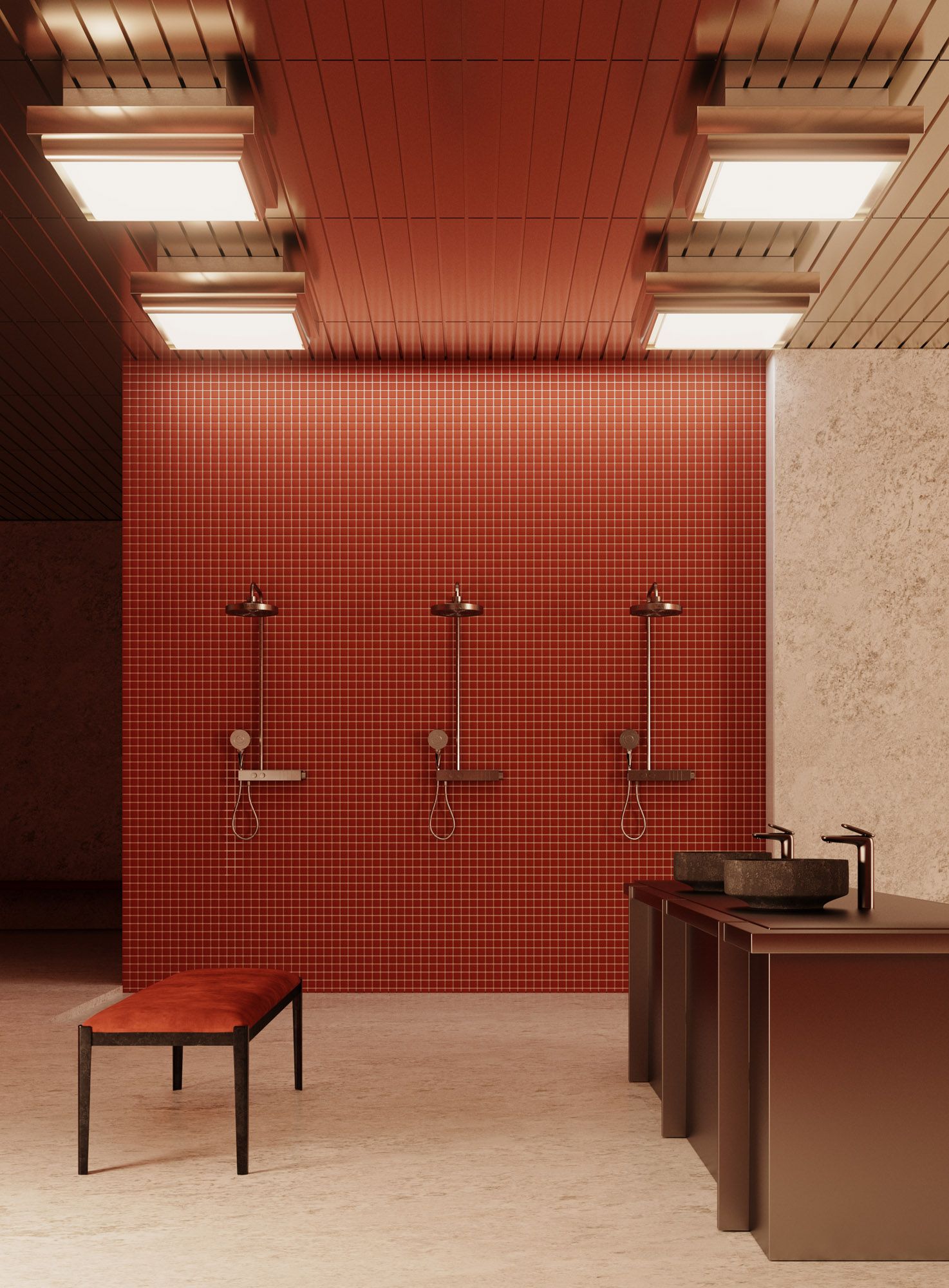 In these bathrooms, strict formal compositions merge with sensual colour palettes, the rigour of straight lines softened by a gentle chromatic approach. Palomba Serafini's 'Solos' shower systems are designs that exude pure functionality, while Patricia Urquiola's sinks for Agape merge a rationalist inspiration with the designer's signature approach to functionality and shape. Softening the rationalist composition, Ronan & Erwan Bouroullec's 'Slim' bench for Cassina offers a moment to contemplate the room. 
From left, 'Cotone Slim' bench, from £2,637, by Ronan & Erwan Bouroullec, for Cassina. 'Solos' shower systems, price on request, by Palomba Serafini Associati, for Ideal Standard. 'Cenote' washbasins, price on request, by Patricia Urquiola, for Agape. 'Antao' taps, , from €351 each, by Kaschkasch, for Villeroy & Boch. 'Vetrina' wall tiles, price on request, by M+. 'Plimatech' wall and floor tiles, price on request, by Florim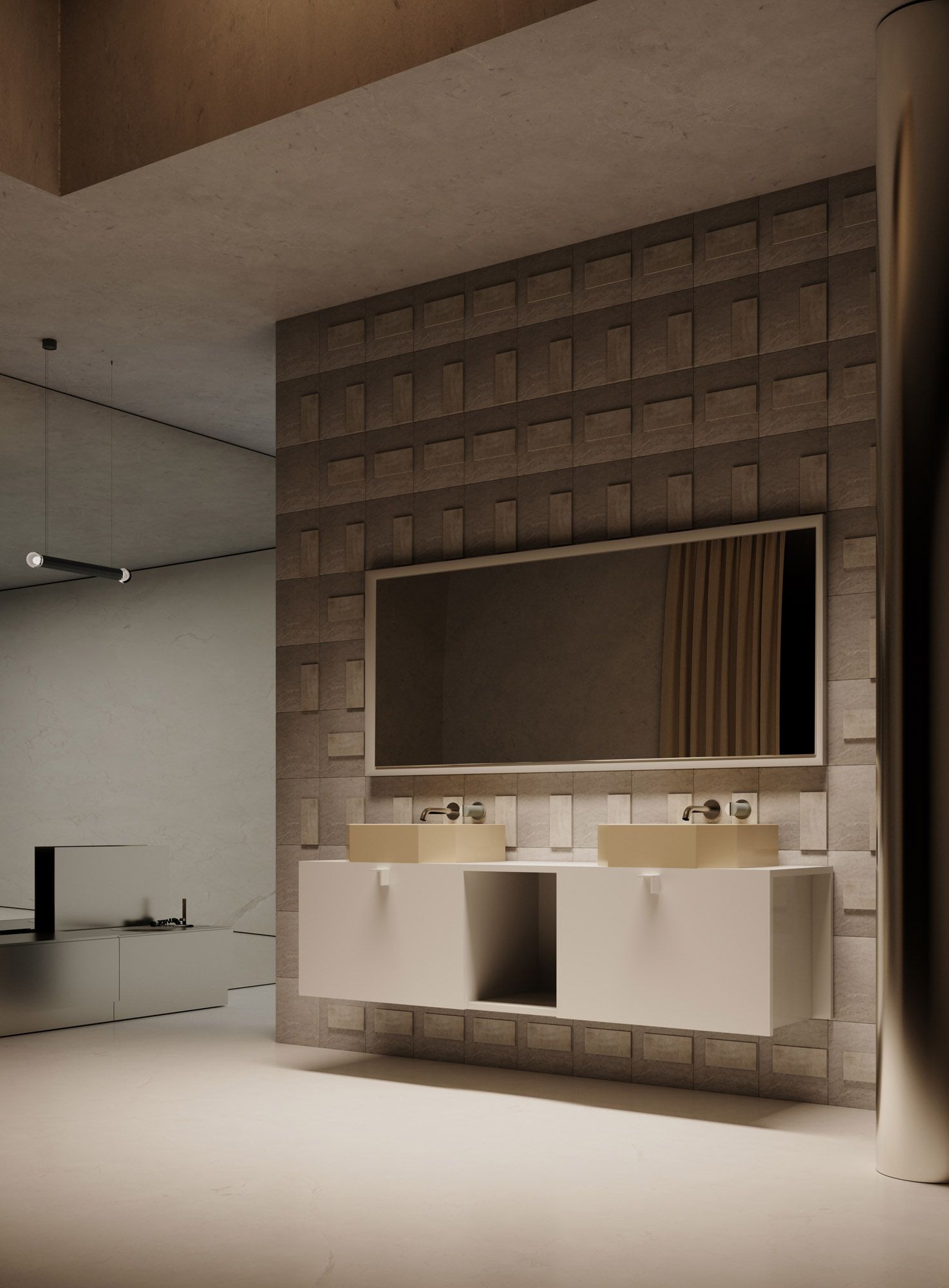 Meanwhile, the 'Abaco' toilet module by Natalino Malasorti for Ceadesign looks like it's back from the future, with its sleek metal finish and rationalist forms, plus integrated bidet function and jet cleaner, heated seat with soft-open and soft-close cover. Part of the 'Origami' collection by Bernhardt & Vella for Ex.t, the sinks give an uber-contemporary interpretation to the bathroom space, complemented by Salvatori's Passepartout wall tiles for a dramatic effect. 
From left, 'Abaco' toilet module, price on request, by Natalino Malasorti, for Ceadesign. 'Prisma Double' pendant, from €3,539, by Brokis. 'Xarita' mirror with LED lights and capacitive touch sensor control, £2,467, by Phoenix Design, for Hansgrohe. 'Origami' cabinet and sinks, price on request, by Bernhardt & Vella, for Ex.t. Wall-mounted basin mixer tap with short spout, from £807, by Varied Forms. 'Passepartout' wall tiles, price on request, by Salvatori. Curtain in 'Salicornia' fabric in Moutarde, price on request, by Dedar
All-over colour interpretation for a serene environment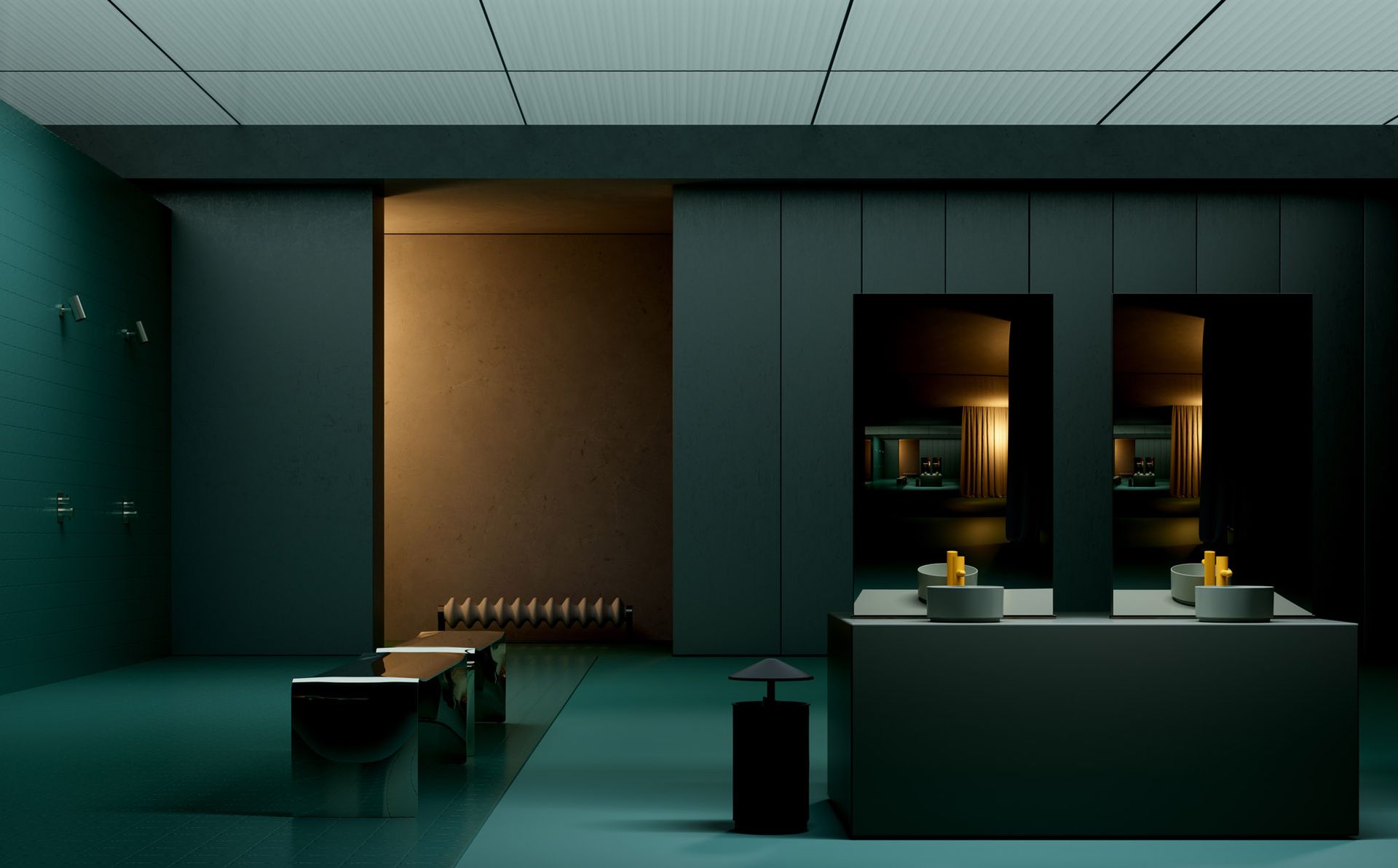 An all-over chromatic treatment brings together a room while creating a space for relaxation and contemplation. We chose the 'Bottega d'Arte' wall tiles by Iris Ceramica; a collection that nods to ancient Italian craft while looking as contemporary as ever thanks to the sleek surfaces and rich colour palette (covering all hues to the spectrum and more, and here shown in Terre Lucide Avio).
From left, 'Diametro35 Wellness Impronte' shower heads, £1,006 each; built-in single lever bath/shower mixer taps, £595 each, both by Davide Vercelli, for Ritmonio. 'Le Banc' benches, from £1,865, by Xavier Lust, for MDF Italia. 'Milano Horizontal' radiator, from €2,492, by Antonia Astori and Nicola De Ponti, for Tubes Radiatori. 'Hill' waste container, from £1,160, by Morten & Jonas, for Vestre. 'Les Petites' washbasins, price on request, by Andrea Parisio and Giuseppe Pezzano, for Ceramica Cielo. 'Nu' basin mixer tap, price on request, by Studio Inma Bermúdez, for Roca. 'Salicornia' fabric in Moutarde, price on request, by Dedar. 'Bottega d'Arte' wall and tiles, €53 per sq m, by Iris Ceramica
Lightness: freestanding and wall-mounted elements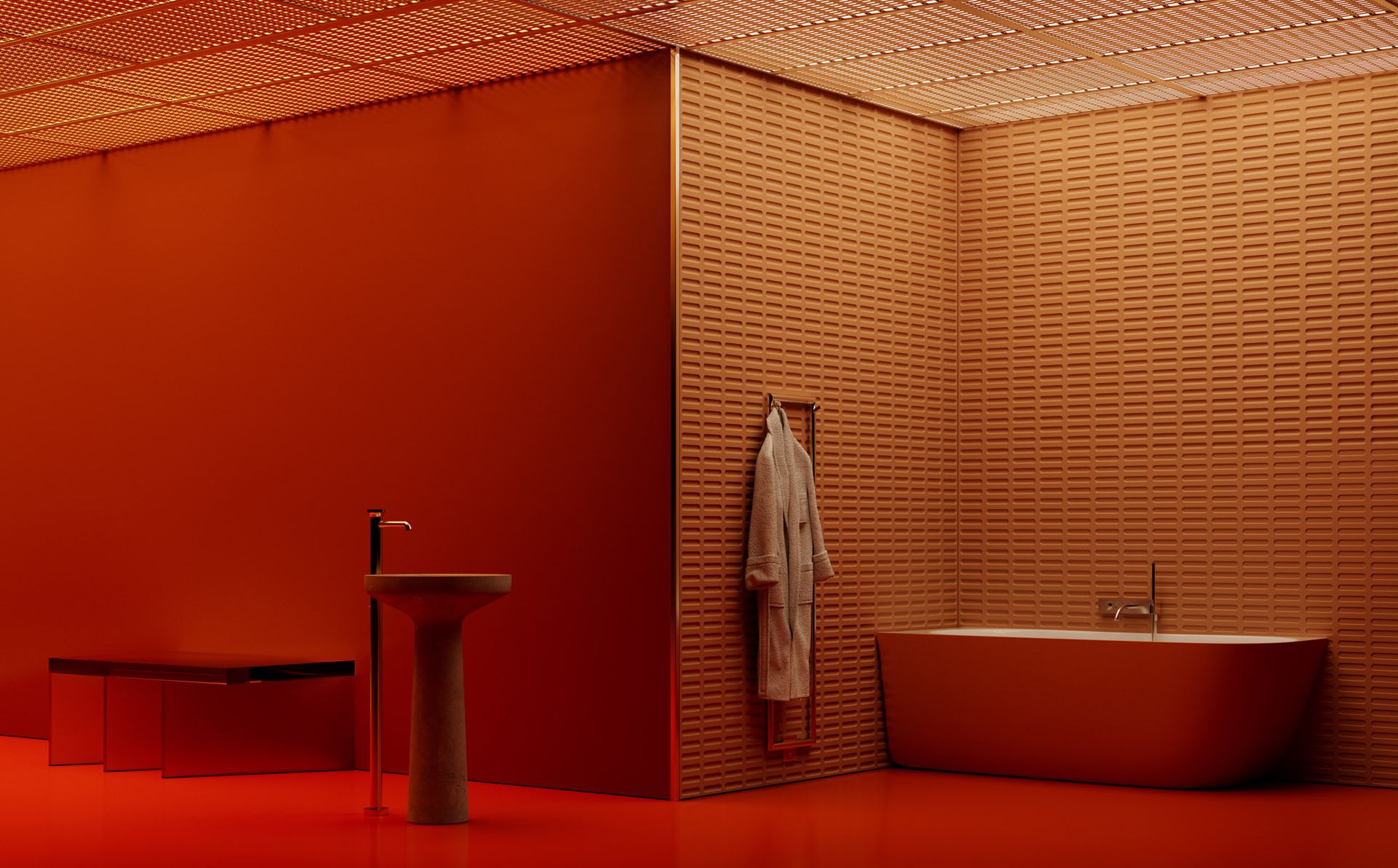 'Increasingly, storage furniture is moving [out of the bathroom] into adjacent spaces, such as the bedroom. The washstand can then focus on its specific function, becoming lighter and simpler. In its simplicity, it enhances the bathroom while offering greater freedom of movement than the traditional washbasin,' says Agape co-founder, Giampaolo Benedini.
From left, 'Refract' coffee table, A$13,900 ($9,285), by Hayden Cox, for SP01. 'Origini' tap, €2,131, by Gessi. 'AGO85' washbasin, €10,292, by Mario Ferrarini, for Antoniolupi. Classic bathrobe, £150, by Tekla. Towel dryer, €486, by Note Design Studio, for Tapwell. 'Lussari' corner bath, from £3,350, by Victoria + Albert Baths. 'Hoop' bath mixer tap, from €1,510, by Matteo Thun and Antonio Rodriguez, for Zucchetti. 'Confetto' tiles, part of the Crogiolo collection, price on request, by Marazzi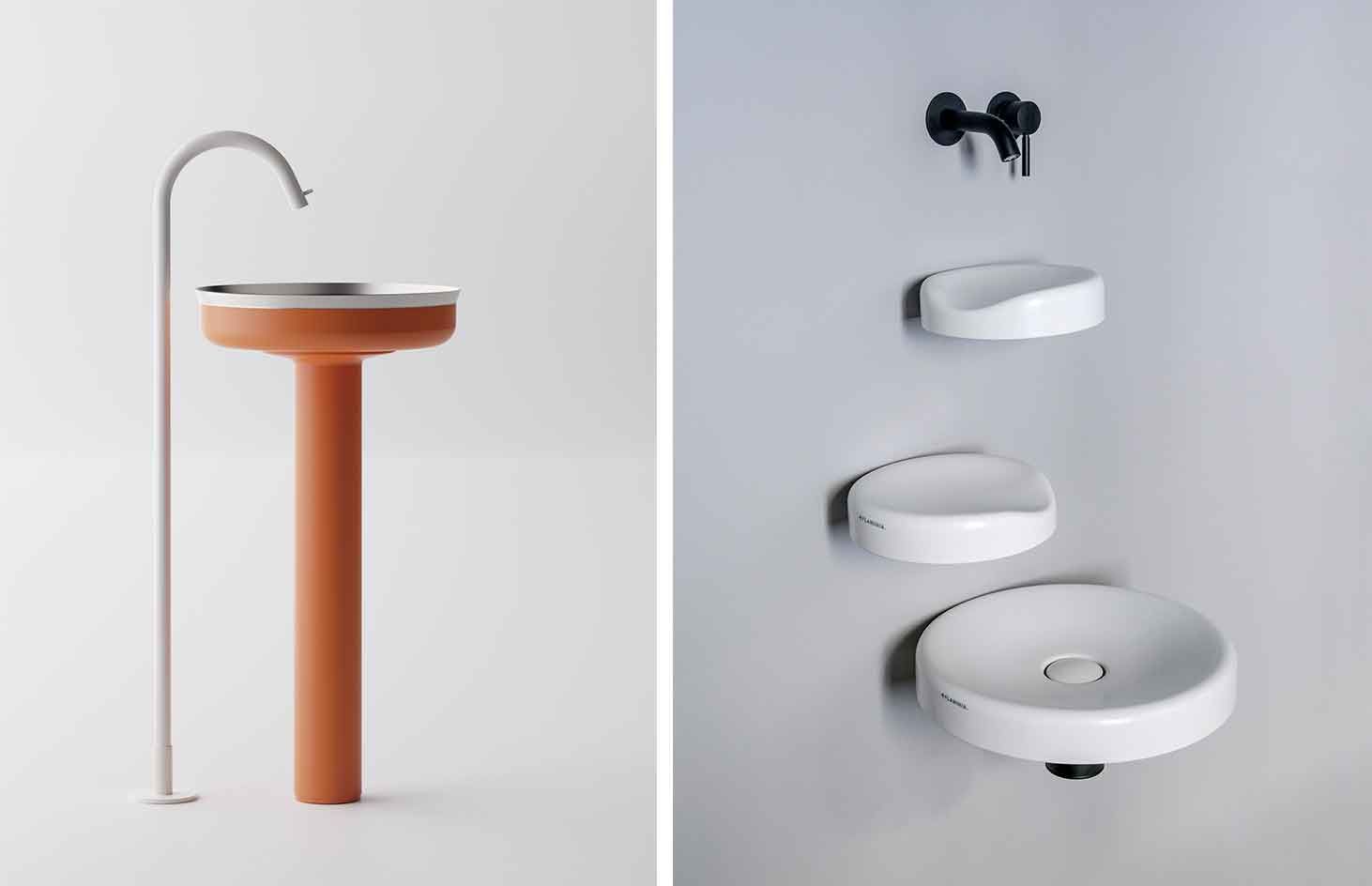 Among our favourite freestanding sinks is Agape's 'Undici' stainless steel wash basin, an evolution of the design based on the company's ongoing research into the way we live the bathroom. The new design by Benedini Associati is faithful to the original minimal design, extending its functionality by simply connecting the basin to a cylindrical column. Despite its essential design, 'Undici Inox Freestanding' is defined by a bold chromatic palette: while the bowl's interior and upper band maintains the original steel or brushed brass finish, the exterior and column are painted in a range that includes pink, orange, green, purple and black, with the possibility of colour customisation. 
Meanwhile, the latest collection in the long-term collaboration between Flaminia and Nendo is 'Taki', characterised by three suspended ceramic elements, inspired by the movement of water. 
Artistic interventions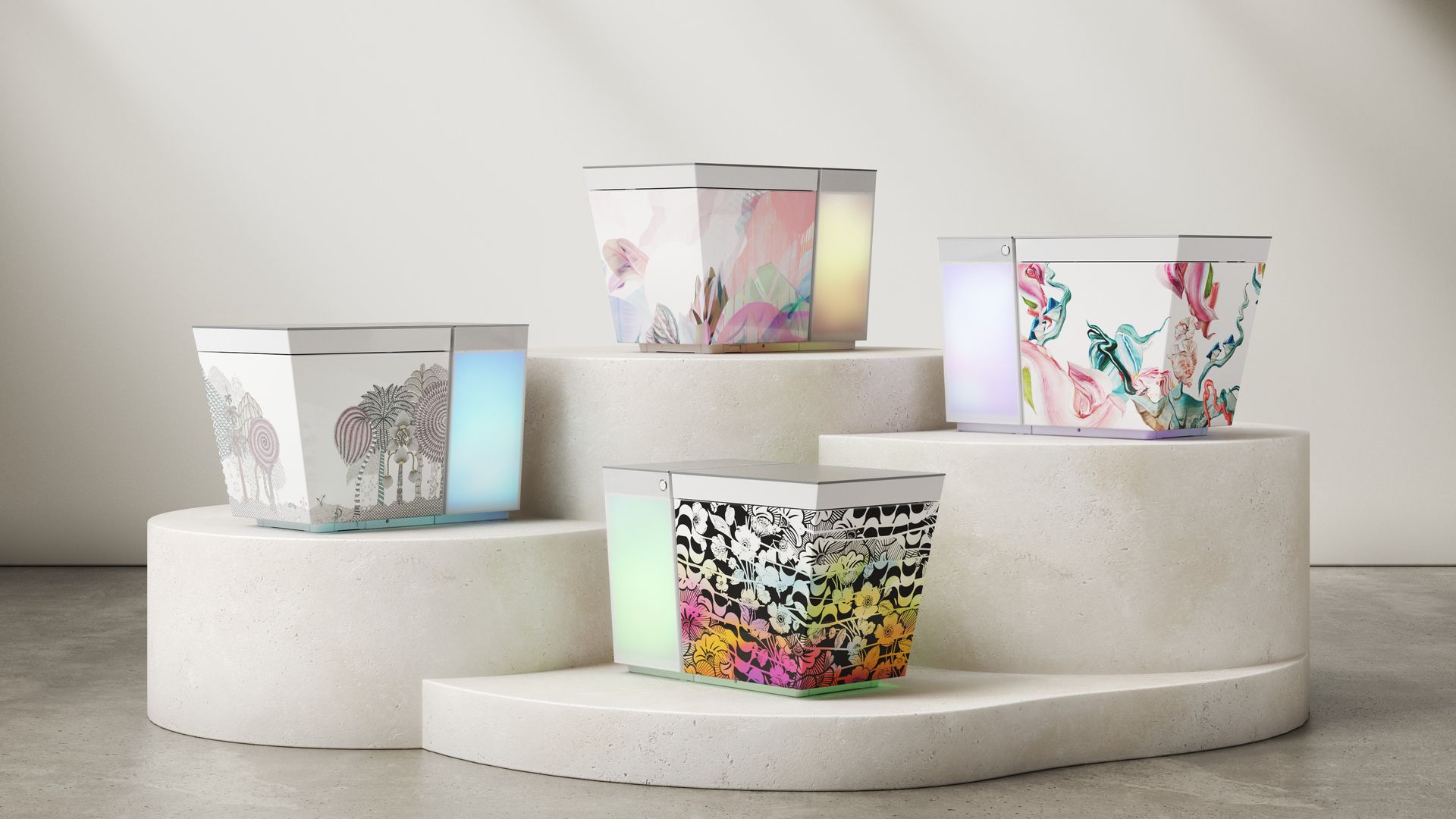 For its latest artistic interpretation, Kohler enlisted four female artists to create images that were then translated into a series of bathroom essentials. Ananda Nahú from Brazil, Ziling Wang from China, Pushpa Kumari from India, and Elle from the United States worked on the limited-edition collection of 12 Artist Editions products, each a unique ode to beauty. The collection includes the 'Numi 2.0' smart toilet and the 'Brazn' sink and bathtub, adorned with textures and landscapes, sinuous patterns and complex illustrations from the four artists. Each piece will be offered in a quantity of 150, in honour of Kohler's anniversary year.
Accessible fittings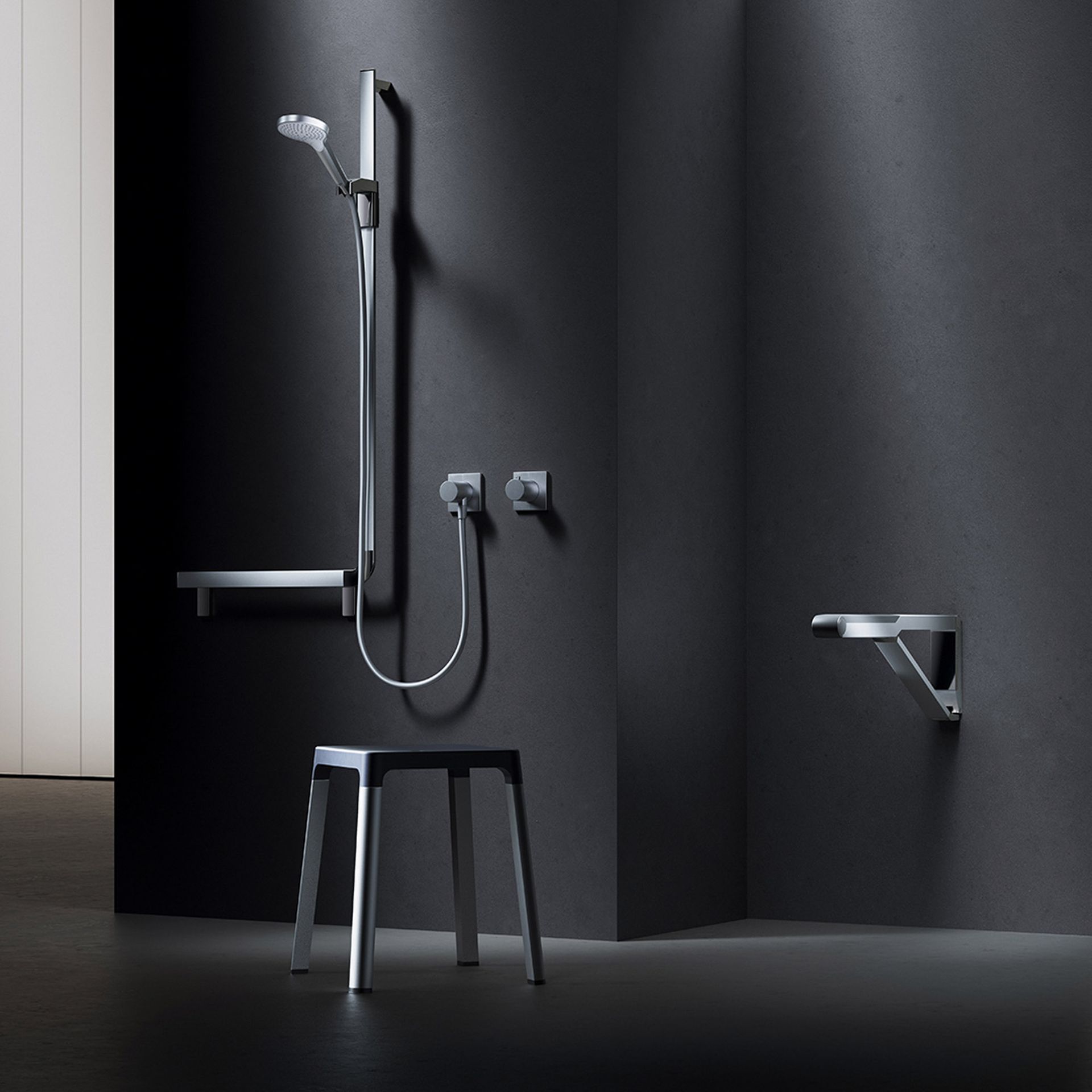 Keuco's new barrier-free range is defined by clean lines and functional simplicity. Conceived by German interior design studio F A Porsche, the collection includes a shower rail that can be adjusted with one hand and doubles as a stable grab rail, including a folding support rail with an optimised grip design, and a freestanding stool. The collection adds cross-generational accessibility to the bathroom, supporting safety, independence and autonomy with a design that is timeless and discreet. The collection can be combined with existing Keuco fixings and accessories. 'Our aim was to develop accessible bathroom products from a completely new perspective,' says Christian Schwamkrug, design director of Studio FA Porsche. 'Timeless, very clear, aesthetic forms, permanently perceived as beautiful, even after many years. Our ambition was to create something special, right down to the smallest detail, and making it technically possible. A combination of German engineering and top-quality implementation in every respect.'