With fall approaching, it's time to start sprucing up your kitchen with some festive décor to create a warm and inviting ambiance that reflects the beauty of the season. 
Choose elements that not only reflect fall décor, but which also resonate with your kitchens ideas, whether that is modern, rustic, minimalistic or eclectic. You can introduce fall themes into your kitchen by choosing your favorite colors, patterns, themes or pieces to create a space that reflects not only the season, but also your style and personality.
Whether you plan to entirely redecorate your kitchen for fall or add some statement touches here and there, we have plenty of ideas and expert tips to get you started.
How to decorate your kitchen for fall
If you're wondering how to start decorating for fall, you can start small by introducing some simple fall accessories, or you can think bigger and give your kitchen a makeover by incorporating fall color schemes. 
1. Create a seasonal centerpiece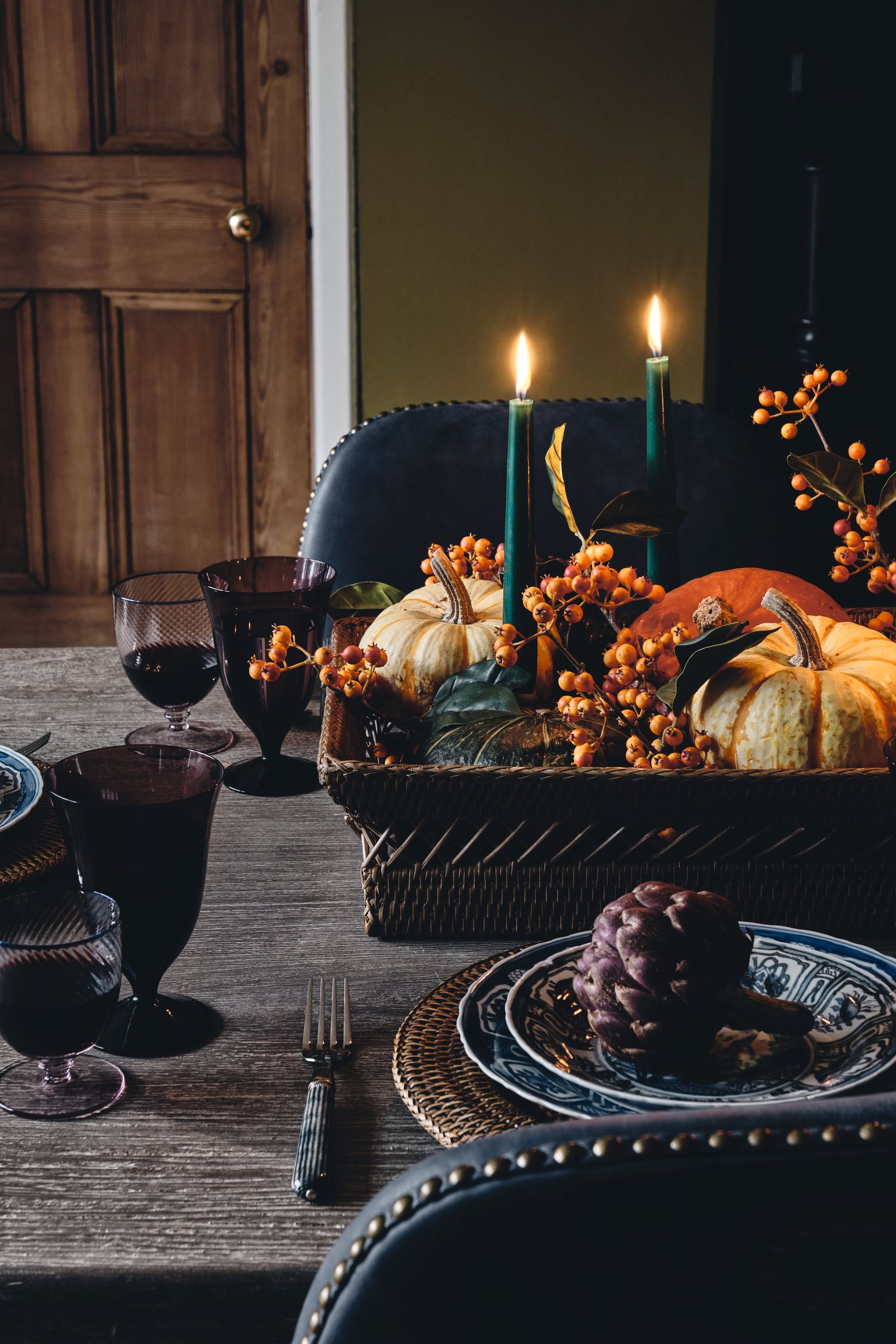 One easy way to introduce fall kitchen decor is by arranging a centerpiece on your kitchen table or island using seasonal elements.
Katrina Smith, Interior Design Expert and Founder of Kitchensity says, 'Create stunning focal points with fall-inspired centerpieces. Combine elements like dried flowers, mini hay bales, and small branches for a rustic touch.'
You can tie various elements together by using a rustic wooden tray or basket which you can fill with seasonal elements such as pumpkins, gourds, pinecones, dried flowers and colorful leaves, as well as candles or a lantern to create ambiance during meals.
Being selective about what you feature in your centerpiece can be a fun way to personalize your kitchen fall décor. You can find centerpiece ingredients in your garden or from our favorite selection below. You can also create a couple of smaller displays to put on windowsills and in other parts of your kitchen.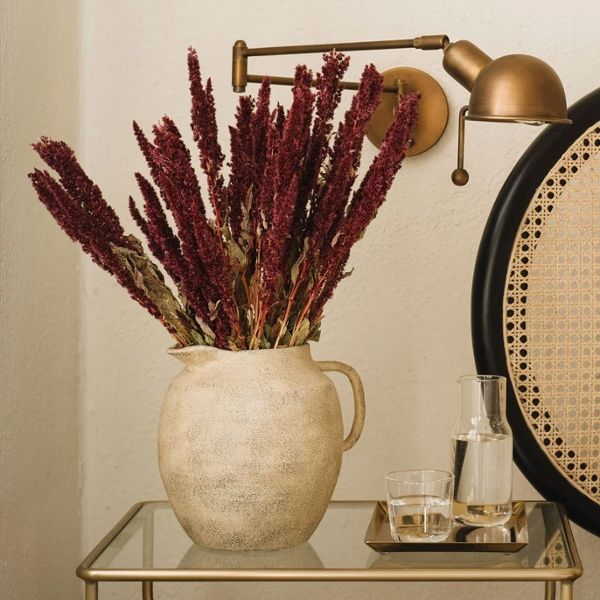 The deep, rich purple hue with burgundy tones of these dried flowers is perfect for creating a moody look for fall.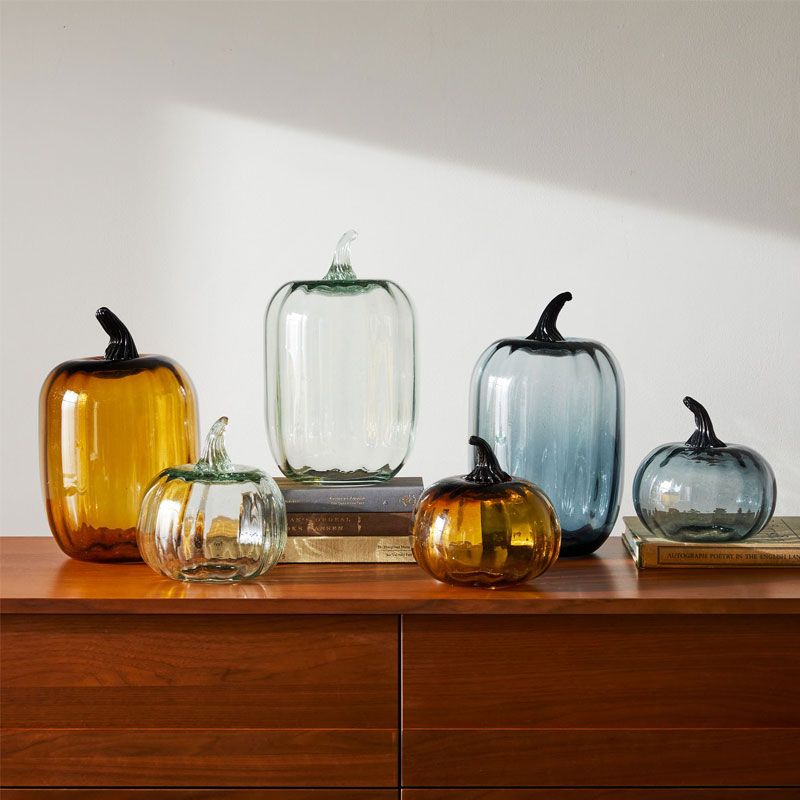 A stylish, modern take on seasonal pumpkin decor, these colorful glass pumpkins have been crafted from mouthblown recycled glass.
2. Introduce warm color schemes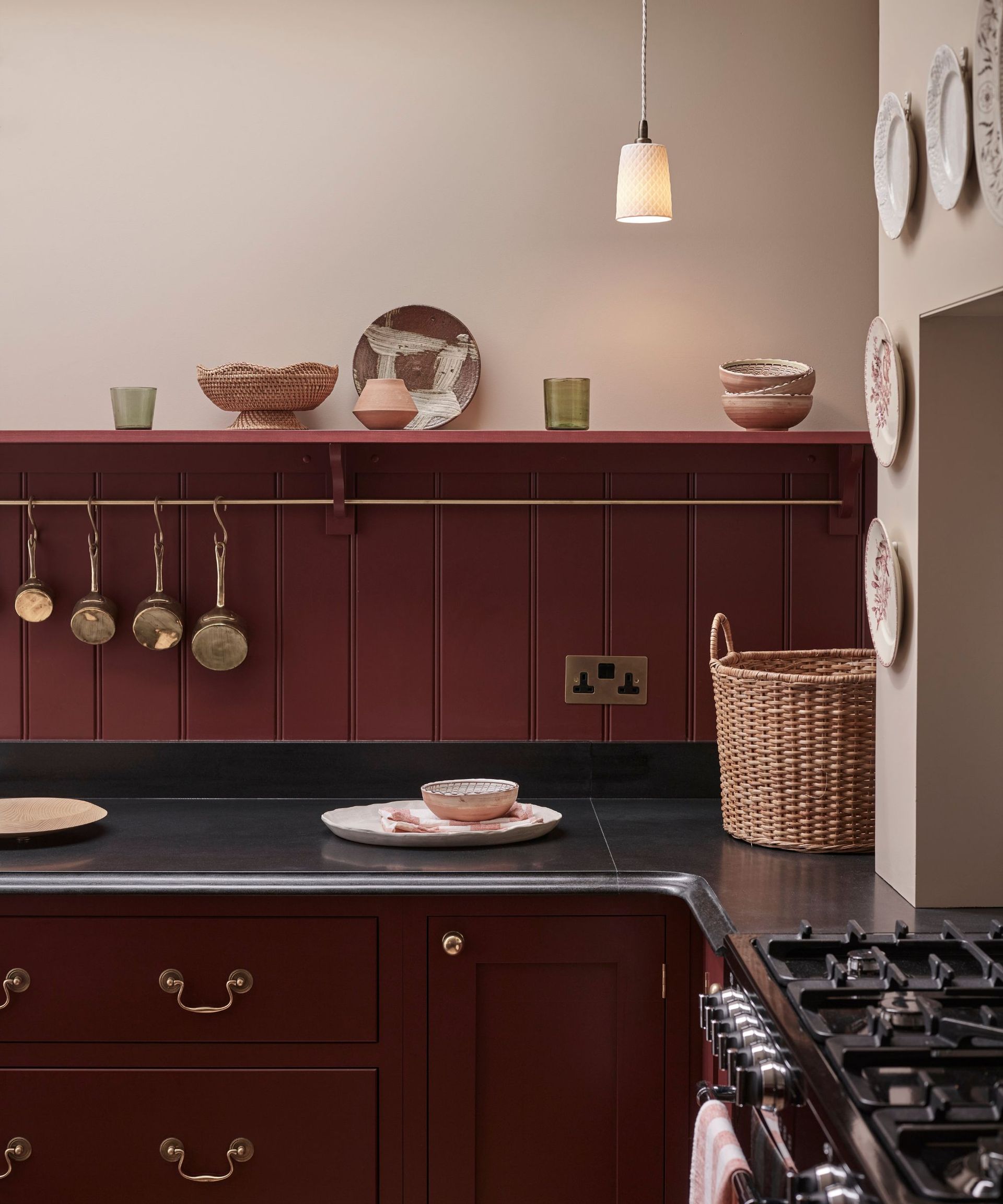 You can introduce fall kitchen decor with paint to bring coziness to your kitchen. Choose warm kitchen color ideas to paint a single wall or if you are thinking of revamping your kitchen cabinets, and want to give the room a more welcoming appeal, you could paint kitchen cabinets. 
Which color to choose? 'Fall is all about rich and vibrant hues, such as orange, red, yellow, and brown', says Jacky Chou, Principal and Director at Archute.
Painting a wall or cabinets can be a surprisingly easy and impactful way to introduce a color into your kitchen, just make sure it coordinates with the existing features in your kitchen such as the countertop and flooring. We've covered painted kitchen ideas which may help inspire your paint color.
Alternatively, you can feature these colors on smaller elements by adding a warm-toned rug, curtains, or a throw.
Principal and Director at Archute
Principal and Director at Archute
Jacky Chou is the Principal and Director at Archute, an editorial magazine about architecture, home and garden. They have been referenced by The New York Times, Bustle, House & Home, Bloomberg, and Angi. Jacky also his own an online interior design company as well called Laurel & Wolf.
3. Incorporate pattern with wallpaper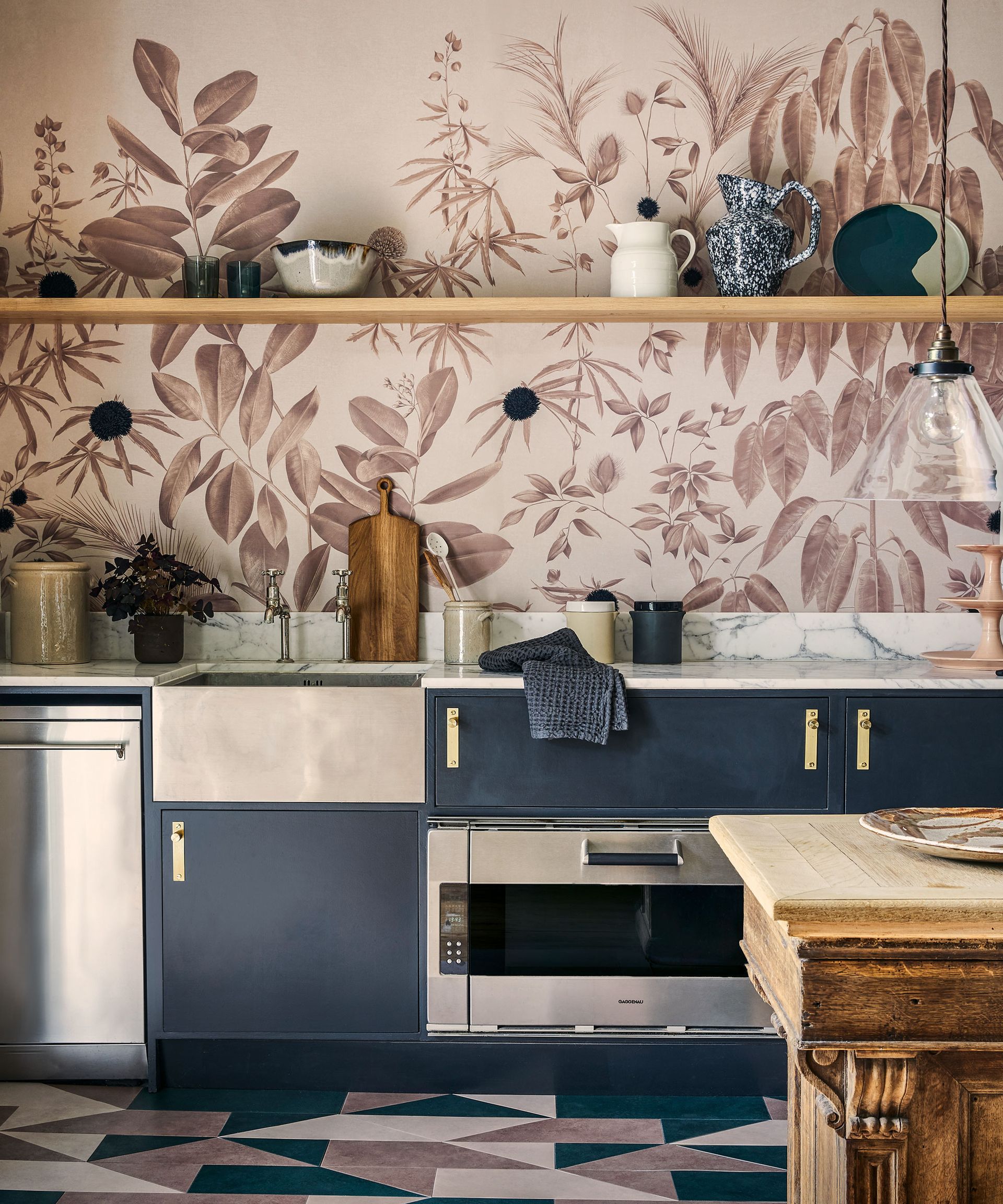 Hanging seasonal wallpaper can also have a dramatic impact in introducing a fall theme to your kitchen. You can use removeable wallpaper to make it easy to keep changing it for each new season. We love Urban Outfitters' removeable wallpaper range, which includes fall themes.
Besides the obvious options of wallpaper adorning a wall featuring a fireplace, wallpaper can also be used to line the back of open shelving or cabinets with glazed doors or to line the base of drawers. These subtle touches can have quite a big impact in creating a coherent fall theme in your kitchen.
4. Add fall-themed linens and dishware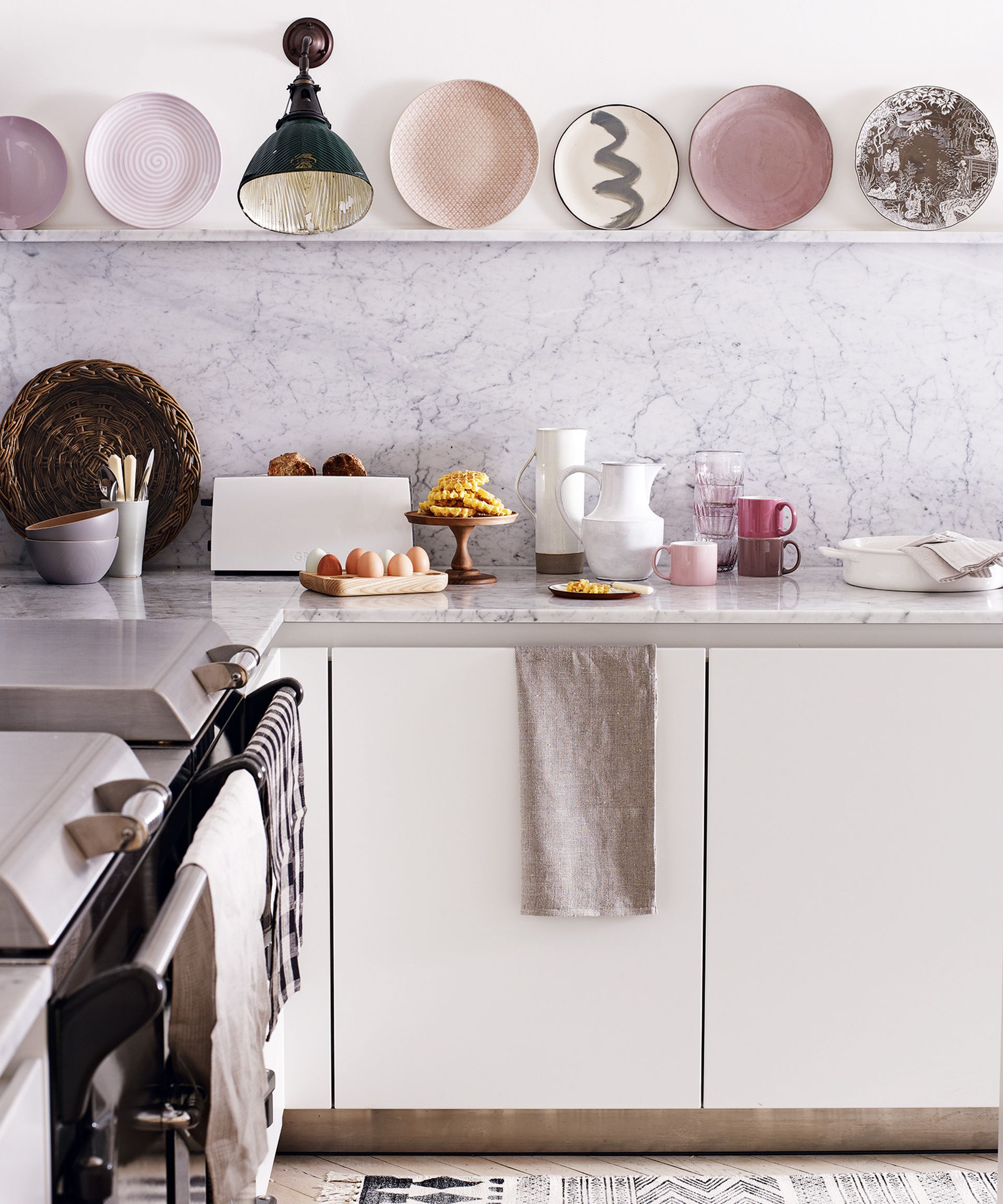 Switch out your regular kitchen accessories for fall-themed ones. This can include tablecloths, placemats, dish towels, dinnerware, mugs, glassware and pots in fall colors or patterns. 
Look for patterns in plaid or checkered designs that evoke rustic feel, or pieces with leaf or pumpkin motifs. 
Warm metallic tones such as copper accents on pots pans and utensils can also complement the fall theme. Display them on open shelves.
Barbara Stern, Editor in Chief of Ottoman Textiles advises, 'Small touches can also make a significant impact. Consider oven mitts, pot holders, and tea towels in autumn-themed prints. Not only are they functional, but they also serve as decorative elements.'
You can also find more creative options such as pumpkin-shaped salt and pepper shakes, leaf-shaped coasters and dishware with autumnal designs.
Barbara Stern continues, 'Imagine pulling a pie out of the oven with a mitt adorned with golden leaves or drying dishes with a towel featuring pumpkins and acorns. These little textile accents can be strategically placed to catch the eye and evoke the warmth and comfort of the season.' 
5. Layer in fall accessories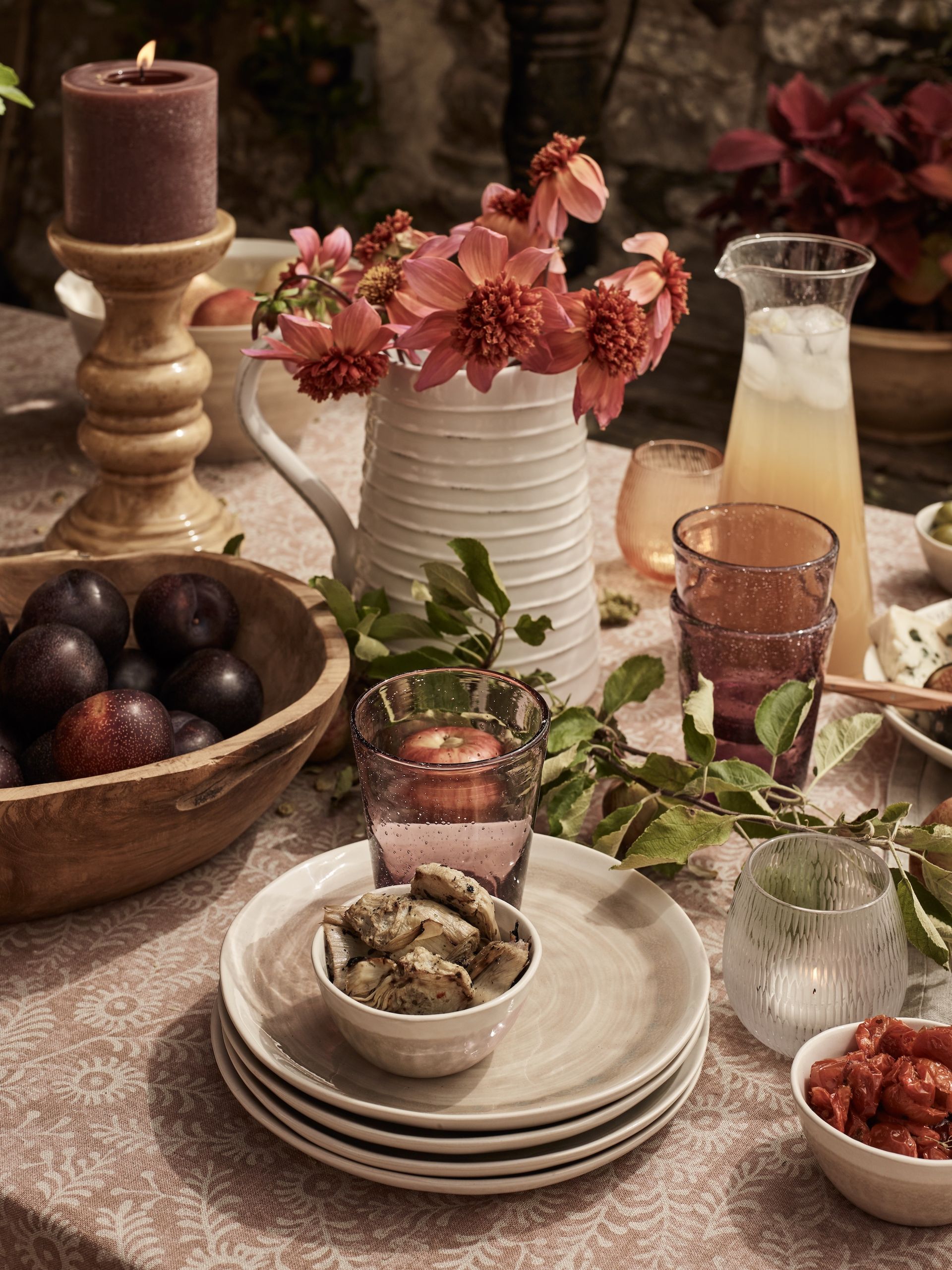 In addition to switching out your staple kitchenware for fall-themed alternatives, you can also incorporate some fall accessories to elevate your kitchen. This is an easy way to add seasonal elements if you don't want to make any drastic changes to your decor or are decorating for fall on a budget.
Use rustic elements like wooden crates, burlap accents and woven mats to bring a charming farmhouse kitchen feel. Fall colored glass vases, candle holders and rustic fruit bowls will all work.
'Display seasonal produce like apples, pears, and squash in decorative bowls or baskets on the kitchen counter,' adds Charlie Victor Founder at My Modern Cave.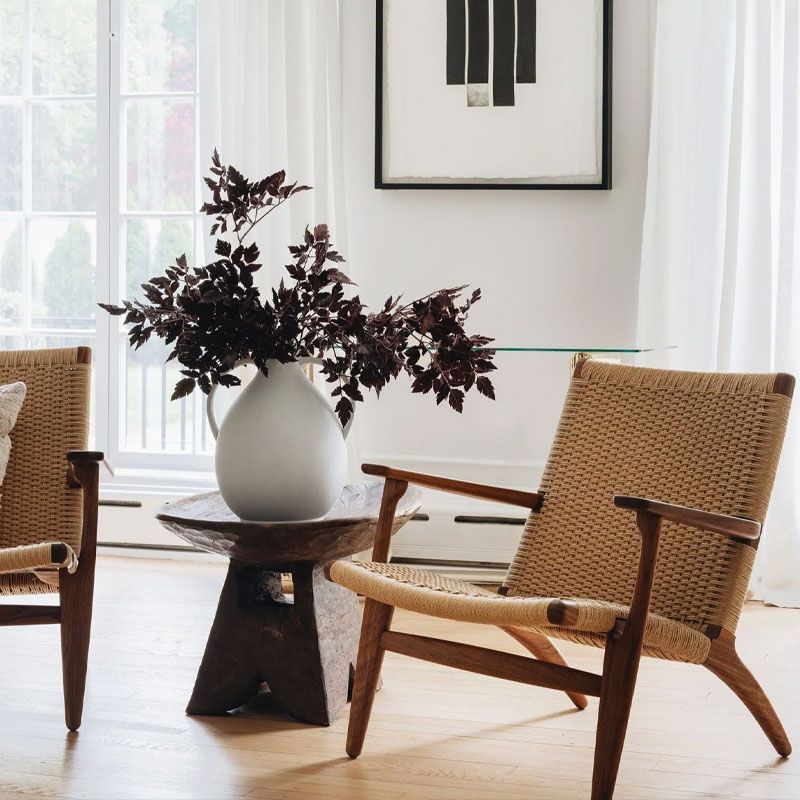 Plum Fake Cimicifuga Ramosa Leaves
Bring the feeling of a crisp fall day into your home with these artificial Cimicifuga Ramosa leaves from Afloral.
Charlie Victor is a go-to source for things including, home improvement, DIY projects, and backyard makeovers. Based in Florida, he has been transforming homes and businesses across the state since 1992.
6. Bring in natural elements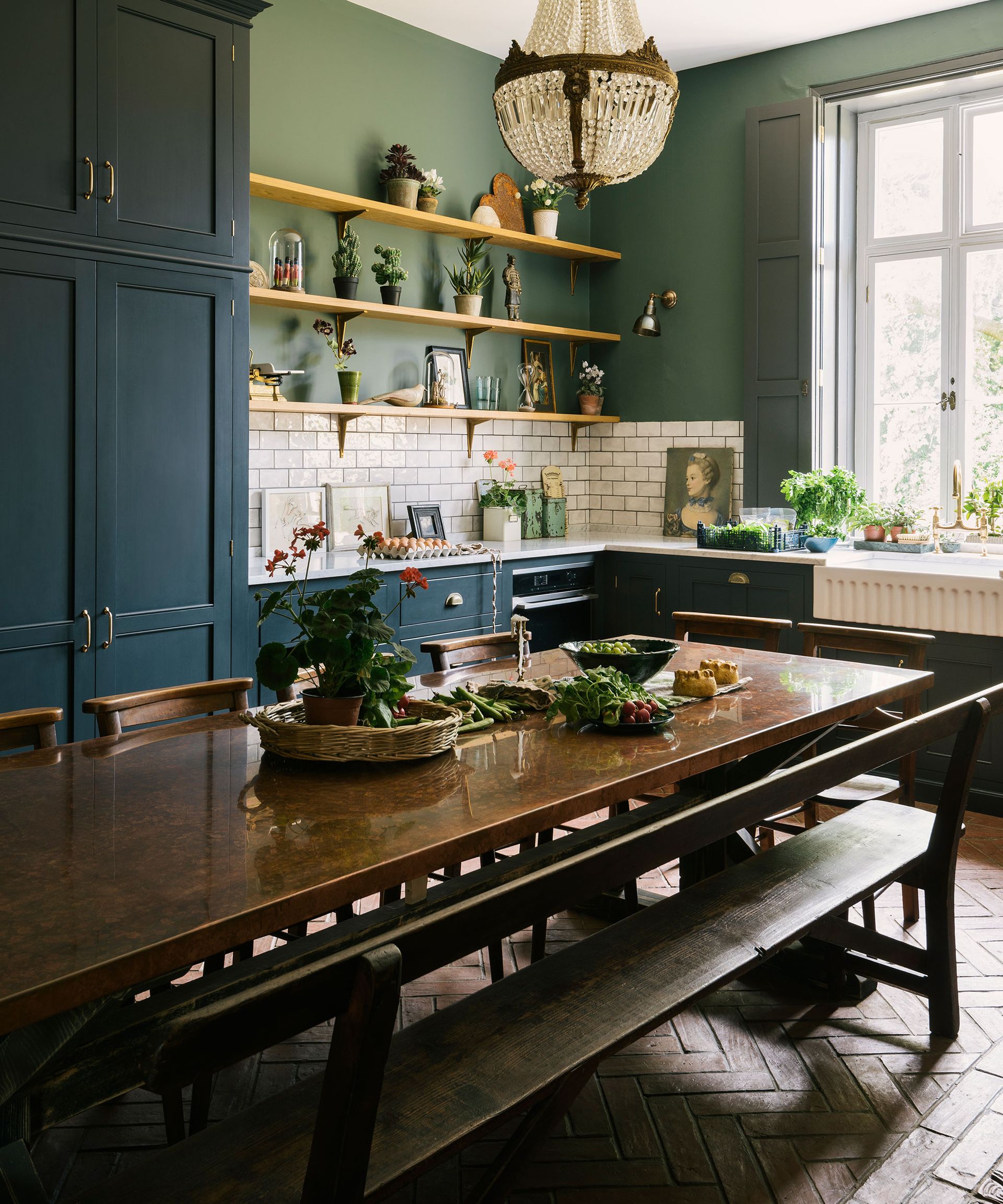 'Bring the outdoors in by adorning the kitchen with natural elements,' advises Katrina Smith Founder & Interior Design Expert, Kitchensity. 'Display pumpkins, gourds, and decorative leaves on countertops or open shelving to embrace the beauty of the season.' 
You can also fill your fall-colored vases with fall-themed flowers such as chrysanthemums or sunflowers, and display them on your countertops or windowsills to bring a burst of color and natural beauty to your kitchen. 
Keeping aromatic herbs or fall flowers for pots on a windowsill is also a functional and decorative way to bring outdoor elements inside this fall.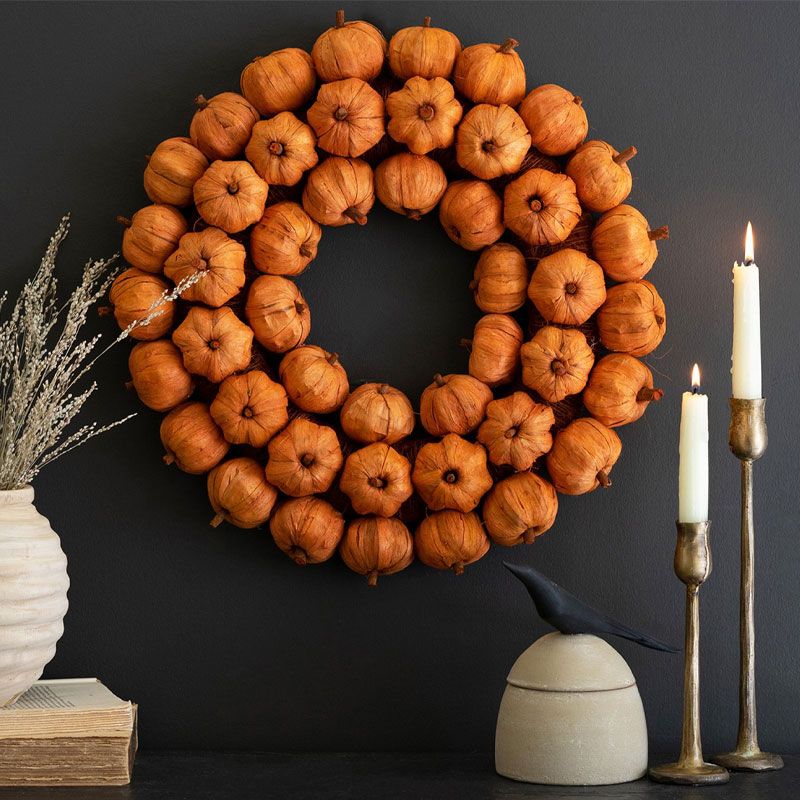 Celebrate the changing leaves and autumn's bounty with this festive pumpkin wreath. It's a charming addition, whether you're refreshing your front door or decorating your fall mantel.
7. Create a festive feel with wreaths and garlands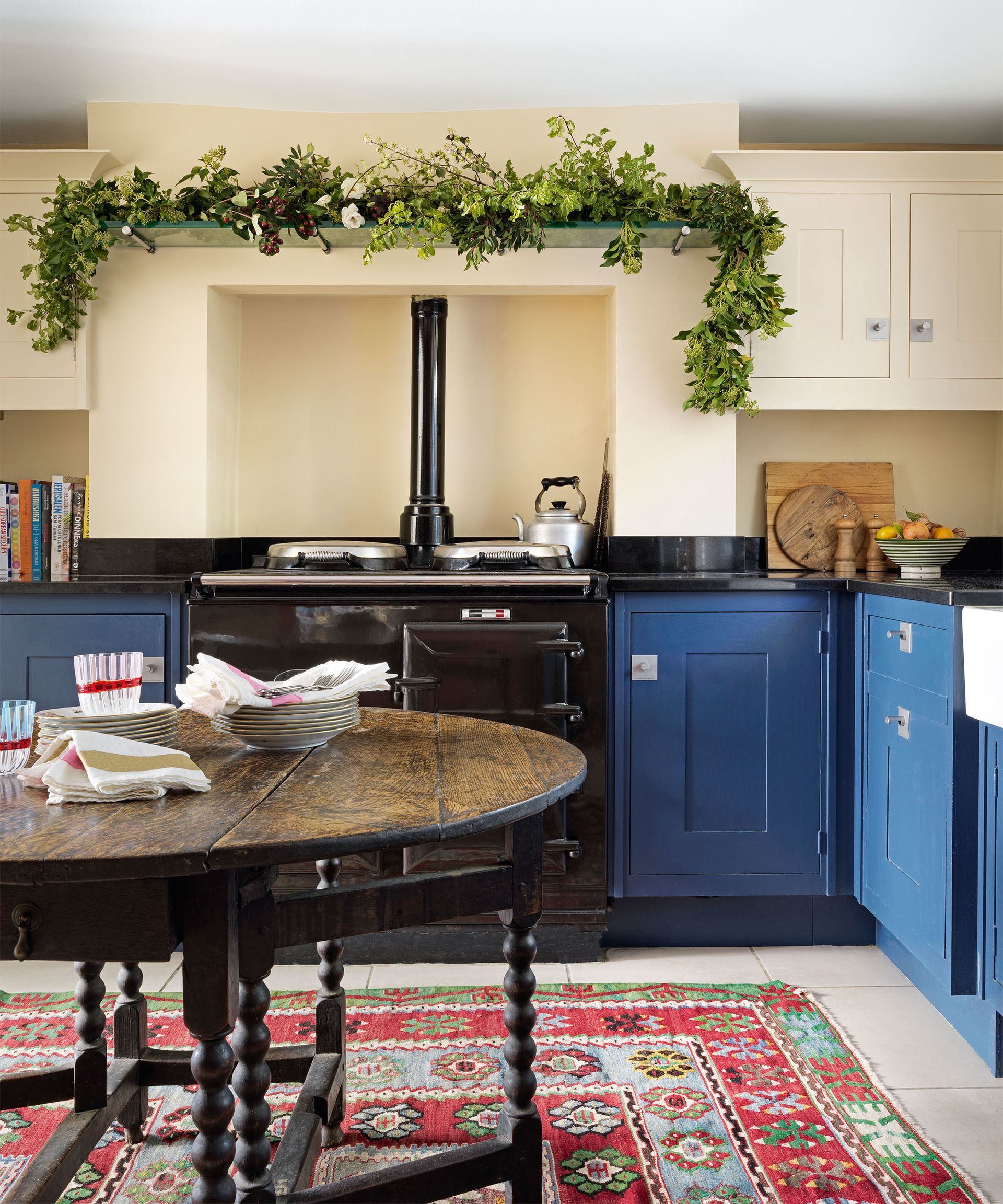 Wreaths and garlands are one of the key ways to introduce fall to your kitchen, and if  you choose a good base, you can easily update it as the season progresses towards Christmas.
You can get creative with these fun decorations, making them in all different colors and styles to fit the theme of your kitchen, and the rest of your home's fall decor. Try making a wreath with mesh, make a ribbon wreath, or create one from outdoor elements.
Ilia Mundut, Founder of HeftyBerry suggests, 'Hang a fall-themed wreath on your kitchen door or on a prominent wall. Use materials like dried leaves, pinecones, twigs, and even small faux pumpkins.' 
You can adorn your kitchen door or kitchen shelves with a fall garland.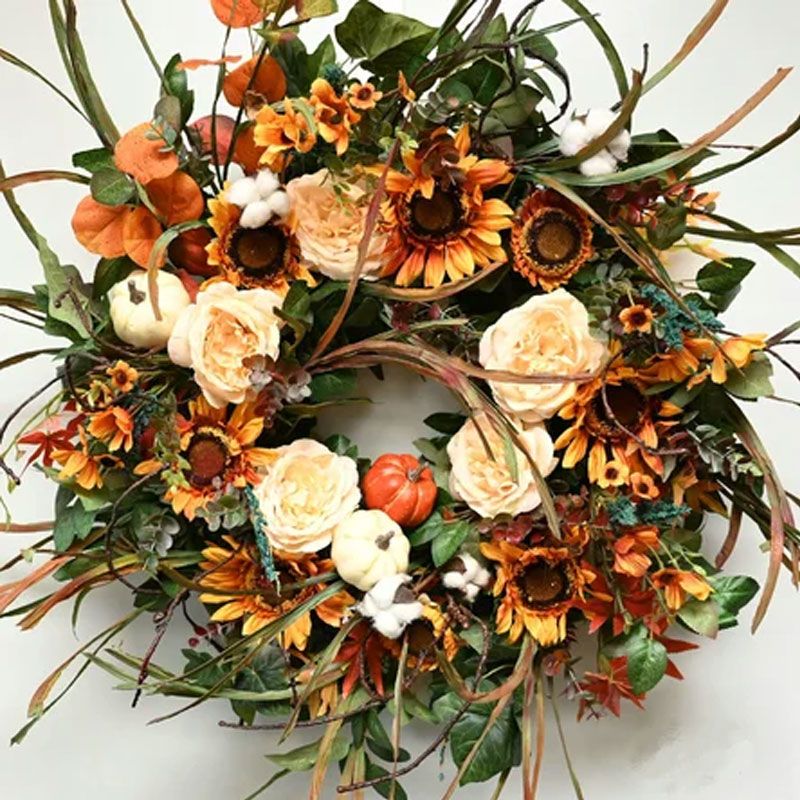 Faux Sunflower Floral Wreath by The Holiday Aisle
This colorful wreath will bring in the beautiful colors of fall into your home, perfect for hanging on a door, on a wall or above a fireplace.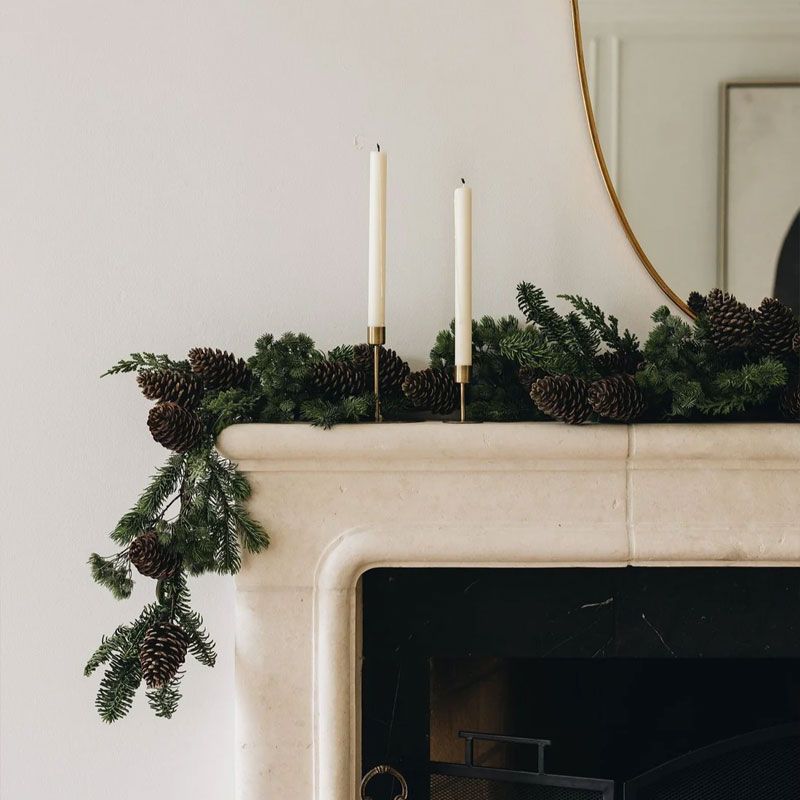 Real Touch Spruce and Pine Cone Garland
This real touch spruce garland has lush holiday greens and pine cones that bring the feeling of nature to tablescapes and mantle centerpieces.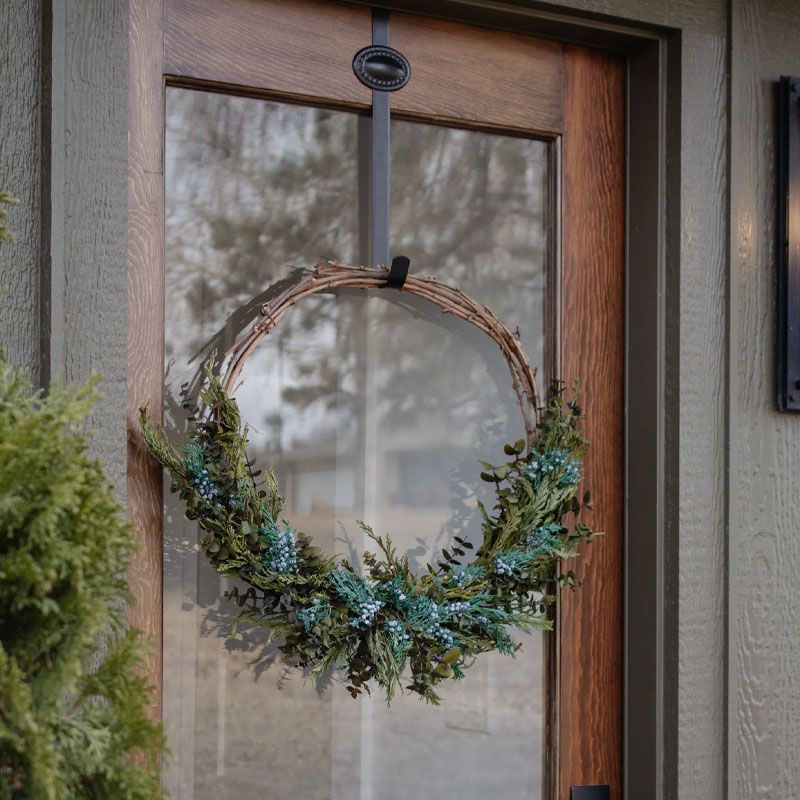 Preserved Juniper and Cedar Pinecone Forest Wreath
Hang this fall wreath on your door or above your mantel, and let the natural, fragrant greens fill your home with the delightful aroma of nature.
Ilia Mundut is the Founder & CEO of HeftyBerry, a store for wreaths, interior decor, and home and garden designs.
8. Set the mood for fall with lighting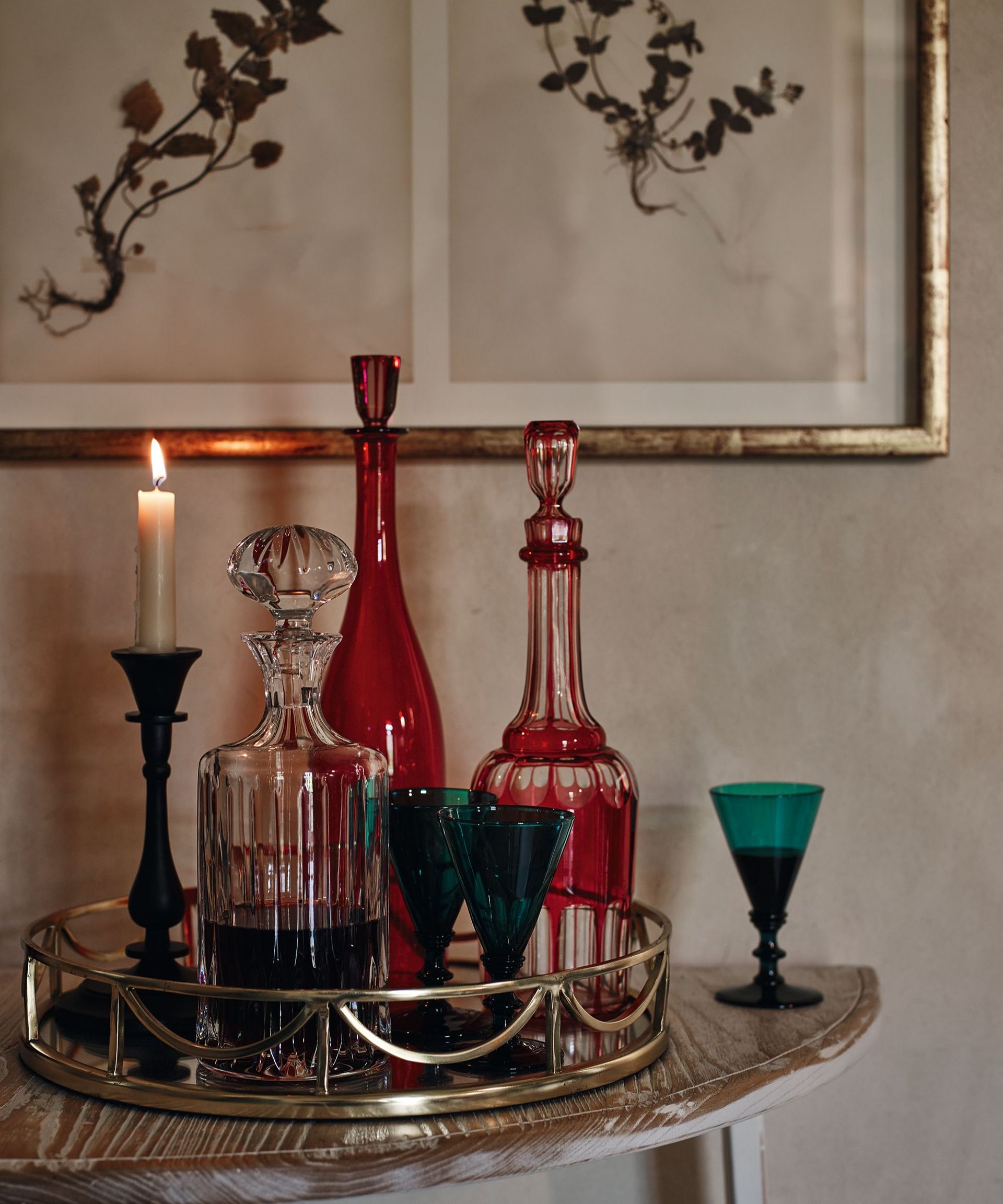 'Lighting can make a big difference in the mood and ambiance of your kitchen,' says Jacky Chou, Principal and Director at Archute. 'You can use candles, string lights, or lanterns to create a soft and cozy glow. You can also hang some string lights or garlands on your windows, cabinets, or walls for some extra sparkle and charm.' 
Katrina Smith recommends, 'Introduce soft, flickering candlelight to your kitchen. Place candles in various sizes on windowsills, countertops, and dining tables to create an intimate atmosphere.'
You can use a range of the best candles and lights in different warm colors to tie together various themes in your kitchen, or even make your own candles so you can fully personalize them to your style preferences.
If you're making your own candles, we recommend these Cinnamon, Harvest Spice, Apple Cider, Coffee Cake, Gingerbread, and Pumpkin Pie Candle Scents for Candle Making from Amazon.
9. Play to the senses with fall scents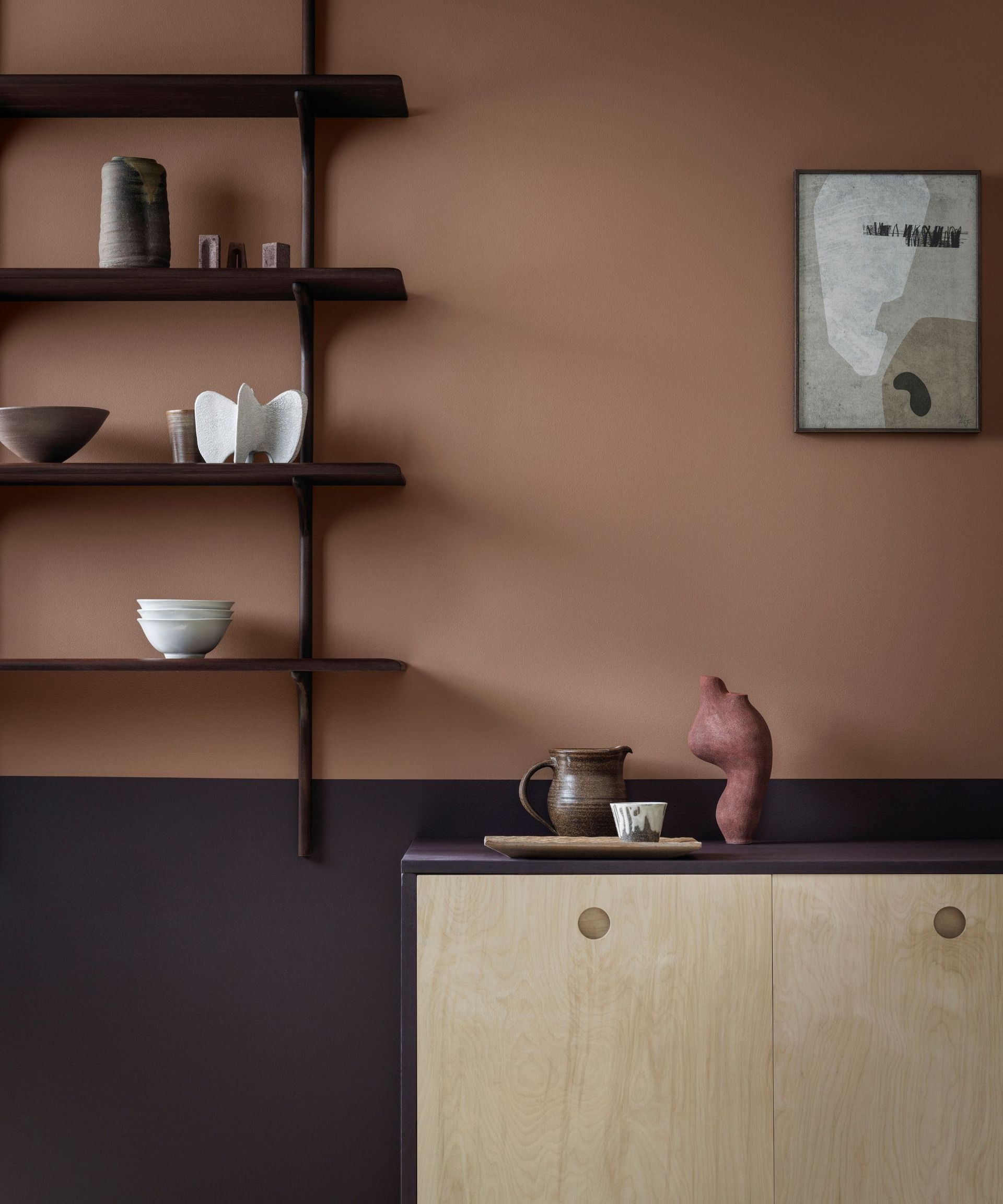 Inviting aromas can immerse your kitchen in fall. Besides the scents that natural decorations and wreaths will introduce for a nice-smelling kitchen (such as pine, pumpkin and fern), you can use potpourri, diffusers and candles to add fragrances to your fall kitchen. 
These fall scents can include cinnamon, pumpkin spice, or apple cider. You can also make potpourri, so you can personalize the fall scents you love.
We recommend using these Essential Oils-Perfect for Diffuser, Humidifier, Candle Making, from Amazon. This Cliganic Organic Jojoba Oil from Amazon can be used for your reed diffuser.
FAQs
When to decorate your kitchen for fall?
If you're wondering when to start decorating for fall, you should do so when it begins to get darker and colder in order to make your kitchen feel like a more inviting space to spend time making a warming meal. This will normally mean decorating by the beginning of October, even if this just means starting by adding some warm lighting. 
---
Consider what you love about your kitchen's style, and what you want to enhance by adding some tasteful seasonal touches. Making your kitchen feel more like fall with these ideas is key to creating a cozy and enjoyable atmosphere to spruce up your home.