Finding the right bedroom color has never been more important. Getting the color right in a bedroom can be a tricky business. Even with all their experience, it can take time for professionals to make a decision. There is a lot to consider when it comes to finding the right bedroom color – the size and shape of the space, the available natural light, its direction, who it is for, etc. 
'A large space can often handle a blanket of color that works with both north- and south-facing light,' says Tom Morris of Morrisstudio. 'If wall colors are strong, I tone down the colors in the furnishings, or vice versa.'
Here, experts give us the lowdown on the best bedroom color trends for 2024, including advice on how to use them successfully within your home.
Bedroom color trends 2024
To help guide you in the right color direction, avoid any outdated bedroom trends, and offer the very latest insight from the experts, we have curated a collection of the top color trends you need to know to make your bedroom look expensive.
1. Pale green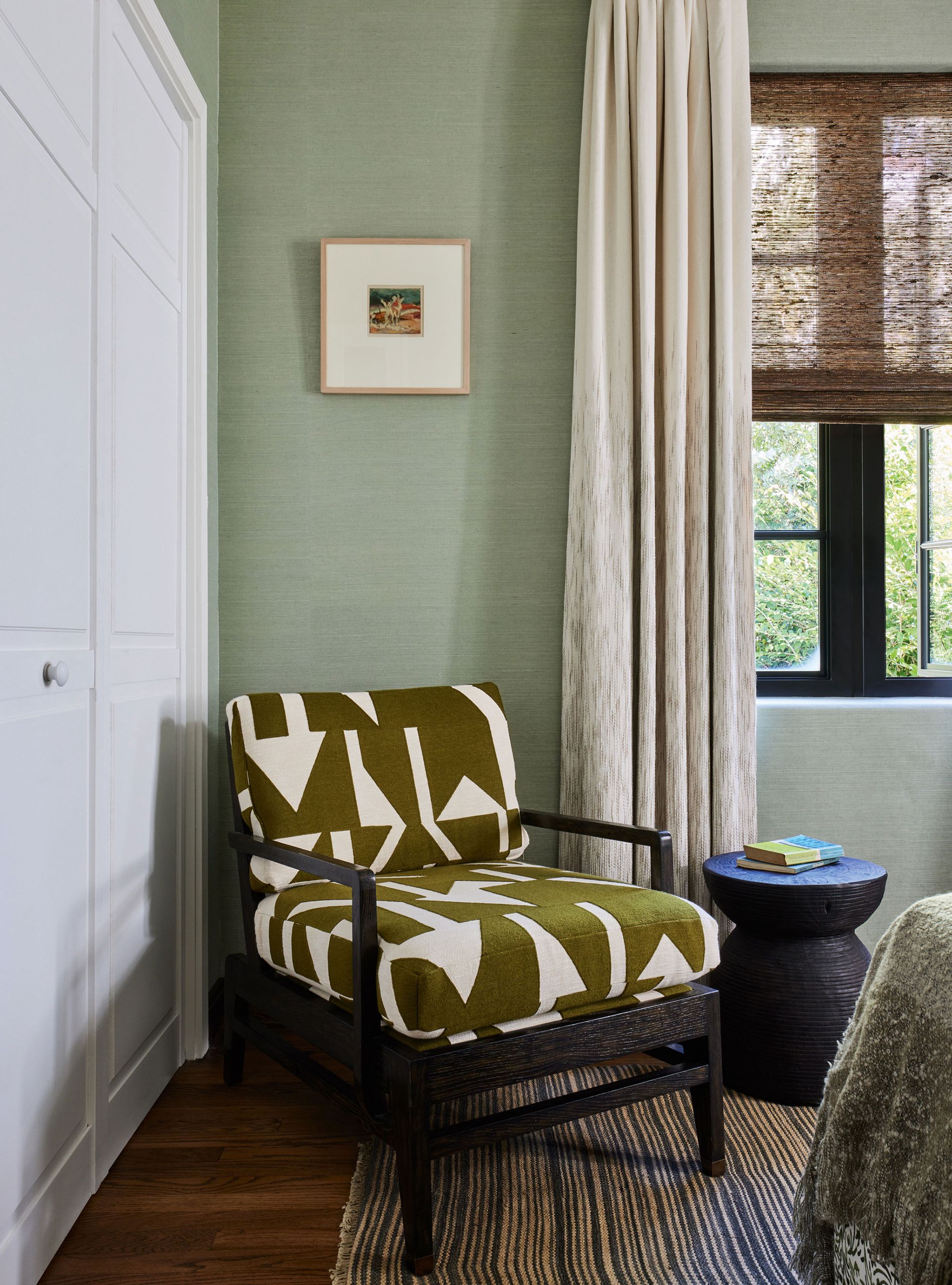 Classic, calming and synonymous with nature, pale green is a hue that keeps the peace. Linked inextricably with the enduring beauty of nature, pale green is a timeless and versatile hue.
'Often used to bring the outdoors in, the color pale green aids our emotional well-being,' says Francesca Wezel, founder of Francesca's Paints. 'It has a soothing, non-threatening energy, making us feel safe and at peace.'
'Pale green can refresh any room while adding a hint of nature,' says Natalia Miyar, founder, of Natalia Miyar Atelier. 'In this serene green bedroom, we took inspiration from the landscape of Miami to create a calm, cozy feel – the light green grasscloth wallpaper by Kenneth James works perfectly.' 
2. New neutrals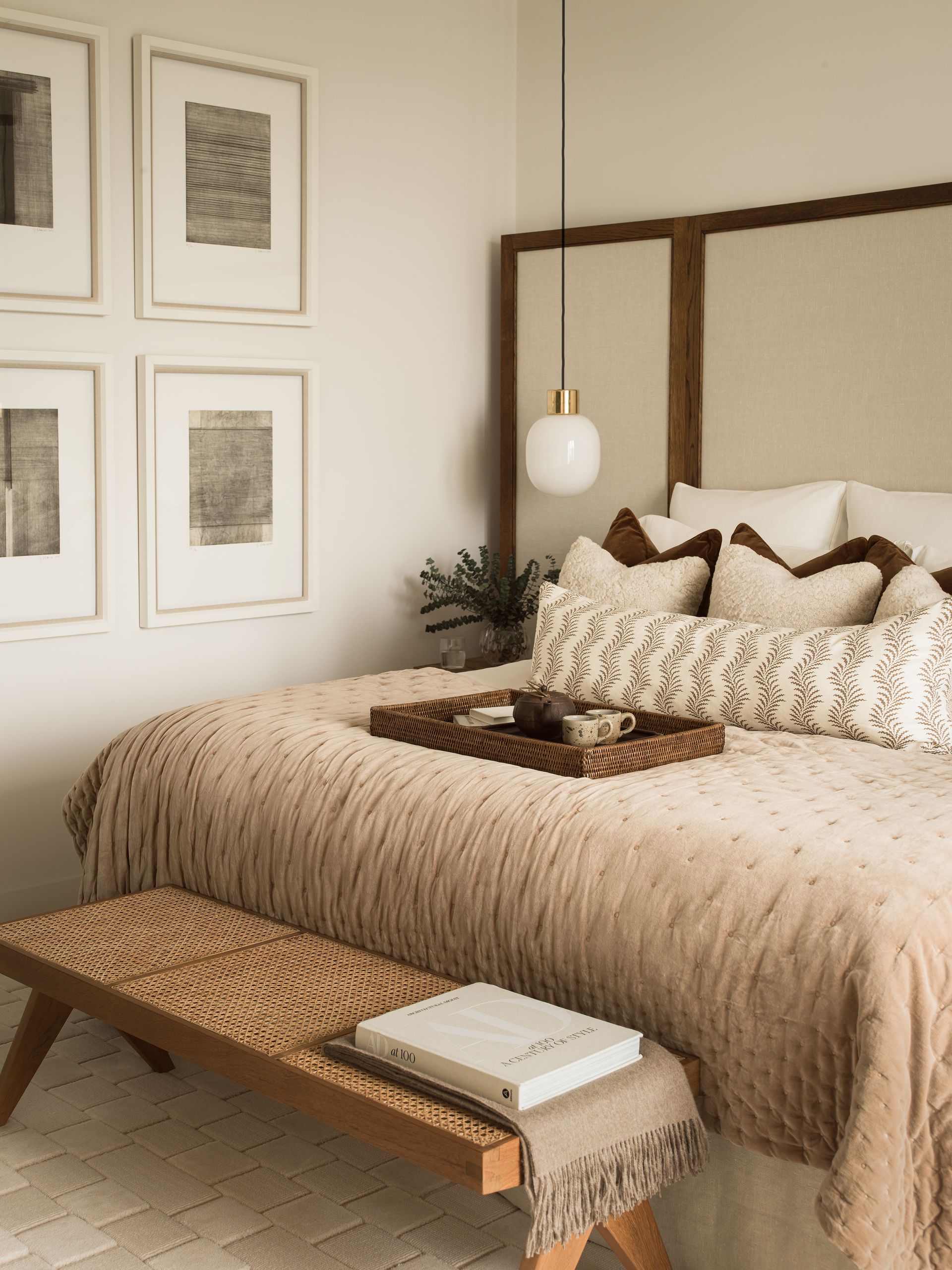 Decorating with new neutrals, inspired by colors from the natural world, adds a gentle and soothing touch to interiors that can be layered with textures and tones to ebb and flow with the seasons.
Colors inspired by nature have an intrinsic calming influence, provoking a similar response to that from gazing out upon a beautiful country or seascape. 
The power of a neutral color palette to add warmth and elegance to a modern bedroom should not be underestimated. A soft scheme of harmonious neutrals creates a reflective backdrop to the ever-changing light of the seasons. When decorating with neutrals a key element is the importance of layering with textures and tonal shades. 
'Touch and comfort are key sensory triggers. When using white and neutrals colors, it is crucial to add in natural elements and pile on texture; a soft rug underfoot, or a diaphanous drape at a window can truly transform a room. Natural materials, such as weathered wood, slubby linen, or marbled slate, connect us back to nature and add interest,' says the founder of The White Company, Chrissie Rucker OBE.
When putting together a layered, neutral scheme remember that warmer shades, such as creams, work well with cooler ones, including light greys. Senior designer at Crown, Justyna Korczynska suggests adding colors such as 'a soft green on skirtings and architrave next to a neutral-colored wall, which is interesting and imaginative without being overpowering or too much of a contrast.'
3. Sage green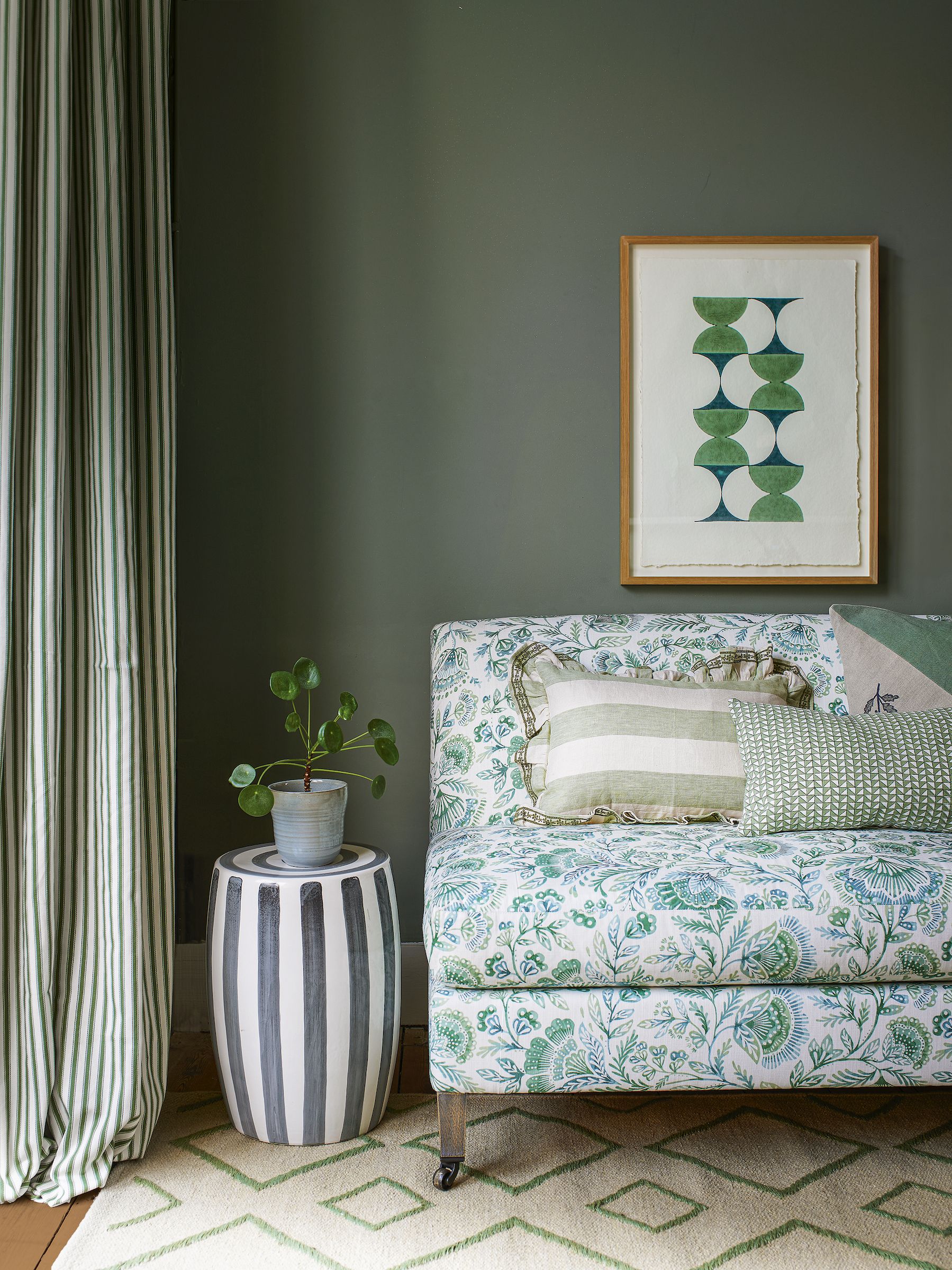 The latest bedroom trends put comfort and calm at the heart of our decoration agendas, so it should come as no surprise to see sage green on the list. Uplifting and tranquil, this nature-inspired shade of green has its herbal origins to thank for its soothing properties, making it the perfect choice for a restful bedroom scheme.
Bedrooms are designed to be relaxing, so choosing the right colors for walls and textiles can be the key to the peaceful transition from awake to asleep. 'If you're looking to create a calm and inviting home, green is definitely a great place to start. It provides a sense of the outdoors and can be added to every aspect of your home, especially in soft furnishings, such as bedding or throws,' says Alexandra Fox, John Lewis & Partners' home design stylist. 'Sage green is gentle enough to mix in well with existing colors and works with materials such as waffle, rattan and boucle to really build a tactile and inviting space.'
'Sage green is really having a moment right now. It's a soothing, tranquil tone that speaks to the senses of being earthy and wholesome,' says Jessica Clayworth, lead designer at Morris & Co. 'Throughout Morris & Co's history, it was the colors, alongside the designs, that were inspired by nature. We see greens that reflect nature's verdant beauty and vitality in our archive.'
The color also acts as an effective bridge between the outdoors and inside when used in threshold spaces. When seen in enclosed bedrooms on wallpapers or furnishings, the color brings relief and reassurance and elegantly reminds us of the living world beyond our four walls.
4. Midnight blue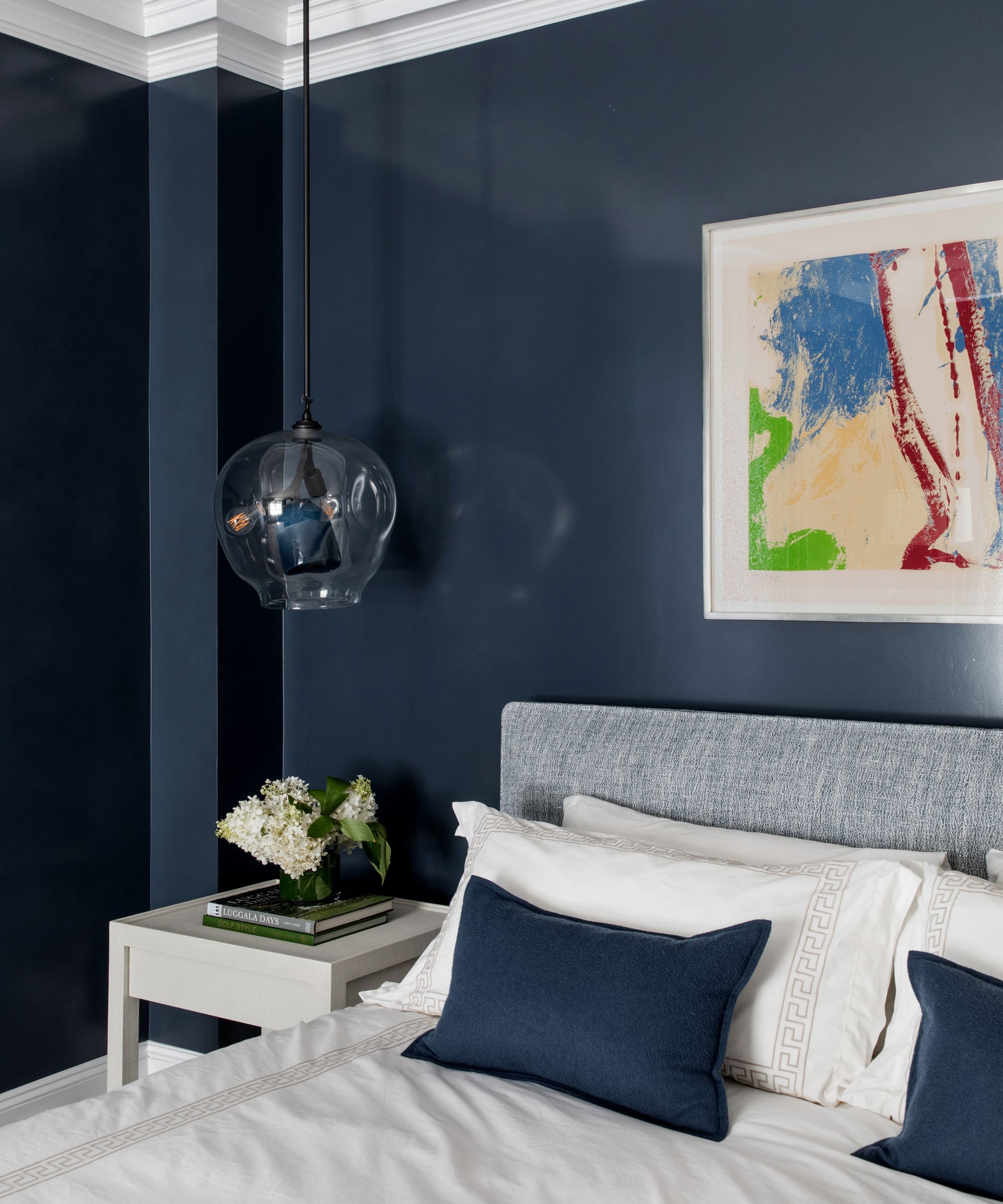 Used in decorating for centuries, serene dark blues are enduringly popular, harmonizing with many hues for gloriously diverse results. With inspiration from deep oceans to velvety night skies, dark and navy blues are life-enhancing shades that have the power to enhance our feeling of well-being. With their wide appeal of serenity and calm, it is perhaps no surprise that dark blues continue to be one of the most popular choices for bedroom design.
The depth of pigment of darker blues means that they offer an emotional content that can be as nurturing or soothing as any green, particularly when you decorate a bedroom floor-to-ceiling in a dark, velvety blue. For some homeowners, the idea of dark colors might feel foreboding, but for others, it is the dark 'night' of a shade that offers serenity in a calming bedroom scheme.
For a subtle nod to dark blue without it overpowering a room scheme, paint only woodwork and pair it with contrasting floral wallpaper or white paint. For an easy color update, introduce blue through decor accents, adding soft furnishings or accessories, such as a rug or floor runner, curtains or upholstery with a dark blue pattern as the focus of a neutral scheme.
5. Red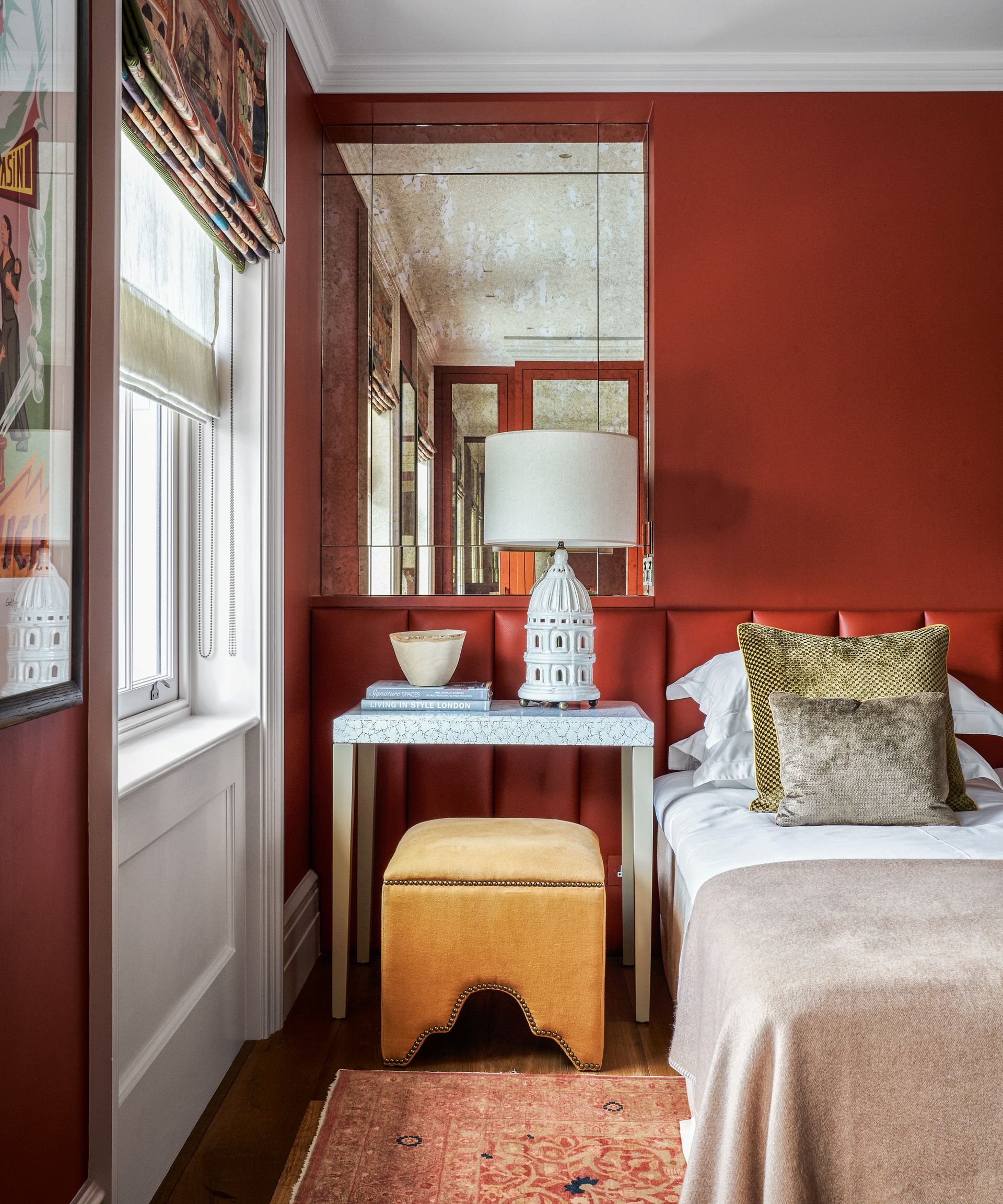 The inclusion of red on this list may come as a shock, but red is infinitely mood-boosting and will appeal to those early risers. Red can transform interiors, adding a sophisticated fun aesthetic that is both confident and playful.
One of the most passionate and life-enhancing colors to use in a decorating scheme, red offers a luxurious bank of positive energy. Whether you highlight a design scheme with touches of carefully chosen accessories or paint walls floor to ceiling in a deep shade of this versatile color, it can transform a dull bedroom and create different moods, from refined to playful, depending on its application. 
In moderation, primary reds work well in children's rooms, while more sophisticated, darker reds make welcoming backdrops for large bedrooms. Scarlet reds that have a touch of orange in them, such as Farrow & Ball's Blazer, offer a cozy appeal for bedrooms with a fireside.
'We have been decorating with red on the walls of our sleep sanctuaries from the beginning of human existence,' explains Marianne Shillingford, creative director of Dulux. 'We find red on the walls of the earliest cave dwellers and red pigment was used in Neanderthal burials as a symbol of life. It has the longest visual wavelength of any color, which makes it the most impactful, and it is famous for stimulating the appetite, good conversation and love, making it an enduring favorite in the bedroom,' she continues.
6. Forest green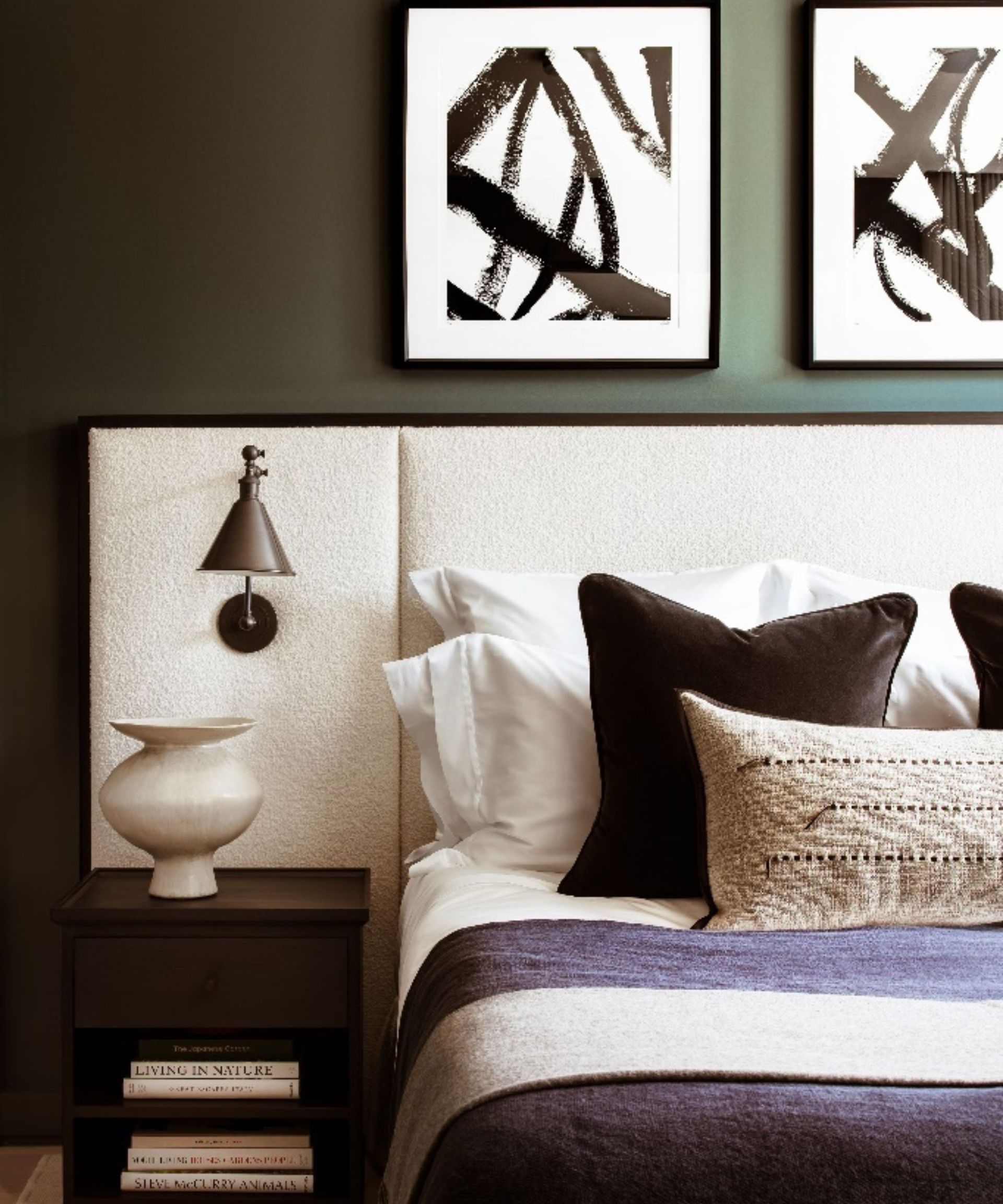 The majesty of ancient forests has long inspired interior design. Whether the grandeur of an oak tree or the enchanting shape of an acanthus leaf, rich, velvety greens offer homes a nurturing connection to nature.
'Green bedrooms reassure us on a very primitive level. We know we can find food and water, which means green equals life. Using dark greens in our home, brings in these feelings of reassurance and rest,' says Karen Haller, color and design psychology specialist and author of The Little Book of Color. 'Surrounding ourselves with too much green or the wrong shade, however, can lead to feelings of stagnation and lethargy.'
As a color family, deep green is incredibly versatile and can be paired with so many shades and materials that will bring out either its warm or cool tone. Deep green really comes to life with plenty of natural light, so it suits south-facing rooms best.
'I use a lot of green because it is very calming,' says interior designer Sarah Vanrenen. 'I also love using patterned wallpaper in green. I don't think limited space is a barrier to going bold – don't be put off by using strong colors and patterns in even a small bedroom and use them on all four walls. The effect is dramatic and green works with so many other incredible colors, too.'
7. Yellow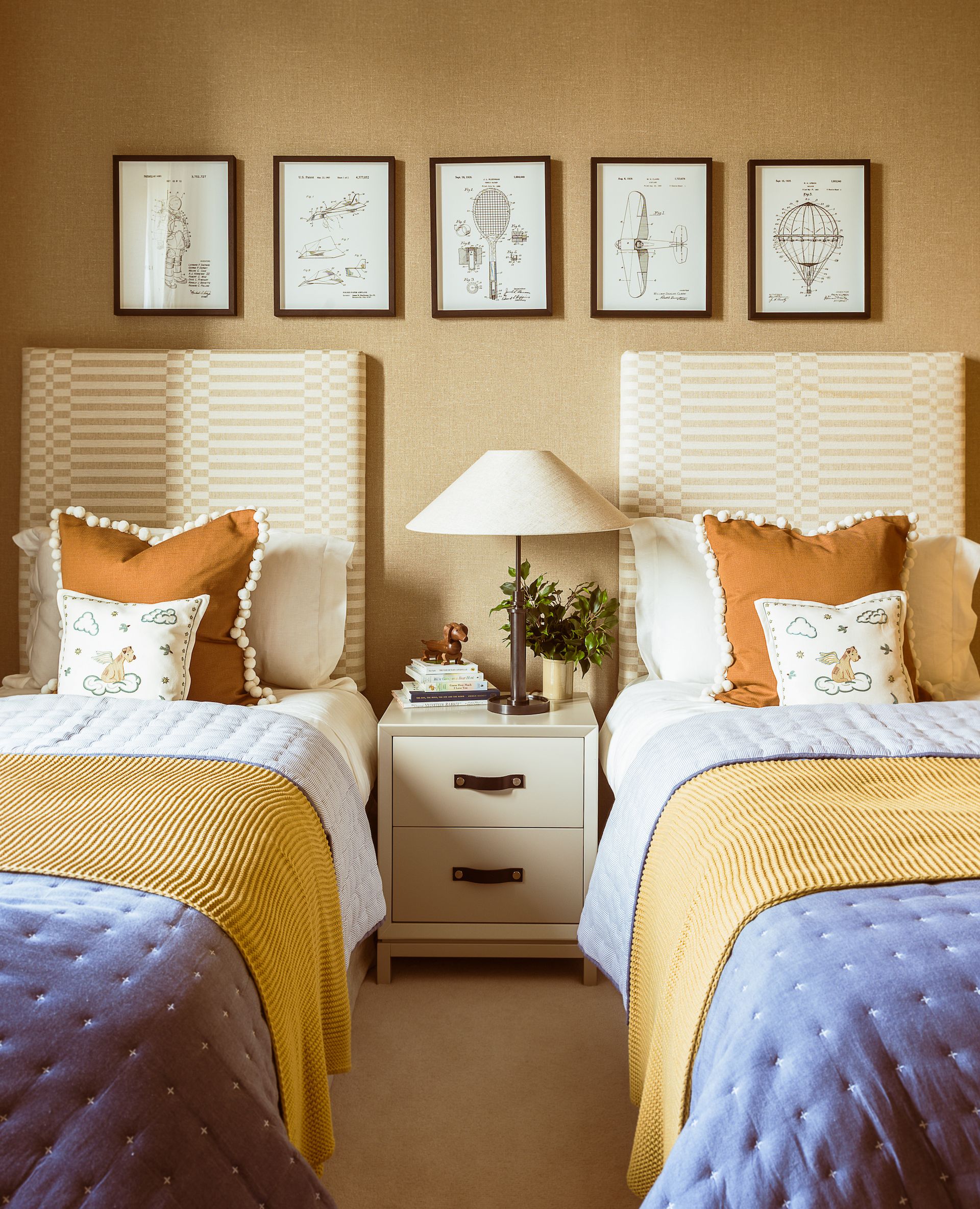 Yellow bedroom ideas are shining a spotlight on our homes for 2024. As one of the most uplifting bedroom color trends, it is not surprising that it is having a renaissance. Mood-lifting and warm, yellow brings energy, confidence and optimism to a small or dark bedroom. 
From pretty primrose to zesty lemon, yellow brings warmth and sunshine to every surface it touches. 'This cheery color imbues the room with optimism and is perfect for bringing a sense of positivity into the home,' says Justyna Korczynska, senior designer at Crown. 'Yellow is also very soothing, particularly when paired with cool, calming tones such as greys and pale, muted blues. The color creates a sense of calm with a feeling of well-being and restfulness.'
'To use yellow or ochre, you need to think of it as the "neutral" in the scheme; as a foil to set off other colors, not to overpower everything else,' says Susan Deliss, textile designer and interior decorator. 'Avoid anything that says canary or banana and go for something that sets off the architecture or warms up a cooler space.' 
Be inspired to decorate with yellow – the most cheerful color, guaranteed to inject warmth and creativity into any space.