Minimalist bathrooms needn't be so pared back as to be clinical.
If you are looking for bathroom ideas that are streamlined and sleek, you can find ways to make the room feel warm and welcoming, even without color.
The key is to design a bathroom centered around natural materials and textures, which you can introduce in a variety of ways. These are just some of the techniques I used to design a minimal bathroom that's as visually impactful as one that leans to maximalism.
1. Introduce natural wood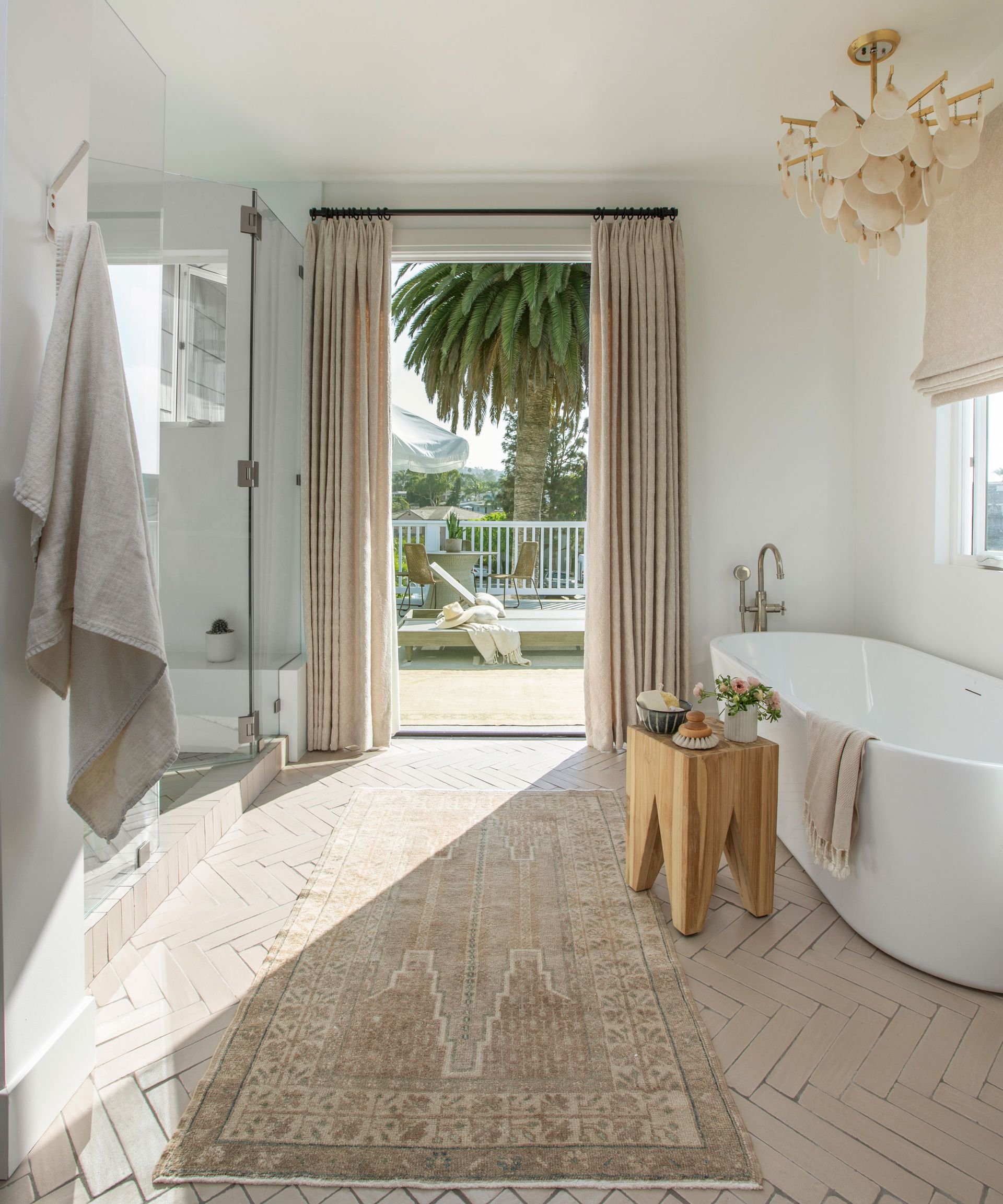 Natural wood elements are a great way to incorporate texture into minimalist bathroom design. Achieve an elevated yet grounding earthy look by adding a natural wood vanity and wall paneling or decorative pieces like a teak stool or wooden catchall.
2. Add texture with intriguing surfaces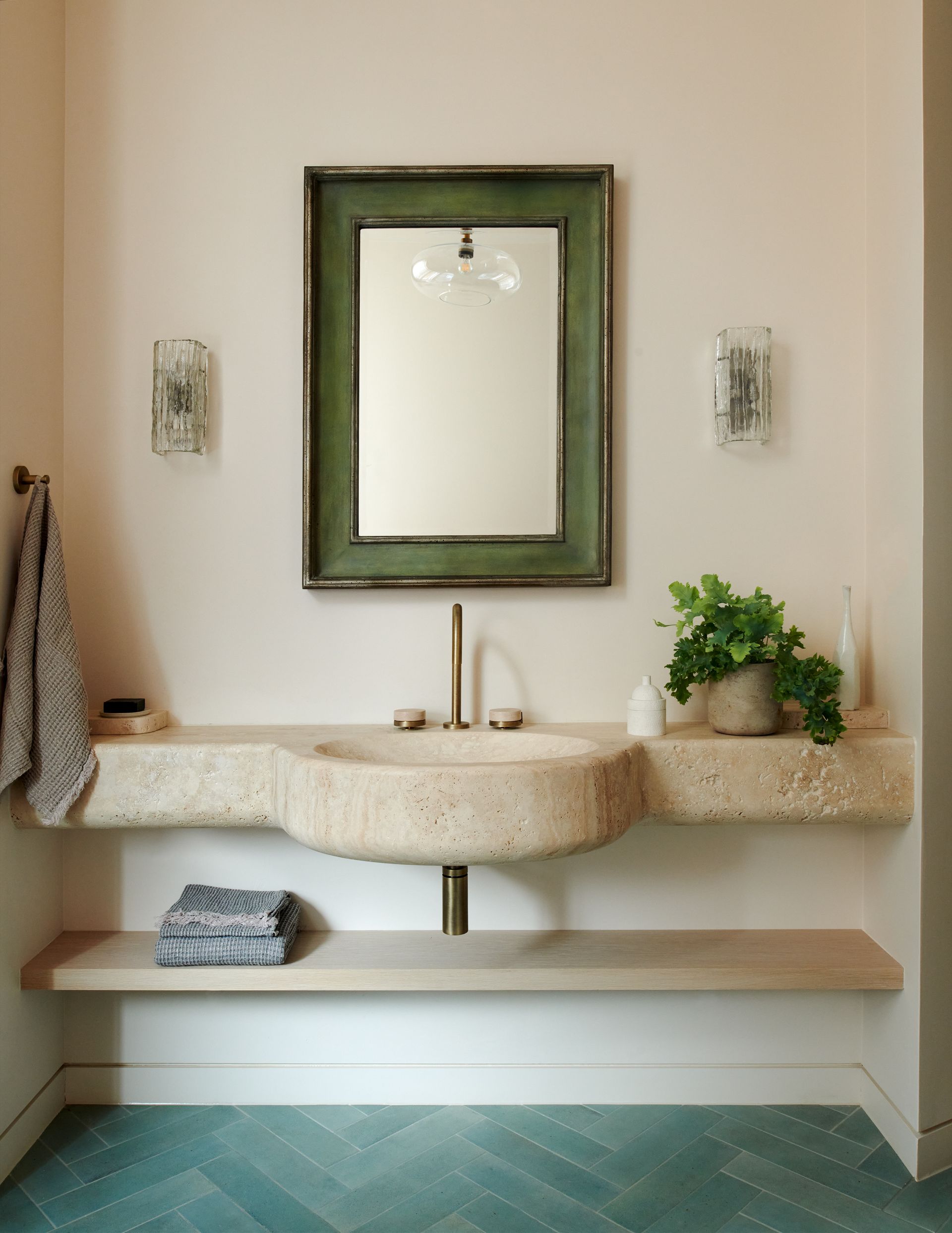 In a minimalist bathroom design, texture and materials play a crucial role in creating visual interest. Select a few high-quality materials and incorporate them strategically throughout the space. 
For example, consider using textured tiles on the walls or floors, such as subway bathroom tiles with a three-dimensional pattern or natural stone with unique veining. 
Incorporate bathroom countertop materials like concrete, wood, or glass, and for vanities, or shelving. By using carefully chosen textures and materials, you can add depth and intrigue to the minimalist bathroom without compromising its clean and sleek aesthetic.
3. Add interest with contrast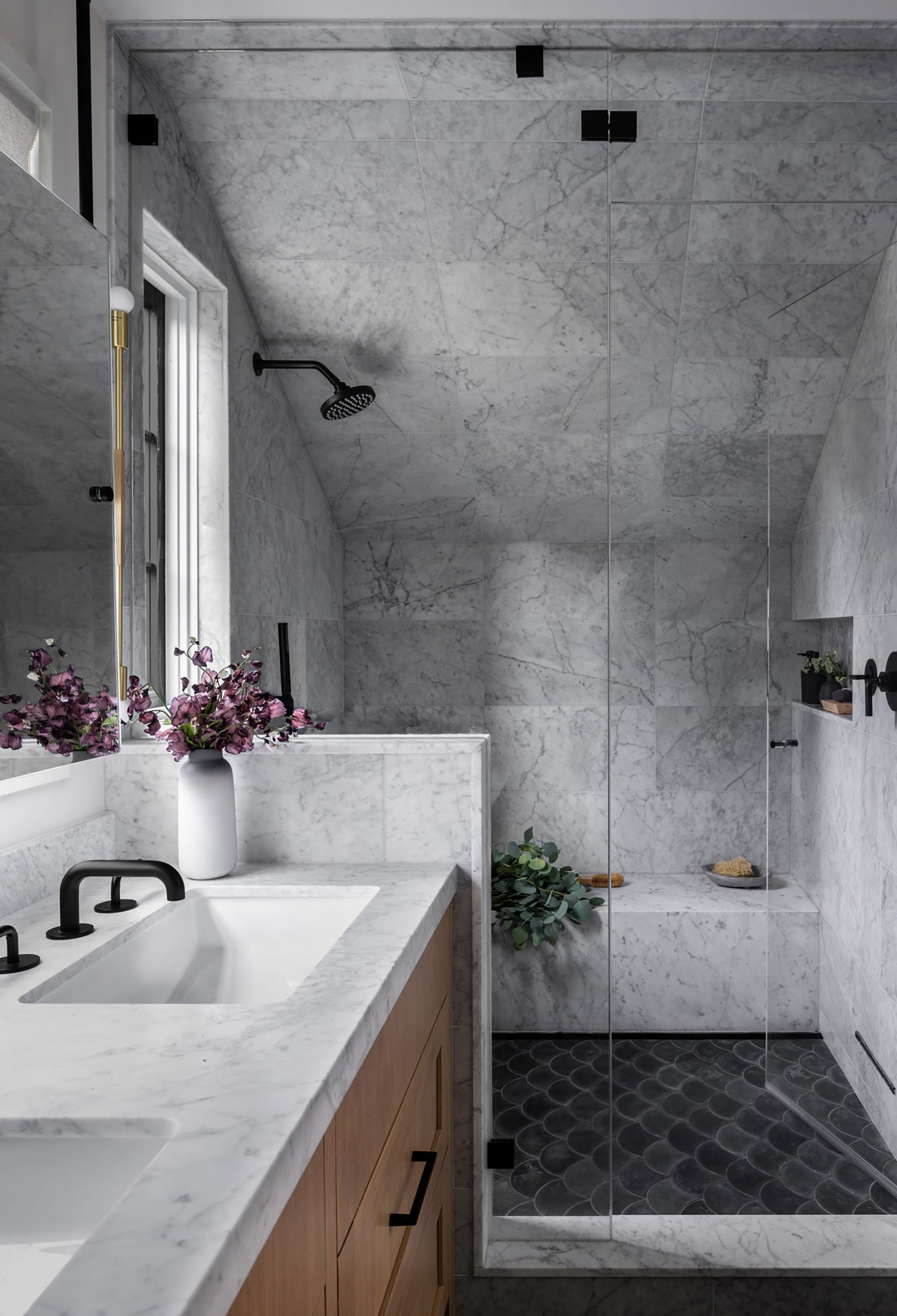 Introduce contrasting elements to create visual interest in a minimalist bathroom. 
For instance, pair smooth surfaces with rough or matte finishes. Combine light and dark tones to create a striking contrast. 
Consider incorporating black fixtures or hardware against a white or neutral backdrop. By carefully balancing contrasting elements, you can create a minimalist bathroom that captivates the eye with its simplicity and subtle contrasts.
4. Choose one stand-out feature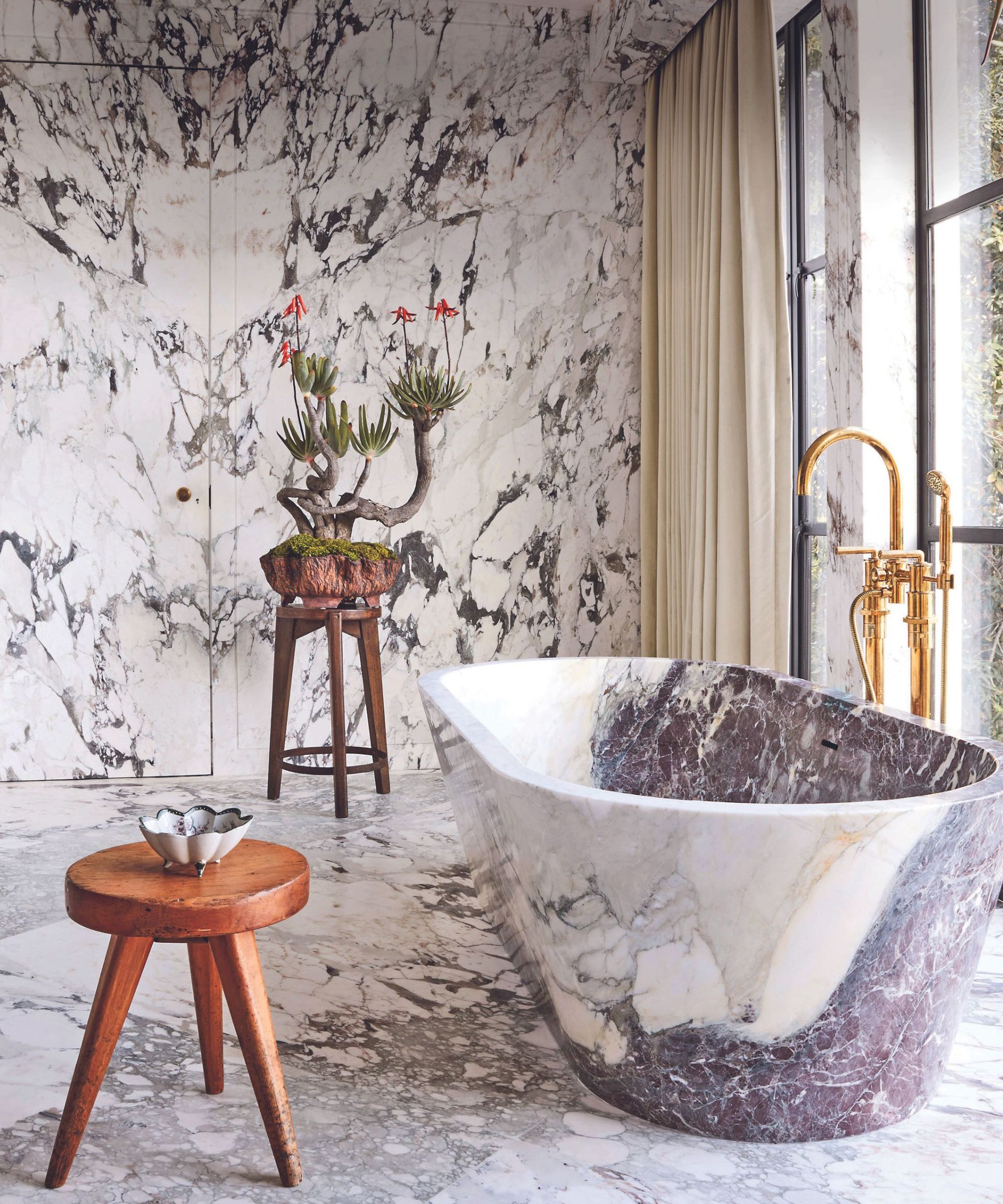 While a minimalist bathroom typically favors simplicity, you can still incorporate statement fixtures and accessories to add a touch of intrigue. 
Choose a unique, freestanding bathtub as a focal point. Install an eye-catching pendant light or a modern chandelier to add visual interest to the space. By incorporating these statement elements thoughtfully, you can create a minimalist bathroom that is visually captivating while maintaining its clean and uncluttered aesthetic.
5. Pare back on colors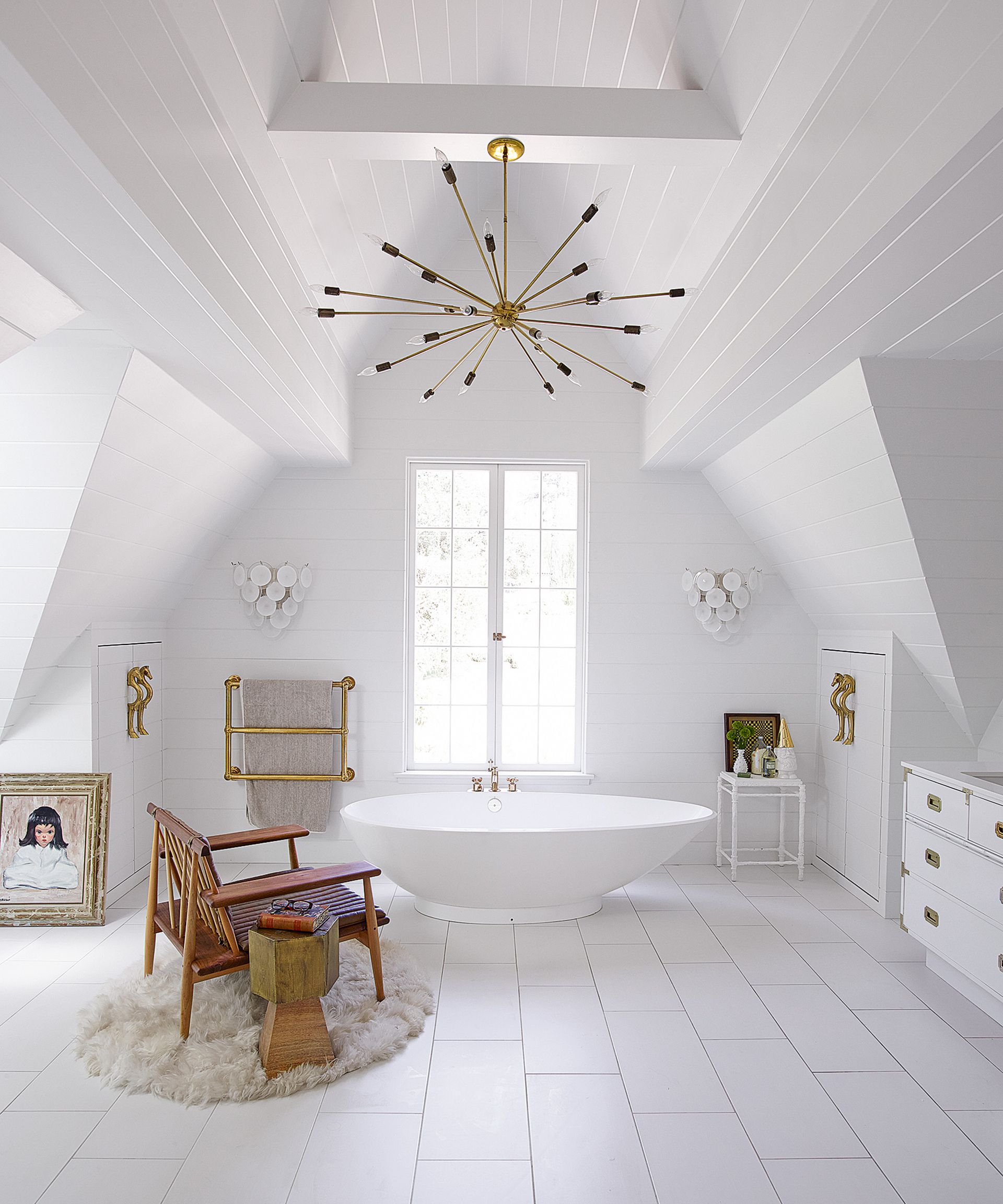 Using a singular bathroom color palette can produce endless options in a minimalist bathroom design, devoid of unnecessary distractions. 
Thoughtfully selecting monochromatic textures, finishes, and patterns contribute to a dynamic space while maintaining a minimalist approach.
FAQs
How do I make my bathroom minimalist?
Any bathroom can be quickly made minimalist through a rethinking of accessories, from blinds to bottles, and a good decluttering. The list of items to get rid of for a minimalist bathroom include countertop decor and open shelving, both of which allow visual clutter to rob the bathroom of its minimalist appeal. Where possible, everything from spare towels to all but the best-looking toiletries should be hidden from sight behind closed doors.
---
Organizing a bathroom well and investing in the best bathroom storage ideas are also both key to designing a minimalist bathroom. In your design process, invest time in ensuring there is negative space (or, empty space); any room cluttered with too much furniture will fail at minimalism.