Green sofas continue to be seen in the schemes of many interior designers around the world. From rich earthy olives to soothing sages, green's connection with the natural world gives it a freshness and everlasting appeal. The secret to these verdantly upholstered items is their ability to simultaneously feel neutral whilst presenting all the joy of a statement piece. Green also works across a variety of sofa styles, from minimalist sectional and modular sofas to maximalist chaises and loveseats.
You've already decided on one of the best couches, and gone for green. But as you begin your design journey, it can be easy to get excited by the plethora of sofa styles and fabric options but it's important to consider how your piece will work in tandem with the other elements in the room. The danger of not seeing the bigger picture is a living room that feels disconnected and visually imbalanced. It's also important to consider the color palette and style of your scheme to ensure your green sofa stands the test of time. To help you avoid these pitfalls, we've curated our favorite green sofa schemes along with expert advice from interior designers on how to make the most of this refreshing shade.
1. Create contrast with colorful accents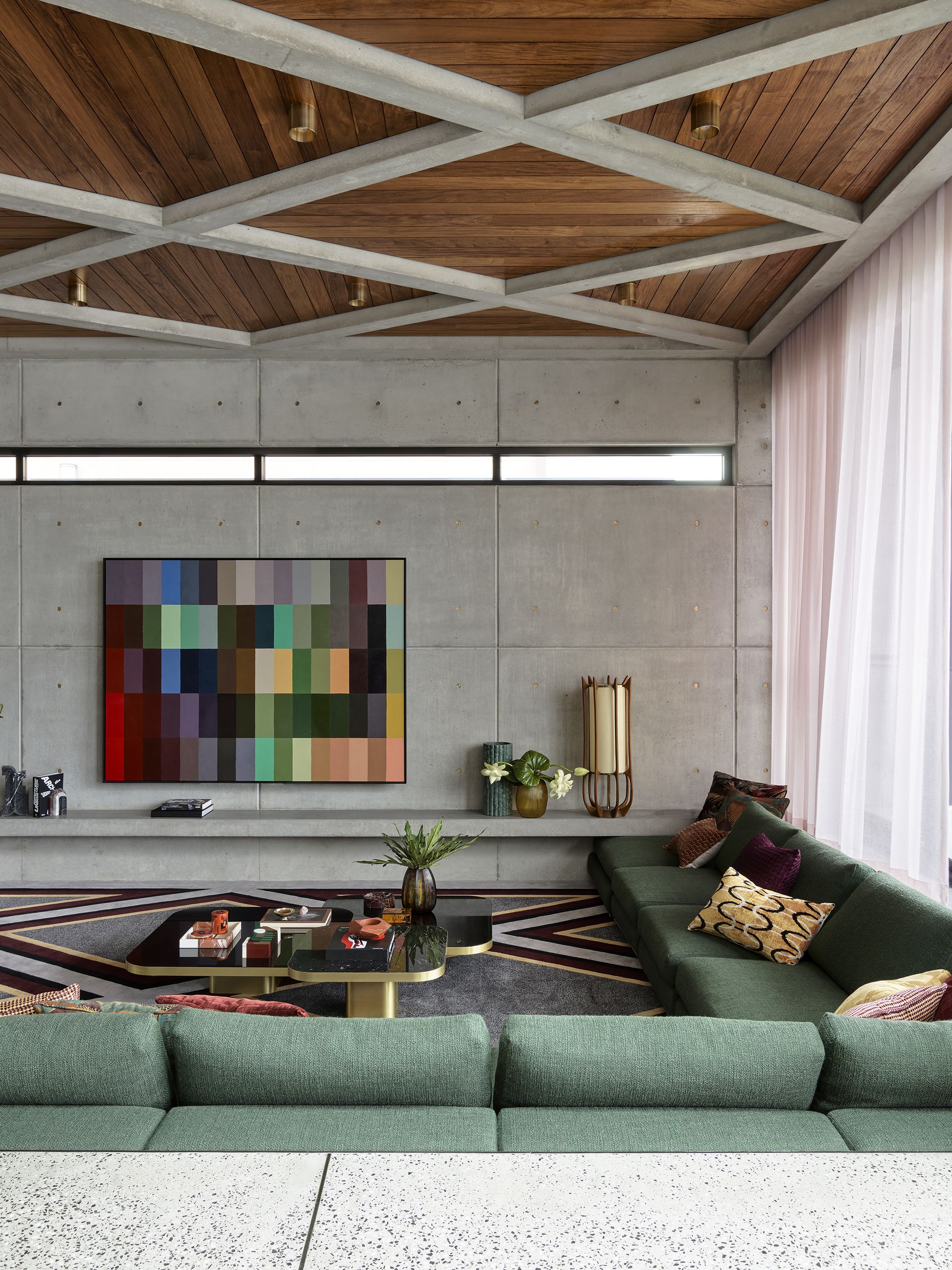 Green is a great team player; it can contrast and complement other colors with ease allowing you to create a truly unique interior. This design from Australian designer, Greg Natale showcases the appeal of a cool-toned green sofa. "When styling the green couch in my Kyle Bay project, I brought in burgundy tone pillows, as red and green are complimentary colors. As for the surrounding interior, timber ceilings, and concrete walls reinforce an earthy feel, which allows the green color to really excel," Greg says.
Taking Natale's advice on board, create a palette for your living room that helps complement your choice of green. Selected a combination of accent shades and complimentary neutrals will make it easier to blend your green couch with its surroundings.
2. Choose a neutral and earthy rug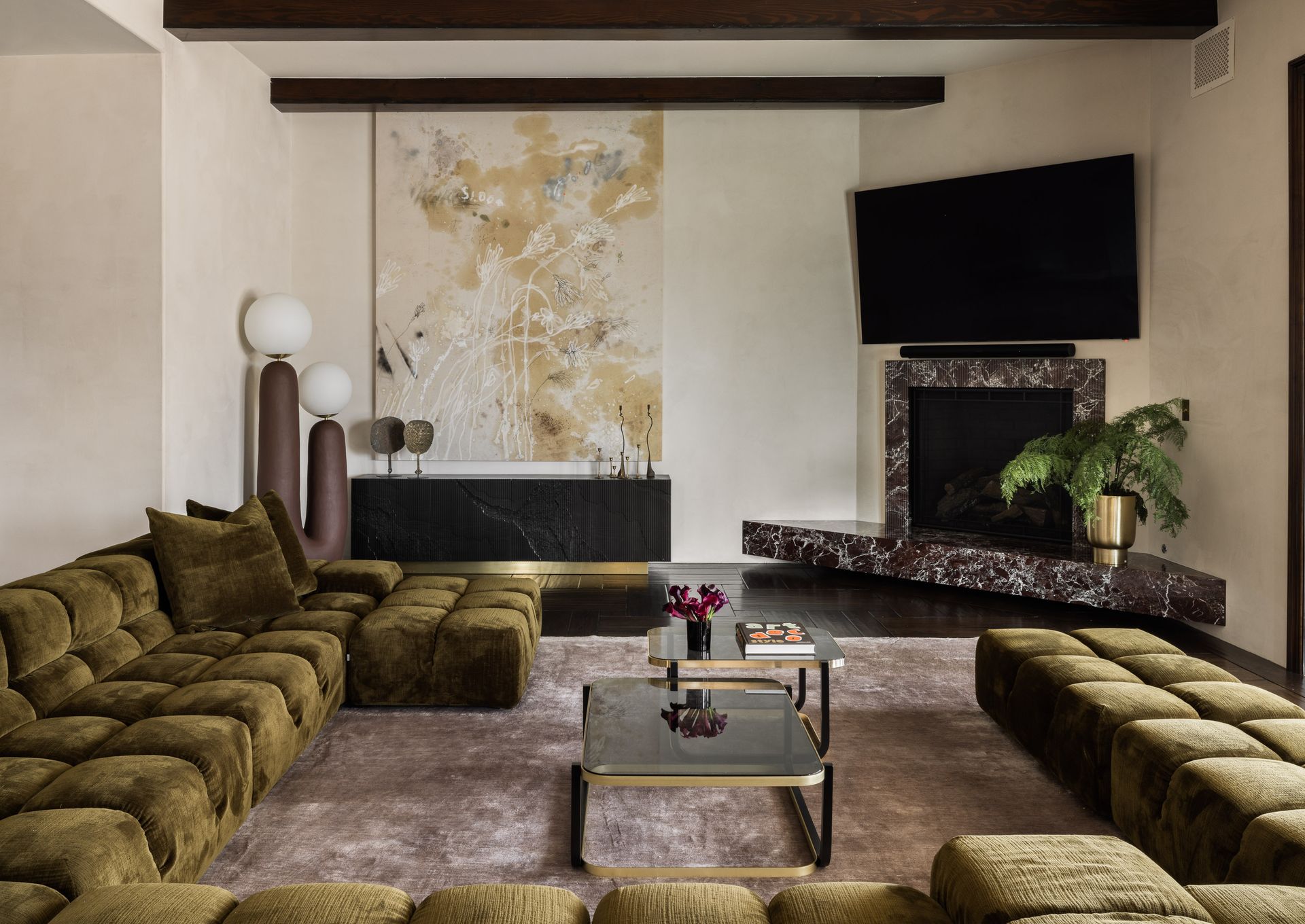 A neutral palette of inviting and earthy tones comes together in this refined living room design by LA-based designer, Huma Sulaiman. Featured in her Shady Canyon project, the sectional sofa wraps around the room in a rich khaki green hue. "The deep olive velvet fabric from B&B Italia was love at first sight. I knew I wanted to use it on a large scale and the family room would be the ideal candidate. Not only does it have the look but also it is a high-performance fabric, ideal for a family room with 3 little ones," Huma says. She highlights an important point, to preserve the longevity of your green sofa, choosing a fabric that is both beautiful and durable will be a worthwhile investment.
She has chosen one of the best rugs for this space as it plays on the brown tones of the olive sofa but also provides an uplifting canvas for the other pieces in the room. "To make this deep olive hue the star of the room I needed to keep the surroundings calm. I chose a neutral wall and rug. And of course, a little pop with the dark olive was imperative and the custom fireplace we designed with the Rosso Lepanto marble added just that perfect touch," adds Huma.
3. Let the sofa be the star of the show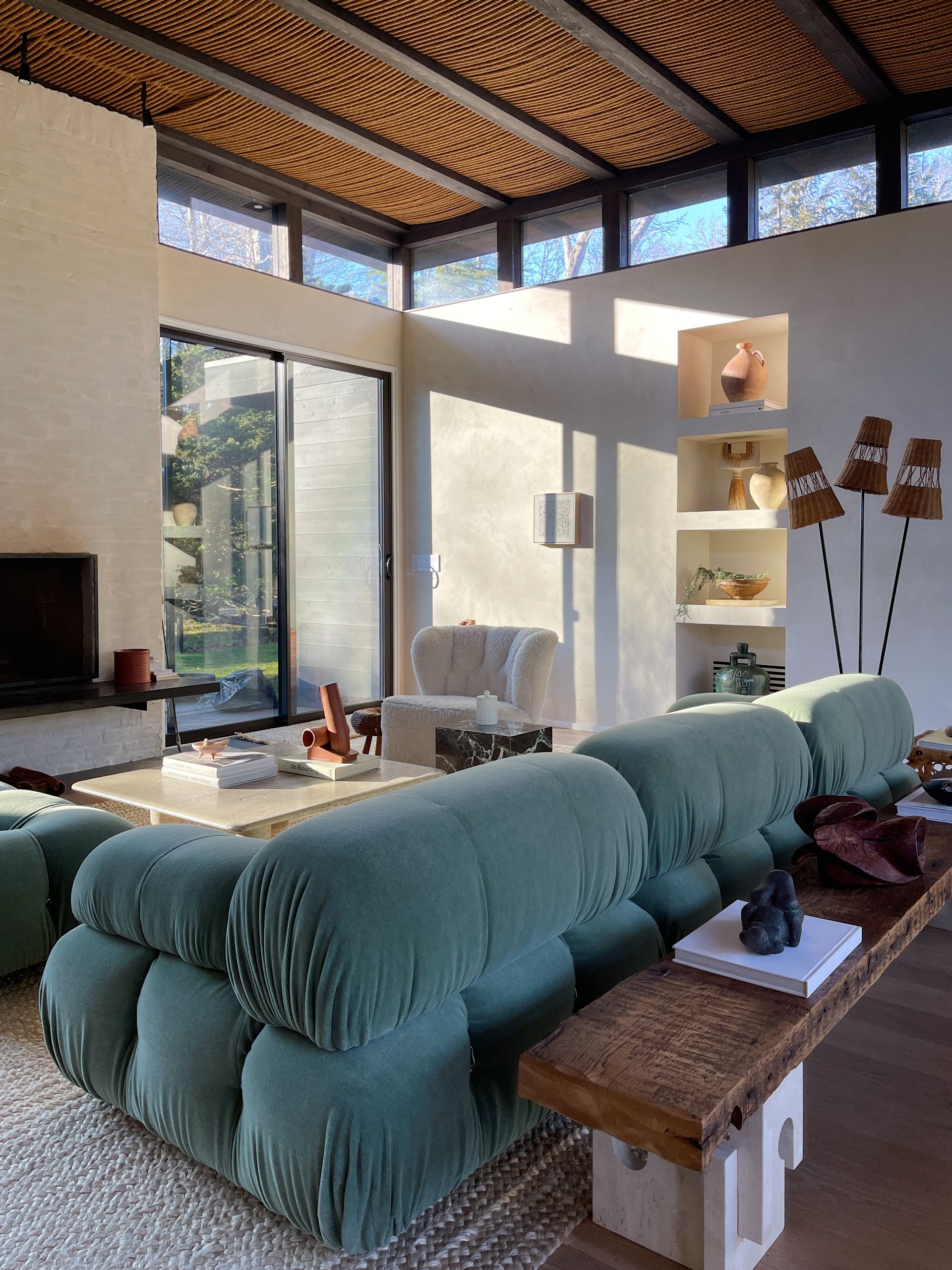 Don't be afraid to let your chosen green couch take in the limelight. This scene from LA-based interior designer and Eye Swoon founder, Athena Calderone's Amagansett home features a delightful mint sculptural sofa. With its inflated and playful form, the Camaleonda sofa is a love letter to the 70s. "One might argue that Mario Bellini's Camaleonda is the sexiest sofa in existence—I am most certainly that one," says Athena.
The sage-like green of the sofa presents a soft minimalism that is complemented by the surrounding furniture, lighting, and finishes. By leaning into neutral and natural tones, the rest of the interior still presents engaging forms and textures but is able to blend together and present a unified interior.
4. Go with Black and White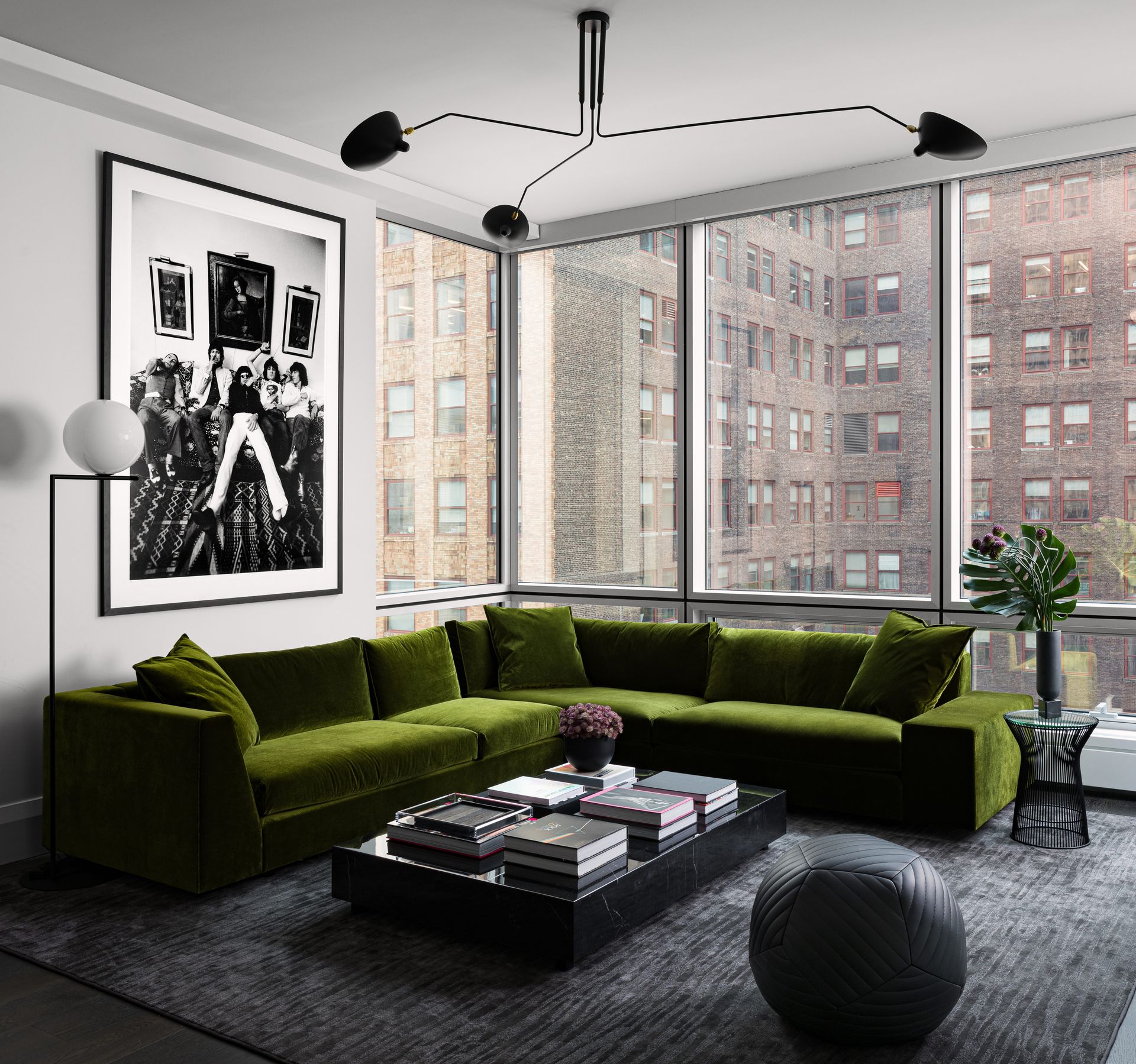 An apple green sofa takes pride of place in this Madison Avenue apartment designed by New York-based designer Justin Charette. The delectable hue is amplified by the sleek black-and-white furnishings around it. Black and white work well to contrast a colorful statement piece like your green sofa but are also a fool-proof way to ensure your interior looks contemporary and balanced.
The designer himself is a strong advocate of a green couch. "Decorating with a green sofa is a great way to bring the outside in, whether it's to further enhance the foliage outside your window or to soften views from the concrete jungle," says Justin. He highlights another important to consider when decorating with a green sofa which is the importance of designing with your surroundings in mind. You may find your shade of green outside your window or feel inspired by the architectural features found in your home.
5. Add Natural and Warming Accents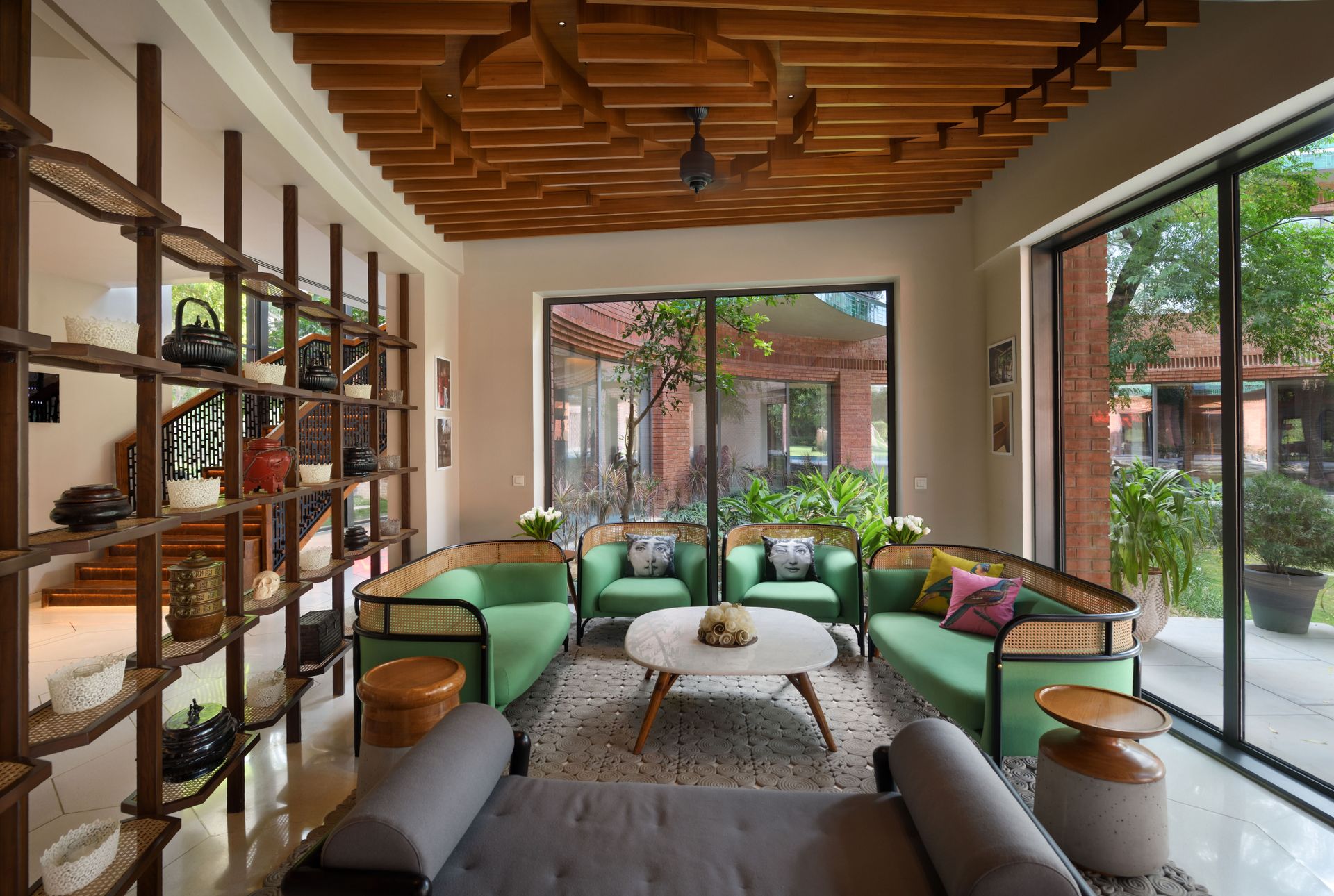 This warming interior was designed by Shalini Misra for her client's New Delhi farmhouse. Misra's use of a cool mint green against ochre like wood, cane, and warming gray provides an excellent framework for decorating in an unexpected way. The contrasting temperatures of these tones don't feel at odds with one another but rather create a focal point for the room and give the green sofa an elevated aesthetic.
"I chose these green upholstered sofas by GamFratesi because they beautifully echo the lush natural color palette of the surrounding gardens, effortlessly melding our indoor and outdoor spaces, which is something I always love to do where I can," says Shalini.
Choosing a sofa with multiple design elements can help temper your choice of green as well and help you start to form your palette for the room. "The incorporation of Vienna cane in this design is a typical feature in Thonet pieces, and here it adds a charming yet subtle touch that also picks up the colors of the timber ceiling, drawing the eye up and balancing the composition of the whole room," adds Shalini.