Looking for pool ideas to inspire your backyard oasis? While it's a major investment, the benefits of adding a pool to a property are undeniable.
And a swimming pool is a backyard idea that can beautify the space as well as creating a place to exercise, have fun with the family, entertain, and simply relax by the water.
We've collected swimming pool ideas to inspire here including designs large and small as well as natural options that will allow you to complement your backyard landscaping ideas with the perfect pool.
Pool ideas
Be inspired by pool ideas for every yard together with pool landscaping ideas that will make them the perfect fit. Take advice from the experts to ensure you don't make any of the most common pool planning mistakes too. 
1. Invest in your own pool retreat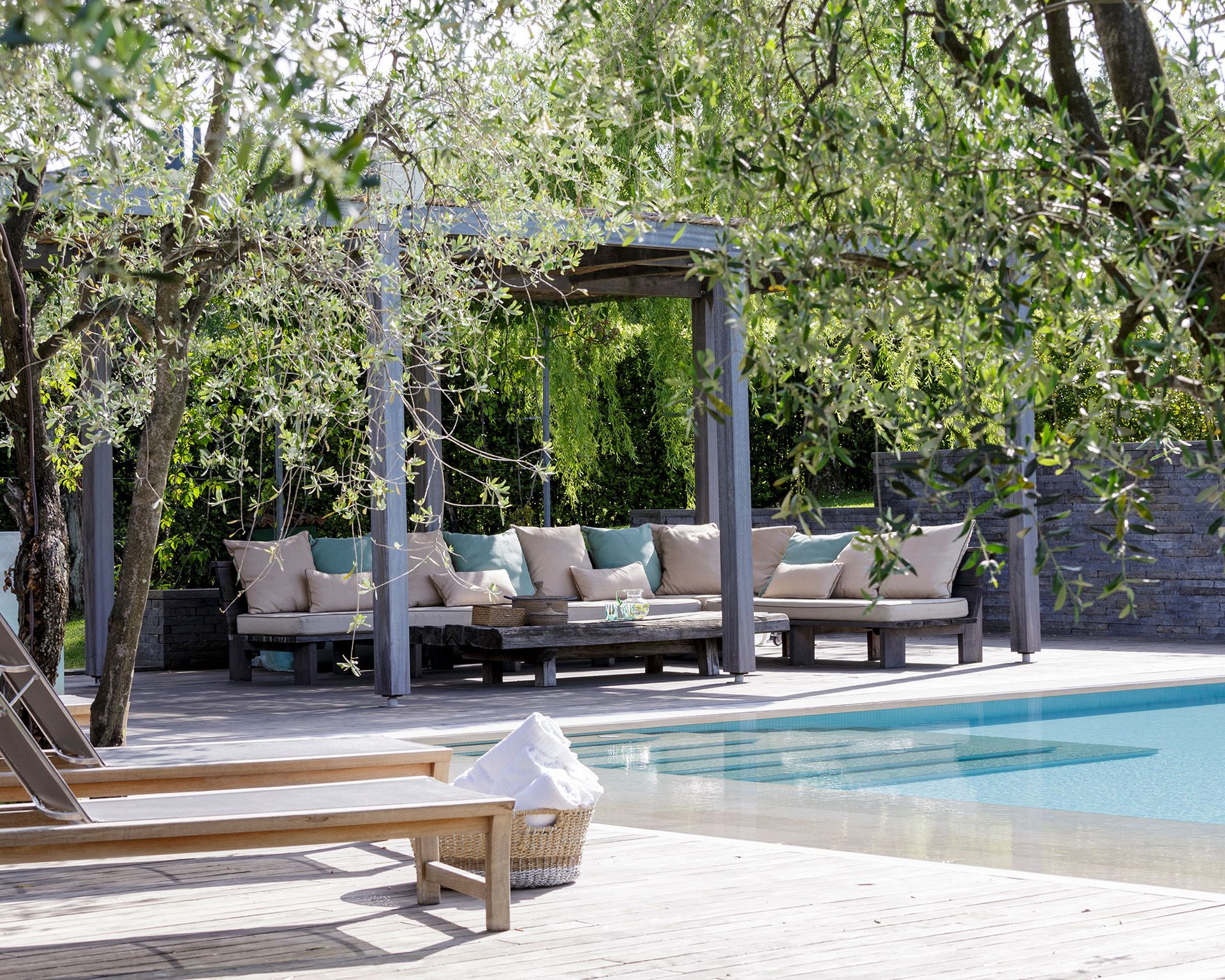 Installing a heated pool in a sunny, sheltered spot close to the house or a garden building, such as a pool house with a dedicated changing area, creates the experience of a luxury holiday home, and if you're wondering 'how do I add luxury to my backyard?' then this has to be top of the list.
Garden and landscape designer Janine Pattison recommends a consistent water depth of 1.4m, which is deep enough for adults to swim in and also suitable for older children to enjoy safely.   
An automatic safety cover will keep children from harm when the pool is not in use, advises Tom Holman, director of Fowler Swimming Pools. 
2. Opt for a curvaceous design
'In an awkwardly shaped garden, a pool with a free-flowing design will make the most of the space,' says Janine Pattison of JPS Landscape Design. 
If you prefer clean lines and symmetry, use planting to fill the uneven gaps left around the straight sides. An infinity-edged pool is a perfect choice for a terraced garden. 
A pool with an irregular shape is more difficult to cover, so be prepared for more heat loss if you leave it exposed, or have a bespoke cover fitted. 
3. Take your swimming pool to the edge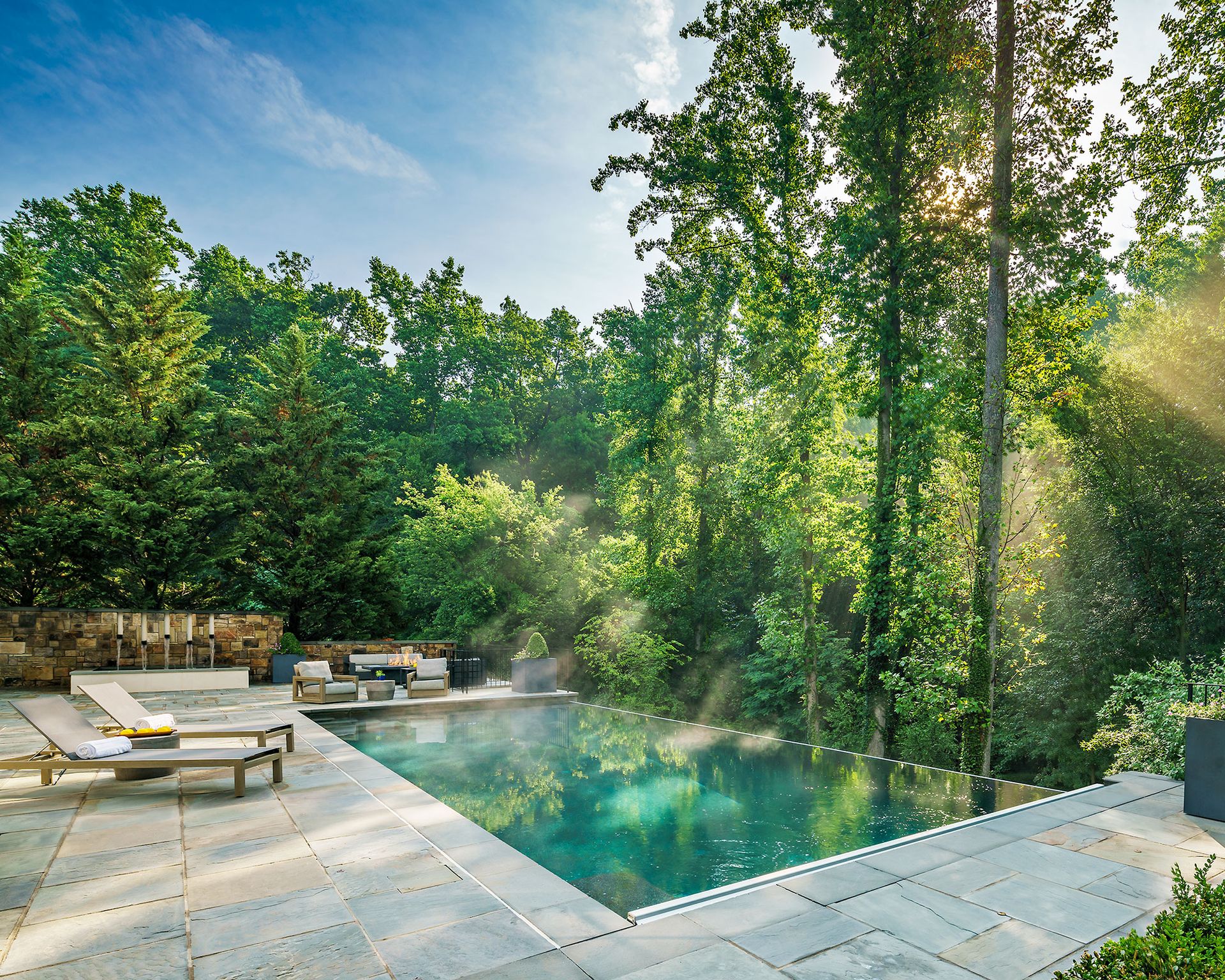 Infinity-style pools blur the lines between the water and the landscape and are ideal for a contemporary yard with a panoramic view. 
'For a classic home, choose a conventional pool and frame the views so they can be enjoyed while swimming,' says Janine Pattison. 
Here, this garden in Virginia, designed by landscape architect Joseph Richardson, features an infinity-edge pool overlooking the woods. 
'We had originally planned to add a more traditional pool to the terrace, but decided that an infinity edge was the perfect way to spotlight the property's steeply pitched, wooded terrain.'
Swimming pools need not be rectangular slabs of blue hidden away in a corner. Good designs should work with your backyard, rather than against its natural flow. 
Russell Page, the influential mid-20th century garden designer, had a good deal to say about swimming pools. Spending much of his later career designing fine gardens in the Mediterranean for his wealthy clients, he found that pools were usually required. 
Though Page scoffed at what he called 'Hollywood' pools of 'gold and green and blue mosaic, marble or plaster columns, white wooden "pergolas" and masks spitting water', he approved of the simple rectangular pool set apart, preferably screened off by a wall or hedge.  
5. Create a pool that embraces the natural flow of your landscape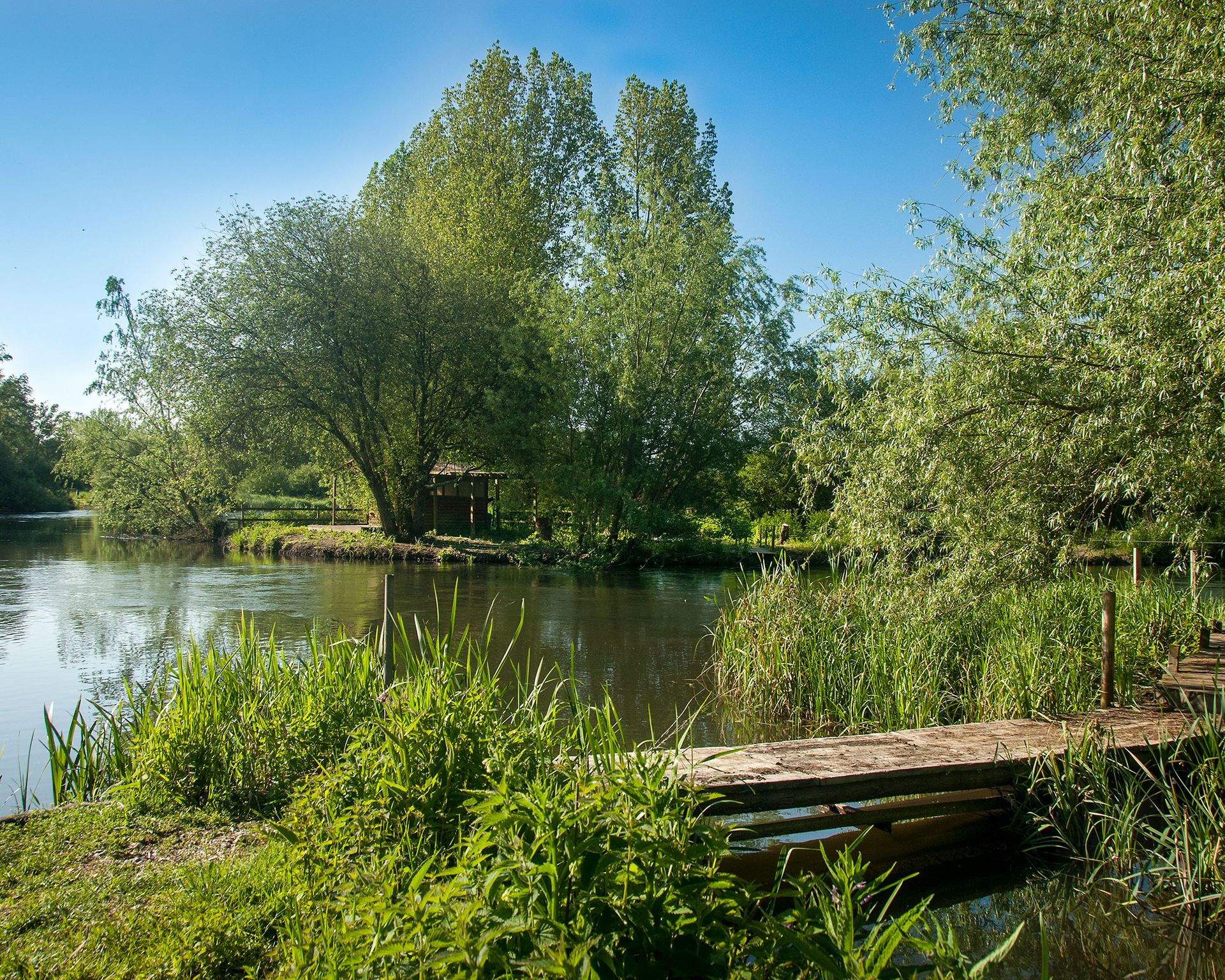 Now, for all its practicality, the shut-away, out-of-sight swimming area seems so last century.
Today's pools are welcomed into the backyard, whether in a formal setting of lawns, surrounded by flowers and grasses, or even made to look like a natural garden pond. 
6. Foster a natural swimming pool – inspired by nature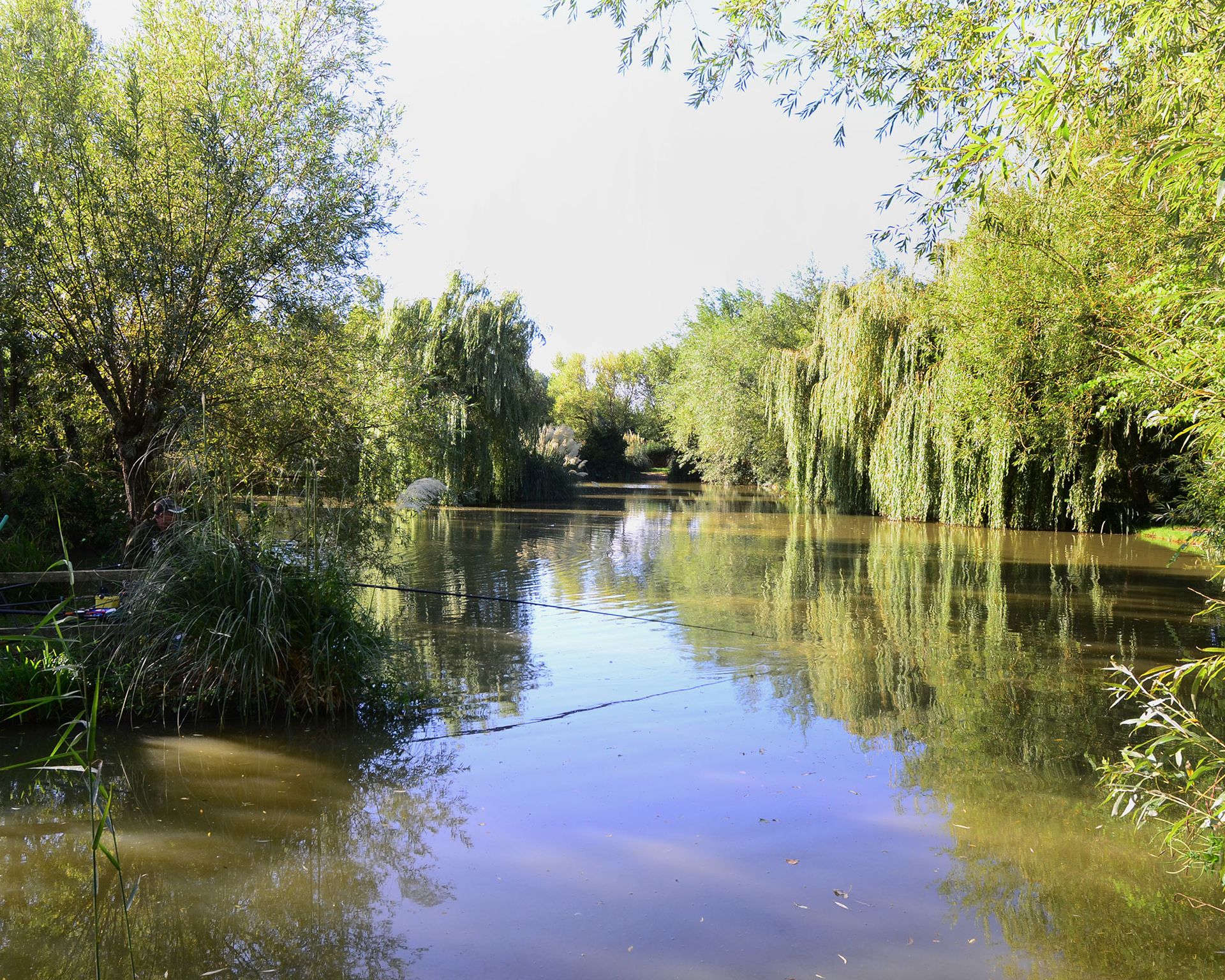 The 'natural' swimming pool is the style most rapidly gaining favor in country gardens, not only for its visual appeal, but also its eco-credentials. 
Though it looks exactly like an informal garden pond, the properly constructed natural pool (or swimming pond as it is often called) uses no chemicals. Instead it is a mini ecosystem, consisting of a deep swimming area and a shallower neighboring section where a range of suitable plants constantly filter and purify the water. 
Whereas the shallow section is, to all intents and purposes, a planted habitat nurturing a range of wildlife, such as frogs and toads, dragonflies, water boatmen, and so on, it is also working hard cleaning the swimming water. 
This is circulated by differences in temperature between the shallow and deeper zones and with the assistance of a small pump. 
In a urban area, use clever pool area ideas that maximize privacy, such as plants, screens and canopies, to shield your pool from neighbors' windows and to hide it when it is covered during the winter. 
A small round or rectangular plunge pool can double as a water feature, providing a beautiful focal point in your outdoor space.   
Regularly using a surface skimmer and a robotic cleaner to remove dirt and debris from the bottom will help to keep your pool clean and clear of fallen leaves and insects.
8. Step up with a raised pool
If you're looking for ways to incorporate a pool into your sloped garden, you could build a pool into the terraced section and use coping stones to double as seating.
Janine recommends surrounding a raised pool with composite decking (wood mixed with plastics and other materials), as it is non-slip and low maintenance. A specialist will make sure the pool is well integrated into your design.   
Create wide steps at an angle to the pool to provide easy access as well as an eye-catching design feature. 
9. Find space in your yard for a small pool
A lap pool or a swim spa with an adjustable continuous current to swim against is ideal for a small backyard with restricted space, such as a courtyard or roof terrace. 
A prefabricated pool can be lifted into place in areas with limited access. 'Check that your supplier has experience of roof installations and understands load-bearing requirements,' says Andrew Fisher Tomlin. 
Ensure you have enough space to house essential paraphernalia, such as pool pumps and filters.
10. Plan a pool that fits in with the surrounding space
Rural period houses can look at odds with a modern tiled pool. 
If you're wondering how to landscape a backyard with a pool, garden designer Andy Sturgeon advises edging the pool with York or sandstone and lining it with tiles to match the paving, to create a more natural appearance. 
A pool house that echoes the architecture of the property and an Italianate-style planting scheme will also help blend the pool into a traditional landscape.   
'For a cohesive design, link the planting around the pool with that in the area beyond,' says Andrew Fisher Tomlin.
11. Illuminate your pool
'Good pool lighting ideas help to make swimming safer and add ambience and drama to a design,' says Janine Pattison. 'We use LEDs in and around our pools because they have a long life and lower running costs. They also have color-change capability, so different moods can be created at the touch of a button.' 
12. Play hide and seek
A large backyard offers scope to position the pool away from the house and to create a dedicated environment for the feature. 
Landscaper and designer Andy Sturgeon suggests disguising the pool behind a low wall or hedge to blend it into the surrounding area.
'Plant right up to one or two edges of the pool, to make it into a proper garden feature and to bring the flowers and foliage up close to the swimmers,' says Andy.
13. Don't skimp on hardscaping
Don't underestimate the importance of landscaping and hardscaping. 
'This hardscaped pool patio idea elevates the pool that overlooks a river,' explains Joe Raboine, director of residential hardscapes at Belgard. 'The pavers lead guests to a gazebo and dining area, making the living space seamless and functional.'
14. Provide a beautiful vista from the pool
Designed by Land Morphology, and often called one of the 'most significant gardens in Connecticut', The InSitu Garden integrates hard landscaping, abundant planting, modern art and elements of water to create a spiritually inspiring garden.
The much-adored pool is set in a picturesque landscape planted with meadows, woodland gardens and lawns. This garden 'room' offers expansive vistas through the garden and to the distant hills.   
15. Keep your pool area secluded from prying eyes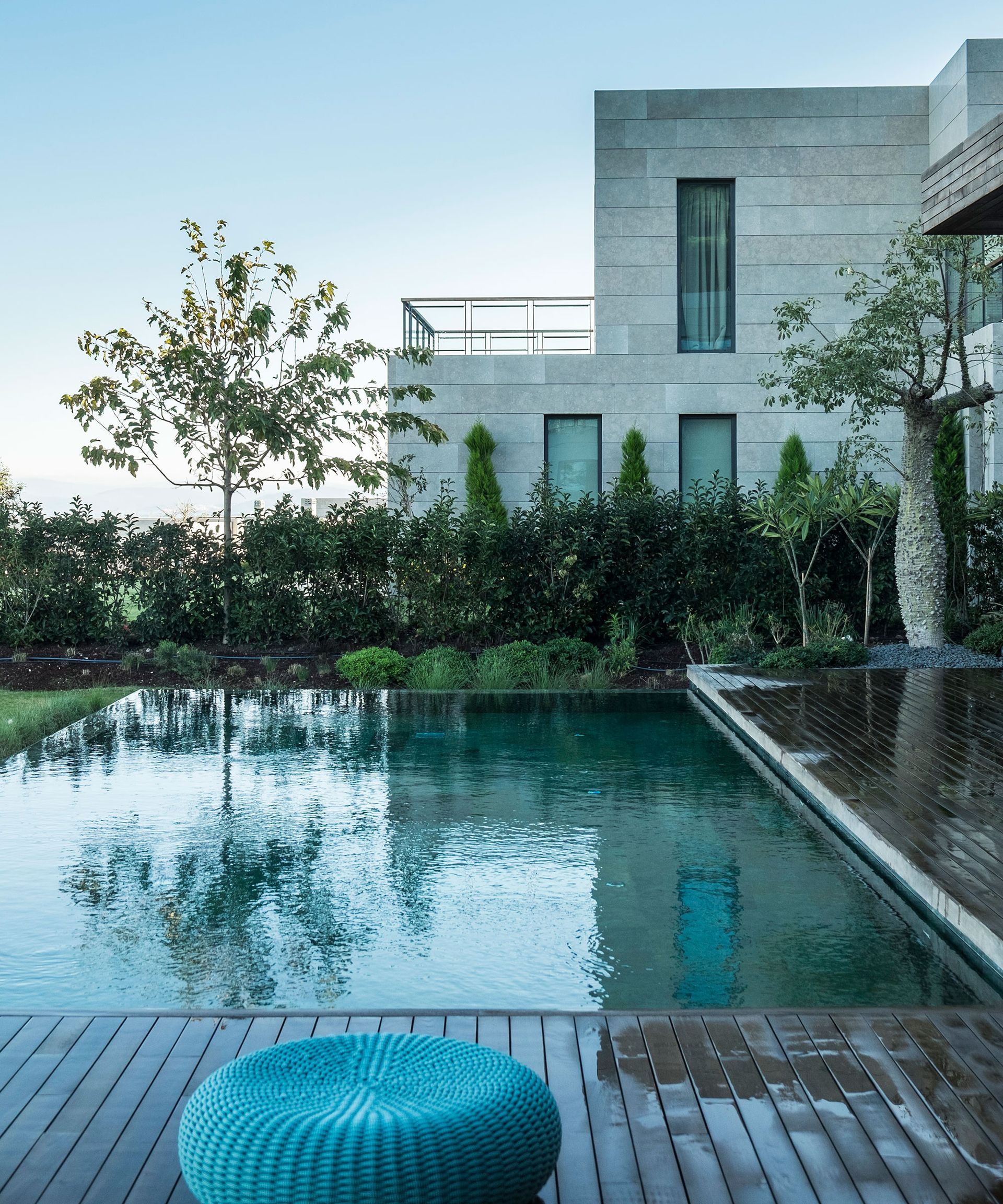 In a densely populated area, use pool privacy ideas such as plants, screens and canopies to shield your pool from neighbors' windows and to disguise it during the winter when it will be covered. 
A round or rectangular plunge pool that doubles as a water feature will create a beautiful focal point when it is revealed as you walk through the garden.   
If space allows, go big. Infinity-edged pools offer an exciting swimming experience for your pool party guests, blurring the line between the water and landscape beyond. 
Ideal for a contemporary garden with panoramic views, infinity pools are the designers' choice for modern settings.
16. Instill a sense of harmony
'You can lay porcelain pavers on the grass to create harmony between hardscapes and softscapes,' Raboine explains. 'A retaining wall behind the pool chairs allows for the sloped area to be utilized for plantings and additional greenery.'
Also, don't be afraid to play with different levels. 
Adding different levels, like a step-down seating area or an outdoor kitchen that's a few steps above the plane of the pool, helps to delineate the various 'zones' of your backyard and in fact helps the whole space feel more open. 
17. Construct an entertainment area around the pool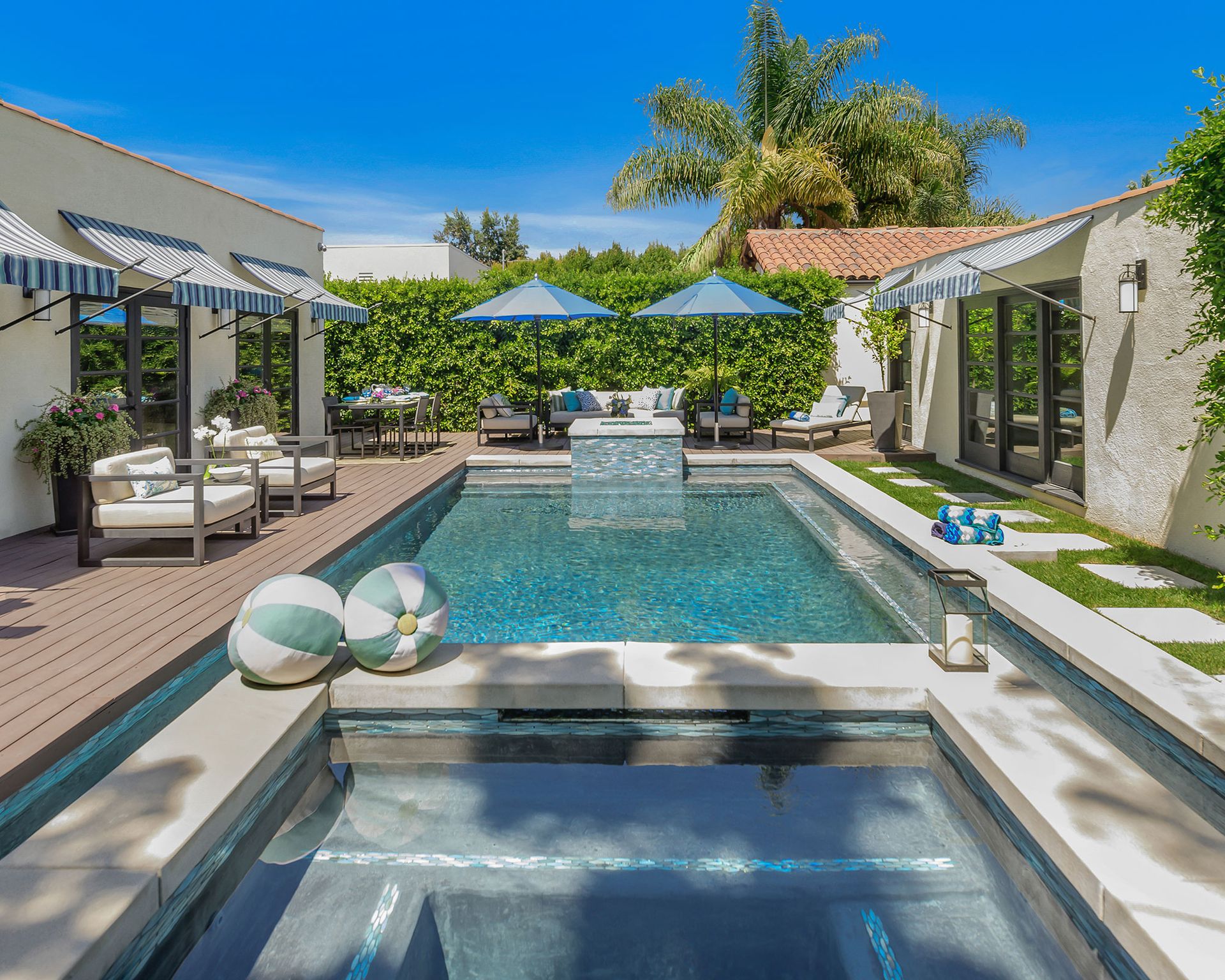 The spectacular pool area idea shown above was designed by Christopher Grubb, an interior designer and founder of Beverly Hills-based Arch-Interiors Design Group. 
'Don't be afraid to use different materials around the pool area,' he advises. 'Here, the mix of decking material, concrete, tile and grass adds interest and keeps the eye moving.' 
Grubb often adds various levels to an outdoor space. 'This helps to delineate various 'zones' while also keeping the entire space feeling more open,' he explains. 
And of course, be sure to choose the best outdoor furniture for around the pool, as this can increase the sense of luxury. Opt for comfortable padded chaise loungers or a moisture-resistant sectional sofa to relax on after your swim.
18. Enjoy natural pool benefits
Demand for natural pools has increased as new, more practical and flexible technologies have been brought to the market allowing natural water swimming in any pool whether indoors or outdoors, heated and covered. 
The latest versions lead to lower running costs, too, due to lower water turnover frequency. 'Clients are typically health conscious and don't like the idea of swimming in harsh chemicals which damage skin and can cause longer term health problems,' explains Joel Scott of Bristol-based Clear Water Revival.
19. Consider an indoor pool
Once it was a given that indoor pools would see much more use, but recent events have changed perspectives. 
Pool designers Guncast have seen a 150 per cent increase in demand for outdoor pools – and it shows no signs of slowing down, says design director Andy Carr. He adds that high-tech, space-saving solutions are also popular, including those with moving floors. 
'But it's important to think about how you plan to use the pool: is it a year-round spa experience you're after, or is it more for summer entertaining?' he asks. 'Would you prefer the idea of an outdoor oasis at the end of the garden, or rather have facilities that are easy to dip into every day?'
20. Think safety – as well as style
Safety around a pool is paramount so making sure that the surrounding surface is non-slip is essential, says landscape designer Marcus Barnett. 
'A generous border of hard landscaping around the whole pool allows for sun loungers and the ability to walk without worrying about getting to the edge.' He recommends using the same paving used elsewhere in the backyard but with a suitable non-slip finish such as bush-hammered or flamed. 
'We often tie in the planting to the rest of the garden. If trees are required, plant those that do not drop fruit or leaves throughout the summer. A striking planting scheme can be the use of one species of grass mixed with clipped evergreen topiary.'
What to consider when planning a swimming pool
There are three main construction options: a waterproof reinforced concrete shell; a PVC liner; and a fiberglass or ceramic molded shell which is lowered into a pre-excavated hole. Whatever the choice, try to integrate the pool into the surroundings.
Water-cleaning options
Chlorine is still the best-known and most widely employed solution for keeping the water clean. It's inexpensive to buy and easy to use but there are alternatives including ionisation, ultra-violet and active oxygen treatments which can be used to assist or complement chlorine. 
Salt-water pools use electrolysis to produce just enough chlorine to disinfect the water, but they cost more to build as the mechanism for cleaning the water is more complicated. Chlorine-free pools are perfect for those with sensitive skins, are better for health and the environment.
How much does a swimming pool cost? 
If you're wondering how much does it cost to build a pool, Tom Holman explains:  
'The price of a pool is based on many factors. A vinyl-lined pool may cost $50,000, while a concrete or tiled pool of the same size will be $60,000. Other variables include site access, heating, automatic safety covers, water treatments, lighting and paving materials.'
In the UK, costs to install an outdoor swimming pool vary significantly according to the style, finish and the infrastructure surrounding it. For a no-frills in-ground pool, a PVC liner option will cost from £35,000. Ben Horne of Middleton Advisors estimates a traditional outdoor pool to cost between £85,000 and £150,000. 
Two approaches that will help to keep costs down are opting for a prefabricated design and keeping the pool at one depth (deep ends are expensive to build and heat). If aiming for a fully tiled natural pool with an automatic pump and an air-source heating system, budgets start from £150,000. Compass Pools estimates from £180,000 to build a medium-sized indoor pool with a cover.
How much does it cost maintain a pool?
Generally, an indoor pool is more expensive to run than an outdoor pool put to sleep during the winter, although it's often a good idea to keep the heating and cleaning systems ticking over at a low level throughout the cooler months. They then take between two and three weeks to recommission in the late spring. 
Indoor pools require servicing every two weeks to check chemical levels, backwash and carry out routine maintenance (this can be done by owners or professionals).