There is nothing like the feeling of visiting a home and finding yourself pleasantly surprised by a particularly charming or well-designed bathroom. If your powder room or primary bath could use a little refresh, this collection of bathroom wall ideas will inspire you to upgrade your bathroom to true throne status. 
1. Accent with Marble
Adding a visually stimulating accent piece in any room is a great idea to change the atmospheric quality of the space. This marble slab holding bathing fixtures in this home is a great example of a simple yet striking way  to change the dynamics of a space.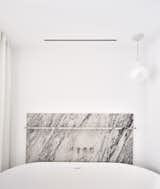 2. Decorate with vintage finishes
The designers of this home selected a Barclay Stanford 550 pedestal sink to replace a short, built-in vanity in the shared bathroom. The vintage mirror complements a caged sconce from Portland Architectural Salvage.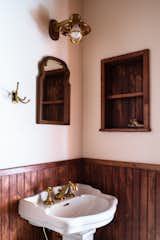 3. Add curved trim detailing
The curved trim detailing along the tile and mirror of this bathroom easily allow the eye to trace edges of different wall elements, which adds tactile value to the intersection of materials.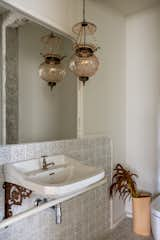 4. Decorate with newspaper
The designers of this renovation made use of salvaged newspaper that was used for installation in the original walls as wallpaper. The chandelier is a salvaged item from the family's contractor, found on another project.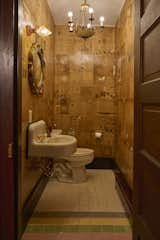 5. Try a glass wall
The en suite bathroom in this Mountain View cabin has a full-ceiling skylight and a glass wall, minimizing separation from the outdoor landscape.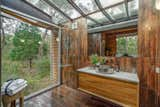 6. Add a built-in fireplace
The ebony finished walls of this bathroom are complimented by a black built-in fireplace, making an otherwise materially cold room a bit more cozy.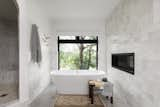 7. Use colorful keystone tiles
In this building, matte one-inch keystone tiles in different tones are used in each bathroom. The room shown here, in suite 302, features a light blue color. The orange surface is by Shelfology, and the soap bottle is Cloud 9 Clay.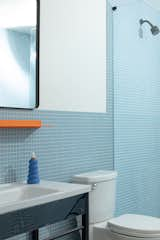 8. Use penny tiles
Two colors of penny tiles in cover the walls and wall-mounted plumbing fixtures preserve countertop space atop the solid brass sink.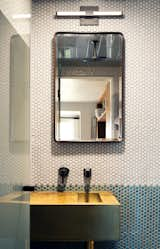 9. Mix and match textured materials
The accumulation of various textures in this bathroom add to the dramatic complexity of its presence in the home. Penny tiles, stained wood, marble, and granite all come together in this bathroom.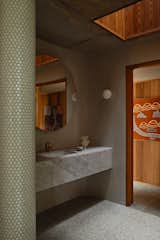 10. Use subway tile
This brick red bathroom is completely wrapped in subway tile— a straightforward way to animate a room.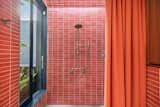 11. Pick bold and colorful patterns
Bold blue patterned wallpaper offers an unexpected pop of color in lower-level bathroom of this home, with a sink to match.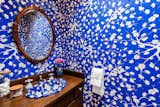 12. Return to wallpaper
Wallpaper is becoming increasingly popular again. This bathroom has a vintage elegance to it with tiling that complements the accent wallpaper.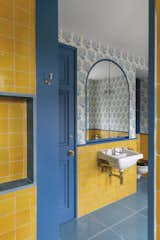 13. Invest in ornate custom tiles
Here, the homeowners handled the tiling of this bathroom themselves, investing their money in the custom tiles instead of the labor.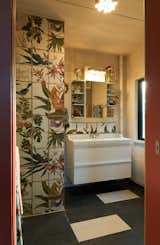 14. Try terrazzo tile
Anything terrazzo can be hit or miss due to its bold presence, but this bathroom makes good use of ceramic terrazzo tiles in paring them with unfinished plywood.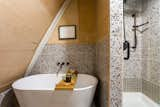 15. Get a colorful sink 
A colorful sink is a very dainty touch for smaller scale bathrooms. This aquamarine sink was salvaged from the house's previous iteration, and is paired with a Hang 1 Drop Mirror from Blu Dot and a vintage sconce.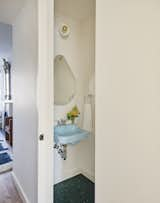 16. Use a half wall
On the upper level of this house, the primary suite features a double-height ceiling with original beams and an interesting take on the en-suite bath. This bathroom uses a half wall to separate spaces while also taking on the trendy in-room soaking tub aesthetic.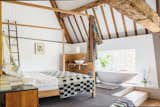 17. Install sculptural fixtures
Rounded, sculptural fixtures resonate with the soft curve of the segmental arches in this bathroom and make fixtures such as the bathtub and storage feel more solid within the walls. Accented caned cabinet doors and brick flooring provide a unique touch.