Hardscapes add structure, functionality, and visual appeal to a landscape. They provide a solid foundation and definition within the outdoor space and introduce focal points that elevate the landscape's aesthetic value. One of the simplest ways to add a hardscape element is to use patio pavers. Pavers come in various colors, shapes, and sizes, allowing endless design possibilities. They are durable and low-maintenance, making them a practical choice for outdoor spaces. Here are a few patio pavers ideas to get you started.
 1. L.A. Spa Vibes
Featuring white Napa cast stone and concrete pavers in this Los Angeles poolside courtyard, landscape architecture and urban design firm Surface Design took the opportunity to integrate a succulent garden between the striped pavers. The low-lying sedums and creeping thyme ground covers punctuate the pavers as they transition to larger succulents bordering the undulating wood wall, giving the pool deck its spa vibe.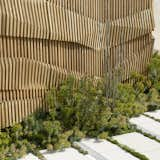 2. Simple Elegance 
Sometimes, it is best not to overcomplicate things. This simple backyard features limestone pavers and easy-to-maintain AstroTurf. The clean lines of the pavers create a modern and sleek look, while the AstroTurf adds a touch of greenery without the need for constant upkeep. This minimalist design allows for a low-maintenance outdoor space to enjoy year-round.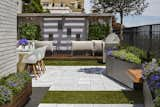 3. Midcentury Upgrade 
The outdoor living area in this 1950s midcentury modern house designed by Frank Lloyd Wright apprentice Ellis Jacobs includes a large, rectangular paver walkway that leads to a patio area. The use of large-scale pavers adds a modern touch to the garden and creates an attractive transition between the patio and walkway. The interplanted ground covers and ornamental grasses provide textural interest, while the mulch helps to retain moisture and suppress weed growth.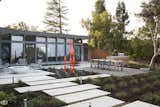 4. Ombre Effect 
These Techo-Bloc Squadra pavers (straight-edge mini-cubes) were laid out in a gradation around the pool to create a subtle ombre effect. The chestnut brown and merlot colors in the pavers add warmth and richness to the outdoor space, creating a cozy and inviting atmosphere for relaxation and entertainment. Neutral, larger-scaled pavers border the ombre pavers along the pool's edge and patio area for a stronger visual punch.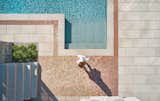 5. Graphic Garden 
 Pavers are not restricted for use on patios. This garden features narrow concrete pavers that add a graphic touch to the outdoor space. The contrast between the slim, clean lines of the pavers and the soft ground cover creates a visually appealing and balanced design. The use of pavers in this garden demonstrates their versatility and ability to enhance any outdoor space.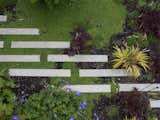 6. Not So Square 
Patio pavers come in a wide variety of shapes and sizes, though the most common ones are squares and rectangles. The hexagonal pavers' geometric pattern gives the overall design a modern and distinctive touch to this small patio. The grass in this outdoor area stands out beautifully against the hex pavers. The use of different shapes in patio pavers allows for endless creative possibilities in landscaping.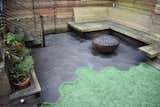 7. Diamonds are a Patio's Best Friend 
The Techo-Bloc Diamond pavers in this beautiful outdoor space are laid out in a pattern that echoes the colors found on the exterior of the house. These diamond pavers add a touch of elegance and sophistication to the overall design. The use of matching colors creates a cohesive look that seamlessly blends the outdoor space with the surrounding architecture.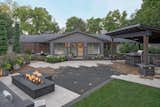 8. Walk This Way 
Large pavers make stylish stepstones on a modern patio. The combination of large pavers and crushed stone adds visual interest and depth to the patio, creating a dynamic and inviting atmosphere. Additionally, the large pavers provide a stable and durable surface for walking and entertaining, and the incorporation of crushed stone helps with drainage, preventing any potential water buildup on the patio.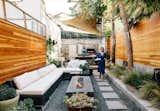 9. Circumference 
Most patios made of pavers are square or rectangular, but you can use them to make any shape you like. This circular patio features Techo-Bloc's Industria pavers in Greyed Nickel and sits in a vast expanse of grass overlooking a lake. The rough-hewn stone fire pit provides a nice contrast to the symmetrical grid tiles and perfectly shaped circle.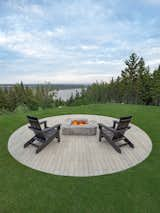 10. Rockscape 
Low-maintenance gardens are the way to go if you prefer to enjoy your time outdoors. This garden features native plants with rockscapes to minimize maintenance and irrigation. Here, slab pavers create contrast against the stones, while native plants dot the landscape. Additionally, incorporating native plants into the garden helps support local ecosystems and attract native wildlife, enhancing the overall natural beauty of the space.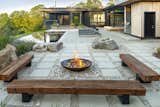 11. Jagged
The versatility of long, rectangular pavers seems nearly endless! This home features pavers arranged in a jagged layout to create an unexpected pattern along the pool's edge. The jagged pattern adds a modern and unique touch to the overall design.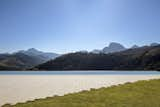 12. Permeable
Aquastorm are Techo-Bloc's one-of-a-kind pavers. The pavers are designed to allow grass to grow between them, creating a unique balance of grass softness and concrete functionality. They're also anti-flood and permeable, so they're as useful as they are beautiful.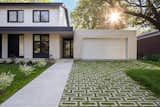 13. Herringbone 
Another unique way to lay a paver patio is in a herringbone arrangement. This pattern involves laying the pavers at a 45-degree angle, creating a visually striking zigzag effect. The herringbone arrangement adds a touch of elegance and sophistication to any outdoor space, making it a popular choice for those looking to elevate their patio design.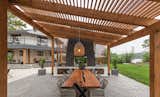 14. Linear 
This patio design makes use of the pavers' inherent straight lines. The slabs create a clean, elegant garden design that complements the beauty of native plants. The inclusion of black pebbles, which also give the landscape a sense of order, emphasizes the linear design.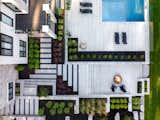 15. Basketweave 
When one thinks of modern design, basketweave doesn't immediately come to mind. However, this stunning patio features a modern weave pattern that's enhanced with charcoal grout lines. The pavers' varying textures create a dynamic and visually appealing surface that adds depth to the patio design. The combination of straight lines and textured surfaces creates a modern and sophisticated aesthetic that is sure to impress guests.